Therapy is expensive these days; that's why we have music. 
This pandemic made people dig out their inner passions, and the majority of them picked music, and why not? 
You're probably aware that the music industry is one of the biggest industries in the market. 
Every third house has a musician in it either they write, compose or produce music from the comfort of their homes.
A music production job is not an easy one, fun of course, but not easy. 
You'll require multiple gears like a keyboard, equalizers, speakers, and more. 
Earlier to produce music, you would have wanted instruments as well. But, with Digital Audio Workstations (DAW), sometimes known as Music Production Software, there is no need for such expensive gears. 
Music making softwares like these have been a life-changer in the music industry; you can mix different audios, add beats, define the song's drop, and shuffle the song as you like. It empowers you with the ability to put the rhythm in your head into solid beats. 
Before scrolling the internet and buying the first one you see, you have to understand what to look for in music production software, the pros, and cons of that software, the pricing, etc. Selecting suitable software is vital when it comes to music production as it will define the quality and type of music you produce along with the features you use. 
We made the job easy for you. After hours of browsing and research, we handpicked the 9 best music production software to choose from.
Whether you're a professional music maker or a beginner, we have included options for everyone.
9 Best Music Production Software (Free & Paid)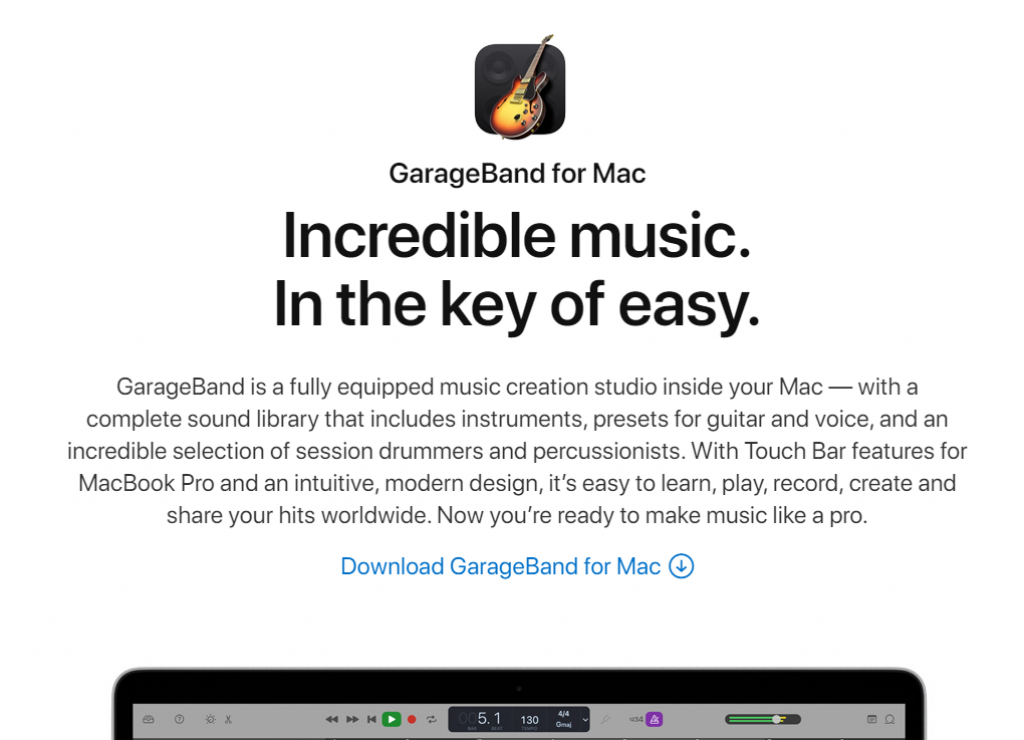 All iOS fans gather around. You've probably seen this app on your iPhones, Macs, iPads, etc. 
If not, GarageBand is a pre-installed music production software for Apple users, especially musicians, to revamp their experience in music production. It's a hidden gem, and not many are aware of the wonders it can do.
Starting with its ability to fulfill the need for live instruments as it features instruments that you can play and record. The extraordinary user interface makes it easier for musicians to navigate through the various tools and features provided by the app.
One of the most prominent features that GarageBand offers is its layout; it makes it easier for beginners to get a hold of the music production process as well as it comes in handy for experienced music artists. 
Digital instruments are yet another advanced feature provided by GarageBand, which allows users to make their own recordings with the virtual instruments offered by the app. 
It produces sounds that are identical to those of real instruments. 
In 2010 Groove Track feature was added to GarageBand; it allows musicians to automatically adjust and synchronize the chosen track with the groove one.
When it comes to cost, all the features of GarageBand are accessible for iOS, macOS, iPadOS users creating and sharing music at an affordable gig. You can add tracks to your collection no matter where you are, thanks to the Apple iCloud integration. 
Just a few of many such advanced features of Garageband have made it the most popular Digital Audio Workstation. Apple Music is not free but is accessible to everyone.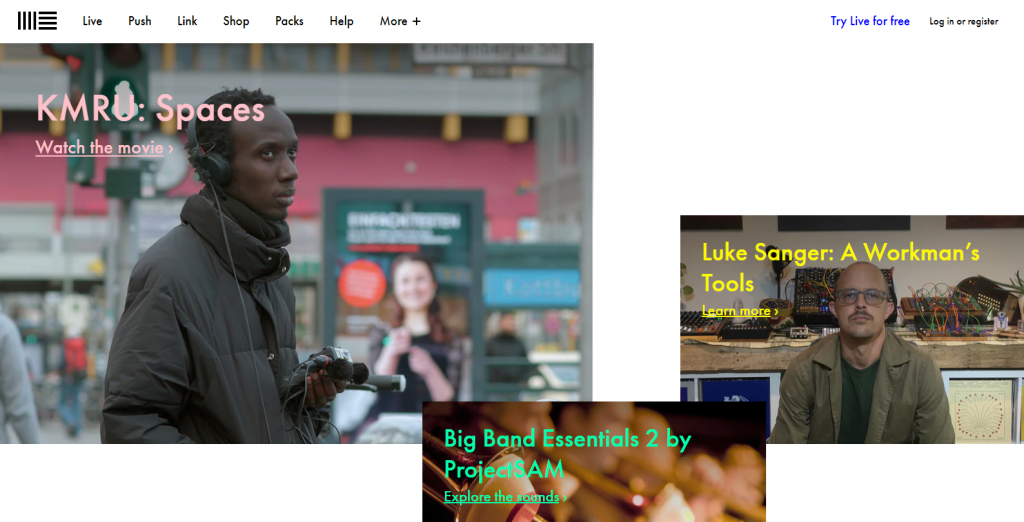 Ableton is yet another best music production software that you'll ever find on the market. It's one of Ableton's creations, along with FL Studio, Logic Pro (we'll talk about them later in the post). 
But what makes Ableton Stand out? You might say. Well, Live Session View will be the answer. It allows users to create and remix clips with NLE (Non- Linear Editing). 
In simple words, you get to experiment with your music, triggering, tweaking, and manipulating tracks.
It also comes with a bunch of sounds, including drums, guitar, instrument loops. The program also allows users to create their own sound packs. 
Sounds are uploaded to websites such as Splice, which enables users to download them for free. 
Furthermore, a number of third-party websites provide enormous libraries or unique sounds created by skilled musicians and producers.
The wrapping feature is also available in this program; it saves time spent in cropping and adjusting sounds in the timeline. 
When audio files are stretched or compressed, warp markers allow producers to modify the speed and pitch without impacting the overall quality. 
This feature comes in handy when creating remixes, mashups by keeping the quality steady and experimenting with different loops.
The single con of this software is its price. The price of this software ranges from $100 to approx $800. 
Although you will have the option of a 3-month free trial that allows you to test the software for free and see if it fits your requirements. You can proceed further with the paid version or discontinue its services after 3 months.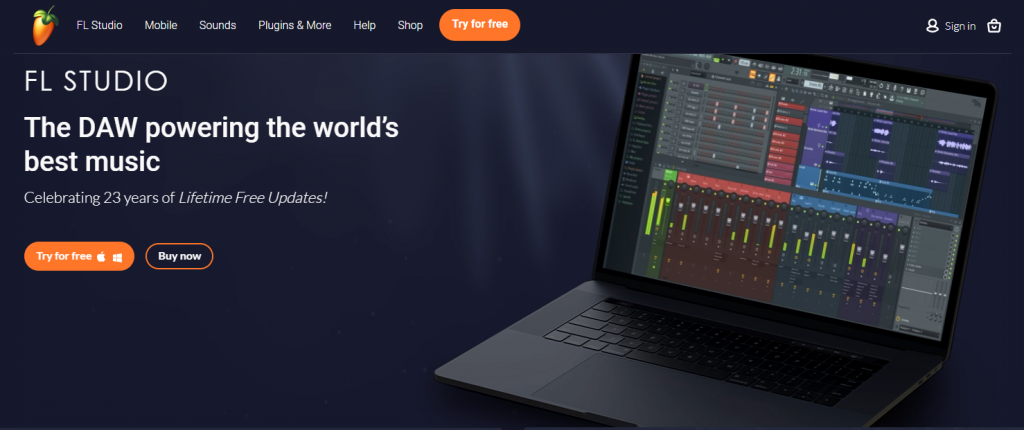 If you want simple yet powerful software for music production, this one is for you. 
FL Studio, as mentioned earlier, was created by Ableton Group. Many professional and senior artists prefer this program as it offers four editions to go with every music flavor. Furthermore, it also comes with technical support in case of emergency queries while creating music.
FL Studio comes with advanced virtual effects and tools, including drums, equalizers, synthesizers, sequencers, and more. 
You'll have complete autonomy of your tracks; you can sequence them yourself, organize and base them as per your favorite patterns. 
Furthermore, you have access to multiple creative effects that give your music spice and come with a controllable virtual automated knob. 
Flex is a recently added plug-in equipped with powerful sounds and can be the grounds on which the program stands out.
You'll rarely find a video editor in DAWs, but not this one. 
FL Studio comes with a powerful video editor called "Fruity Video Player." As the name suggests, you can play videos in harmony with the tracks created by you. 
It also gives you the option to export videos and animation effects that go with your tracks and make films. 
In my opinion, you can use it to your advantage to create musical soundtracks with effects and animations.
But, there is one drawback. While using FL Studio, it becomes difficult to insert specific time-sensitive points in the clip.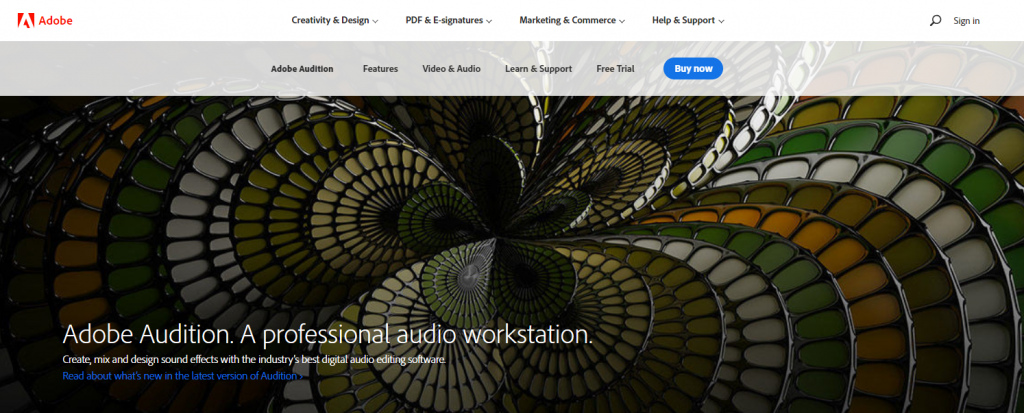 Adobe, you've probably heard of the company. One of the products of Adobe is Adobe Audition, a Digital music production software. 
It is famous for its competitive nature; it allows you to survive in the ever-changing nature of the music industry. 
With it, you can add special effects, remove noise, synchronize dialogue automatically and use automatic crossfades for overlapping clips. Adobe dedicates its time to become unique, so the question of standing out doesn't exist.  
In addition to its special features, Adobe Audition provides a competitive advantage to both beginners as well as advanced users.
The music business is time-sensitive, and Adobe Audition understands it well. 
With a click of the mouse or a keystroke, we can complete competitive and repetitive tasks. Currently, no other program can accomplish this. While it takes hours to do repetitive tasks like removing breaths, Audition can do it in a matter of seconds by processing the entire batch. 
It is also known as batch processing. This saves you lots of time and allows you to be much more flexible.
Using Audition, importing, and exporting is significantly easier. 
Traditionally, you produce a track, export it, and then import it into the program, make adjustments, and export it again if necessary. 
This method not only costs time but also consumes the majority of the storage space. But on Adobe audition, you may simply make adjustments to the MP3 format as it is saved on the software using Audition.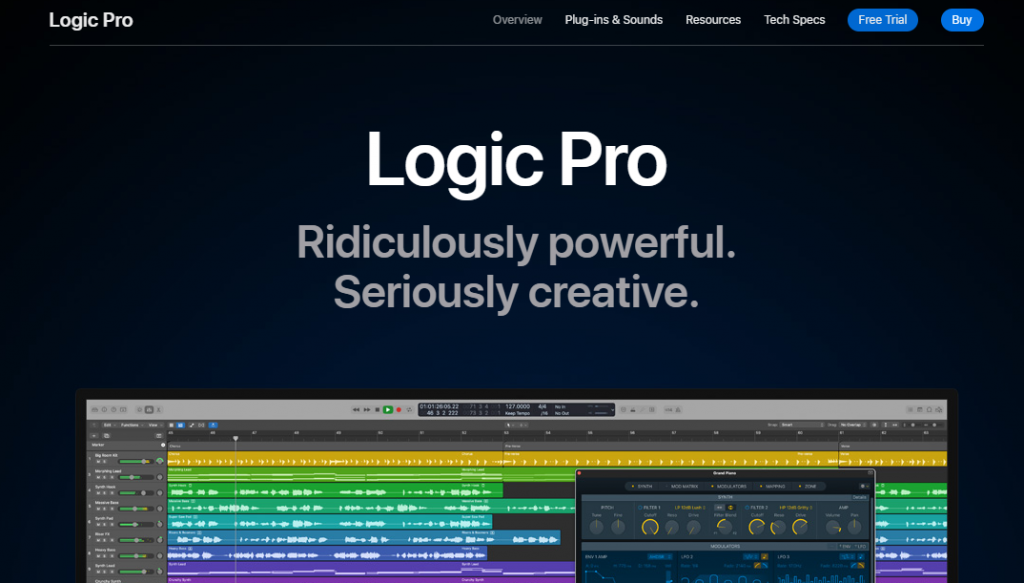 If you are a beginner trying to set your hands in music production, Logic Pro is the perfect option for you. 
The newest version of logic pro, i.e., Logic Pro X, is the beginner-friendly version of Logic Pro. Unlike other music production programs and previous versions, you can learn it's function in a very short period of time.
The developers have put in more effort and dedicated their time to bring you the most easy-to-learn DAW. Now, you don't have to watch hours of tutorials to understand how it works.
Just like GarageBand, Logic Pro is also manufactured by Apple. Hence it's regularly updated and runs smoothly on iOS and Mac devices. 
It enables musicians to compose quality music faster. It comes in handy if you're working in a time-sensitive zone where the quantity of soundtracks plays a role.  
While normal DAWs with similar features cost around $1500, Logic's retail price sums up to a maximum of $200, which is relatively cheap when compared to luxury brands like Ableton. 
This makes it easier for new song producers with a limited budget to produce quality songs at an affordable rate. 
Money should not be a factor in why someone leaves their passion, and Logic Pro understands that. The affordability of Logic Pro makes it one of the most popular music production software among students and beginners.
Stepping into music is a big step for anyone; why not do it right? This software is ideal for your initial journey as a music producer.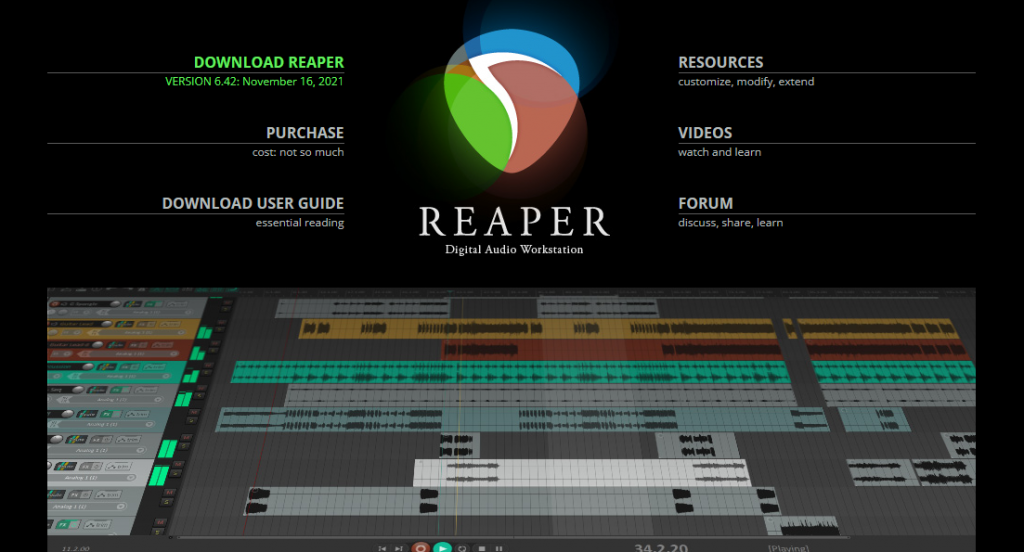 Rapid Environment For Audio Production Engineering and Recording (REAPER) is a new DAW compared to the prominent ones. 
It was released in 2005, and it managed to become one of the most popular software for music production to date in much less time. 
It comprises all the necessary gears for composing music and is also popular among senior artists.
The USP of the Reaper is its price, it's the cheapest one in the market besides GarageBand, but you need to have an iOS or Mac Software for GarageBand. Reaper is available in both Windows as well as Mac devices. 
The starting price of Reaper is as low as $60 and also comes with a 30-day free trial. The discounted price can drop up to $40 and is depended on the number of copies you want to run. It's an ideal option for the majority of students and home studio owners.
Unlike several other programs where multiple models of the same product are available, Reaper comes in only one model. 
Hence saving musicians the confusion of choosing between several models. It makes choosing the best music production software easier and faster.
Reaper comes with multiple features at such low prices, including MIDI, automation, sequencing, control surface support, and a lot more. 
It also supports a unique feature called custom visual layout by WALTER. Hundreds of themes and color pallets are available so that you can get the optical arrangements of the soundtrack.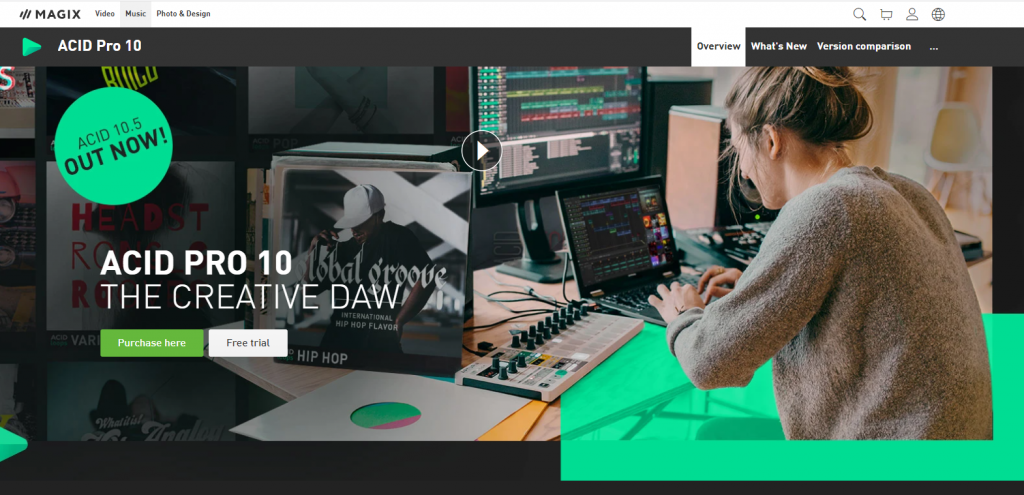 ACID Pro 10 is the digital audio workstation for today's producer or artist. A music making software that combines powerful tools with an easy workflow lies behind the polished and sleek interface. 
For over 20 years, Magix Acid Pro has been ruling the music software market; initially, it was a SONY product but was later transferred to Magix.
Acid comes with a MIDI playable chopper. This chopper is ideal for new-day hip-hop beats where you can play with drums, electric guitars, and more. 
They come in handy when you are up for a performance and need to remix a track urgently. You can also use this to experiment with your music and come up with new beats and rhythms. 
Beatmapper, an inbuilt tool of ACID that allows remixing songs quickly.
External audio files, such as MP3s and complete songs – are analyzed for tempo and time signature information, and you can edit them accordingly.
ACID offers an all-in-one music production process and time-stretching features. Hence it is considered the master of music manipulation. When it comes to price, the price of ACID Pro is as low as $150 or comes with a $7.99 monthly subscription making it a super affordable yet powerful tool for music creation.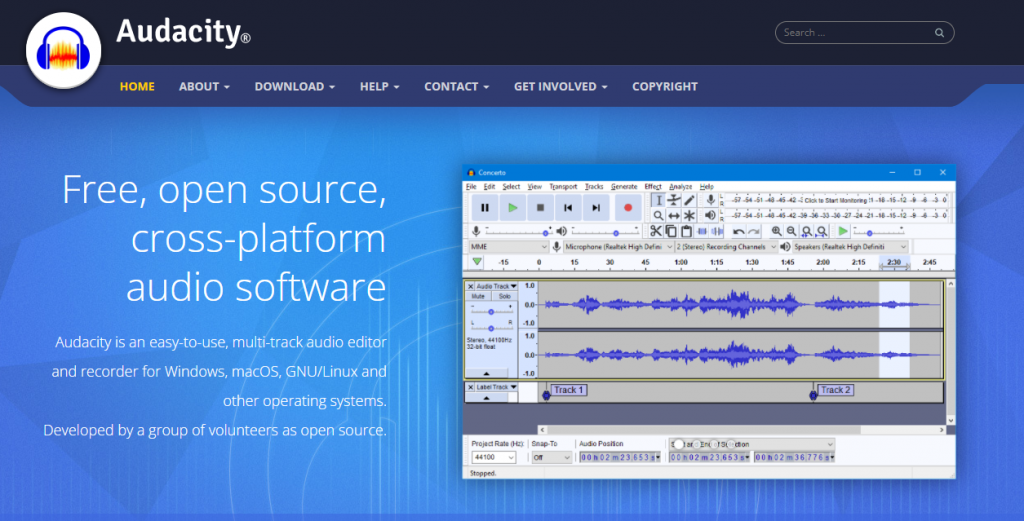 One of the most popular music production software is Audacity. It does not necessitate watching any YouTube videos to learn how it works, making it the most user-friendly tool available. 
When you open it, you'll notice that things start to get to you right away; the creators put a lot of care into its user interface.
It is known for being free of cost or open source while providing multiple advanced benefits as a DAW. For instance, it allows you to play with the pace of the beats while keeping its quality steady with a beat analyzer.
Many content creators use Audacity to create and edit podcasts and make trial demos of their songs. 
You can easily convert your file into mp3 and WAV; however, you'll require a tool called LAMEC for that. 
It allows you to record your voice without background noise cancellation. It is perfect for podcasts, narrations, interviews, or anything else requiring voice and sounds.
Audacity works smoothly on Windows, iOS, Linux, Mac, and every other operating system. 
A clip can be imported, cut, copied, and pasted from an existing audio recording. Background noise and editing can be made. 
Increasing or decreasing the volume is an option. In addition to recording audio, it can edit files and record MP3s.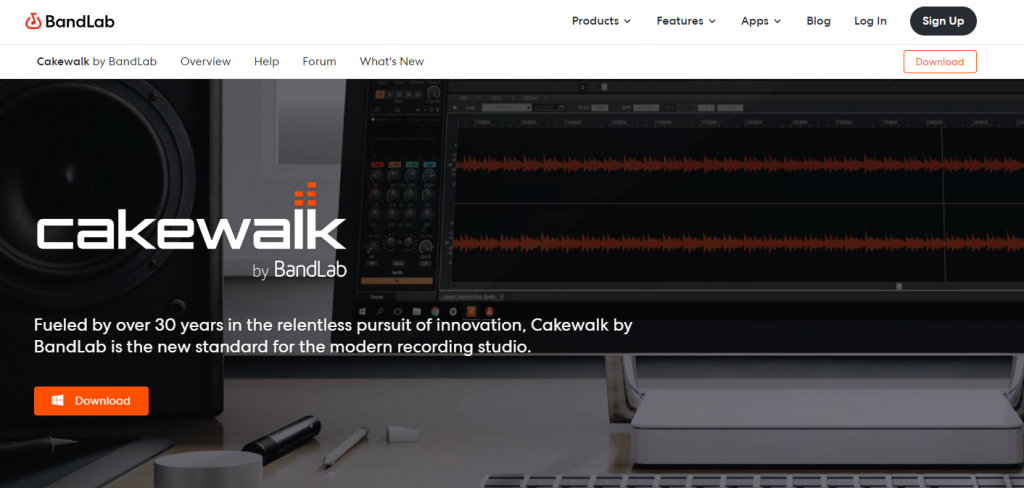 Cakewalk is another totally free but useful software for music production. It has also won several awards for its user interface. 
Initially, it was called Sonar, but after the 2018 acquisition by BandLab, it was renamed Cakewalk. Cakewalk customers are spoilt for options when it comes to choosing a layout or workplace. 
To begin, it lets you select from a library of pre-existing templates, which are intended to fulfill a particular function. 
Cakewalk offers flexibility to choose color pallets and themes. 
It provides Tunstun and Mercury articles; you can also modify or create your own customized piece using a Theme Editor. 
It also allows you to dock and undock the track/console regions and shrink, extend, and move them about. 
You can save modifications to a workspace or build a new layout that you can use from the Workspaces menu later. You may switch between the multiple workspaces in Cakewalk at any moment. 
It comes with numerous effects, pro channels, sounds, etc., for you to experiment with. 
They come in handy every time you sit to create music, whether it is pop, jazz, classic, or a remix.
The view menu in Cakewalk allows you to add multiple views in your workspace allowing you to manage more than one thing simultaneously. 
Cakewalk provides you the option of working with sheet music or guitar tablature if you're a classically trained musician.
Conclusion
Songs are a means of expressing oneself, and if we are unable to express ourselves adequately, simple things become complicated for us. 
Choosing the best music production software is a must if you are seriously into music production and want to get ahead in your career by making outstanding music that people love.
The price of DAW doesn't matter; you can go for either free ones or the most expensive ones; the quality of music you produce will decide the endgame. 
There are several other music software in the market, but these are the gems among them. 
If you've reached this far, I hope this post helped you clear the fog-related to DAWs and choose "the one" DAW that fits your bill.