The number of daily video viewers on YouTube has increased to almost 2 billion. Youtube has the advantage over traditional television i.e., in that, you may pick and then choose exactly what sort of content you want to watch. 
The use of video content in advertising is getting more attention in the business sector. Pro high-quality video editing tools can maintain your digital strategy ahead of the curve even if you aren't a professional or don't know where to begin.
Are you not a professional? No video editing skills? No video studio? Need a video specialist to shoot and trim your features? No problem.
We can help. That's perfectly OK! The purpose of today's blog post is to demonstrate that, no matter how little knowledge you have, you can still make professional-looking videos.
When looking for the perfect video editor, many variables must be considered. To get the most out of your laptop, consider factors like file transfers (outputs), audio and video setups, and visual processing (outputs).
You'll find some of the awesome video editing software on this page, with options for all skill levels and price ranges. There are links to larger analyses if you want to dive even deeper into the details of the particular tools, which we've laid out for you in detail.
11 Best Free Video Editing Software in 2022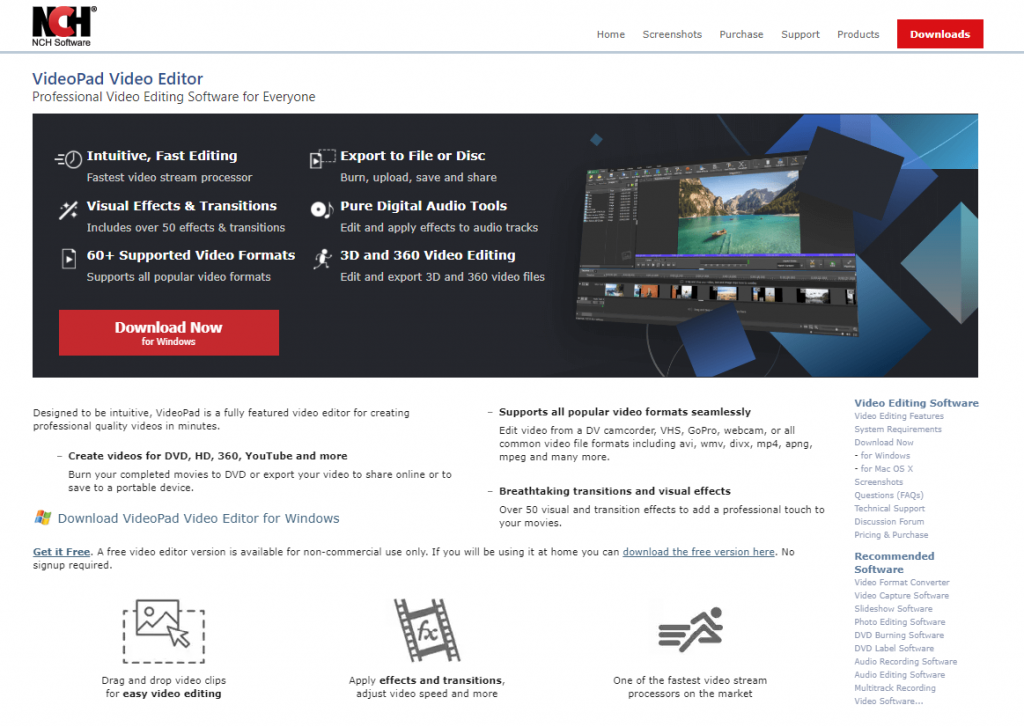 VideoPad is a powerful free video editing software that lets you combine many video files into single movie production. You can import a wide range of audio and video formats such as those in .wmv,.3gp,.wmv, and.divx.
Add pictures and digital files with a single click, implement black-and-white, sepia, and negative-toned elements to your video. In addition, you can also include text subtitles and audio tracks. Make a DVD or Blu-ray disc of your videos & burn them to disc.
VideoPad has two premium editions: "Home" and "Master." Both include a commercial license as well as additional features.
When it comes to audio tracks and external plugins, the Home version is limited to two. When it comes to audio tracks, including external plug-ins, the Master edition has no restrictions. These versions, which are ordinarily $60 and $90, are 50% off for a limited time only on the NCH Website.
When it comes to video editing, VideoPad is by far the most user-friendly software we've come across. In general, the tool's most fundamental features are remarkably efficient and perform exactly as expected.
Since the most often used features are easily located, the user interface (UI) is clear and easy to use. It is the only editor you'll need to make high-quality videos work admirably and without causing you any headaches. This editor is extremely impressive if you consider that perhaps the software is entirely free for noncommercial usage!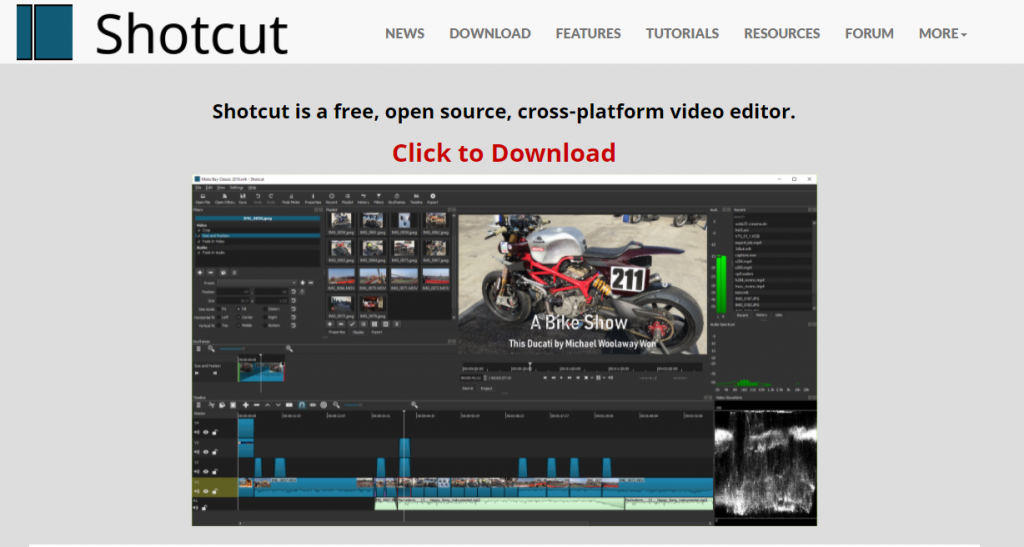 Open-source video editing software Shotcut has already been available for over a decade and is completely free. It isn't the most user-friendly or well-presented tool, but it's quite strong when you dig beneath the surface.
The first time you start Shotcut, you'll be shocked by the fact that very little of its interface is visible.
You'll discover dozens of new views and UI components by clicking on the buttons inside the toolbar at the top of the screen. Resizeable and undockable controls make this a very configurable free video editing software.
Audio and visual filters and transitions are abound in this editor. There's no need to import anything into ShotCut because of the inherent timeline editing feature. It's a general-purpose video editor that can do everything from simple scaling, snapping, and rotating to clip cutting & trimming.
It has limitless undo and redo when editing, as well as a historical view option. As an added bonus, it has tools for combining audio files, locking individual tracks, creating multi-track mixes, and displaying waveforms for each individual track.
You may also purchase a shortcut-specific online course. ShotCut's chief developer has given his seal of approval to this course. That many features, on the other hand, could be perplexing. If this is your first time using it, instructions are necessary.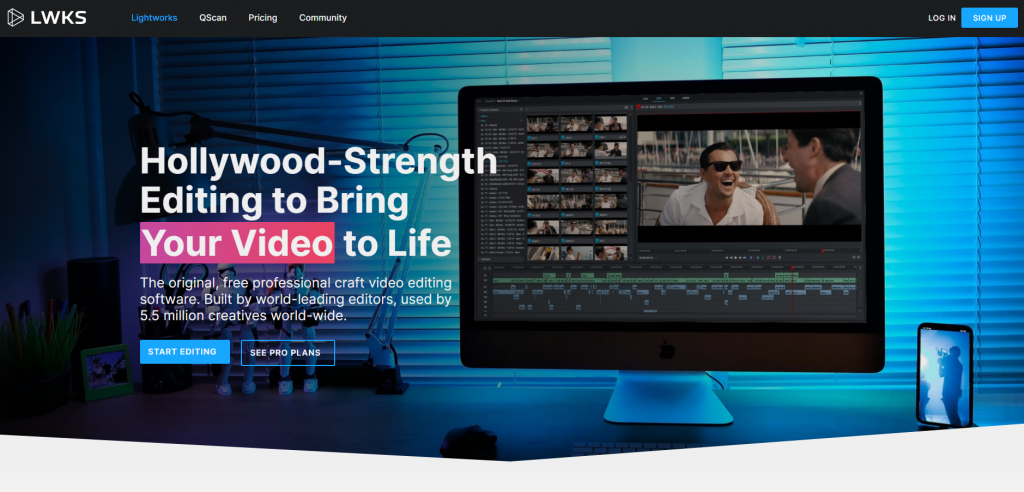 Lightworks touts itself as a one-stop shop for all things related to a video. For almost two decades, Lightworks Editor has always been at the vanguard of film editing, as explained in this eloquent piece.
Several of the best films in cinematic history have utilized it, such As the Wolf of Wall Street, Pulp Fiction & Heat, as well as The Road to Perdition and Hugo.
Lightworks 2020 is its most recent incarnation. Installing and registering the editor is all it takes to get a 7-day trial license.
All tools and output formats can be upgraded to Pro. The one and the only limitation on the free edition of Lightworks is the exporting formats.
Log, edit, VFX, and audio are the four tabs that make up Lightworks' user interface. While it's easier to use than DaVinci Resolve, it's more difficult to master than iMovie and is on the same level as VSDC.
The most recent release is 2020.1, and while it has a few new features, it otherwise remains largely unchanged. We'll compare Lightworks' capabilities and interface with those of other free video editing software in our evaluation.
Video routing is a Lightworks feature for applying effects to video clips in a systematic way. The node-based approach is used by the software to organize clips and videos, which really is necessary for effects and tracks.
When using Lightworks, combining effects from many clips is a breeze because the editor lets you link individual clips to the effects they've already been given.
Use the intuitive user interface to upload videos, edit and enhance the visual and music effects from a single application, all from a single location.
You can use HitFilm Express's free edition on either a Windows device or a Mac computer. HitFilm Express employs a slick video editing approach and contains over 400 visual effects as well as presets to help users generate effects, just like in Star Wars or Westworld.
The special effects on Hitfilm Express are unquestionably superior to anything else on the market, and that is why I consider it to be the greatest free VFX movie editing software available today. You'll find everything you'll require to produce high-quality products on your own in this kit.
Because of the video editor's extensive toolkit, it's a relief that the user interface doesn't have to be overloaded. Selecting the pieces that appear on the panel allows you to avoid having an ugly mess on your hands.
Users love HitFilm Express' innovative function that allows them to follow the motion of an object in their video files.
Having the ability to track the movement of items is critical since it allows users to add additional things that continue the very same trajectory. Instead of having static gadgets or device interfaces, this new interface moves with the device it's replacing.
Source media files can be easily organized with Hitfilm Express.
The video inside the Trimmer window begins playing as soon as you choose a file from the Media panel.
The In-point, as well as the Out-point for the original video, can be marked here. The video that appears on the timeline will only be utilized for the parts between the two places that you drag it to. As a result, you may easily place adjustments wherever you want them.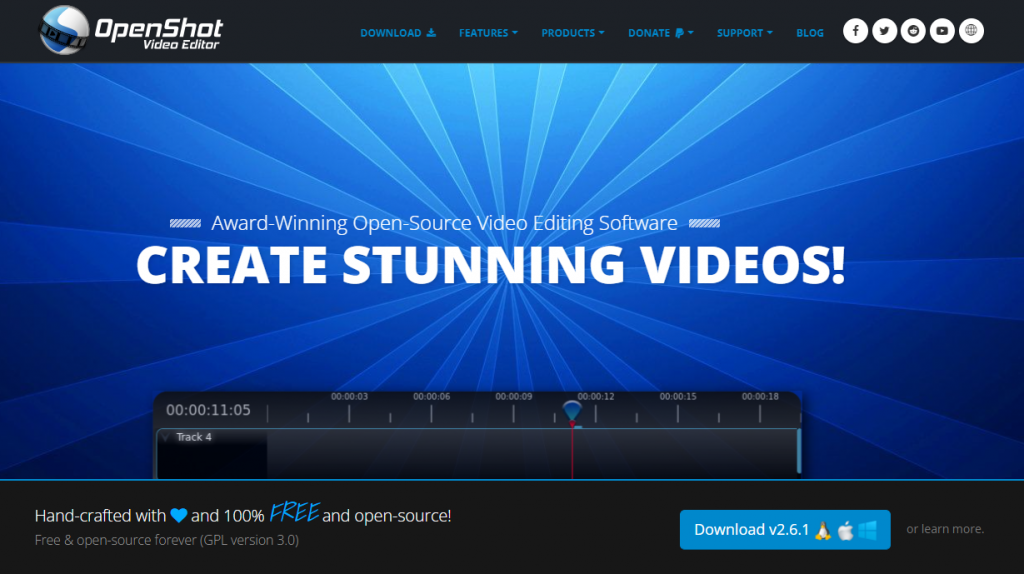 In order to make beautiful films, the OpenShot video editor uses your music, movies, and photographs. Users can also simply add subtitles, filters, and fades to their films and then export them to places like YouTube, Xbox 360, and DVD.
To help businesses with advanced video editing, the application was designed exclusively for them. As a result, OpenShot crop video is a perfect platform if you're seeking an innovative and distinctive video editor.
OpenShot's video editor capabilities and alternatives will be discussed in this blog. So, if you're interested in learning more about this editor, keep reading.
OpenShot is a video editor designed primarily for young, low-budget video editors who are new to the field.
This free video editor is open source and doesn't charge anything to download or use. Many features are available to the user in the free version, and there are additional features available as well.
When it comes to sophisticated features, users can get them from the OpenShot API for a very low price if they choose. Users favor OpenShot's video editor above others since it is completely free.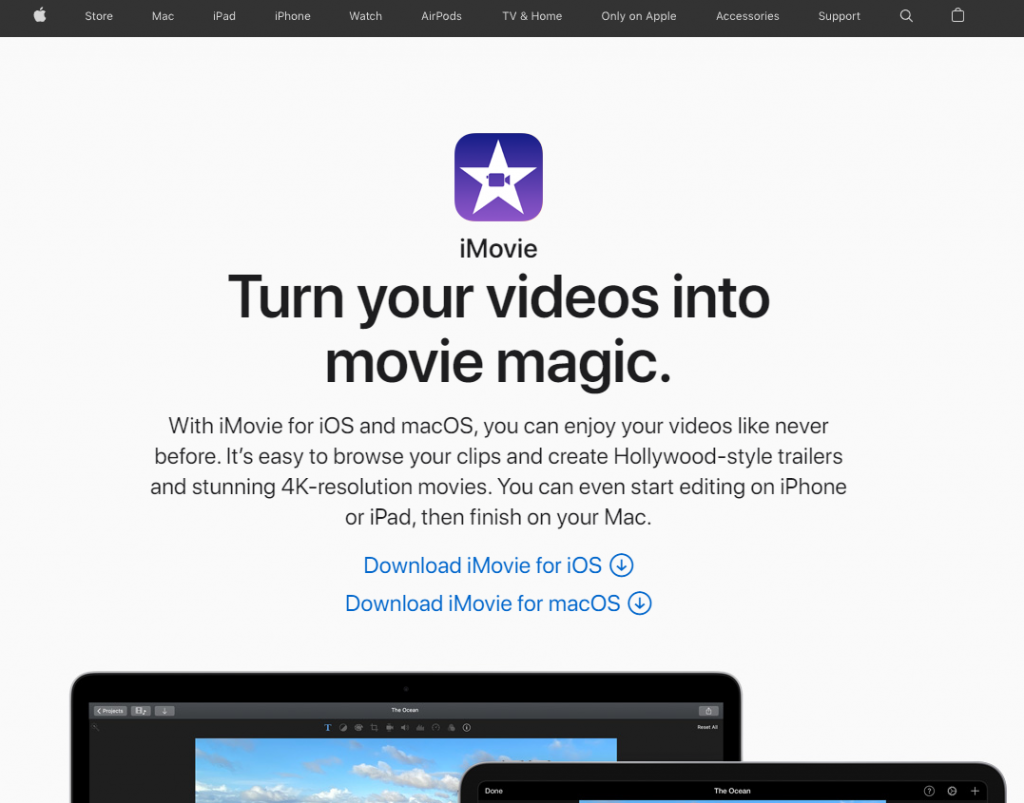 When using iMovie, iOS, and macOS, users may create and share videos to remember special moments, occasions, and places.
It's also a creative outlet for them, as they can make Hollywood-style trailers for their films. Themes and templates are also available for customers to use to create a personalized trailer.
The makers of the iMovie video editor are constantly striving to build a user-friendly and aesthetically pleasing interface.
This simple interface makes it easy to learn how to do everything, from importing files to trimming and applying effects and transitions on your own. And with enough practice, you may become proficient with even the most difficult features.
Adding photographs to the timeline is the only thing you could be interested in learning how to do. Ken Burns mode can be applied automatically in iMovie when you upload the images. In the photo options, you have the button to disable the theme.
People can add unique studio logos, cast identities, as well as credit rolls to their iMovie movies and trailers to make them appear more cinematic. There is a choice of templates to pick from, each with a different style to match the video's tone. This gives the users the chance to make something entirely unique.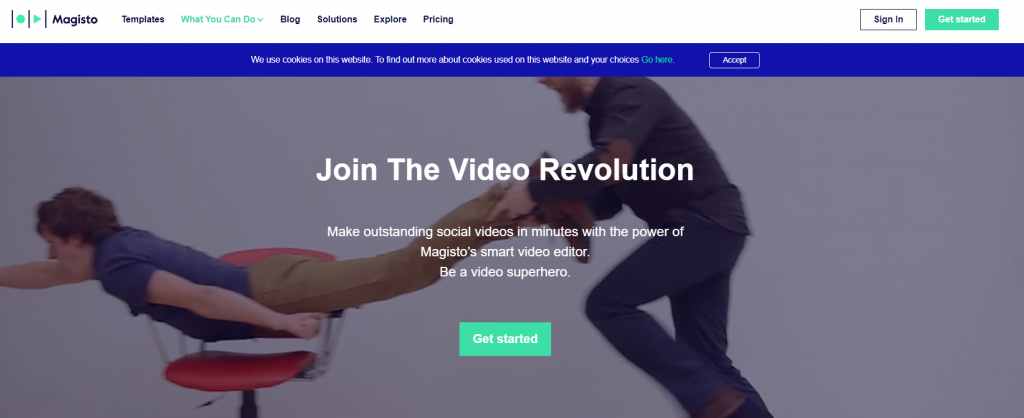 Using Magisto video converter, companies distribute videos, alter photographs, and track video performance online. Using artificial intelligence, the video creation element of the system creates a marketing tool using uploaded photos, soundtrack, as well as video.
A video management platform for professionals, advertising companies, and enterprises to use inbuilt soundtracks, video files, and editing styles is what this editor is all about.
You may distribute material via email, networks, marketing, and social media utilizing Magisto's video editor. Mobile devices and online browsers can both be used to post videos to a company's website, where they can be seen by the public.
Additionally, the platform has a marketing analytics function that collects customer data to provide insight. Magisto professional's other characteristics include: 
Using Magisto's artificial intelligence, you have complete control over how your footage appears and the secondary colors used in your theme.
In addition, you may choose to customize your content for certain networks like Facebook or YouTube and even add your personal branding to the mix.
As Magisto is managed by Vimeo, you will find an option of keeping your video there, also including sharing & uploading it freely on a number of channels.
Because of the hosting, it's also accessible with email marketing providers like Constant Contact & MailChimp, as well as other social media marketing platforms such as Instagram, Facebook, and YouTube.

Bloggers, advertisers, YouTubers, publishers, users, as well as companies, all use InVideo to create high-quality videos that drive traffic to their sites. Whereas Adobe Premiere Pro is a stand-alone application, Invideo offers an array of predefined templates to enable you to generate content in five minutes.
When using InVideo's editing features, you have complete control over the media you want to use.
There are thousands of photographs, video clips, stickers, GIFs, and music files in the InVideo media collection. Video and other files from your device can also be uploaded. 
The videos can be in any language the user wants. Several videos necessitate the display of texts & messages. Unlike many other video editors, you won't be limited to operating in only English.
Additionally, the video includes a fantastic function that converts text into speech.
Visual effects in InVideo can be selected based on a theme, which simplifies the process. 
Collections of visual effects include collages, faces, labels, and a slew of additional options. Insertable patterns make your content stand out on video-sharing services where it's up against competition from other videos.
To be successful as a professional YouTuber, you'd have to produce videos on a regular basis and maintain a high level of quality. If you're going to use video, you'd better make sure it's captivating and supports your claims.
It must be of high quality, as well as should feature engaging music that draws spectators in. When you use InVideo, your daily tasks will be simplified while still being of high quality.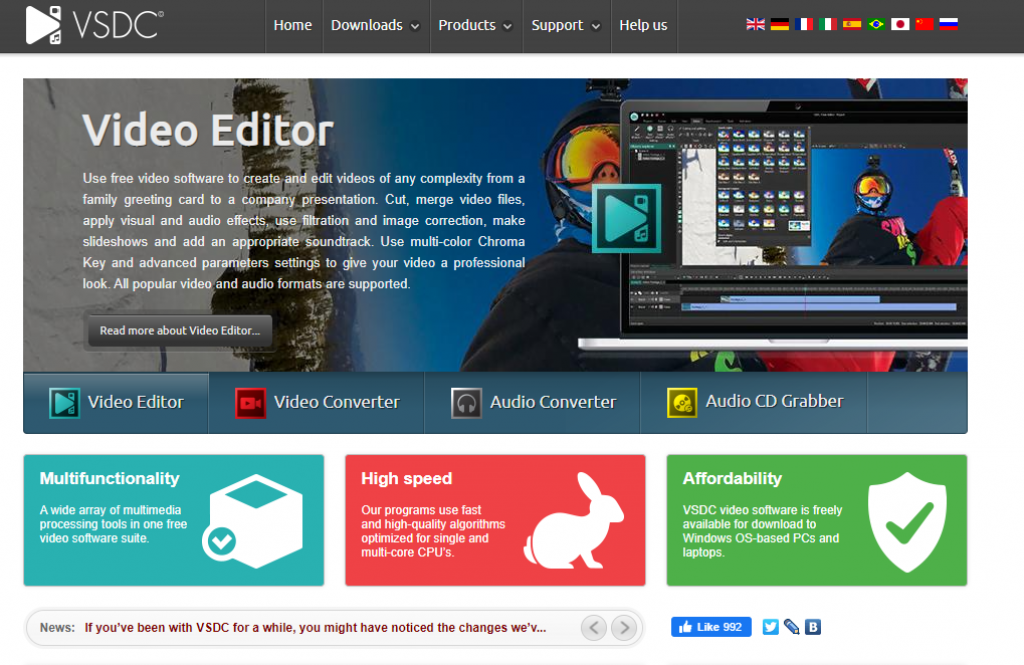 With the VSDC editor, users may modify videos quickly and easily. It's essential to remember that VSDC is totally free. As a result, payment, free trial, and subscription is not an issue.
To assist you in learning more about the capabilities of the VSDC free video editor, the creators have formed a robust community around it.
 It is possible to add elements, support various file formats, and minimize file size by using VSDC pro. Additionally, the software's easy-to-use interface makes it possible for users to modify video without spending time figuring out how to fix problems.
VSDC has all of the features you'd anticipate from a standard editing suite and more. You can clip, apply color settings, and trim your films once you've put them on the timeline. You can also use cross-fades and wipes as transitioning between clips. 
It's worth noting that VSDC's File Sequence wizard similarly allows you to perform all of these actions.
When it comes to typical editing functions, VSDC has it all. You can clip, apply color settings, and trim your films once you've put them on the timeline. Transitions like cross-fades & wipes can also be used among clips.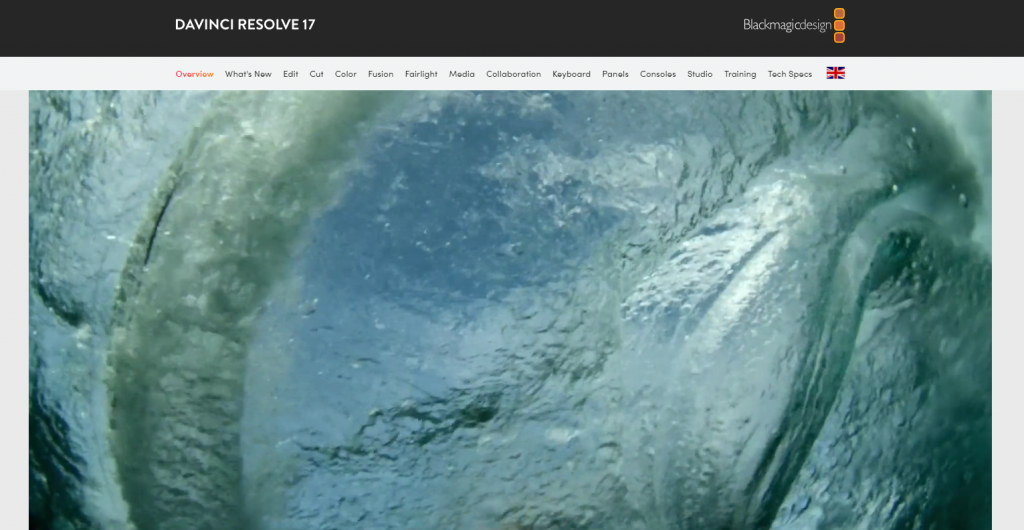 DaVinci Resolve is an excellent choice if you're just getting started with post-production and want to learn as much as possible. 
It's a high-end free video editing tool widely used in the commercial sector. Utilizing the application will put your career as a vlogger, YouTuber, video producer, or movie maker on the fast road.
However, it has a degree of difficulty that may use one or two lesson videos to make it more user-friendly. Presets allow us to make the tool resemble other editing tools in terms of layout, which saves you time. 
As among the top video editors for youtube, DaVinci Resolve appears to have preserved the platform's overall look and feel while introducing enough new tools to excite a younger audience.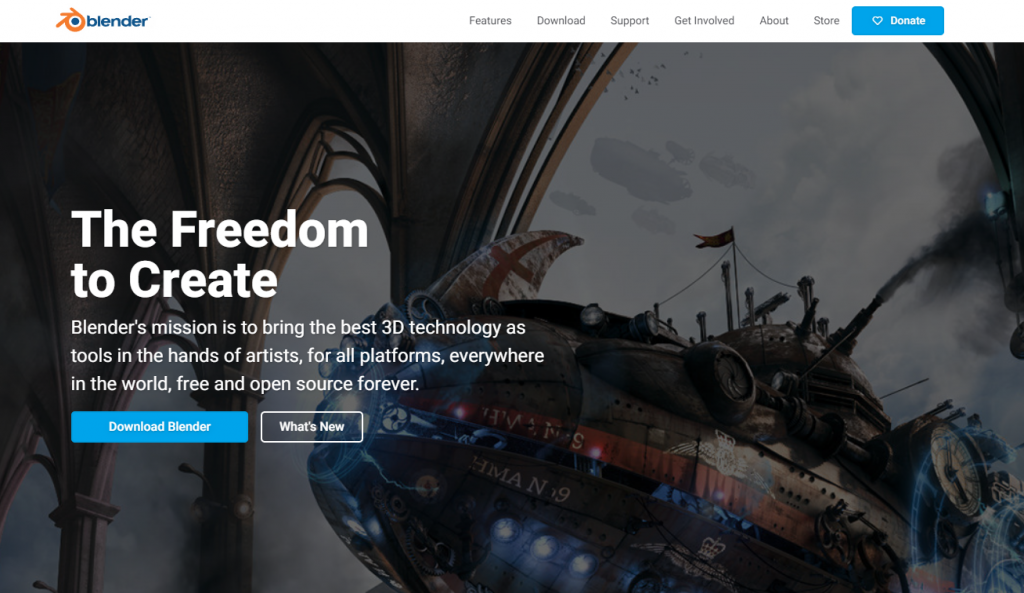 Rather than being a 2D video editor, Blender is a 3D video editor. To put it another way, you'll learn about Blender's robust 3D modeling, 3D animation, and sculpting capabilities.
The blender comes with a built-in video editor that makes it easy to edit videos without having to learn new skills. Compared to other similar tools, it will also be able to provide a flexible video editing experience.
Blender is an easy-to-use video editor with a simple user interface. Even if you're a total newbie, Blender will teach you everything you need to know about video editing in no time.
Conclusion
Well, keeping your content pipeline active and filled is necessary; however, you also need to make it more compelling. 
These free video editing software will help you in editing your videos more effectively and save a lot of time. 
Every software has its pros and cons, so it is totally on you to decide which is more suitable for your requirement among these. 
We hope you will find the most suitable free video editing software among these and start making your videos much more engaging.