"When was my last period?"
The likelihood of knowing the answer to this question is next to zero! 
Because every woman has a different cycle, and there are more than a hundred reasons to have an irregular cycle. That's why sometimes it can be hard to remember when you had your last period. 
But, it's crucial to know about your menstrual cycle. It helps you understand your body better. You can understand your unique cycle pattern. And if you're trying to conceive, knowing your cycle will help you predict ovulation. 
And let's face it, it's not possible to track your period on paper. That's why having a good quality period tracking app can free you from all the hassle of monitoring your cycle. 
If you want to understand your body and take charge of your health, here are the seven best period tracking apps of 2022 you must try! 
7 Best Period Tracking Apps Every Women Should Have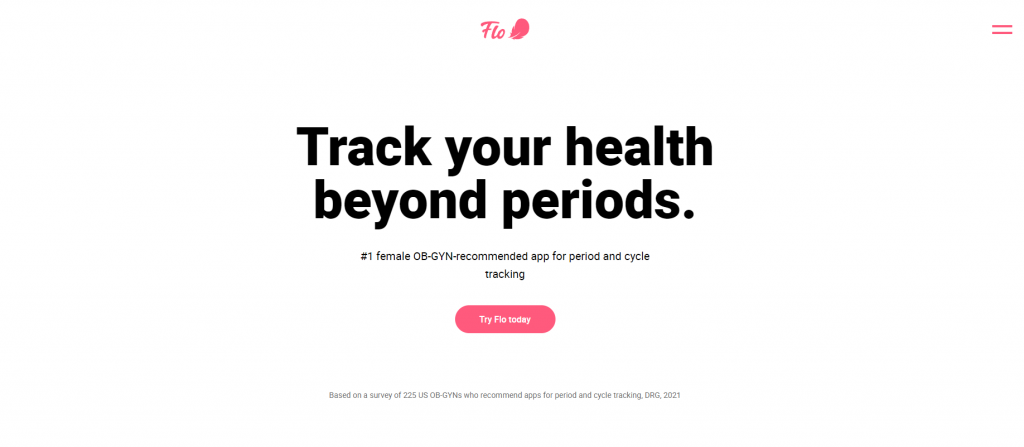 If you're suffering from PCOS, endometriosis, or going through the perimenopause phase, you'll know how painful irregular periods can be. Also, you understand how tracking your menstrual cycle can literally save your life! 
However, most period tracking apps take the average length of your menstrual cycle and calculate your future period data based on that. So, if you haven't had your cycle for 90 days or if they last more than a week, it can be difficult for an app to calculate your future fertility predictions accurately. 
This is where Flo comes as a savior! 
The app uses advanced artificial intelligence technology to monitor your cycle, fertility, or pregnancy. Unlike other apps, Flo doesn't rely on a fixed algorithm. So, even if you have irregular periods, it's perfectly capable of accurate predictions. 
With more than 200 million installs and 43 million active users, Flo is helping women of all ages by providing access to expert insights, support, and knowledge. 
The app comes with more than 70 symptoms and mood trackers to make your period journey smooth. For instance, Flo can help you monitor symptoms like bloating, cramps, mood swings, and low sleep quality during your cycle. 
Flo is so much more than just a cycle and period tracker app. You can enable the journey of motherhood with this app by tracking your most fertile times of the month. Flo's pregnancy calculator lets you measure your due date, set a countdown, follow your baby's growth, and gather customized insights.
You can use the app as a fitness tracker as well. Keep a note of your weight, water consumption, moods, activity, and sex drive using Flo's AI-based technology. 
So, as a one-stop solution for all your period and pregnancy-related issues, Flo is definitely one of the best picks on this list. 
Pros
Tracks irregular periods.
AI helps to track pregnancy.
Get access to monthly health reports with data and charts.
Works as a lifestyle and fitness tracker.
You can schedule reminders when the period is approaching.
Get safe and anonymous support from a global female community.
It comes with both paid and free versions.
Cons
Premium assistants are a bit costly.
Sometimes the reminders might stop working.
Available on both Android and iPhone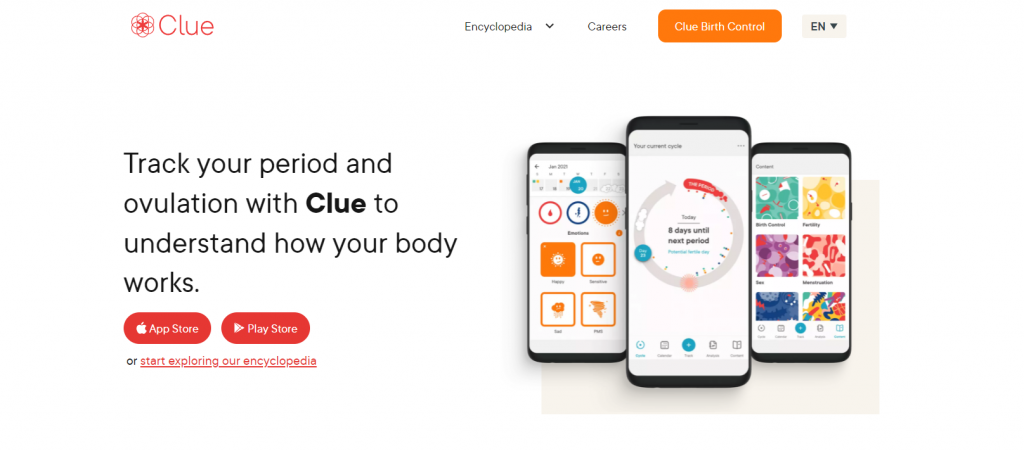 If you're clueless about how your period cycle works every month, Clue is the perfect app for you. 
You can track your period, cravings, PMS, and much more using Clue. Tracking your cycle in this app allows you to identify symptoms, notice patterns, and feel more connected to your body. 
Clue comes with an analysis tab that gives you a detailed insight into your typical period length, cycle length, ovulation, heart rate, and cycle variation. Also, you can use it to understand your basal body temperature. 
Moreover, Clue can notify you when it's the right time to visit an ob-gyn or healthcare provider. 
Another great feature of the app is a clear interface. Simply log into the app to provide details about your symptoms, and Clue will analyze everything with its science-driven algorithm. 
And don't worry about security! The app keeps all your private data secured. They never use it to sell or show ads. In fact, you can choose to save or delete all your information at any time.
Clue has both free and paid versions. In the free version, you'll get access to some basic but attractive features. However, you can access all the features at just $5 per month. 
Pros
Clean and modern interface.
Comes with 30+ tracking options like cramps, sleep, skin, hair, and much more.
Period Calendar reminder.
Ovulation, pregnancy, birth-control tracker.
Get access to cycle analysis and customized health reports.
Cons
Sometimes the app might crash.
You need an account to use it.
Some great features like symptom predictions and the content tab are under the paywall.
Available on both Android and iPhone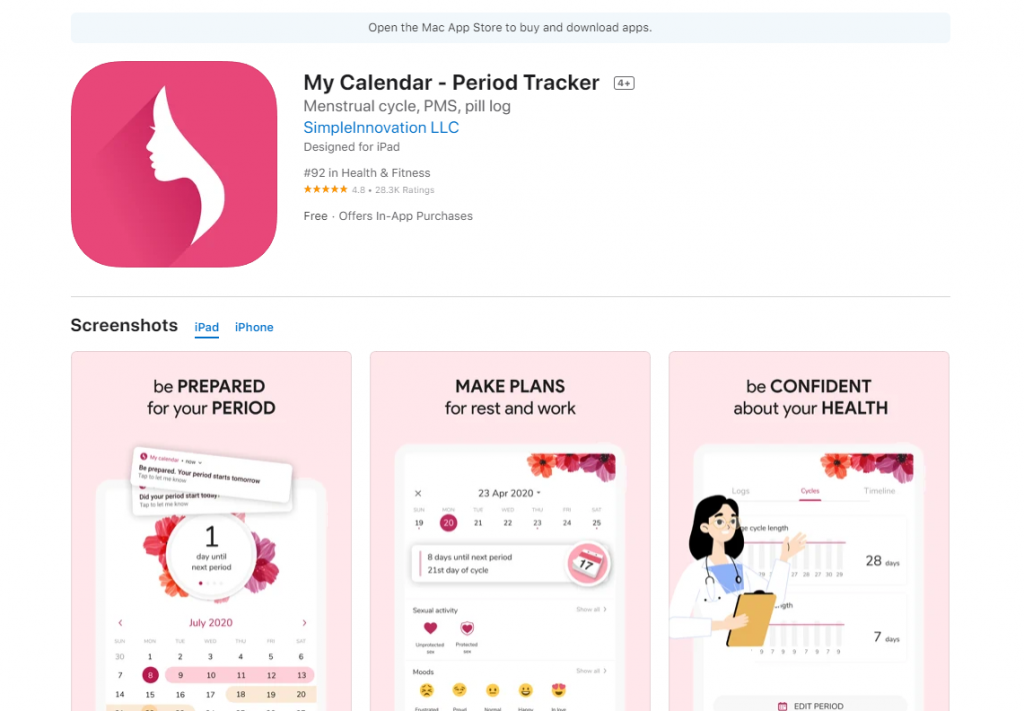 Another great period tracker app you can try if you want to keep track of your menstrual cycle is My Calendar. 
Known for its elegant and customizable watercolor themes, My Calendar is perfect for setting your period reminders. This app helps you access all the necessary information about your period in one place. 
With My Calendar, you can see two different styles of cycle reminders, Discreet and Personal. The personal style informs when your period is due. While the discreet reminders notify you about upcoming periods, fertile days, and ovulation days. 
You might be surprised by the accuracy of My Calendar. It perfectly adapts to your menstrual cycle history and calculates important events based on that. 
Like most calendars, you don't have to worry about losing your stored data with My Calendar. You can keep a backup of your entire cycle log and restore it quickly. 
When it comes to security, the app provides excellent password protection. You can protect your sensitive information using a unique PIN. 
This customizable and accurate period tracker comes with several pros, for instance:
Pros
Intuitive calendar allows you to track period, ovulation, fertile, non-fertile days.
Save daily information like moods, symptoms, weight, PMS, flow, intercourse, medicine, and temperature.
Always get notifications about your upcoming period, fertility, or ovulation.
Elegant and easy to navigate.
Cons
Features are a little basic.
You can't access it on your android device.
Available on iPhone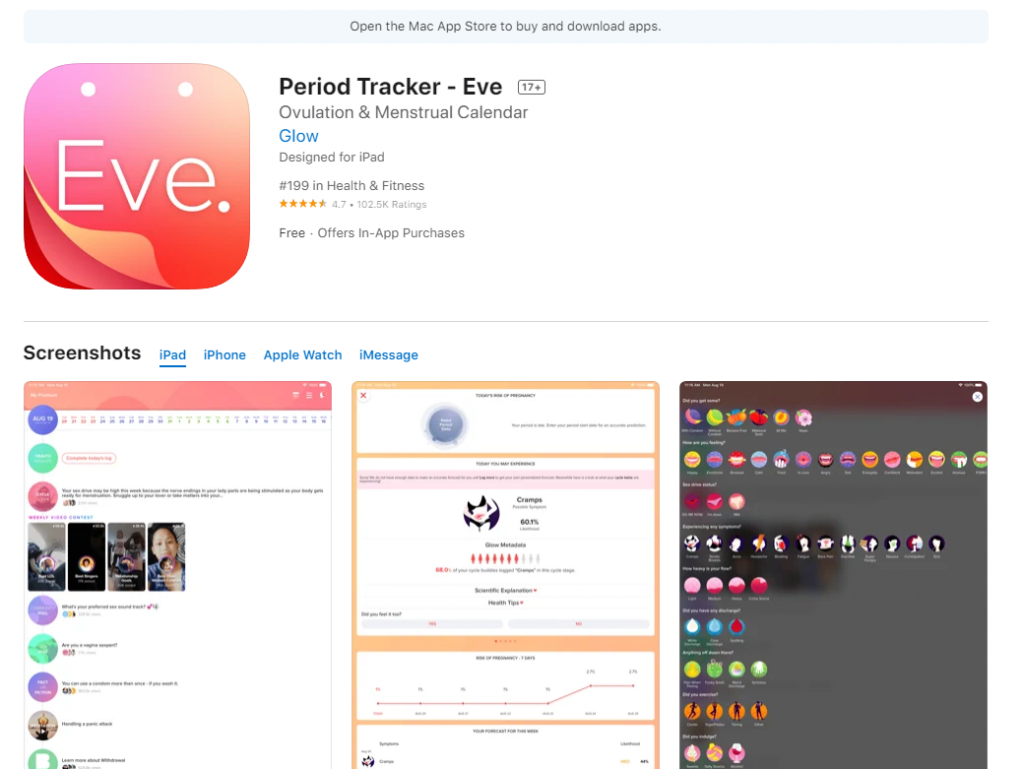 The Eve app is from one of Glow's top-rated period tracking apps. Although the original Glow app tracks period, fertility, and pregnancy, the Eve version only focuses on your menstrual cycle. 
If you want to take control of your health and track your period in the fastest and easiest way, the Eve app is the ultimate solution. 
Using this interactive tracking app, you can see your cycle history predict your ovulation and upcoming period. 
Eve allows you to review your last menstrual cycle to understand your body better. Also, during your cycle, you can keep an eye on your mood, vaginal discharge, and cervical mucus. 
Eve even will send you customized monthly health reports if you're suffering from PCOD or getting irregular periods. 
And let's not forget about Eve's community support! With this app, you'll get an opportunity to connect with women all over the globe and discuss your health issues. 
Pros
Keep a record of your period, PMS, and mood swings.
Clean and elegant interface.
Get reports on your health with beautiful graphs and charts.
Get access to u0022Cyclescope,u0022 which forecasts your cycle in a fun way.
Keep a check on your gym life.
Cons
The continues notification to upgrade can be annoying
It only focuses on period tracking.
Available on both Android and iPhone.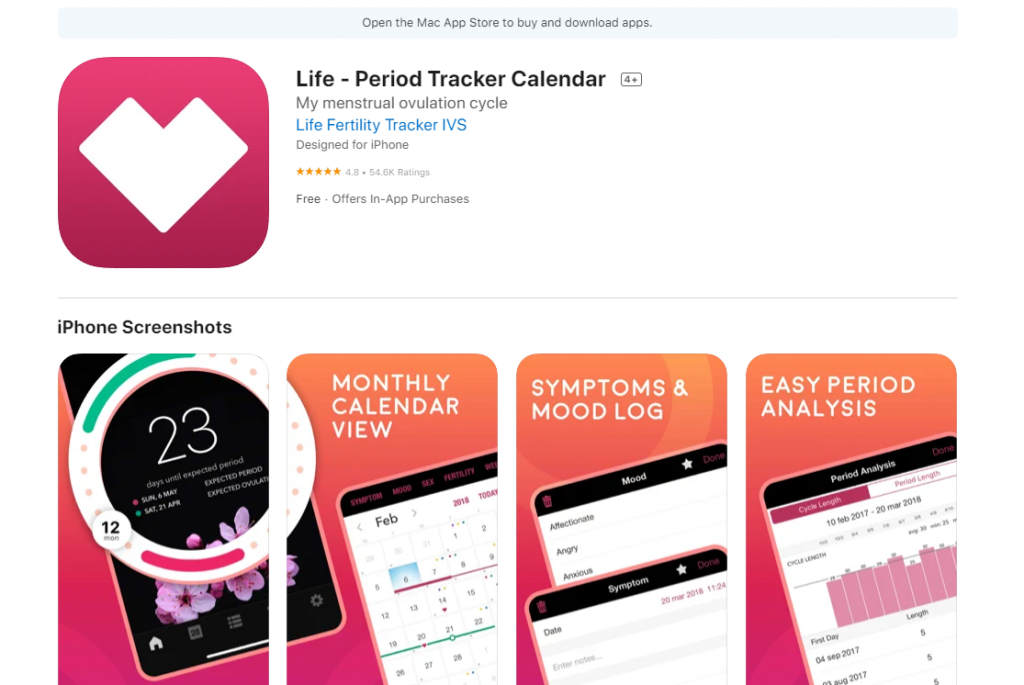 Like any other app on this list, life allows you to track your cycle, measure your moods, and schedule reminders. 
Unlike most period tracking apps, life provides an innovative calendar feature. They went through hundreds of prototypes to enter your cycle dates before getting a satisfactory result. 
The best part about this app is the beautiful and simple display. You'll love tracking your period on the app! 
By default, life will define your cycle as irregular if it notices you have a cycle length of less than 21 or 36 days. However, you can customize these values within Settings to match your needs and expectations. 
You can upgrade to premium membership to unlock some of the best features like a weight tracker, fitness tracker, medication tracker, health tracker, pregnancy tracker, and even a personal diary. 
The premium subscription of life comes with myriads of benefits like no interruption of ads, custom wallpaper, PDF & CSV data export, and a yearly calendar. 
Pros
Beautiful, slick, and simple UI.
Easy to use cycle reminders.
Keep a separate entry of your symptoms.
Fertility and temperature tracker.
Create custom tags.
Hide irrelevant tags.
Cons
You have to subscribe to premium membership to access most features.
A bit expensive.
Available on both Android and iPhone.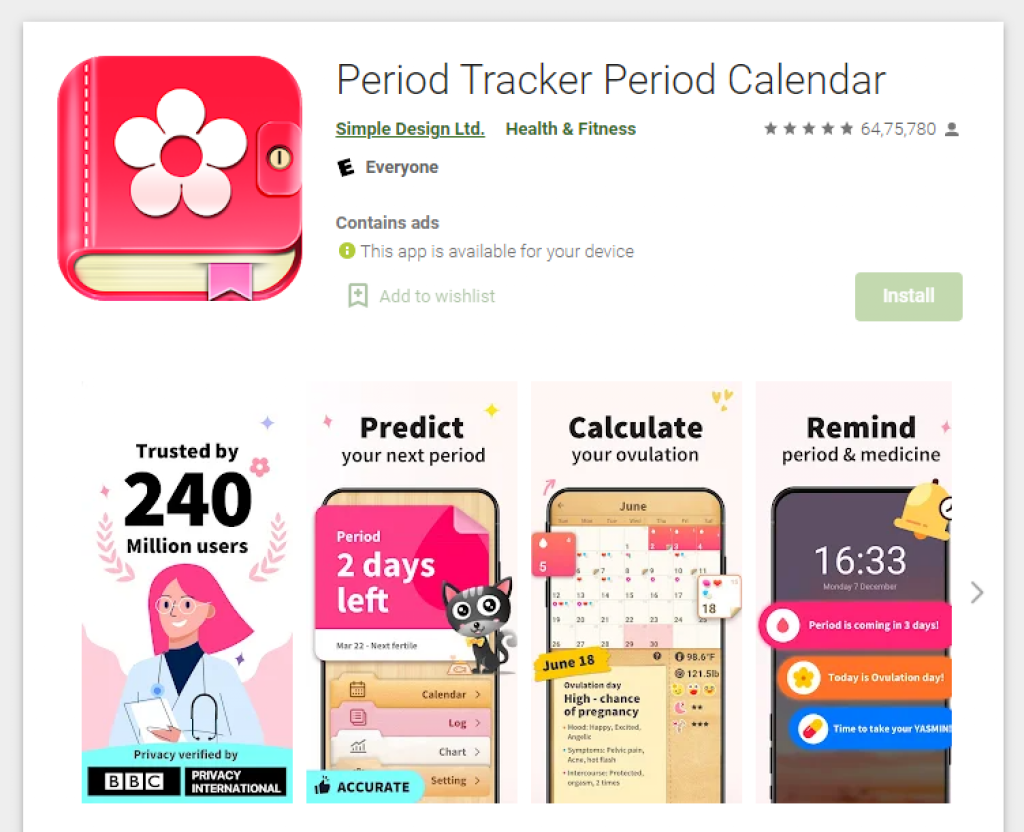 Created by Simple Design, Period Tracker is another great menstrual cycle tracking app if you understand the struggle of irregular periods. The app's calendar makes it easy to track your past and current period to help calculate your upcoming cycle. 
Also, the pinkish and floral design of the app makes it a perfect choice for teen girls. Period Tracker can be your best friend if you're about to hit puberty or have just started menstruating. 
You can also track your BMI, cervical mucus, sexual activity, temperature, weight, moods, and symptoms using the platform. 
Most teens these days don't get proper education on puberty or menstruation. But Period Tracker can help them learn about their body and healthy habits in the best way possible. 
And as a bonus, the app works great and is a fertility tracker too. You can use it to predict your cycle and ovulation. Also, the Period tracker lets you keep a record of your cervical firmness, fertile symptoms, and much more. So, if you're thinking about giving pregnancy a shot, this is the right app to use. 
You don't have to worry about your security with the Period Tracker. It comes with significant security protections. In fact, you can save all your data, back it up, and restore it on your phone or email. 
Pros
You can customize the notification text to turn it discreet.
Pill reminder.
Intimacy tracker.
Uses Google account to backup and restore your data.
Cons
Not the best app for adults.
Available on both Android and iPhone.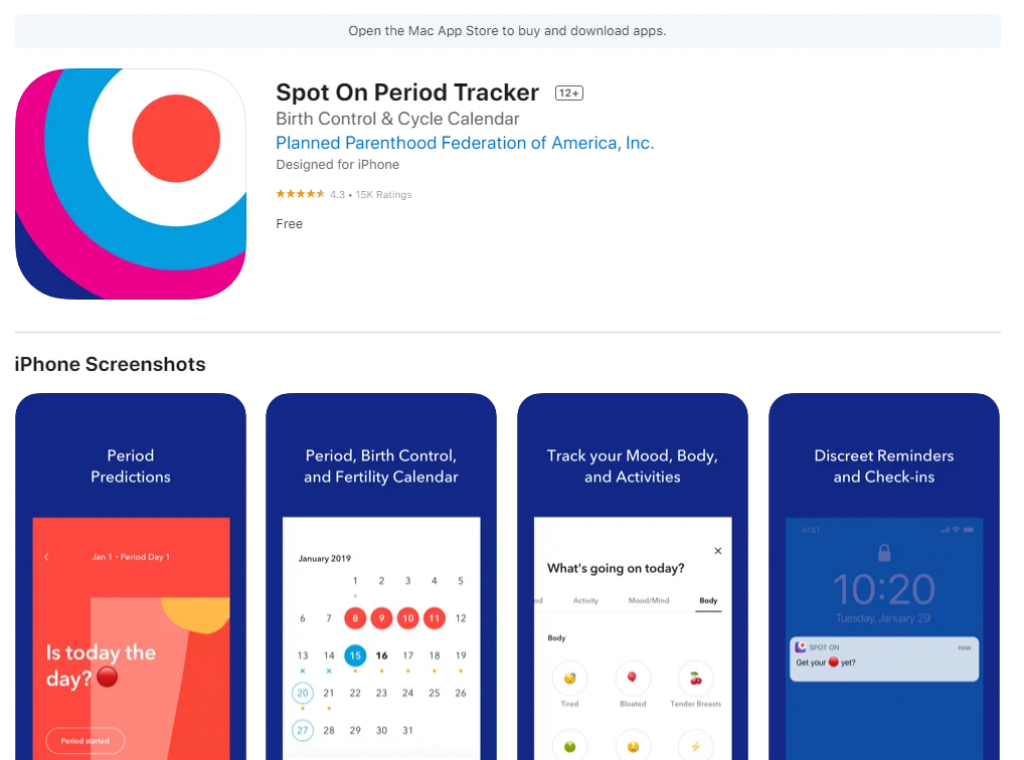 According to teen Vogue, Spot On is a serious game changer! Because with Spot On, tracking your period is fun and much more accessible than most apps out there. 
Powered by Planned parenthood, Spot On is great for tracking your menstrual cycle, fertility, and period. 
The app allows you to watch your flow from spotting to heavy days. Also, understand your body better during your period by tracking your symptoms like cramps and fatigue. 
The best thing about Spot On is gender neutrality. The app doesn't make any assumptions or judgments about your gender or reproductive goals. It talks about your menstrual days like an actual human. 
Spot On's customized guidance and expert advice will help you out if you miss your cycle or have irregular cycles. You can always access FAQs, articles, and Q&As from experts on your period based on your symptoms in the app. 
Also, Spot On lets you contact directly with their chat health educator. So, using Spot On is like carrying your doctor with you. 
Pros
Period, fertility, birth control tracker.
Accurate period predictions.
Keep track of your symptoms, mood, and activities.
Discreet reminders.
Expert resources from Planned parenthood.
Free, safe, and secure.
Cons
Sometimes can be information overload.
Available on both Android and iPhone.
Wrapping Up
A period tracking app is the perfect way to keep a record of your cycle in one place. Instead of keeping track on paper, you can trust these tracking apps to predict when you'll have your cycle. 
However, sometimes these period tracking apps can provide inaccurate data. But it depends on the information you're providing and the technology itself. 
So, before blindly trusting an app, review its features and benefits. Choosing the right app which is relevant to your menstrual cycle can really help you understand how your body functions. 
And while choosing the perfect period tracker app, we hope the above review will help you find accurate information.