Learning a language is never an easy task. 
And if you are a working professional or too busy with other things, it becomes super challenging to practice a language daily. However, if there is a will, there is a way. 
Similarly, if you are determined to learn a foreign language like Spanish, relying on language learning apps will not go in vain. 
If you have an internet-enabled device good internet connection, the classroom will come to you at your fingertips.
In this post, we've compiled a list of the best apps to learn Spanish language quickly.
11 Best Apps to Learn Spanish
The first currently the one of the most popular apps to learn Spanish language is Duolingo.
A physical classroom is not the only place to learn a foreign language. Presently, you can study any language anytime in the comfort of your home using your mobile phone at your fingertips. 
If you are also looking for something similar to the one, you have to explore Duolingo. 
While people may have various approaches and learning abilities, online language learning has extensively overwhelmed the market in recent years. 
Opposite to the traditional way of learning a skill using a textbook, software and apps are efficient, effective, and provide a fun learning experience. 
It has a simple user interface, and its user experience is pretty likable and straightforward. However, the stylish and innovative design delivers an involuntary and knockout involvement. 
Just like most of the Spanish language learning apps, you can register for free at Duolingo.com. Again, the registration process is very straightforward. 
It comprises three steps; selecting the language you want to learn: the reason for considering the language, and deciding your daily goal between casual (10 minutes), Regular (10 minutes), Serious (15 minutes), and Intense (20 minutes) learning. 
Hence, if you want to start learning some extra Spanish vocabulary, this is a good app for you to start with. 
Pros of Duolingo
Easily accessible. 
It is entirely free. 
It allows multiple languages.
Cons of Duolingo
It focuses more on the English language. 
No room for advanced learners.
Pricing
The price is $6.99 per month for Duolingo plus.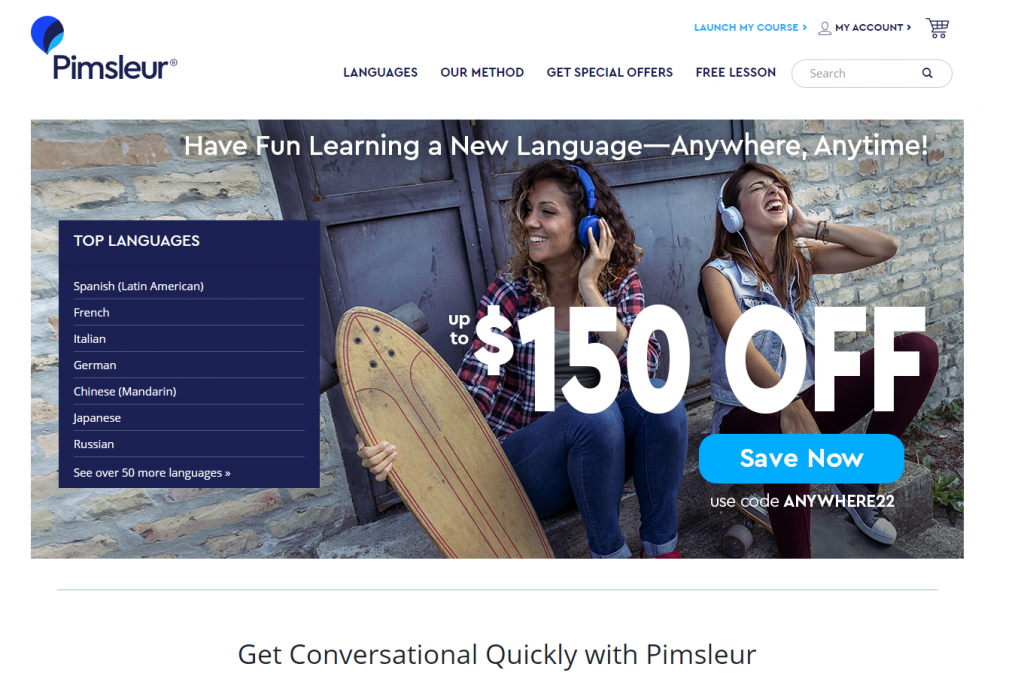 The app currently offers lessons in 50 languages for English speakers. For speakers of other languages, they have more than ten courses in the English language.  
One of the most popular languages like, Spanish, for instance, has over 100 audio lessons over five levels, with around 30 lessons in each. 
So, even if you follow the one-a-day rule, you will be able to complete one level per month. 
Starting from level 1 (beginner), one can go up to level 5 with more intermediate content. Unfortunately, though, this is not the best platform for advanced learners. 
Pimsleur offers efficient audio lessons. During 30 minutes, you hear a conversation repeated and gradually elaborated on, with frequent interjections from an English narrator. 
The user gets the opportunity to grasp more just by listening and repeating audio content. Other than that, if you are more of a visual learner, flashcards are an essential tool. 
Each lesson has multiple flashcards related to the new vocabulary. This way, learners tend to learn more than just spelling. 
The reading section is a bit disappointing. Instead of a text to scan or questions to answer, there are only short phrases to read, which the learner needs to read while the native speaker repeats them. 
Pros of Pimsleur
Driving mode for on-the-go learning. 
It is carefully structured to help you learn fast.
Cons of Pimsleur
The basic version only focuses on speaking and learning. 
No bookmark option. 
Pricing
$19.95 per month.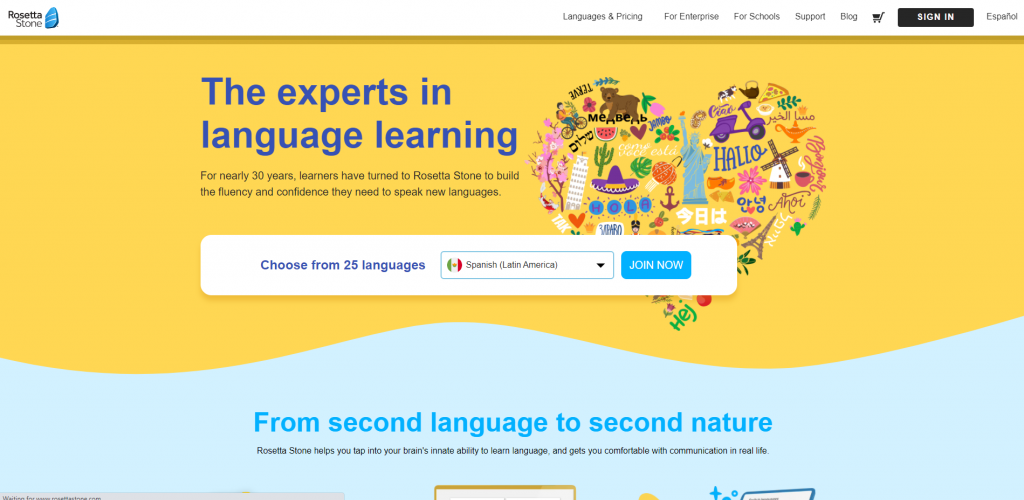 Like other Spanish language learning apps, Rosetta Stone guides you through a complete language course to guide you with your language learning journey. 
The platform offers a comprehensive course for the Spanish language that has some additional features. And, no Rosetta Stone app review would complete without telling you about them! 
The first feature is the central part of this learning app. Some languages have more chapters and topics than others. Hopefully, Spanish is the language, having a sufficient number of topics. 
The complete immersion aspect of the Rosetta Stone is somewhat intimidating for language learners. However, some people love it, whereas others don't. 
The Phrasebook is another feature of Rosetta Stone, and it is very straightforward. It shows you words and phrases, letting you listen to a native speaker pronounce them. 
The Rosetta Stone Spanish course is one of the most comprehensive courses. Moreover, the core lessons that teach the basics of the Spanish course include all additional features, like Seek & Speak, Stories, Audio Companion, and the Phrasebook.  
Unlike other language apps, the Rosetta Stone Spanish lessons force you to use the language effectively. It also helps the user understand concepts quickly and efficiently. 
Overall, the Rosetta Stone Spanish course is a great resource to generate a robust base in the language.
Pros of Rosetta Stone
It provides an easy-to-use app. 
It offers flexible courses. 
Customizable learning experience.
Cons of Rosetta Stone
Slow for some students. 
It does not offer any writing practice.
Pricing
At $35.97 for three months, $95.88 yearly, $149 for a lifetime.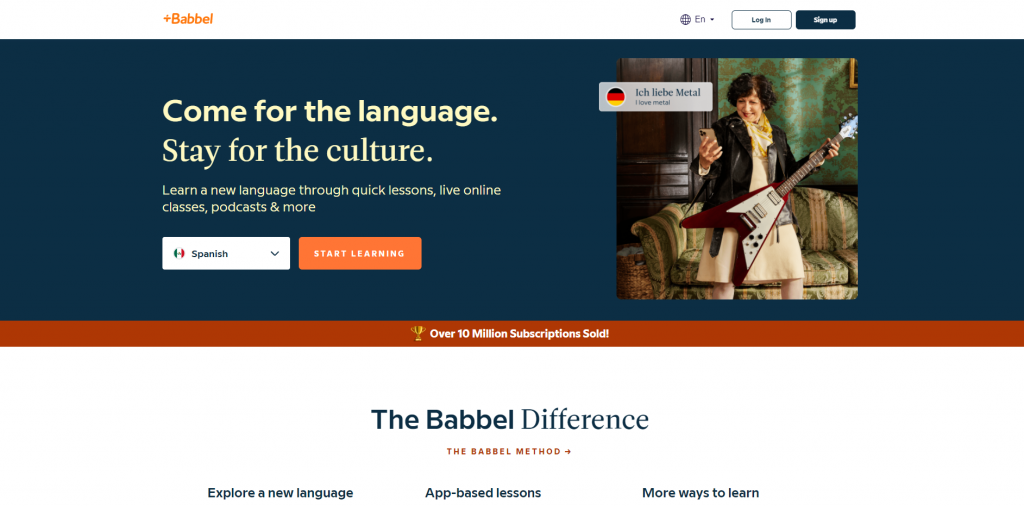 Babbel is one of the famous apps to learn spanish. Although Babbel has many positives, there are some negatives, too. However, some of the negatives will not apply to you if you learn Spanish. 
The cost of Babbel is one of its core features. However, unlike other language learning apps, it is very cheap. The price starts at less than $14 for one month. 
However, If you pay for multiple months, you can get Babbel for as low as $6.95 per month on an annual plan. Babbel also helps you get a live virtual class from a world-class teacher, making it the right option for you. 
In addition, you will get a chance to learn more than just vocabulary and grammar with this app. The app is easy to understand, and it helps you immerse into the culture of the language. 
Different learning levels focus on broad concepts, and within each level, there are 2 to 6 courses. Further, there are 5 to 15 lessons that each take around 10 to 15 minutes to complete. That was a bird's eye view of their program. 
Lastly, Babbel is the right option to learn the Spanish language. However, if you want to learn something more in-depth, you can look at the other options. 
Pros of Babbel
Good vocabulary. 
Good for grammar. 
Highly affordable.
Easy to use.
Cons of Babbel
Not for advanced users. 
No practice resources for conversations.
Pricing
It starts from $6.95 per month (up to $12.95 per month).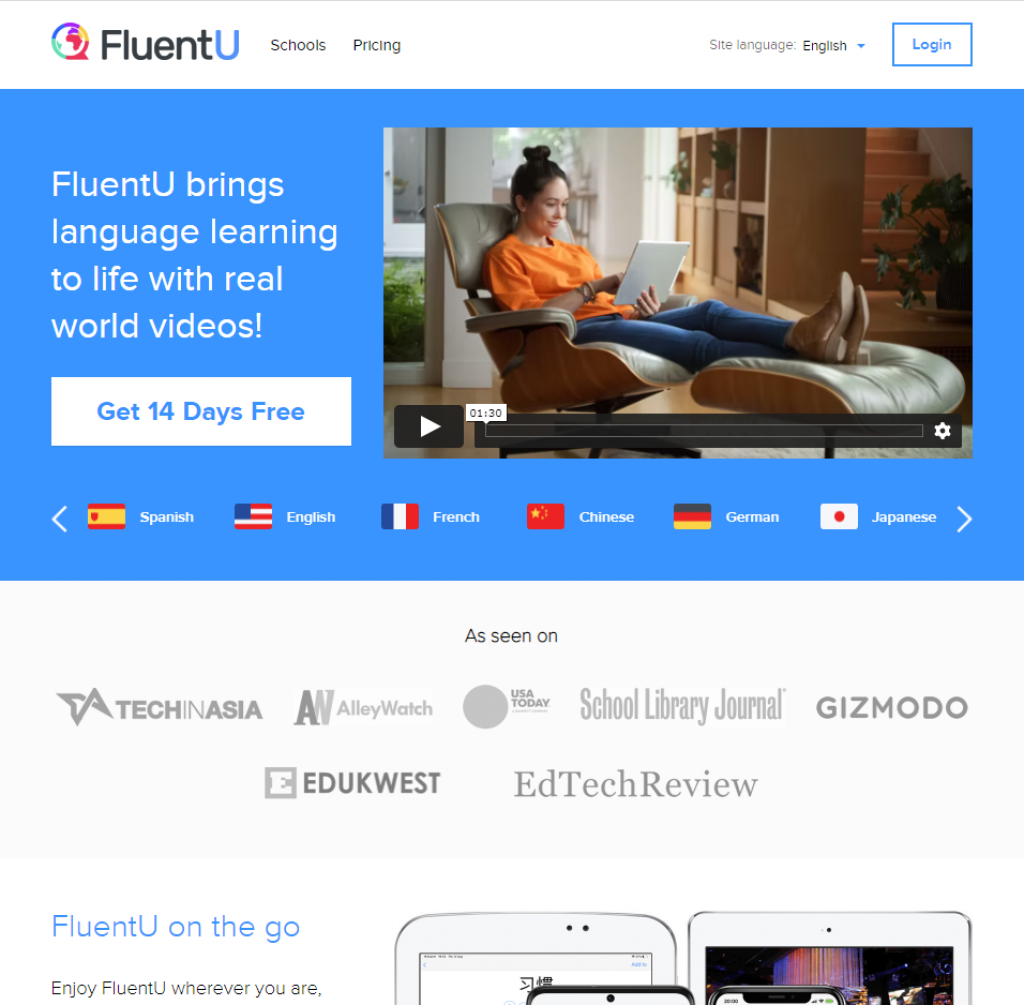 FluentU is a popular video platform for learning a new language like Spanish. It is available on both web and mobile (Android and IOS). 
The unique thing that makes FluentU different from other apps is its to-the-point learning content. 
FluentU has a simple user interface. There is also a space for you to find out your accomplishments on the platform, and there is an option for you to find relevant video content from the library. 
In addition, the app spends much time on the videos before they release them online. The app also provides subtitles and translations to the videos, which is easier to learn while watching the videos. It holds a plethora of vocabulary for learners. 
After every video, you have to give a test. The tests are easy and become very uninteresting after a certain point, but they remain a part of the course. 
It consists of questions like fill in the blanks based on the current video clip. Moreover, you can rewatch the clip. This test will help you track your growth.  
Although the tests are fine for beginners, intermediate or advanced-level learners can find the app useless. Regardless, they can look at other apps on the list. 
Pros of FluentU
Simple user interface. 
Easy navigation for all users.  
The content quality is good. 
Cons of FluentU
They use robotic text to speech. 
No option to practice speaking.
Pricing
It comes with $30 per month and $240 yearly.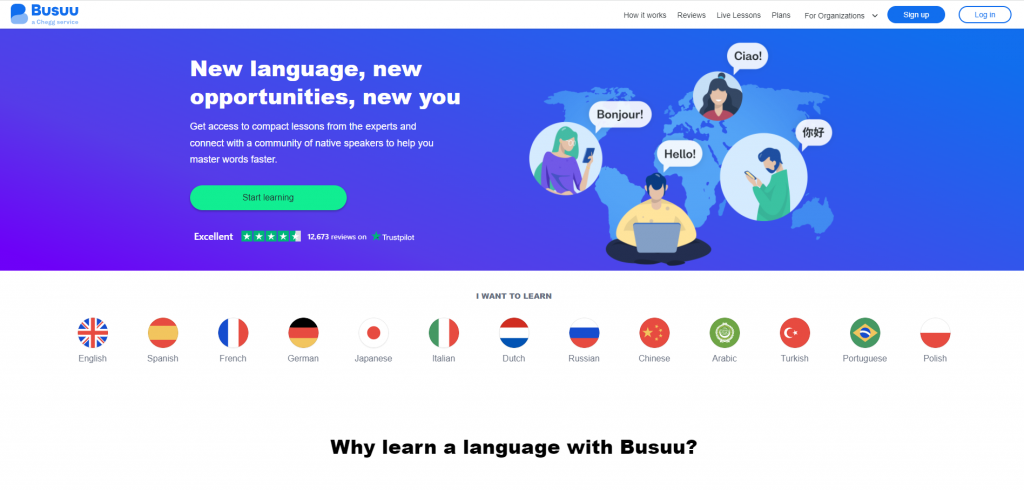 Busuu is one of the most prominent apps to learn Spanish. With over 100 million registered users. Yet, regardless of its popularity, people are often curious about how efficient their Spanish language course is. 
The dashboard is organized, intuitive, and has a simple user interface. Unlike other language-learning apps, Busuu does a great job integrating grammar instruction and cultural insights into their courses. 
For instance, the topic might be definite articles, possessive adjectives, demonstrative pronouns, or the present tense of irregular verbs.
The algorithm also uses a decay metric and spaced repetition framework to ensure that you're reviewing the correct vocabulary at the right time to move words and phrases from your short-term memory to your long-term memory. 
Ultimately, it is quite a unique review system as the platform has invested severe resources in developing this technology, and they consistently roll out updates to make it even brighter. 
So, for all those early beginners who want to learn the Spanish language, this app is highly essential for you.  
Pros of Busuu
One spot for lessons, social interactions, and live tutoring.
User-friendly interface. 
Cons of Busuu
The free plan doesn't have many resources.
Poor teaching for non-European languages.
Pricing
Premium Plus and Premium packages cost $6.66 and $5.83, respectively.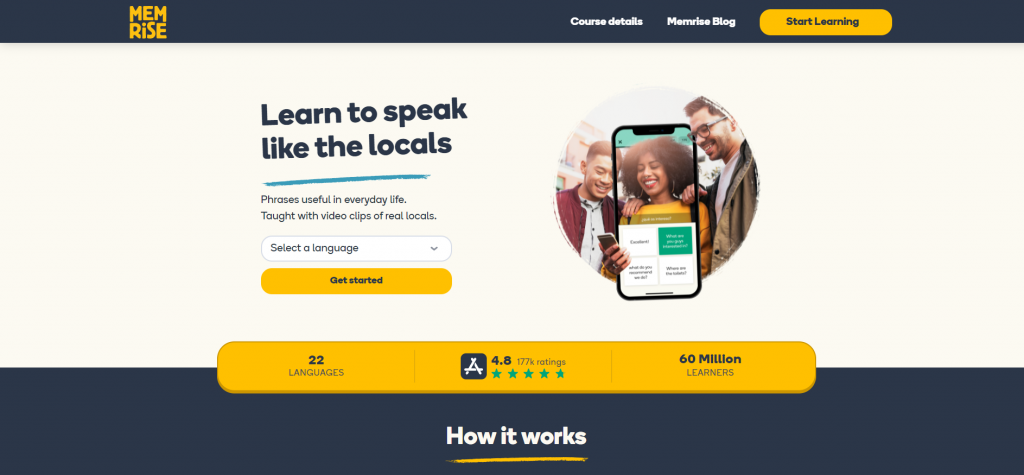 Ed Cooke launched Memrise in 2010 with other co-founders – Ben Whately and Greg Detre. Like Duolingo and Busuu, Memrise also provides language studying a game through plenty of fun activities. 
Since 2013, Memrise has been available on both Android and IOS platforms. After a decade of presence, the British language platform claims to have extended to over 40 million user bases in 189 countries. 
The app majorly focuses on studying languages online. Moreover, the app is also good to memorize and practicing vocabulary from other subjects and fields. Memrise is also a tremendous vocabulary-learning tool, using modern technologies like mnemonics and spaced repetition. 
Like other popular language apps, it also does not require any fee to sign up. You can either use your email account or your Facebook or Google accounts. 
On the 'Courses' page, you can choose the language you speak and the language you wish to study. Once selected, you will see all the courses available for this combination. 
Other categories, such as Math and Science or Trivia, are also available, but Memrise is primarily useful for language learning. 
Lastly, the experience was good. You get the opportunity to learn or revise at a time. It also tracks your progress and gathers some learning statistics (although most are only available if you pay for the premium version.)
Pros of Memrise
Good sources for beginners. 
Appropriate for advanced learners.
Cons of Memrise
Some glitches were there.
Pricing
Its price is $8.99 per month, $90 per year.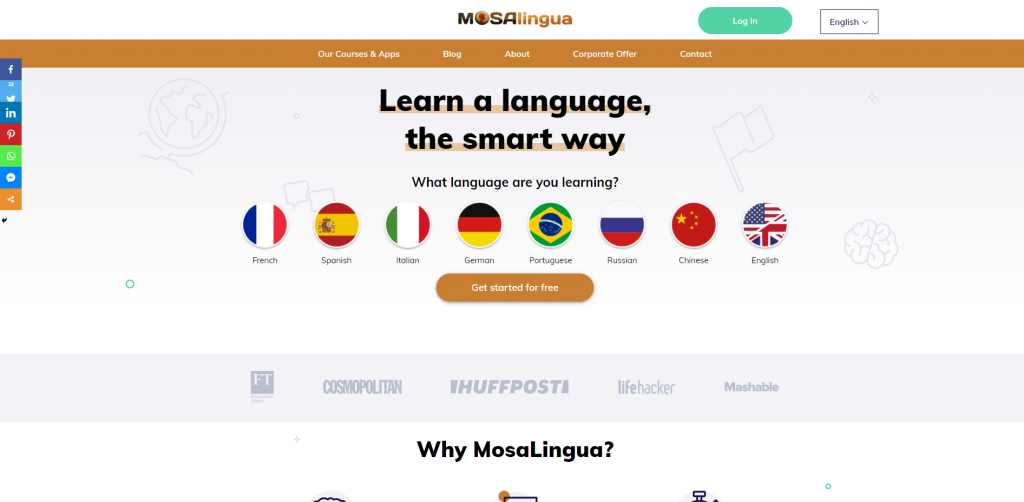 MosaLingua is one of the popular apps to learn spanish. The idea is that anyone with a computer or phone can take the experience of learning a new foreign language from anywhere.
The app provides 30 language teachers with exceptional teaching skills and learning tools. MosaLingua has already reached over 7 million users. 
The Spanish course consists of 19 levels, having multiple flashcards, dialogues, and audiobooks. For instance, level 1 (basic) has 25 flashcards, whereas level 9 (medium) has 897 cards. 
A typical Spanish lesson starts with some flashcards. First, you look at the flashcard, having an image and accompanying audio with Spanish pronunciation. Then, you have to make a recording of yourself repeating the word. 
Once you have completed the flashcards, MosaLingua will develop your learning statistics to give you an idea of your learning speed, which will help you maintain a comfortable pace. 
You further use the Dialogues and the Hands-free function by choosing the dialogue and words you want to practice. 
Learners get a collection of informational audiobooks, videos, and music, which are divided as per the level and interest of the candidate. However, some content is only accessible using the premium account. 
Pros of MosaLingua
It focuses on every factor of learning a new language. 
Uses MosaLearning, a scientific method to enhance learning. 
It has an active community of teachers.
Cons of MosaLingua
Only limited resources are available. 
Pricing
This app's price is $4.99 per month and $59.90 per year.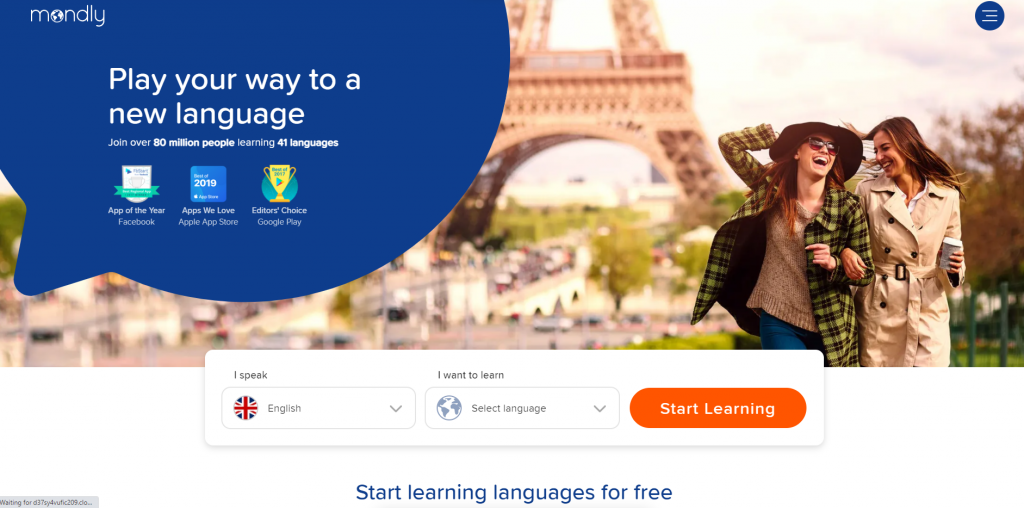 Mondly has been a pioneer in augmented and virtual reality (AR/VR) for online language learning. It has limited grammar instruction. However, there is a lack of advanced content. 
Moreover, it provides a teacher-powered artificial intelligence to make the experience more authentic. Therefore, Mondly is probably better fitted for advanced learners who want to enhance their Spanish language learning experience. 
In 2018, Mondly released MondlyAR – the first augmented reality language app featuring speech recognition globally. 
With a focus on getting innovative tech features to the digital language study experience, it also presents itself as an alternative to classroom study. 
Learners will see a daily lesson every day. It is updated each day for you and takes around 8 minutes to be completed. The entire user interface follows gamification, allowing you to learn effectively. 
The chatbot within the app lets you practice speaking the language with a virtual speaker who gives you conversational prompts. 
Ultimately, this app has everything beginners need to start their language-learning journey. 
Pros of Mondly
Short & engaging lessons. 
It is highly affordable. 
Use of VR & AR technologies.
Functions gamified learning experience.   
Cons of Mondly
No in-depth grammar learning. 
Lessons are pretty basic.
Pricing
$10 per month, or $48 per year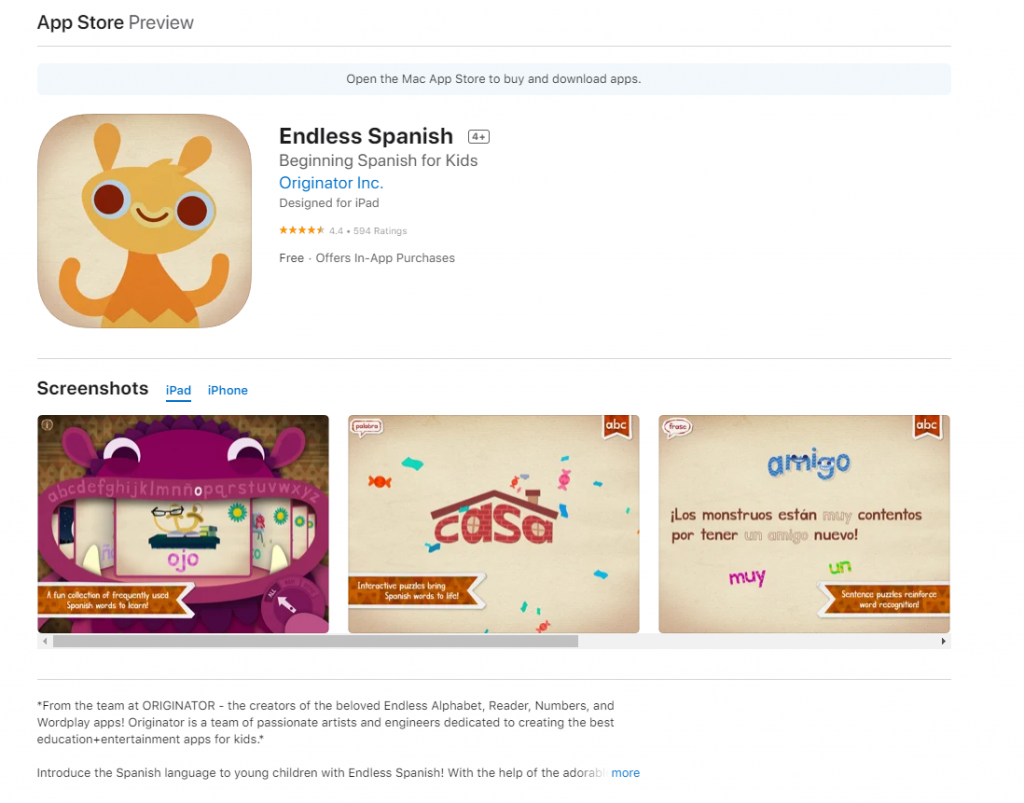 Endless Spanish is one of the cleaver apps to learn spanish that teaches young children simple Spanish words. 
The Endless Spanish App concentrates on sight recognition, spelling, and pronunciation of repeatedly used Spanish words. The app comes from the team that brought you Endless Alphabet and Endless Reader. 
It is specifically designed to encourage kids to learn new Spanish words. Endless Spanish is an educational learning app introduced to young children to learn Spanish letters, phonics, and high-frequency words. It is also suitable for both native Spanish and English speakers. 
It is available to use in two different modes. First, it offers Spanish immersion; for native Spanish speakers and advanced learners. In addition, Spanish with English translation for non-native, beginning Spanish speakers. 
The app offers an engaging introduction to a new foreign language with silly and charming monsters. Moreover, they also act out the meaning of new Spanish vocabulary, using hilarious and interactive antics shown in short video clips. 
Overall, Endless Spanish is a super cute monster app that quickly helps young children learn Spanish. 
Pros of Endless Spanish
Good app for young children. 
Activities to keep children learning new Spanish words. 
Cons of Endless Spanish
Not suitable for adult learners. 
Pricing
$5.99 – $11.99 per item in-app purchases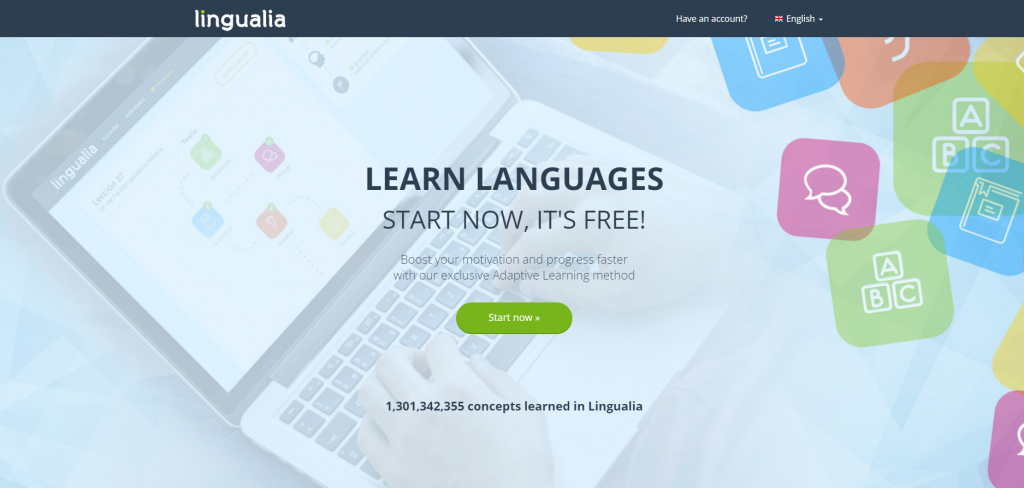 Lingualia delivers both a free and a premium version of its mobile application. You can interact with other Lingualia's online community members with its free version. 
The app allows users to complete lessons, challenges, practice exercises, and checkpoints within each course. 
However, the free version restricts you for 8 hours if you have recently ended a lesson and want to choose another within the same course. 
If you don't want to wait that long, going for a premium Lingualia version is compulsory. 
In addition to unlimited access to concepts and lessons without restrictions, premium members also get to download PDFs of each lesson. 
Moreover, paying for the premium version would open various doors for learners like a digital diploma upon completing each course.  
Lingualia's AI software keeps track of users' answers and modifies lessons to assist users in practicing skills that need the most improvement. 
Foreign language learners can link with other users to develop their language skills together and comment on their progress. 
One of the components that set Lingualia apart from other language learning platforms is its AI software, Lingu. Lingu keeps track of users' answers and tracks performance to see how they progress. 
Finally, the app is available on both Android and IOS platforms. 
Pros of Lingualia
AI-personalized instruction. 
It has a mix of reading, writing, listening, and dialogue activities. 
It has checkpoints and challenges to track the progress. 
Cons of Lingualia
The community is not very active.
It doesn't have speech recognition. 
Pricing
A 3-month subscription starts at $15 per month, or a 6-month begins at $9.5 per month.  
Conclusion
Yet, it could be trickier to find the right set of applications because the market has already got numerous language learning platforms. 
Opposing that, we have made the work easier for you by providing you with the list of 11 Best Apps to Learn Spanish. We have prepared this list after using every app personally. So, you could get the best platform to learn. 
You can go through the list of apps. Then, compare them using the pros and cons section to get the right app per your requirements. Lastly, we have also mentioned a pricing model for every app (in the case of a premium app).