Perhaps, it is hard to find the best photo editing software online. 
But why? Because the photo editing software market has a high saturation rate, which confuses an individual to choose the right online photo editing tool as per his requirements.
And if you're just a beginner, then it can be even more challenging for you.
But you don't have to worry.
This post will show you the 11 best free online photo editors that make photo editing a complete cakewalk.
So without wasting any further time, let's dive right in.
11 Best Free Online Photo Editors
Therefore, firstly, you should know your requirements: what do you want? 
Then, search for the list of best free online photo editors. However, we have already made a list for you, including the 11 best online photo editors available on the market.
We suggest you go through each photo editor one by one and find the best-suited one for your requirements.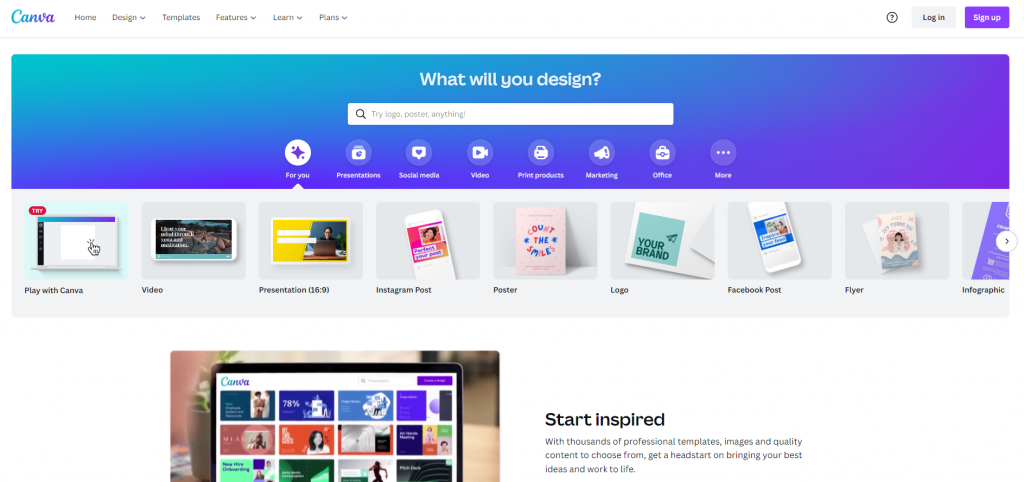 Canva is an easy-to-use best online photo editor with over 30 million users and a $6 billion valuation. 
One can think of Canva as a quick and easy way to create jaw-dropping and professional-looking visuals for those unskilled in the art of graphic design. 
In addition, if you do not know how to use Adobe Illustrator, Adobe Photoshop, and PicMonkey for designing, Canva online photo can be a great help to create amazing-looking pictures. 
Canva is best-suited for small startups and businesses, online entrepreneurs, and marketers who want to upload creative pictures about their business or professions online. 
Although Photoshop can look like a better option to some people, it's not an uncomplicated platform for a beginner. Whereas, Canva provides identical features within the budget and expertise.
And most importantly, it's super easy to use.
It maintains a good set of effects to enhance photos. You can add several different transitions to photos that Canva provides and photos you upload. 
Moreover, it also has some effects tabs, including features like – Duotone, Background Remover, Liquify, Photo resizer, and more. Although most of these effects are available with the free plan, the Canva pro subscription plan will open up more incredible features for you.
Pros
It offers a plethora of different features.
Canva has more than just photo editing features.
Multiple photo effects are available for free.
The free online version is enough for average users.
Cons
Canva does not allow you photo integration.
The free version has limited options for advanced editors.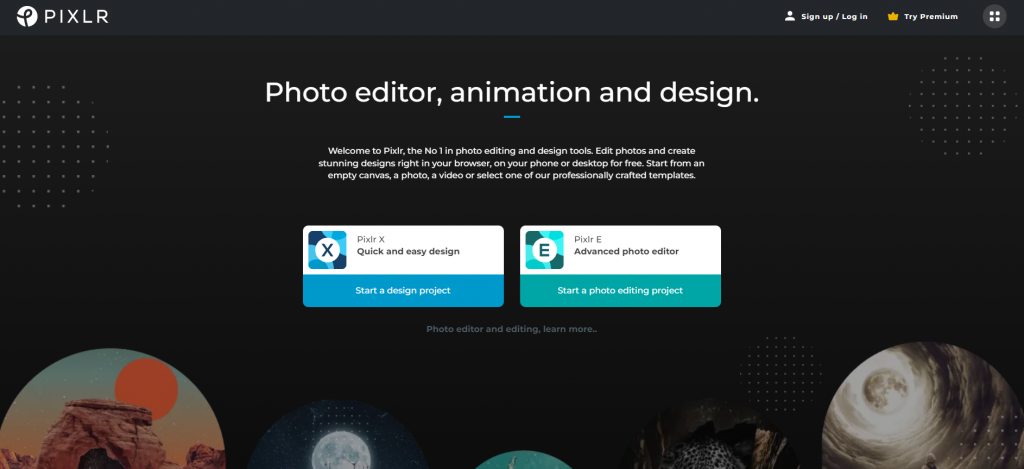 How often do you encounter the need to quickly edit a picture without the need for something as powerful as Adobe Photoshop? 
Although you can buy affordable software applications, it's unnecessary for most people. A substitute is available for free named Pixlr.com.   
Pixlr is a cloud-based free photo editing software that provides an easy way to rework your images. It offers two core products:- Pixlr X for advanced users and Pixlr E for beginner users. 
In addition, this free online photo editor comes with an AI-powered background remover that removes any kind of background in just a single click. Other than that, it also provides a Stock collection, allowing users to use thousands of elements. 
It is a SaaS solution, so you can directly use Pixlr from the browser and utilize Photoshop-like editing features. Pixlr also comes with pre-defined templates.
If you look at Pixlr for the first time, you will find out, it seems almost similar to Photoshop. However, it does not provide some advanced features as photoshop but fulfills the major editing requirements for beginners. 
Pixlr delivers five essential selection tools: Crop tool, Move tool, Marquee tool, Lasso tool, and Wand tool. These selection tools help you edit the images in different sizes and ways most straightforwardly.
Pros
Pixlr enables users to use multiple font styles, even in foreign languages.
It is free to use online without any additional charges.
Cons
It does not have pop-up labels explaining what different tools it has.
No other demerits because the Pixlr platform is as good as the price.
If you have some photos on your PC that you would like to rework, Fotor is an excellent tool. It's filled with image-enhancing tools and filters to make photos look their best. 
The best thing is that it supports all the file formats and even provides RAW file processing – a feature you might expect to be exclusive to full-price photo-editing software.
Unlike the robust open-source image editor GIMP, Fotor cannot rival Photoshop's range of tools, brushes, and plugins. Still, the benefit of this tool is that it is much easier to use for beginners. 
Fotor has one-click filters developed to improve your pictures based on the conditions in which they were taken. For instance, these auto filters include artificial lighting, sunset, portrait, landscape, and theater.
With its comprehensive editing plus design tools and functionality, Fotor has a robust- user experience and a continuous workflow. 
In addition, you can improve and make a noticeable difference to your images using its auto-color improvement features that perform magic with your pictures with just a single click. 
Finally, it allows you to insert effects into your pictures, but you would need a paid subscription to use this feature.
Pros
Fotor has brilliant effects and filters.
It offers an efficient collage maker.
A RAW file converter supports multiple formats.
Cons
It has so many ads on the web.
Lack of essential functions to substitute Lightroom or other big players.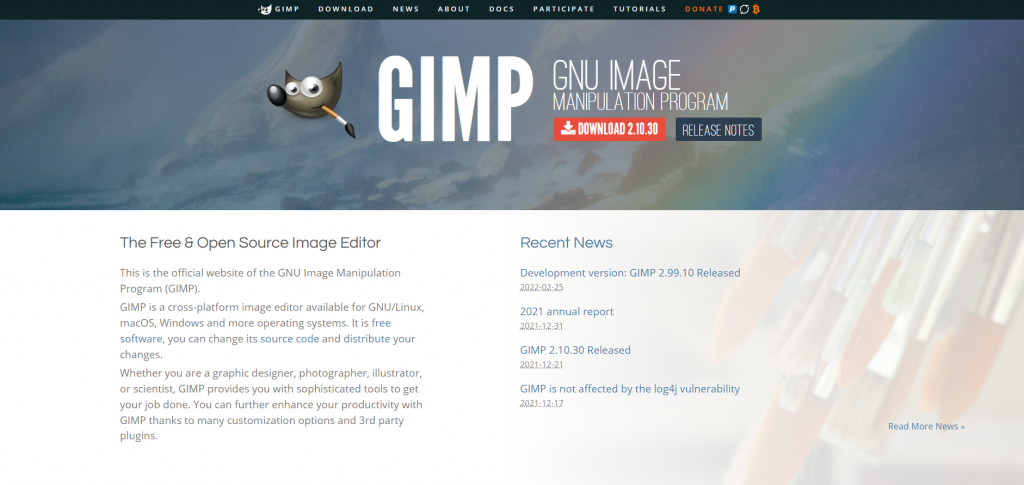 Whenever anyone asks for free alternatives to Adobe Photoshop, GIMP is undoubtedly the first program that people look at. 
Launched at the beginning of 1996, it is one of the oldest open-source free image editors that is still running and improving.
And most importantly, it's free and open-source.
It contains layers, highly customizable brushes, filters, and automatic image-enhancement tools. In addition, it also provides numerous plugins (some pre-installed and others available to install separately). 
GIMP has an active community of contributors, which means it is constantly developing, and any bugs are resolved in the shortest period of time. It all counts to make a truly remarkable free photo editor superior to many commercial programs. 
If you have experience in image editing software, you should get the hang of GIMP relatively quickly. However, it may look cluttered or non-intuitive for some people.
This software has a full-screen mode, helping you not just take timely previews of your photos but also make basic image editing while using a wide viewing angle.
This online photo editing website allows perspective distortion caused by the lens, uses a channel mixer to make beautiful B&W photography, adds a vignette, etc. GIMP also provides a retouching feature, a cloning tool to remove small objects, or retouch skin. 
Pros
It provides advanced manipulation.
Easy to work on layers (images and text) with GIMP.
The platform also helps with graphic design elements.
Cons
The interface has a cluttered design.

The Lunapic photo editor is one of the best free online image editors and enhancers available for free. It allows users to do almost everything related to the photo editing segment. 
This platform has everything from basic features like image cropping and rotating to sophisticated tools like image sharpeners and photo to art converters. However, there are some drawbacks regarding the LunaPic photo editor's design.
It offers practical features like resizing images, removing backgrounds, etc. It also delivers creative functions like color glitch effects and colorful effects. 
LunaPic does not need any sign-ups or installation. The website also offers an extensive help section with in-depth FAQs to learn more about the app, technical skills issues, and editing-related problems.
You can also use artistic effects like rainbow, neon, negative, embossing, charcoal, lens flare, and much more inside this tool. 
These effects consist of three-D cubes, tilt shifts, blends of pix, custom collages, Obama fashion posters, cartoons, coloring books, artistic beauty, smoke, graffiti, splash, flames, and more.  
Ultimately, LunaPic will take away scratches and beautify your picture. It has a simple user interface with several backgrounds and body patterns for your snapshots, including photograph frames.
Pros
It does not have any charges/fees.
The platform is easy to navigate.
Easy to understand.
Web-based service reducing installation space.
Cons
It does not have any innovative designs.
The platform consumes a lot of time.
Problematic with large dimension images.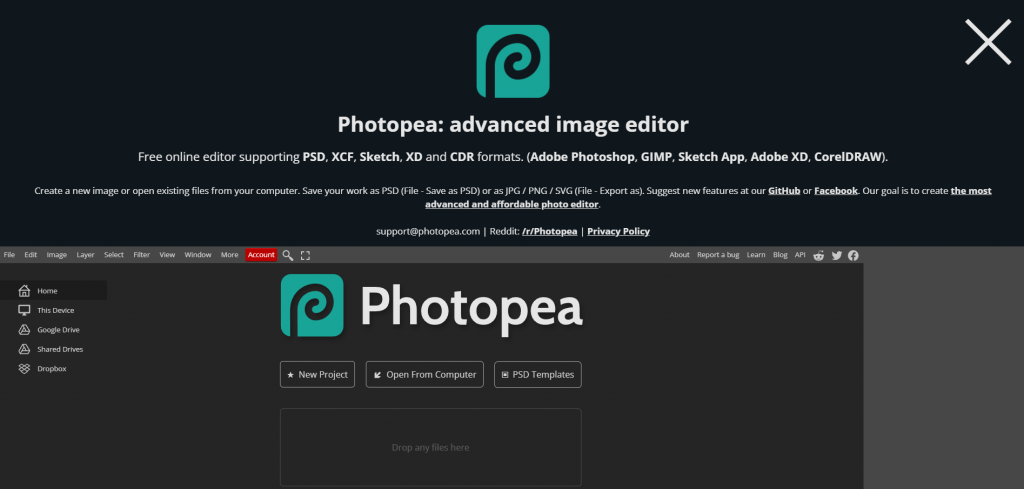 Photopea is a unique online photo editing app. And honestly, we have not used anything like this till now. It works like an alternative for Photoshop that you open in your web browser. 
Both the interface and its features list will be familiar to anyone who has ever used Photoshop before. 
In short, It's almost an online replica of Adobe Photoshop.
It does not have every feature of Adobe's flagship photo editor. However, it is not a lightweight editor as well.
It is a free and open-source online photo editor having some ads that help support its development, but the ads are not that invasive. 
Although it is free, you always get the offer to upgrade to a premium account for $9a month to remove ads and support the developer. 
Photopea supports exporting Adobe Photoshop (PSD) files, GIMP (XCF) files, and Sketch (Sketch App) files. No external add-ons are required, which is a remarkable feature of the Photopea app. 
Exporting files in PSD files is the USP of Photopea. It supports layer editing and saving as a PSD file. That means you can take a file that you have in the cloud, a USB drive, or any device and make some quick edits on this tool without downloading any software like Photoshop. 
Although Photopea only imitates Photoshop, it cannot replace Photoshop. Nevertheless, it would be a huge thing to expect from free software.
Pros
It can work in multiple browsers.
Photopea does not require a download.
Cons
The platform can get lags during edits.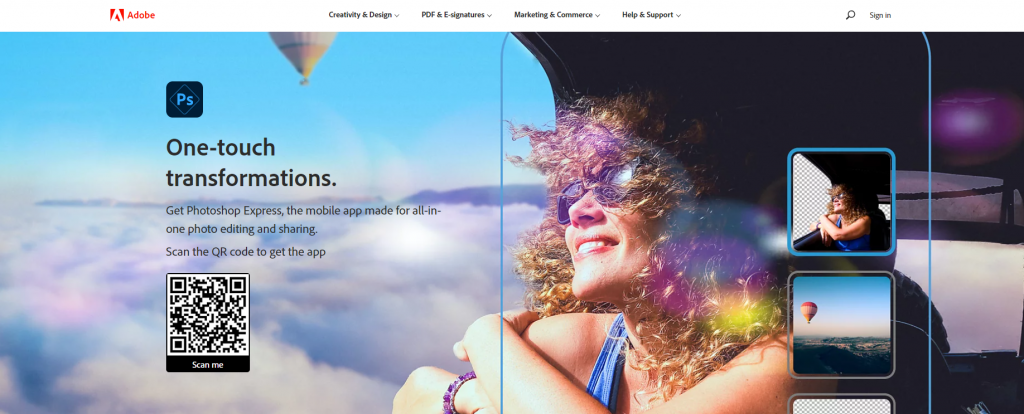 Adobe Photoshop Express is an excellent online photo editor platform for desktops and mobile devices. It helps users use all photo editing tools available from the convenience of your web browser. 
This platform has a simple UI, easier to navigate if you compare it with Photoshop itself. You can access everything immediately at your fingertips. 
The best thing is that it does not require you to install any browser plugin to run these platforms. As long as you have Flash installed, upload a picture, and you are ready to use this editor.
However, Photoshop Express Editor only supports JPG files smaller than 16 Mega Pixel and no wider than 8,191 pixels. 
As a sharing site, it works parallel as a proof-of-concept that Flash and Flex allow you to create robust online applications that look and feel like local ones. 
Coming to its downside, Photoshop Express does not fulfill the feature criteria. As we saw that the available features are for basic image retouching only.
Ultimately the tools are segmented into two parts: Edit and Decorate. The first includes standard options like saturation adjustment, cropping, resizing, and white balance control. 
Moreover, it also has auto-correct settings and a light option to control shadows and the image color.
Pros
Easy to navigate user interface.
It is the best platform for basic photo editing.
The platform interacts well with other Adobe products.
Cons
It does not support images larger than 16 MB.
The platform does not have RAW files support.
Not for professional users.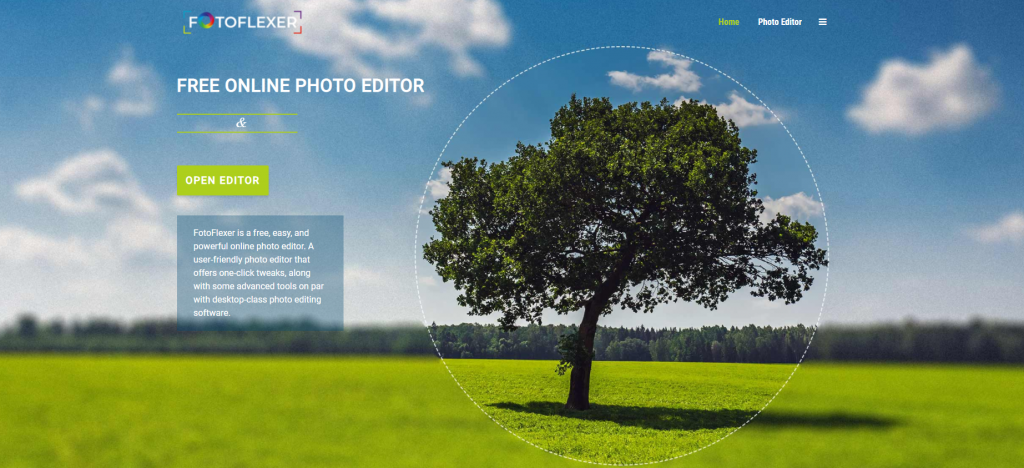 FotoFlexer's tagline broadcast the Web-based photo editor as the – world's most advanced online photo editor. This platform includes enough features to cope with photo editor's requirements. 
The unique selling point of FotoFlexer is its Smart Cutout and Recolor effects, which can help you cut out various pieces of a photo or recolor them to match the tone of your choice. The Smart Cutout is more helpful than the other one.  
If you have ever used Photoshop's magnetic lasso or masking tool, you will know how tedious the entire process could be. Instead, it also has a small paintbrush to "tag" objects you would like to keep or remove. 
Despite its best, there are a few drawbacks in bits and pieces. Firstly, even in full screen, the editor remains the same size, which looks and feels very odd if you use a large screen monitor. 
However, if you are working with a landscape shot, things feel cramped. Other than that, since it's cloud-based software, the system is adjusted to your Internet traffic speed, the higher the Internet speed rate is, the faster the FotoFlexer photo editor works. 
Pros
It has a simple and user-friendly interface.
FotoFlexer has a wide array of filters and effects.
Quick control.
Unlimited work in masks and layers.
Cons
It has a lot of annoying ads.
The toolkit design does not look good.
No RAW file support.
Inconvenience using widescreen.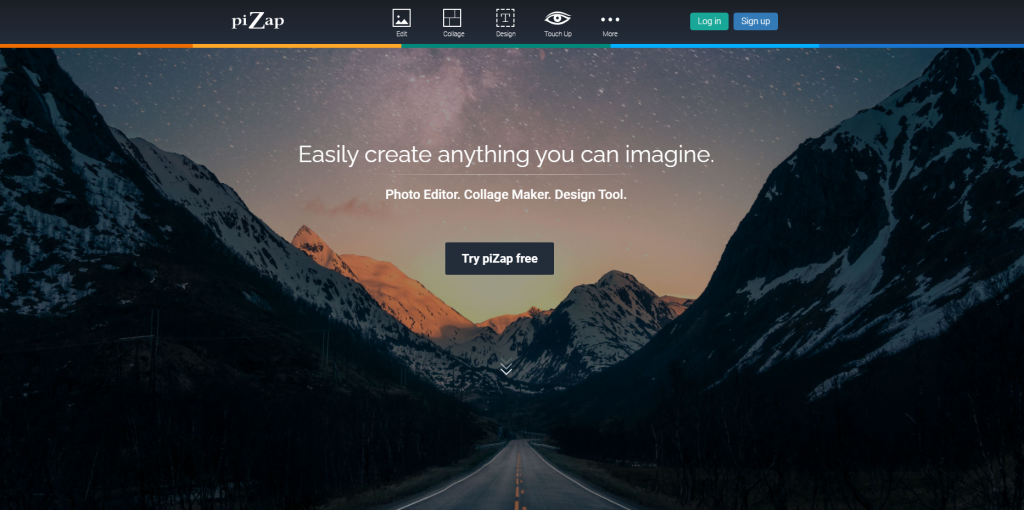 Pizap is one of the best free online photo editors, college makers, and design tools with which users can rework, design, touch up and collage images. 
Using this tool, one can add texts, borders, and stickers to their images. In addition, multiple filters and effects are also there to help edit amazing pictures.  
Users can get a line of fonts and other tools to perform several new level editing skills. You need not be a Photoshop expert to work on this user-friendly software. 
Users can directly convert their boring photos into stunning masterpieces with just one click. Whether you're a beginner or an expert, you can use Pizap without any issue. The platform has millions of stock images and colorful and vibrant filters. 
It has unique collage layouts like different shapes and hearts. In addition, the collage maker of Pizap is easy-to-use, and users can pick from over 1000 layouts or designs. 
There is also an option of beautifying filters for selfies, plus an immense choice of stickers. The best thing is that it also has a 'meme' option that lets you add white text to the top and bottom of your images in the time-honored style. 
Ultimately, Pizap is a fun editing tool. It offers a great set of features, including collage and other effects. However, it is for basic editing. If you want to do more professional editing, checking other options would be better.
Pros
It has an accessible interface.
The platform comes with fun filters and options.
Cons
It does not have any professional editing tools.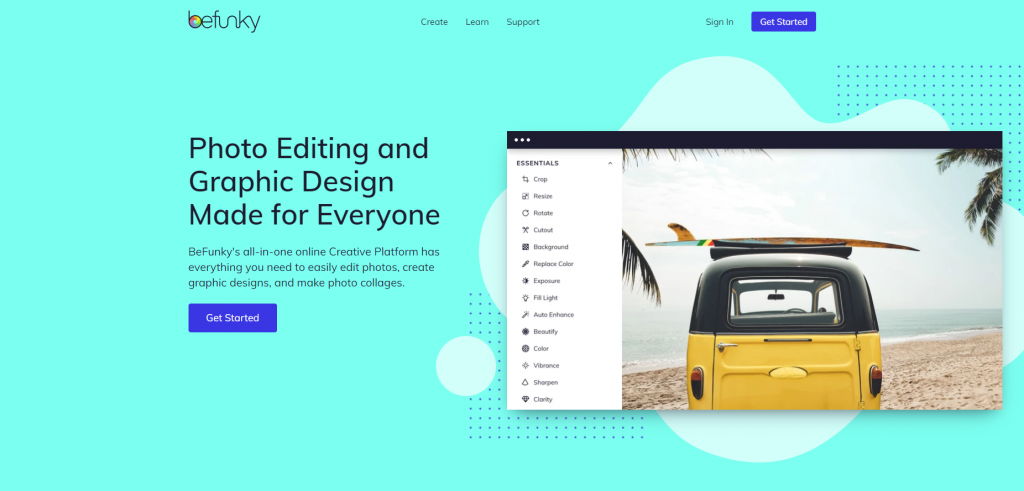 BeFunky is an online photo editing app that helps users make average photo enhancement and color corrections. It allows you to create collage and graphic designs. 
There are multiple modules for image editing organized in the form of a side panel. Although It is an exciting option for beginners, the functionalities can be incompatible for professional users. 
This online photo editing platform provides a variety of sources – Google Drive, Facebook, Dropbox, or open pre-created projects.
But the thing that makes it even more interesting is that you can search and upload the program right from the image stock. There is not another photo editor like BeFunky with such a feature. 
However, as expected, this platform does not enable users to upload a RAW photo from a computer. Although the platform helps edit image contrast and exposure, other functions are levels or background remover. 
Ultimately, you can create beautiful online image editing projects from scratch with the drag-and-drop editor or take the benefit of a wide selection of professionally developed templates. It has a crop, resize, and insert text option to make your photo look magnificent. 
Use the collage maker to make beautiful memories in a single frame. All it takes is to upload several photos and let the software automatically create a collage that you can post directly on Facebook, Twitter, and Instagram.
Pros
Many learning resources on the platform.
It has over 100 photo filters.
Easy to use interface.
Cons
It cannot fine-tune the options.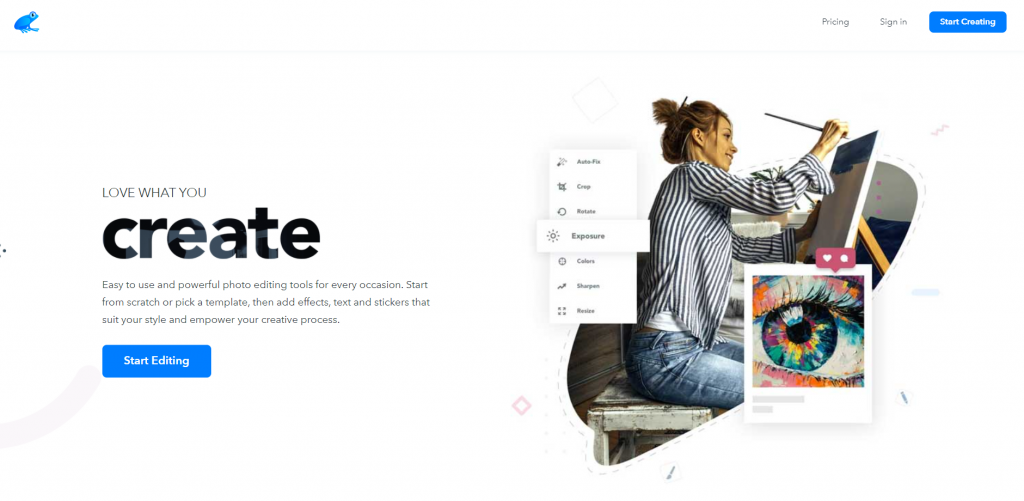 Ribbet lets you do classic color correction functions with photographs like adjusting contrast, highlights, shadows, saturation, temperature, sharpness, clarity, etc. 
Apart from image editing, Ribbet also has multiple options to work on collages, paint on a blank canvas, and create postcards. The Collage module helps you arrange different photos according to a template. Moreover, you can also alter the frame, background, and pictures into it.
It has an outstanding user interface, which is its main selling point. Even if one has no skill as a photo editor, mastering Ribbet will not take much time. 
Similar to the other options on this list, it contains a collage feature, including multiple tools allowing you to add over 70 different fonts, create stickers, and so much more. 
Ribbet features great sharing options such as free cloud storage to help save and sort your photographs, making it available for you to use everything online. 
Lastly, Ribbet offers advanced features only if you purchase the premium version. Despite this, you have access to the bulk of the program features with the free option, and it is a great platform to transform a normal-looking image into a glittered one. 
Pros
Simple user interface.
Best for beginners as it has basic functionalities.
Easy to upload, edit, and save files on cloud storage.
Cons
Advanced functions need a premium account.
Conclusion
Many free online photo editors are available to transform mesmerizing photos online. However, it could be hard to find the right one as per the skills and requirements. 
Therefore, we have tried to provide you with a short guide about the best free online photo editors. For beginners, Fotor, Pixlr, or even Canva can work like a charm. For intermediates and professionals, Photopea and Photoshop express work well. 
Regardless, all these options are free and can easily be accessed using any browser. 
Some software also has paid options, where you'll get some more advanced features apart from the free ones.