Are you struggling to find job opportunities? Days are gone when you had to walk around and drop resumes at company receptions, hoping to get a job. 
Now, you have uncounted virtual sources such as social media platforms, job portals, and virtual groups. Using these platforms, you can quickly find any type of job at any time and from anywhere in the world. 
The best thing about virtual sources is you can search and apply for jobs from the comfort of your place. This is how online job search engines are more convenient than traditional ones.
Out of all these online platforms, job portals are the most useful and effective way. Because they work as a job search engine and provide you with plenty of job listings to choose from. 
Moreover, using job portals, you can submit your resume to the respective companies and directly apply for open job positions with a few mouse clicks. 
Ready to find your dream job?
Sounds great! In this guide, we're going to uncover the 11 best job search websites for finding job hot openings.
11 Best Job Search Websites & Job Search Engines In 2022
When it comes to job portals, you have plenty of options to choose from. Many job portals are free to use and for some, you need to be a paid member in order to get access to full features.
So, here are our top 11 picks that offer you huge job listings and also provide many advanced features to find job opportunities tailored to your needs.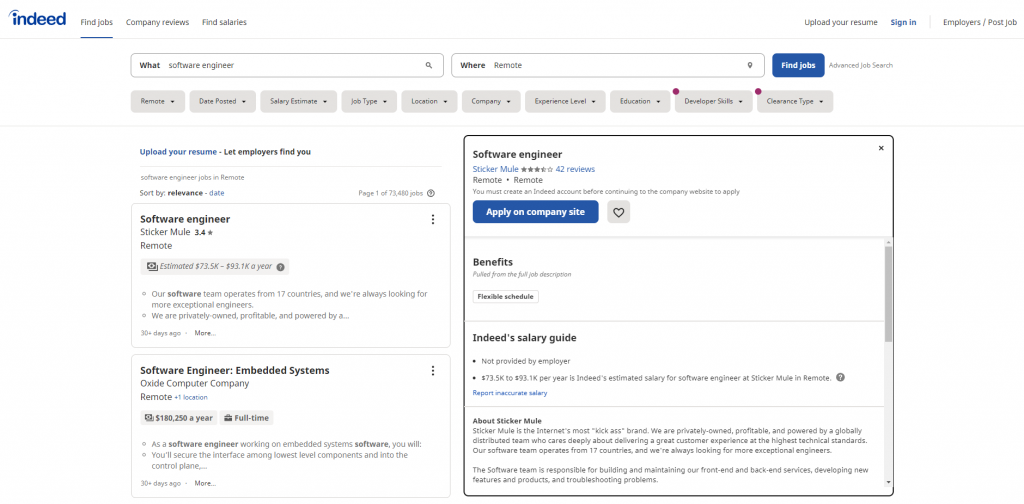 It is the largest job website with over 250 million unique visitors per month. Indeed offers you a tremendous job listing, as they add approximately 10 jobs every single second.
Using Indeed, you can find jobs in any industry and for any level, whether it be fresher or experienced. 
It provides you job listings for all sorts of jobs, such as part-time, full-time, freelancing, or remote jobs. With Indeed, you can search for jobs all across the countries no matter where you're based. 
Indeed is free to use and offers you a very smooth interface for finding jobs. Using the search bar, you can enter what jobs you're looking for and where. 
You can enter the job title, keyword or company name along with the location where you're looking for a job. Then hit enter to see the list of job openings. 
Further, you can also apply advanced filters such as job type (Ex: Programmer), education level, and posting date to narrow down your job listings as per your needs. Once you find suitable job opportunities, then you can directly apply from within the platform.
Indeed, also offer you tools for company reviews and salary estimates. So, before applying for a job, you can check the company environment and the average packages they offer. 
Moreover, it also offers a mobile app that you can use to easily find jobs from your mobile devices.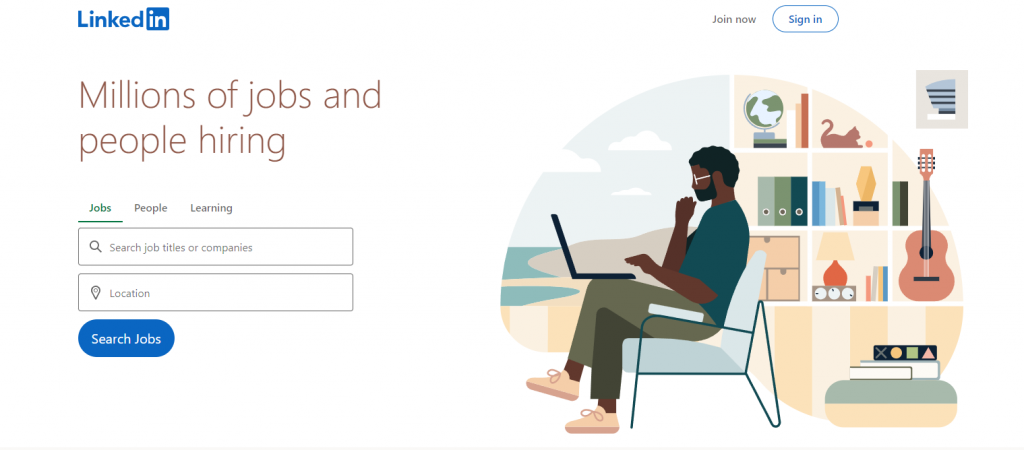 LinkedIn is the world's largest professional networking platform and has approximately 800 million users worldwide. It's not a typical job portal, but an all-in-one platform for building a professional network and database of career opportunities. 
Using LinkedIn, you can share your opinions with other professionals to build a powerful presence. And you can also showcase your work experiences across the world to attract hiring managers and recruiters.
Your LinkedIn profile works as a digital resume, so make sure your profile is complete and outstanding. You can use it while applying for open jobs. So, add your educational background, experiences, skills, certifications, and other achievements to create a powerful LinkedIn profile.
LinkedIn is free to use and you just need to create your account with it. There are various ways to search for jobs on LinkedIn and the easiest way is by exploring the LinkedIn jobs section. 
Once you sign up with LinkedIn, navigate to the Jobs tab from the top bar. Then you can enter the job title and location to see the open positions. 
Moreover, you can also apply advanced filters to narrow down job openings as per your custom needs.
You can also join relevant LinkedIn groups to browse job opportunities and send connection requests to build a powerful professional network. 
Also, optimize your LinkedIn profile for SEO so that your profile can appear in search results. And recruiters can directly reach out to you for any potential job openings.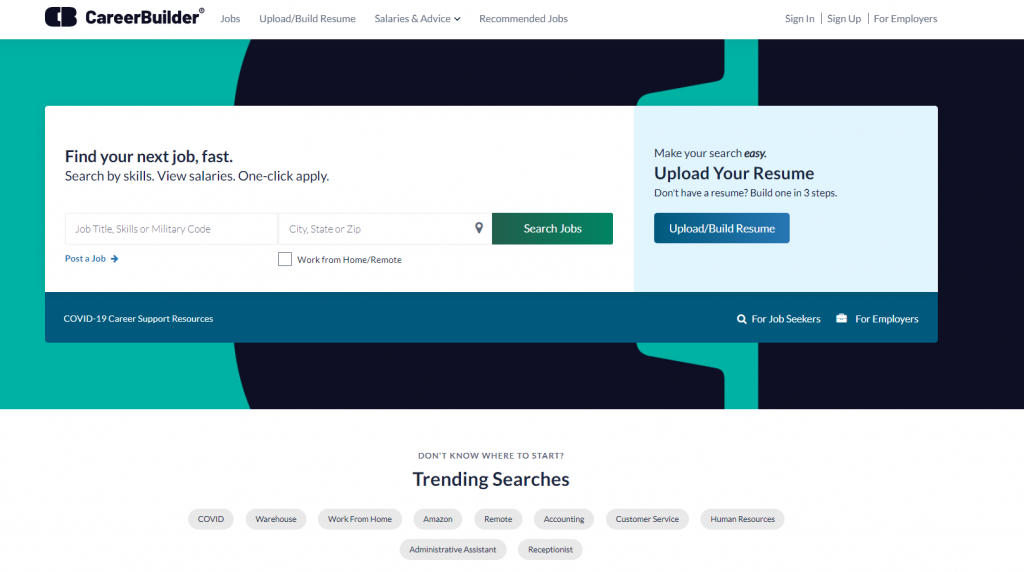 Career builder is one of the best job search engines and provides you with easy-to-use tools for finding jobs, viewing salaries, and building resumes. 
It offers a simple search feature to browse countless job opportunities based on job title and skills. Further, you can also specify the job location to see more customized job results. 
You can upload your existing resume to apply for jobs and, in case, if you don't have a resume, then no need to worry. 
Because CareerBuilder also provides you with a resume building tool and using it, you can quickly build your professional resume in just 3 simple steps. 
CareerBuilder also provides access to salary tools that allow you to compare your salary packages with the same job titles in your area. 
Also with CareerBuilder, you can easily figure out what skills are missing in your job profile to grab job opportunities. 
Its quick apply feature is the perfect solution for you if you don't want to miss any new opportunities. Because this feature quickly shows you new job recommendations based on your job search history and in this way, you can quickly apply for new job opportunities before anyone else to get the first-mover advantage.
If you're looking for the most convenient way to find jobs, then you should try the CareerBuilder mobile app. You can almost do every single task from finding jobs to building a professional resume within the app itself.
The most advanced feature that comes with the CareerBuilder app is the augmented reality job search and it provides you with an overwhelming job search experience that other jobs finding websites fail to provide.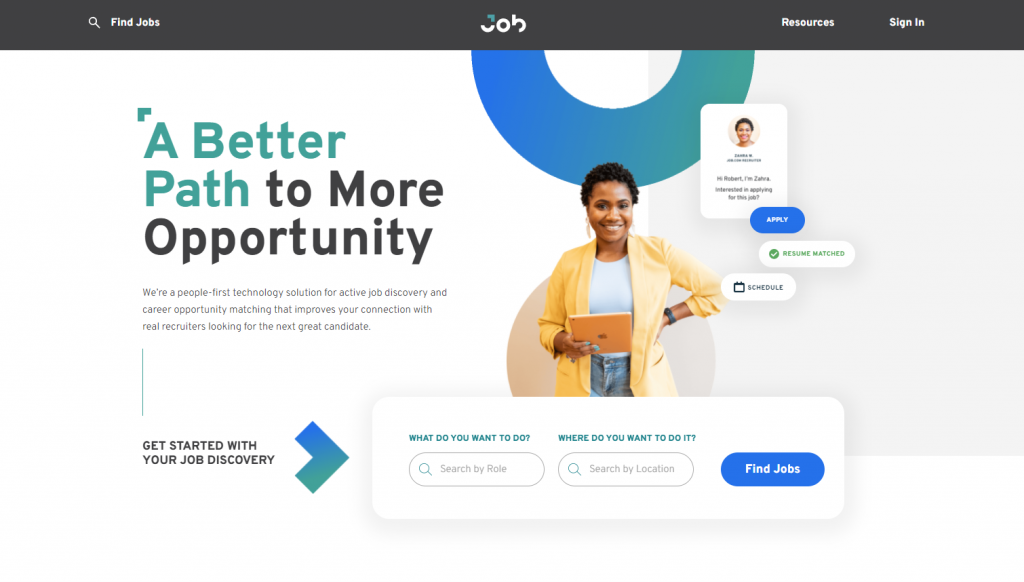 Job.com is another most popular job search websites that uses people-first technology for discovering job opportunities. It's a free platform and connects you with real recruiters to improve your job discovery experience and help you to find the perfect job match. 
Job.com is a perfect platform whether you want to browse contractual or full-time jobs in your area or in any other region. All you need to do is sign up with job.com, include the required information for your profile, and start seeking career opportunities. 
Another great thing about job.com is it uses advanced artificial intelligence to find a perfect match between you and open job positions. 
To take advantage of this feature, you need to upload your resume and after that, it will automatically create a profile on behalf of you and start matching your profile with open positions. 
Apart from job discovery tools, it also offers you an opportunity to connect with job.com recruiters and they can guide you further in your job hunting journey. You can set up a call with a recruiter to get job and career guidance.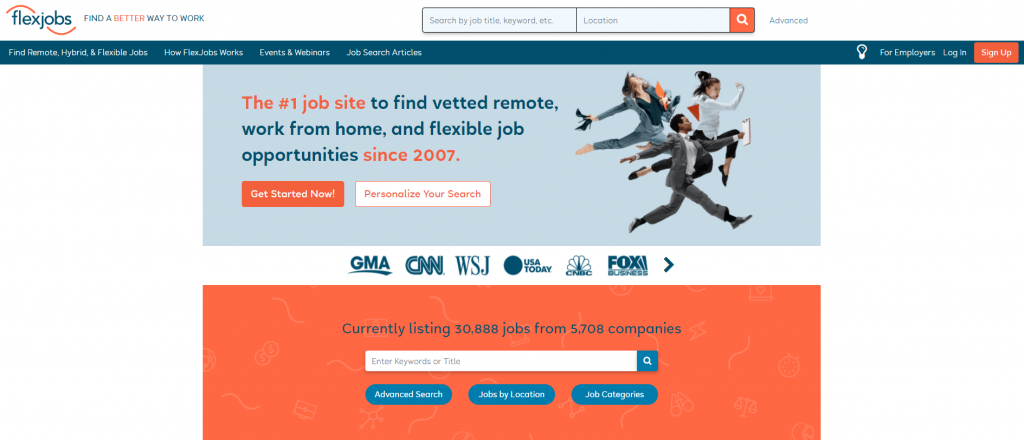 Flexjobs was founded in 2007 and is one of the most trusted job search websites for finding remote, work from home and flexible jobs. Till now, flexjobs have helped millions of people to find flexible job opportunities and you can be the next. 
If you're interested in finding work from home or remote jobs, then flexjobs can be a perfect solution for you. Because approximately 5551 companies are listed under flexjobs and it provides top-notch remote opportunities in over 50 fields. 
Flexjobs is a subscription-based platform, so as a free user, you can only view limited job openings. In order to explore full job listings, apply for job opportunities, and for other benefits you have to become a paid member.
As a paid subscriber, you will get unlimited access to find job opportunities and many other benefits, such as one-on-one career coaching, resume review, and customer support. 
The starter plan will cost you $9.95 for one week and higher subscriptions will cost you anywhere from $24.95 to $59.95. 
With every paid subscription, you will get unlimited access to job listings, free skill testing, expert job search tips, and other resources. 
However, flexjobs offer a satisfaction guarantee, but in case if you're not happy with their service, then you can apply for a refund within 30 days of purchase.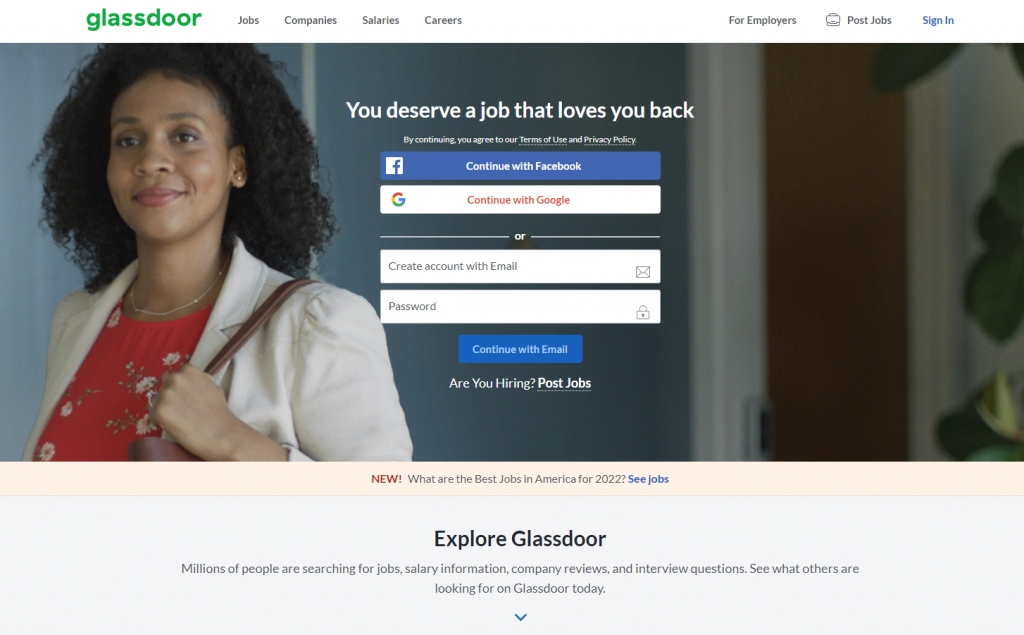 Glassdoor is an all-in-one platform for getting insights about jobs and companies. It has 55 million unique visitors per month. You can use it for exploring company reviews, interview questions, salary statistics, and finding job opportunities all across the world. 
Glassdoor is a free job portal and you must have an account with it to browse job listings. After signing up, add the required information for your profile, upload your resume and start exploring open job positions using the search bar. 
With each job posting, you can see the job description, company overview, ratings, reviews, and salary information. 
Before applying for a job, you can also check the company's Glassdoor page to get detailed insights about the company environment, interview questions, and working conditions. 
Moreover, you can also see company photos and read reviews of previous employees to get first-hand experience about the company. 
Glassdoor mobile app is also available and you can install it on your iPhone or Android device to quickly search for jobs and companies all over the globe.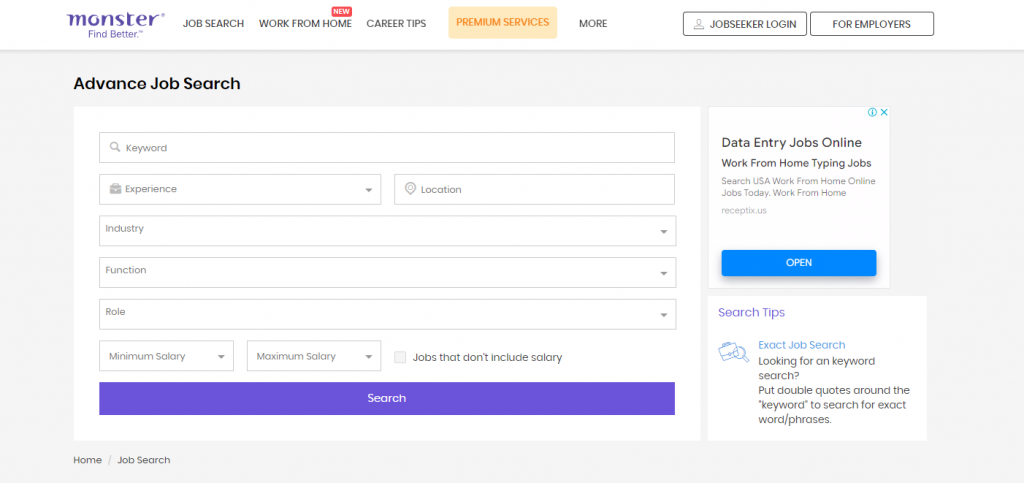 Monster is one of the oldest job search engines that offer you a vast database of job listings. With the monster platform, you can search for any type of job whether it be full-time, contractual, or work from home jobs. 
You can use its search tool for free of cost to quickly locate jobs by location, title,  skills, industries, and companies. 
In order to apply for open job positions, you must have an account with the monster that costs you nothing. Once you have an account, you can upload your resume to apply for jobs and also save job positions for future references. 
Apart from job listings, Monster also provides career tips, including various topics such as job search strategy, resumes, cover letters, interview tips, and many more. 
Monster also offers premium resume and cover letter writing services to boost your career growth. You can also take monster online certification courses to improve your skills.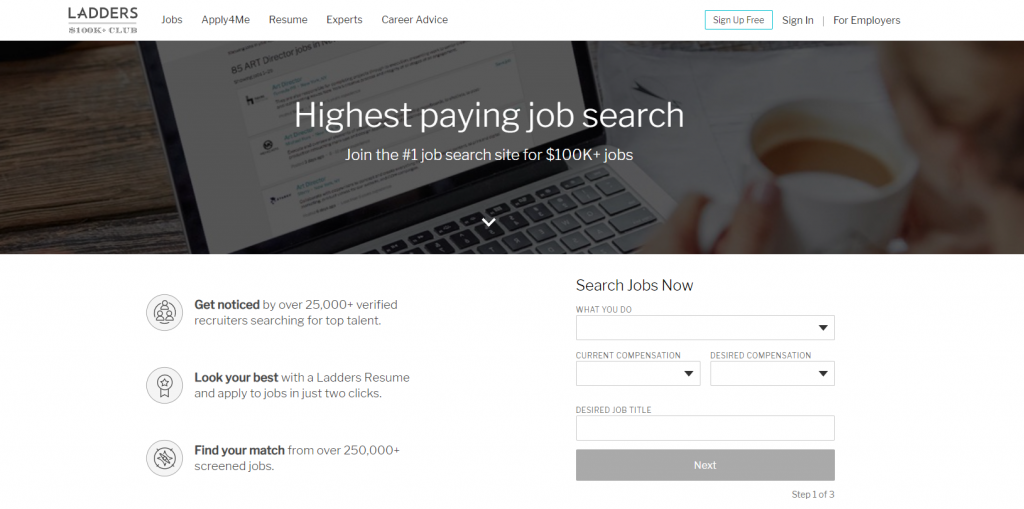 Ladders is the home of 100k+ careers options and helps you to quickly find the highest paying jobs. If you're looking for high-quality jobs with a competitive pay scale and exciting compensation, then ladders can be the perfect fit for your needs. 
Using the ladder search bar, you can easily browse jobs by roles or specialties. And you can also include your location to see the job listings within your preferred area. 
Apart from job search, ladders also offer you many other useful features for company research like company information, salaries, and company reviews. Ladders also provide you access to built-in resume templates which you can edit to quickly create a professional resume for yourself. 
Ladders work on a membership-based model, but it offers you a basic membership for free of cost. With basic membership, you can apply for jobs that are marked as free and also upload your resume to quickly apply for jobs. 
But if you want advanced access, then you must sign up with a premium membership. Premium subscriptions unlock many useful features for you, including unlimited access to full job listings, curated job matches directly into your email, and details about other candidates who have applied for the same job position.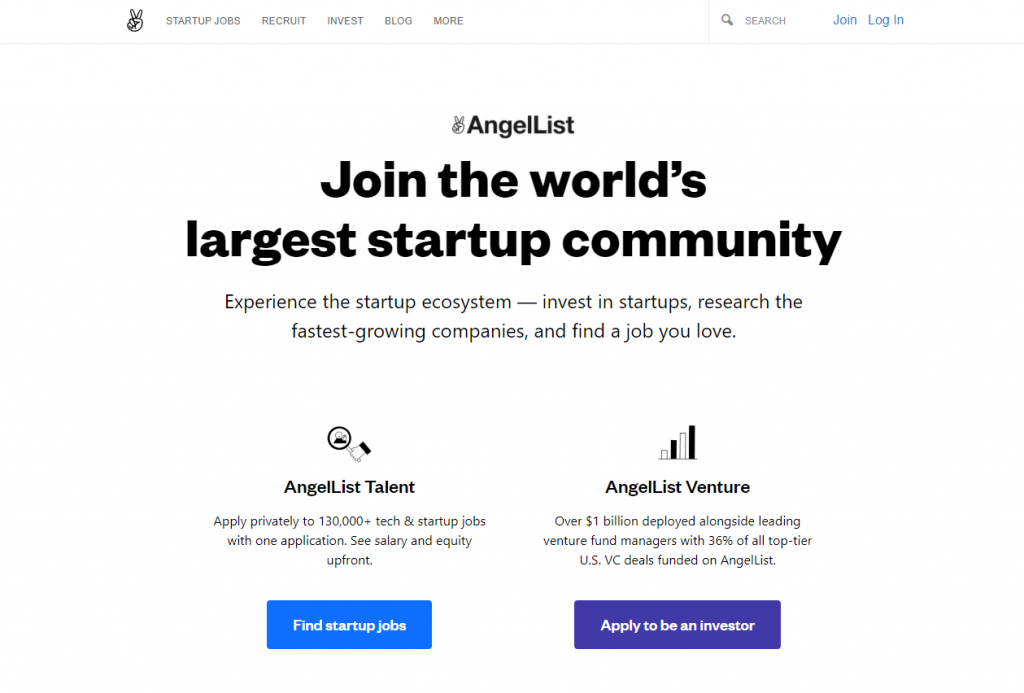 AngelList is the world's largest startup community and one of the best platforms to find startup, tech, and remote jobs. More than 100,000 startups, including twitch and stripe, have used AngelList for hiring talents. 
It offers you a huge job database that includes over 2 million tech and startup job opportunities. 
You can browse these job listings without paying anything to find your dream job. But you must have to sign up with AngelList using your email id. 
After creating a free account, you can explore job opportunities by entering a job title, location, and nature of jobs (full-time, part-time, or contract). 
Your AngelList profile works as a resume as it doesn't allow you to upload any external files or resume. 
You can use your AngelList profile while applying for jobs. So, make sure to complete your profile and include all the required information, such as educational background, courses, skills, and work experience.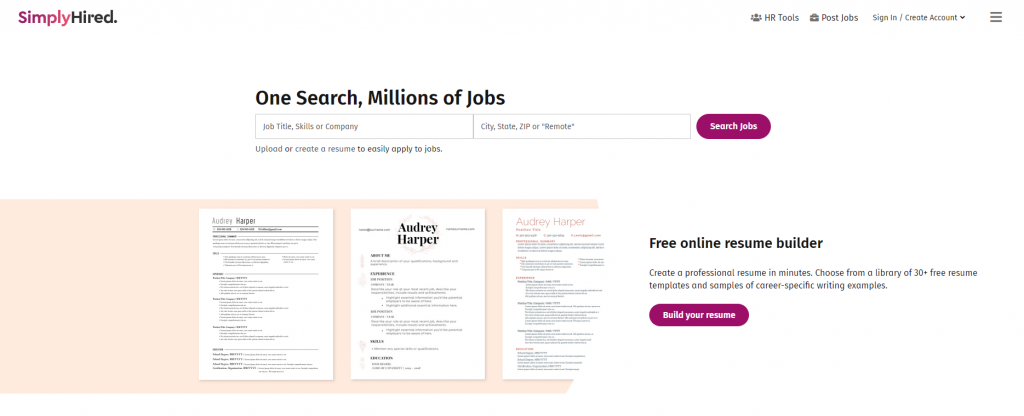 Simplyhired is another free job search websites that gives you access to explore millions of job opportunities in a single search. It provides a simple and easy-to-use interface for browsing open job positions.
You can enter your preferred job title, skills, or company name with location to see current open job positions. Simplyhired allows you to upload your external resume to easily apply for jobs. 
You can also use the simplyhired resume builder to create a professional resume within a few minutes. 
All you need to do is enter your job title, choose a pre-built template, and edit it for adding your personal information.
After customizing your resume, you can simply upload it to your Simplyhired account for future use and also download it for free of cost. 
Simplyhired also offers customizable templates for creating cover letters. 
Apart from job discovery and resume building tools, it also provides tools for calculating salaries and cost of living. 
Using Simplyhired, you can also browse information about companies, including benefits, reviews, and salary insights.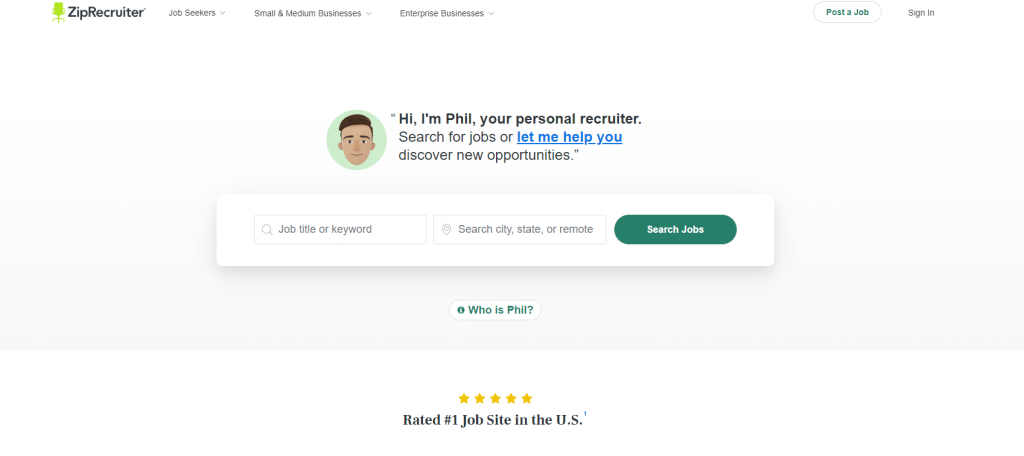 ZipRecruiter is also one of the best job search websites and more than 110 million job seekers have used it to browse career opportunities. 
Apart from job seekers, ZipRecruiter is also a famous job posting platform for businesses. And over 2.8 million businesses have used ZipRecruiter for hiring candidates. 
Whether you're looking for opportunities in a small, medium, or enterprise business, ZipRecruiter can be the best fit for you.
ZipRecruiter is a free-to-use job finding website and using its search bar you can find jobs based on your preferred skills and location. Further, you can apply more filters such as salary range and post time to browse relevant job openings. 
You can also use its salary tool for exploring competitive packages and other benefits for your job title. 
Conclusion 
When it comes to finding jobs, you can find them via social media channels, networking groups, or directly through company websites.
But job search engines are the most convenient place to discover millions of job opportunities because of their huge database. 
In this post, we have discussed the best job search websites, and using it you can quickly unlock millions of employment opportunities for yourself. 
You can also set up job alerts for these websites to get the latest job postings directly into your mailbox. 
So, whenever you see a new job opening, apply with a powerful resume as quickly as possible to land your dream job.