"Learn to code and change the world" is something we all are constantly hearing.
And, it is also true that coding is an activity that helps us understand problems more practically and provides the solution rationally. Learning to code will always offer a variety of mental and material advantages. 
For webmasters, having basic knowledge of coding can make website management significantly easier. Moreover, if you are a designer, little coding skills can help you discuss things with your developers more efficiently. 
In short: no matter what profession you're in, learning code has almost become a necessity for everyone these days.
However, most people are still unsure about how they can learn to code.
And besides that, some also think that learning to code takes a lot of money and highly equipped computers.
But in reality, all of these are completely a myth.
That's why, In this article, we are going to show you some of the best websites to learn coding for free without any prior technical or engineering background.
With the help of these websites, anyone, regardless of one's field of education, can learn this booming skill of the 21st century without spending a penny.
So, let us start with the list. 
9 Best Websites to Learn Coding For Free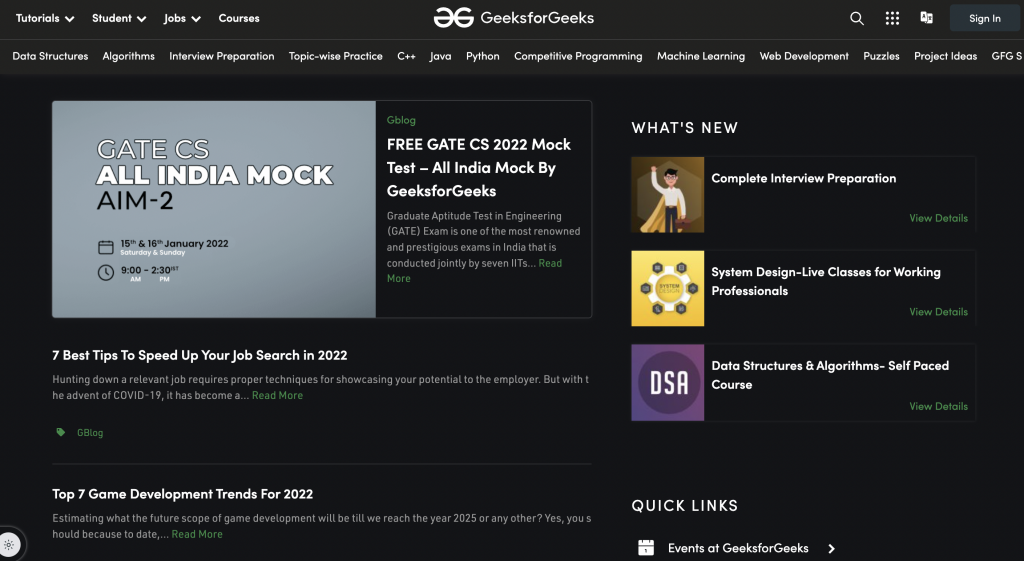 At first, GeeksforGeeks was mainly an article-based website. Soon, they started their online courses. It is not just for engineering students but also for those who have some interest in understanding the basics of programming.
Firstly, the quality of articles and writers on GeeksforGeeks is top of the mark. We found their articles are extremely useful and interesting.
They hire a wide array of proficient writers who provide high-quality content. All the content is curated systematically and progressively. 
Along with insightful articles, the courses offered by GeeksforGeeks are incredibly detailed and the mentors are very supportive and reluctant. They have a high number of options for the courses, either you can choose their live teaching programs or enroll yourself in any of their video online courses. 
As long as the course content is concerned, these classes have been extremely helpful to all those people who want to learn how to code for free. Adding further, this platform has different tutorials and they also have many games which will help you to grasp the concepts easily. 
There is a lot more than that. All you need to do is go on the GeeksforGeeks website and explore their different learning sections. See the right courses for your coding journey and enjoy. They will surely be a helpful edition to your life.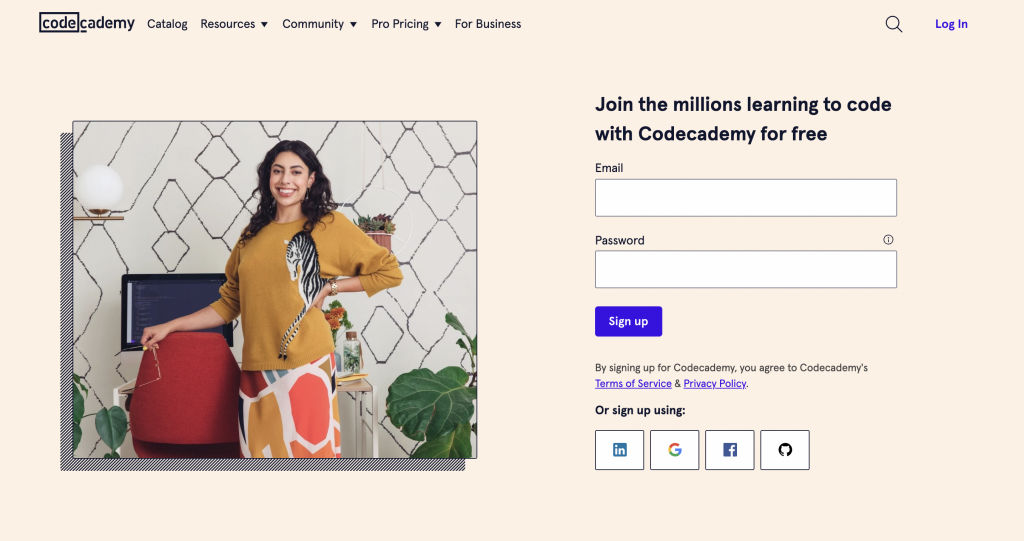 Codecademy is one of the best places for technical geeks who want to learn coding for free. This website offers great value for students and job seekers looking to add new skills to their resumes. 
With a wide range of articles, courses, videos, and projects, Codecademy is set out to create a new, interactive way of learning – making it engaging, flexible, and accessible for as many learners as possible. 
On its website, you can learn to code with the help of their useful articles compiled efficiently so that you could start from the most basic concepts and end up learning the complex ones. If you are more interested in learning things from videos than articles, this platform offers a good amount of video resources as well.
However, for systematic and progressive growth, we would suggest you enroll in its course program. Once you reach a certain level, enhance your coding skills by taking a few side projects. It doesn't just stop here. Codecademy has a great community of learners that believes in "working together, growing together." So, you can also be benefitted from that. 
To get started with your learning journey with Codecademy, all you need to do is sign up on the website. Once you sign up, explore courses or resources, choose the one you find interesting and become a coding ninja.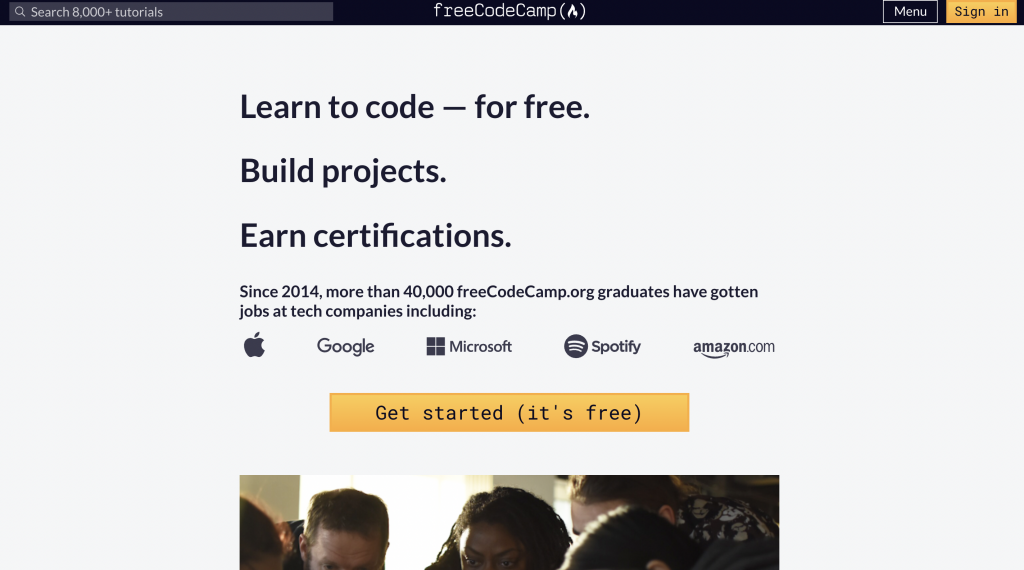 freeCodeCamp is a non-profit organization that supports people to learn coding skills for free. This NPO was first established in 2014, in California. The founder of freeCodeCamp, Mr. Quincy Larson, narrates the reason for establishing this platform. 
He says that this platform is created to help under-privileged students with the right set of knowledge in the field of coding and web development.
Heading towards freeCodeCamp's comfortability and technicalities, on this note, it is very easy to use and visually appropriate. It's not that often that you find educational websites that have some pretty helpful content for free.
This site is well-navigated and you will find the information related to your coding course curriculum right after signing in with your email address. 
In addition to that, the content available on the website is curated efficiently by experts. So, you don't need to worry about the content quality. Since the time of its inception, freeCodeCamp has delivered 40,000+ graduates who are working in the top tech-giants worldwide. 
Along with high-quality content, you will also find great features and free certifications to enhance the quality of your resume. 
Lastly, you will get an overall exposure to the world of coding and web development. However, you need to remember that every platform has some pros and cons, that's why your focus should be to extract as much information as you can and apply that to real life.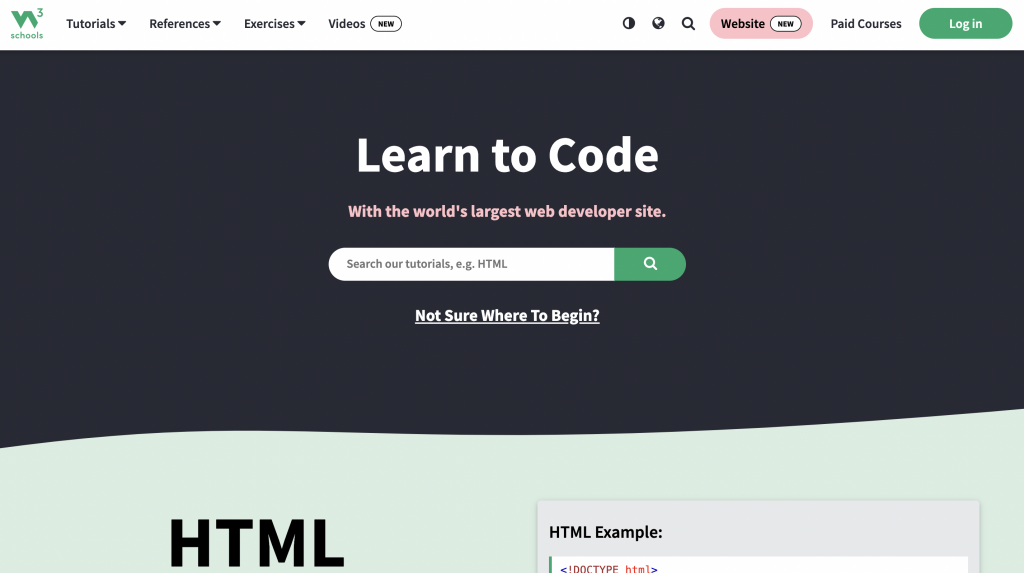 If you are a learner who wants to start learning how to code from scratch, this is the website for you. W3Schools is an all-in-one platform that helps you learn designing, database, and static and dynamic website creation. 
It is equipped with its CSS and JQuery library that is compact and easy to navigate. Along with this, the site mainly helps you learn HTML, CSS, BOOTSTRAP, JAVASCRIPT, JQUERY, PHP, ASP.NET, NODE.JS, ANGULAR.JS, etc. These programming languages are enough to develop amazing websites with many amazing features. 
Although you can search about different coding topics on google to get started, this platform curates every information progressively so that you can learn from basic to advanced levels.
On W3Schools, you will find different reference materials for HTML and CSS. Moreover, you can practice different modules available on the website to sharpen your technical knowledge. 
Ultimately, if you are a beginner in the world of coding, this website is for you. Learn things on your own affordably with W3Schools humongous stack of information. All you need to do is visit their website and join them with the help of your email and enjoy the flooded knowledge and information.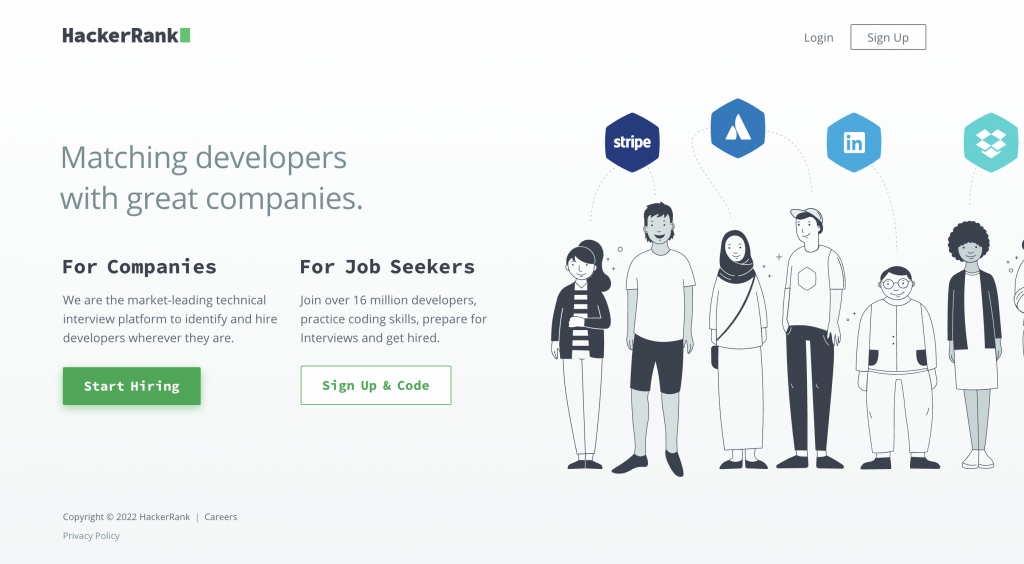 This website is good for individuals who are preparing for the technical interview round at their jobs or during the time of their college placements. HackerRank is a platform that has over 11 million developer users worldwide. 
If you are someone who wants to brush up his coding knowledge before appearing for the job interview, this is the place where you can practice. Many employers use HackerRank to test the candidates' coding abilities and help small businesses to hire the right candidate using a centralized dashboard.  
The best thing about this website is that it has well-upgraded compilers that help you at the time of competitive coding. Moreover, it also has the facility to participate in online contests that helps you to sharpen your overall coding knowledge through its practical implications. 
Along with these things, HackerRank supports different programming languages making it unnecessary to learn a new language before hitting any interview question.
However, you can practice a large number of concepts on this website. So, if you want to learn coding to make a career in it, HackerRank should be your first preference.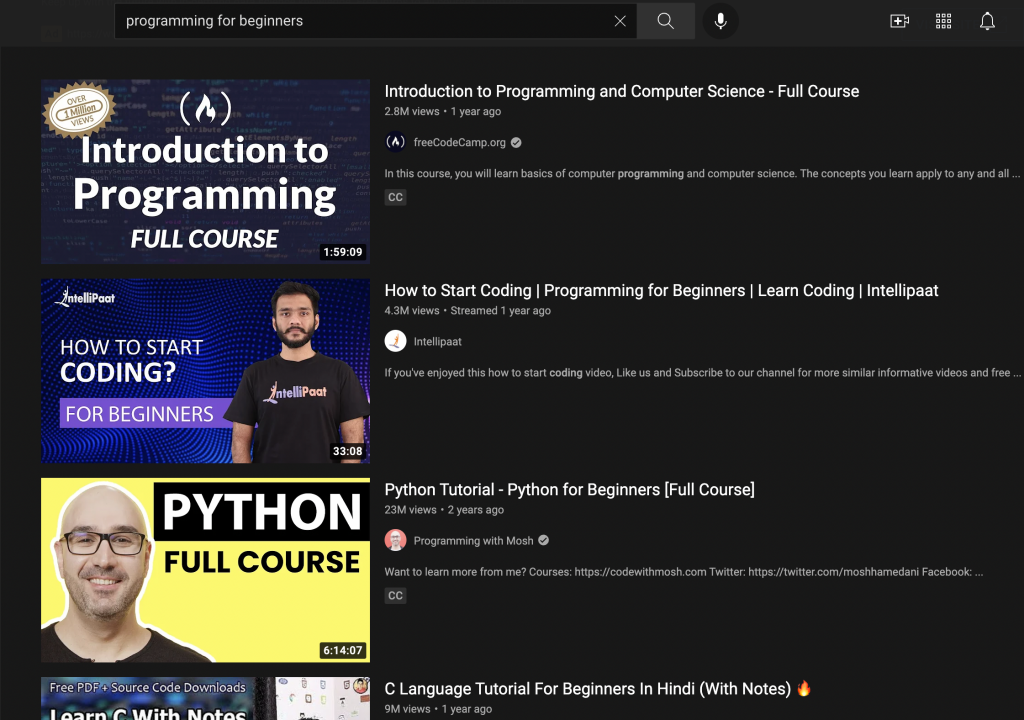 It is one of the most vibrant and revolutionized platforms to learn anything. YouTube has crossed the milestone of having 2 billion active users on its platform. 
Here, you will get a great opportunity to learn globally from amazing teachers posting their videos on YouTube. Now, let's tell you the right way to learn to code on YouTube. 
But how can you learn coding from YouTube videos?
The first step to learn is to sign in to YouTube using your Google account. 
Use the search bar to find videos related to coding. For your convenience, we recommend these YouTube playlists to learn coding step by step from absolute scratch for free. 
By choosing any of the above-mentioned playlists, you can start your coding journey easily on YouTube without paying even a penny. Remember, always make notes and keep revising concepts for better retention.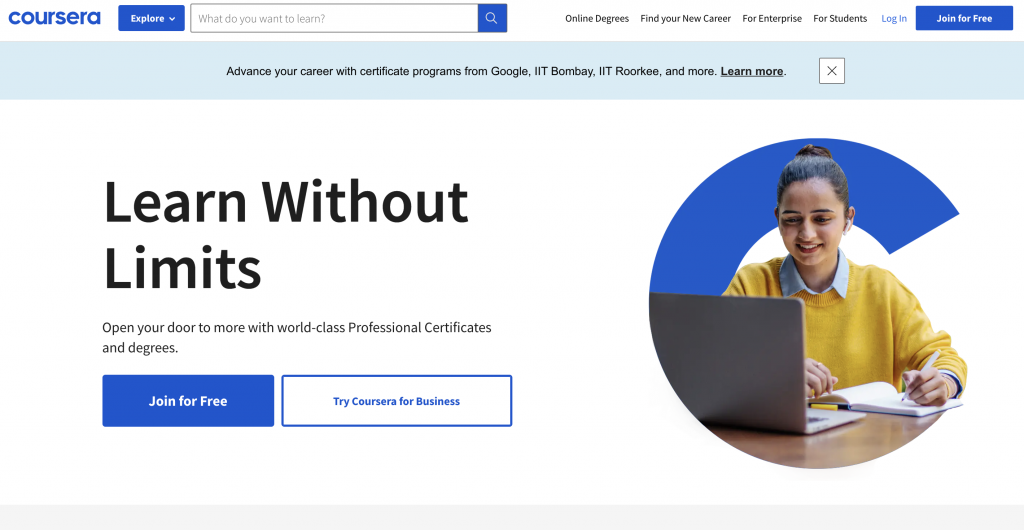 If you are striving to get your degree/diploma from a well-reputed university, you can fulfill your desire through Coursera's premium quality courses. It is partnered with very well-known universities worldwide. 
So, you could get a chance to claim certification from top universities in the world. Although it is a great place to learn, finding the right coding course on it could be difficult. 
That is why we have curated a shortlist of recommended courses that you can select on Coursera. Here is the list of free courses: 
Ultimately, if you are a student, a teacher with an active interest in e-learning, or have a professional acumen to develop your education and career prospects, Coursera may well be of interest to you. The universities which are associated with Coursera are Johns Hopkins, Princeton, the University of Michigan, Yale, Rice University, and a lot more.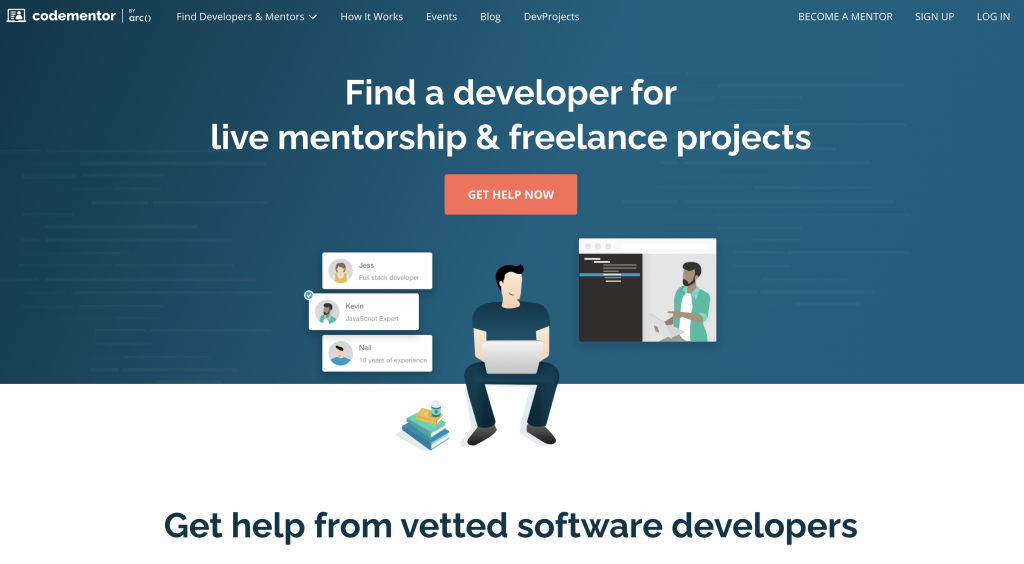 Codementor is an online platform where you can go for one-on-one help with coding, debugging, and competitive programming. On this platform, you will find professionals sharing their expertise and knowledge in these areas in real-time. All of the sessions take place virtually and participants can put their queries in the comment section. 
This means Codementor is the right place to go if you are an aspiring coder who wants to furnish his/her skills with practical implications. 
Moreover, you can join Codementor's community to develop and start forming connections with like-minded people. However, you need to be very cautious about the people you are following or interacting with because "every house has a black sheep."
So, you need to carefully analyze and eliminate that black sheep as it can hamper your growth in the future. Take as many development projects as you can and explore different ways to solve problems. Codementor will surely provide you with the expected quality.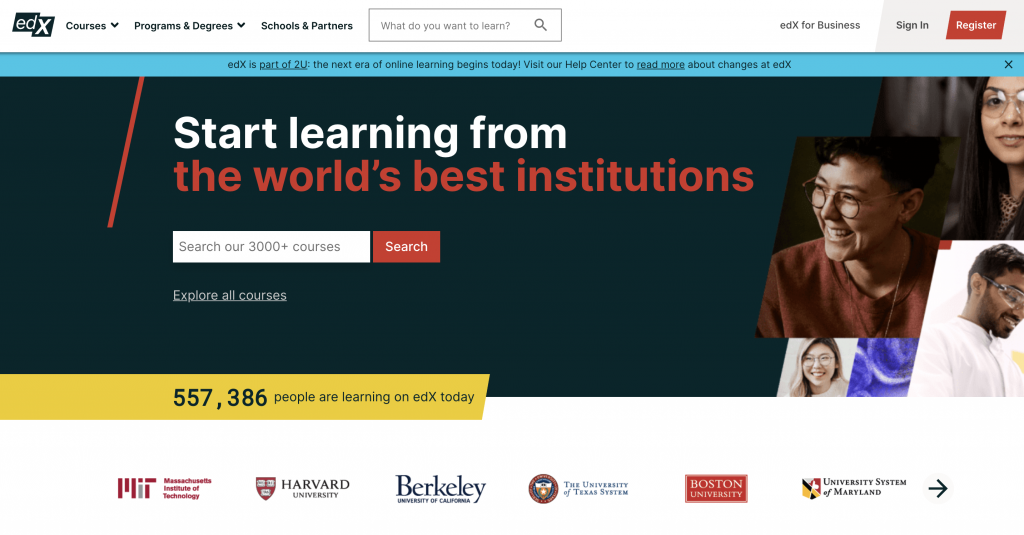 Another amazing free platform to learn coding from great teachers or instructors online for free. edX is a step towards transformation through education. It was started in 2012 and since then it has been providing excellent content to its learners worldwide. 
On edX, you can find a wide array of courses related to the field of computer science. You can open their website and navigate to its program section followed by the computer science menu to find a broad list of topics related to coding. 
On the other hand, edX also provides full-fledged degree programs (paid) globally. Although you can find a bunch of different courses to start learning how to code, we have curated a list of top coding courses that you should be knowing. 
Here is the list of courses available on edX for free: 
With the help of any of these courses, you can kick start your coding journey right from your home for free. 
Conclusion
So, these were some of the best websites to learn coding for free that you can consider for starting your coding journey from scratch. As already stated, to get started with the websites, you need to have an email address along with a passion to learn something at your own pace. 
Most websites offer recorded lectures that also don't have any deadline. So, this leniency can affect your progress, however, the growth depends upon your will and purpose. 
Besides that, you may also find that some of the websites will not provide free certificates. Although you can access the content for free, it would not be possible to get a certificate (there are a few free certifications websites too, which you can check). 
With that said, you have already got the path on which you need to walk to reach your end goal. Now, it is your turn to make the most out of this opportunity. Start from scratch and try to utilize these resources as much as you can.