YouTube verification is not just for big channels but for anyone serious about YouTube. 
There are numerous benefits of verifying your YouTube channel. But the main advantage is its increased uploading limits for videos. 
So, if you are also a youtube content creator and want to verify your youtube account, you're in the right place.
In this post, we'll show you how to verify your YouTube account within a few minutes step by step.
But before we begin, make sure you have these things ready with you:
Youtube account credentials.
Firm internet connectivity.
Mobile or laptop or desktop.
Let's get started with this blog. 
Why Should You Verify Your YouTube Account?
As said, there are multiple benefits of having your youtube account verified. 
Some benefits for video uploaders are the ability to upload more than 15-minute video length, the ability to link to external websites in annotations, the ability to go live on youtube, and customizable thumbnails for your videos. 
If you do not verify your youtube account, you are limited to 3 frames that youtube chooses; from near the beginning, middle, and the end. 
In addition, a custom thumbnail delivers a much better frame, which allows content customization. 
How to Verify Your YouTube Account on Desktop or Laptop?
After reading the advantages of verification, if you think the youtube verification process is complex, it's not. 
Surprisingly, in comparison to the advantages a verified youtube account brings, the process of getting your youtube account verified is simple. 
Follow the steps mentioned below to verify your youtube account on desktop or laptop: 
Step 1
Head over to YouTube.
Step 2
If you have not done so already, sign in to the account that you want to get verified. Click on SIGN IN in the upper right corner of your desktop or laptop. Once clicked, use Gmail credentials to move further.
Step 3
After successful login to your account, you need to go to "Settings". Check the left sidebar to find the Settings option and then click on it.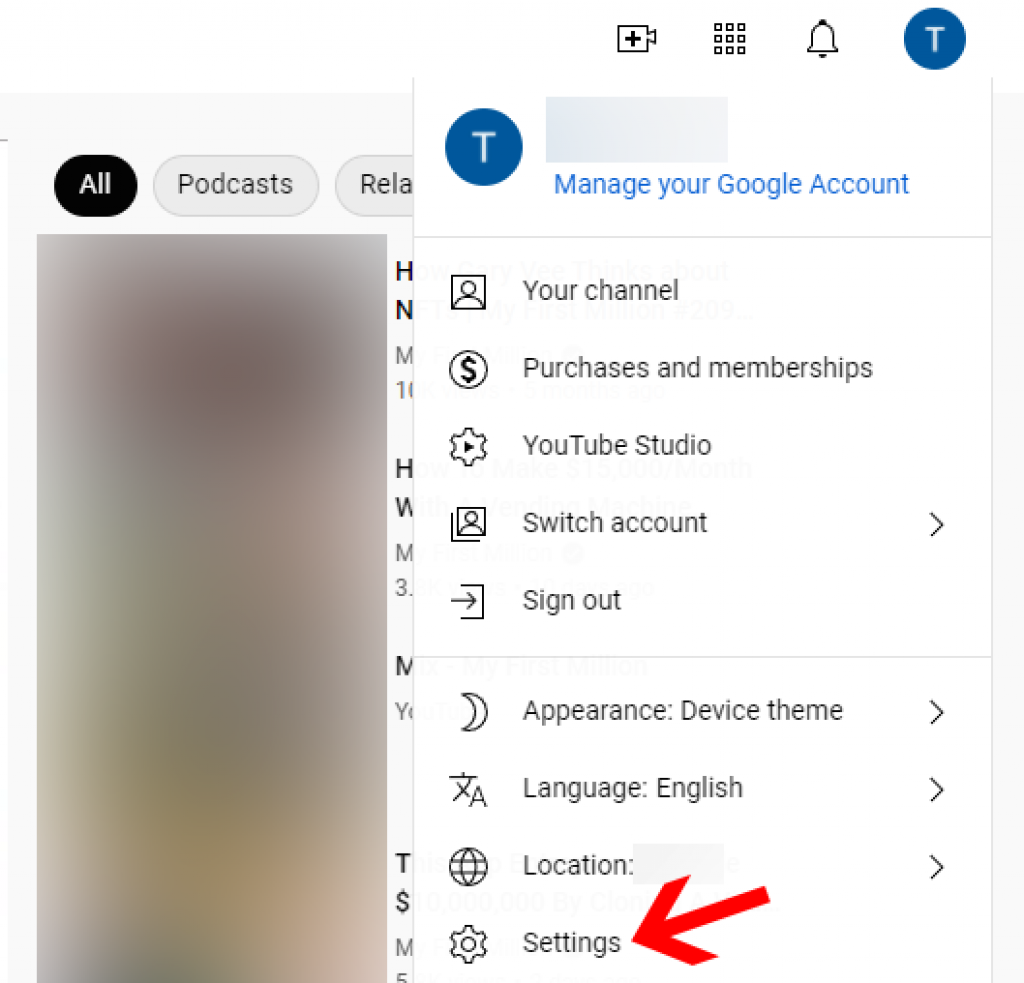 Step 4
Now, Youtube will redirect you to a new page. On this new page, select Accounts from the left sidebar.
Step 5
Click on "Channel status and features" to move further.

Step 6
On the new page, click "Channel" from the left sidebar, if not already selected. Furthermore, click on the Feature eligibility tab, the last one towards the right.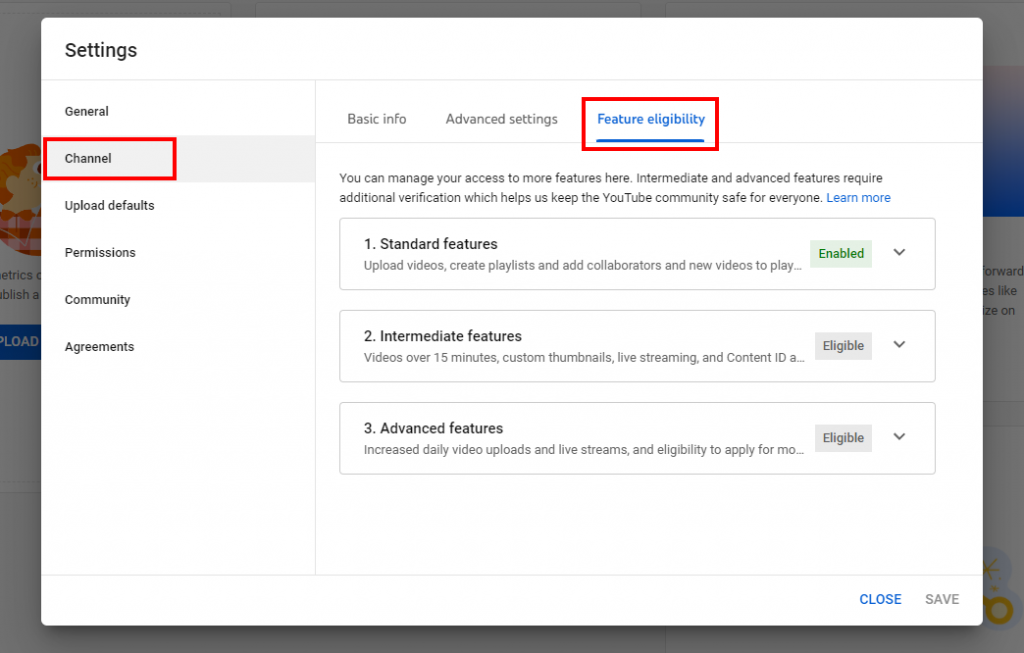 Step 7
Once landed on the next page, click on the drop-down box to the right of the Features that require phone verification, and then click the blue button "VERIFY PHONE NUMBER".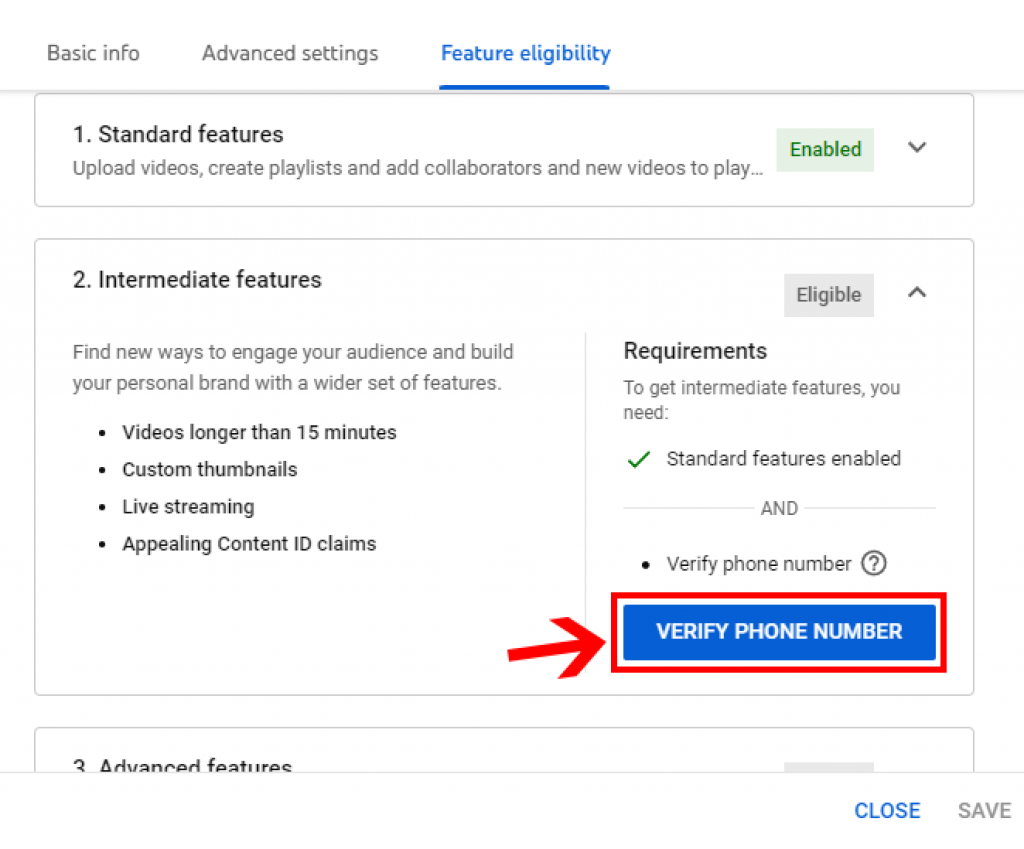 Step 8
Now, a new browser tab will open. On this tab, you can either ask Google to share the verification code with you by text or an automated call to verify the mobile number that you entered.  
Step 9
Choose your country, type your phone number in the box without the country code, and click on the "GET CODE" button.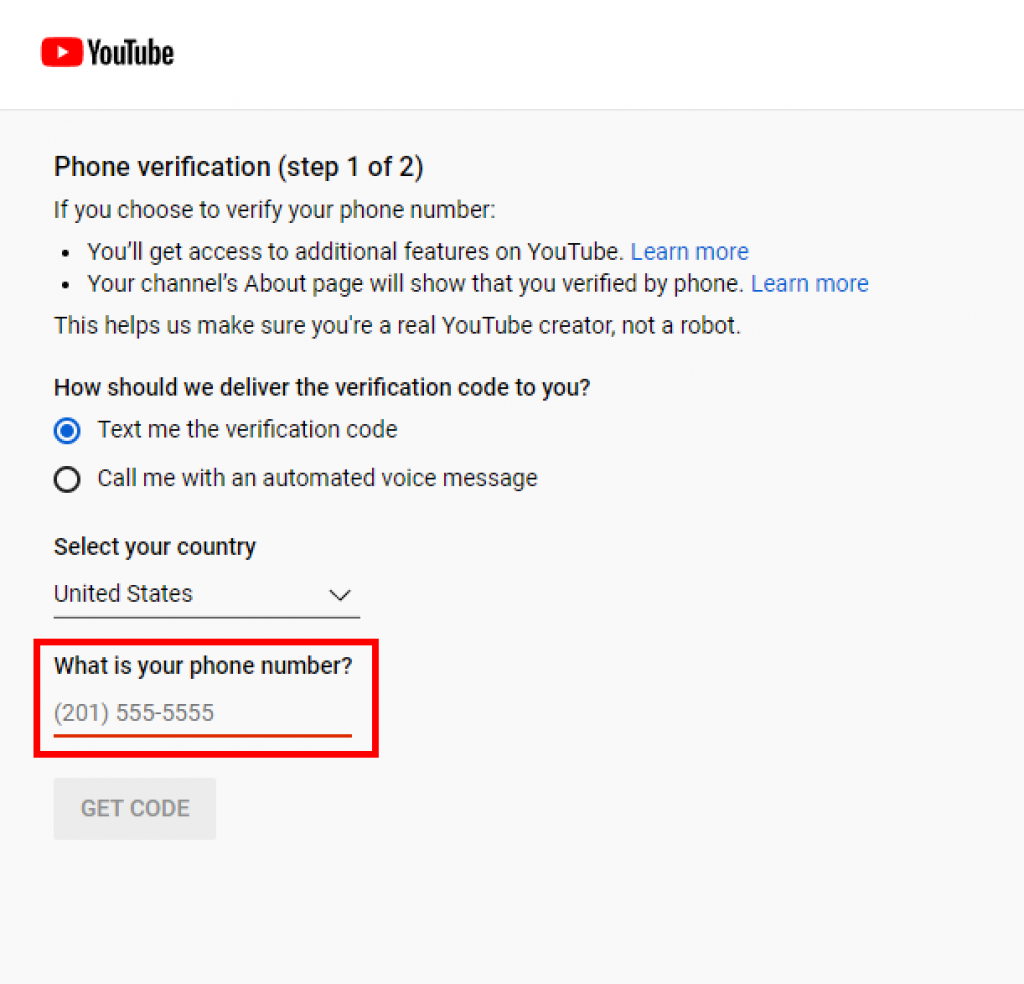 Step 10
Now, get some water to drink and wait for Google to send you the verification code either by text or call, depending on the method you've selected. 
Step 11
Once the code is there, copy-paste it in the given box and click on the "SUBMIT" button.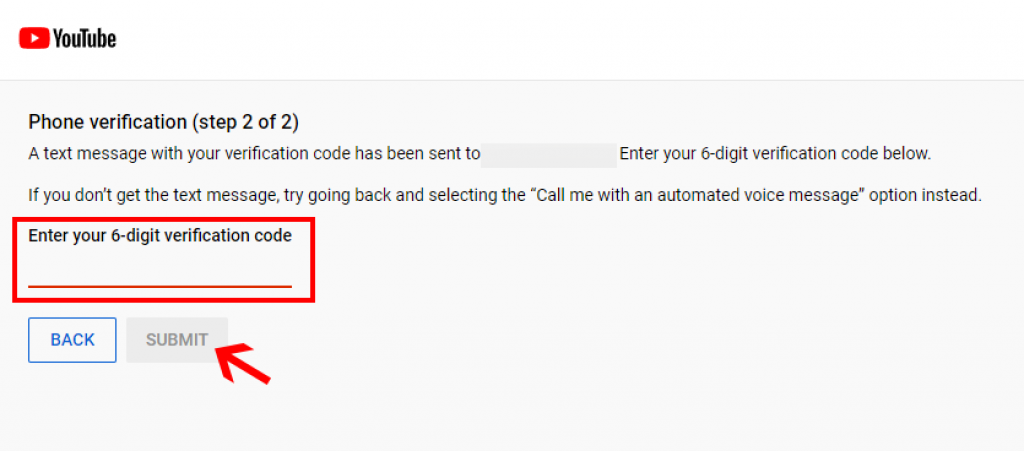 Youtube will send a confirmation message that your phone number is verified successfully. 
Step 12
Boom! You have successfully verified your account on youtube. 
Now you can go to Settings >> Channel to confirm your verification.
How to Verify Your YouTube Account on Mobile?
Verifying your youtube account on mobile is as simple as verifying it on a laptop or desktop. 
Let's see the entire process in the steps mentioned below:
Step 1
To verify your youtube account using your Android or IOS device, first, you need to open your browser of choice, go to https://www.youtube.com/verify, and sign in to your account. 
Step 2
Choose the option; via text or call, in which you want to receive your verification code, then enter your mobile phone number and tap "Get code".
Step 3
Once you receive the verification code, fill it in the space provided and click "submit".
Step 4
Booyah! You have verified your account. It will appear on your youtube account connected to all your other devices.
Difference Between Verifying Your YouTube channel and Verification Badge
Often people get confused between a youtube verification badge and youtube account verification. Crushing the doubt: 
Youtube verification badge is the little gray tick that appears on the side of your channel. 
On the contrary, youtube account verification is a common step that every youtube content creator needs to follow to ensure its safety and recovery.  
In other words, when you verify your youtube account, you are confirming to youtube that you are not a bot, and you own this account. 
The verification is different from getting a verification badge. Only youtube accounts having more than or equal to 100K YouTube subscribers can apply for a youtube verification badge. 
Conclusion
Youtube content creation is on boom these days. And, you can also be a part of this growthful journey. 
All you need to do is create a verified account on youtube, using the verification process mentioned above, and start uploading content. 
In this blog, we have also cleared other doubts about the verification process. Moreover, you can find its importance, benefits, and eligibility all in one place. 
So, if you were also wondering how to verify your youtube account, we have tried our best to put things in front of you in the most precise manner.
We hope you found this useful.