Technology has made us stand amid benefits and frauds. If you are attentive at your dealing, you will reap tremendous benefits from technology. Whereas the same technology can cause you a lot of disadvantages if not dealt with care. 
Furthermore, mobile calling technology is no less than a boon for human beings. But sometimes, it can also create problems like scams, frauds, or deception. 
Here comes the call recording function, which allows users to record phone calls effortlessly on their mobile devices. 
Some mobile devices have this function pre-installed, while some need external applications to record calls. 
Some people like to keep phone calls recorded for different reasons like legal issues or security concerns, while others want to preserve call recordings as memories. 
For every reason, these apps will help you every time you need them.
In this post, we'll show you some of the best phone call recorder apps that can record your phone call conversations automatically and save those inside your mobile device.
We've included options for both android and iPhone users. So doesn't matter what device you use, you'll get a call recorder app option inside this post.
So what are we waiting for? Let's jump right inside the post.
7 Best Phone Call Recorder Apps That Can Record Your Call Conversations Automatically (Android & iPhone)
You can find a bunch of legitimate uses of using phone call recorder apps. However, the call recording practice is illegal in various areas. So, we recommend you check the laws of your country before using any of these apps. 
With that said, let us tell you the best apps to record voice call conversations on your mobile devices. 
In addition, we have presented a complete analysis of each application along with its user rating and pricing. 
1. MSpy (Android & iPhone)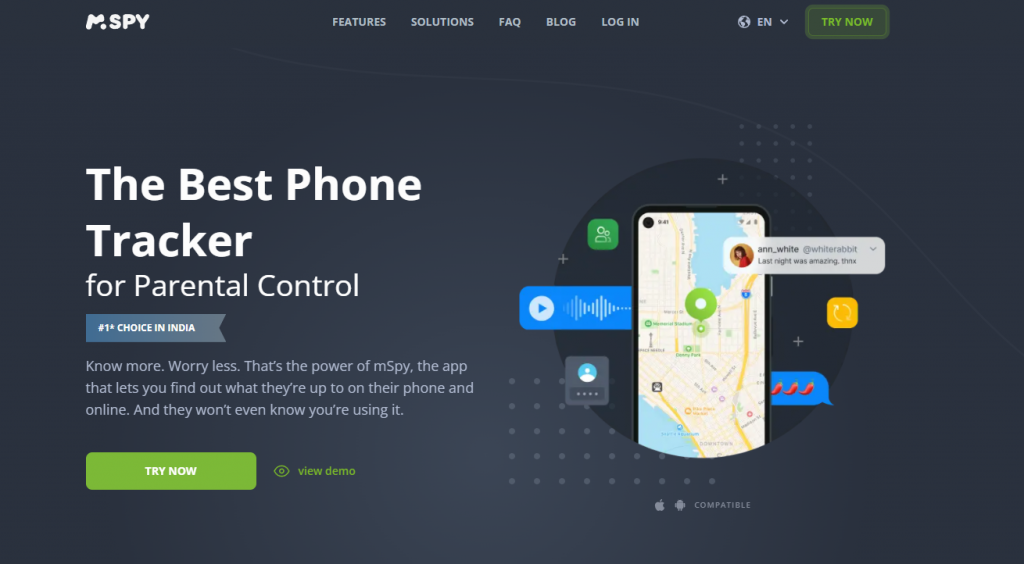 MSpy is one of the best parental control solutions that provide a high-quality phone call recording feature. It can track or monitor a cell phone using its advanced tracking functions.  
With this auto phone call recording app, you can easily find what your children or employees are doing on their phones and online. Moreover, you can also listen to incoming and outgoing phone calls and record the telephonic conversations of your target device. 
In addition, it also helps you save the recorded phone call files to the MSpy online control panel. You can find this app on both Android and IOS platforms. Along with that, you can find its main features below. 
The pricing structure of MSpy
mSpy offers a demo before making a purchase. There are three pricing plans, where $48.99 per month for a month, $27.99 per month for three months, and $11.66 per month for twelve months. 
Feature of MSpy:
MSpy maintains call logs efficiently.
It blocks unnecessary calls.
The app monitors incoming and outgoing text messages.
IMs Monitoring facility.
It helps track location.
App blocker enabled for a hassle-free experience.
It offers a demo with all features.
User ratings:
App store: 4.1 stars (4000+ Ratings)
Play store: 3.5 stars (7,582 Ratings)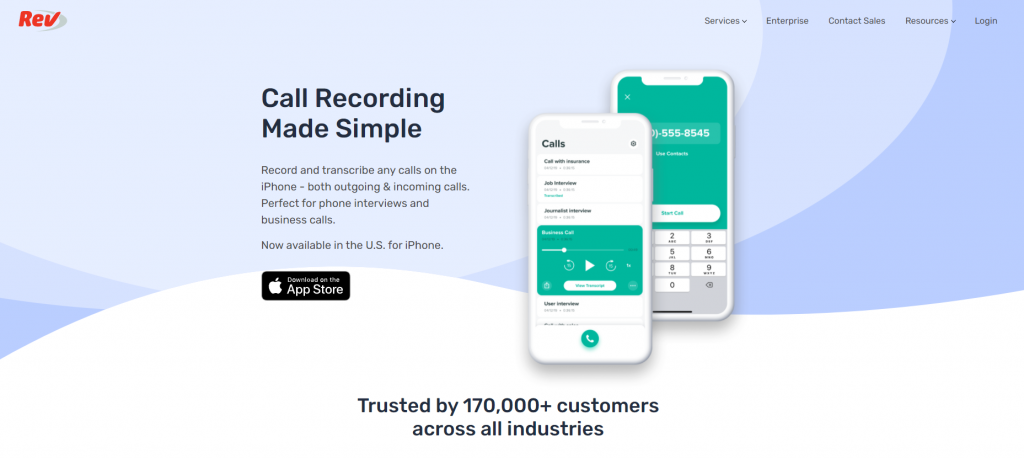 Whether you want to record the voice of a loved one or conduct an interview, it is easy to record phone conversations these days. 
In the past, recording phone calls required specialized equipment and adapters, but now, recording calls is as easy as a simple tap on your iPhone.  
Whether you are a tech pro or one of the not-so-tech-savvy types, the Rev Call recorder will always be at your side whenever you want to record a conversation on a call.
It's one of the best call recorder apps for the iPhone without any charges. Unlike other call recording apps, there is no cap on the duration of the call to be recorded. 
Users can record incoming and outgoing calls and save them on their devices with just a tap. But the best thing about this app is that it doesn't have any subscription fees. 
The pricing structure of Rev Call Recorder 
The app is completely free with unlimited call recordings. It also claims that it has zero hidden fees or ads. 
Features of Rev Call Recorder:
It syncs easily with cloud services.
You can share files using social media and email.
Allows you to record high-quality audio.
It can also transcribe audio if needed [Paid].
Rev recorder app also works in sleep mode.
It provides different features on the iPhone for free.
User ratings:
App Store: 4.4 stars (9,400+ Ratings).
3. TapeACall (Android & iPhone)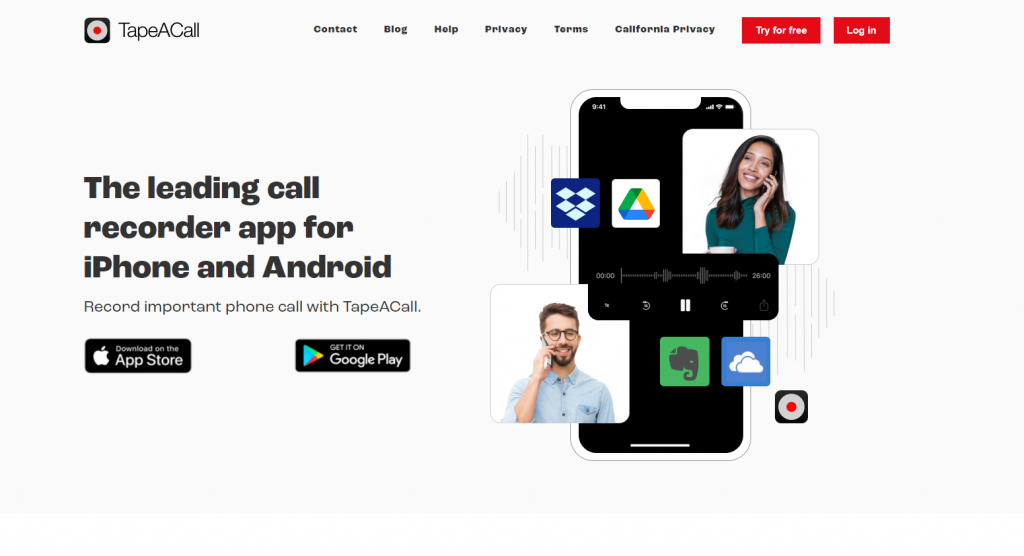 If you are familiar with three-way calling, you know everything you need to know to record phone calls using this app. TapeACall is available on both Android and iPhone devices. It is the go-to app for journalists. 
In addition, it allows users to record incoming and outgoing phone calls. You can easily save these recordings on your computer or transfer them to other devices using the save or share features. 
The best thing about his app is its easy-to-use UI, making it easy to get started as soon as you download the app on your mobile device. 
TapeACall works on a yearly charge for the service, although the initial download from the Apple Store is free. Moreover, you can also choose a monthly fee payment after a 7-day free demo. 
The pricing structure of TapaACall
It has two plans – $9.99 (monthly) and $59.99 (yearly). However, you can have a free trial before purchasing.
Features of TapeACall:
It does not have a cap on-call recording limit.
Download the recording easily on your computer.
Share recordings via SMS, Facebook & Twitter.
It allows you to record your incoming and outgoing calls.
Push notification helps you to find your recording on the app.
TapeACall offers customer service with real humans.
Holds access to call recording laws.
User ratings: 
App Store: 4.2 Stars (21,000+ Ratings)
Play Store: 3.5 Stars (3,319 Ratings)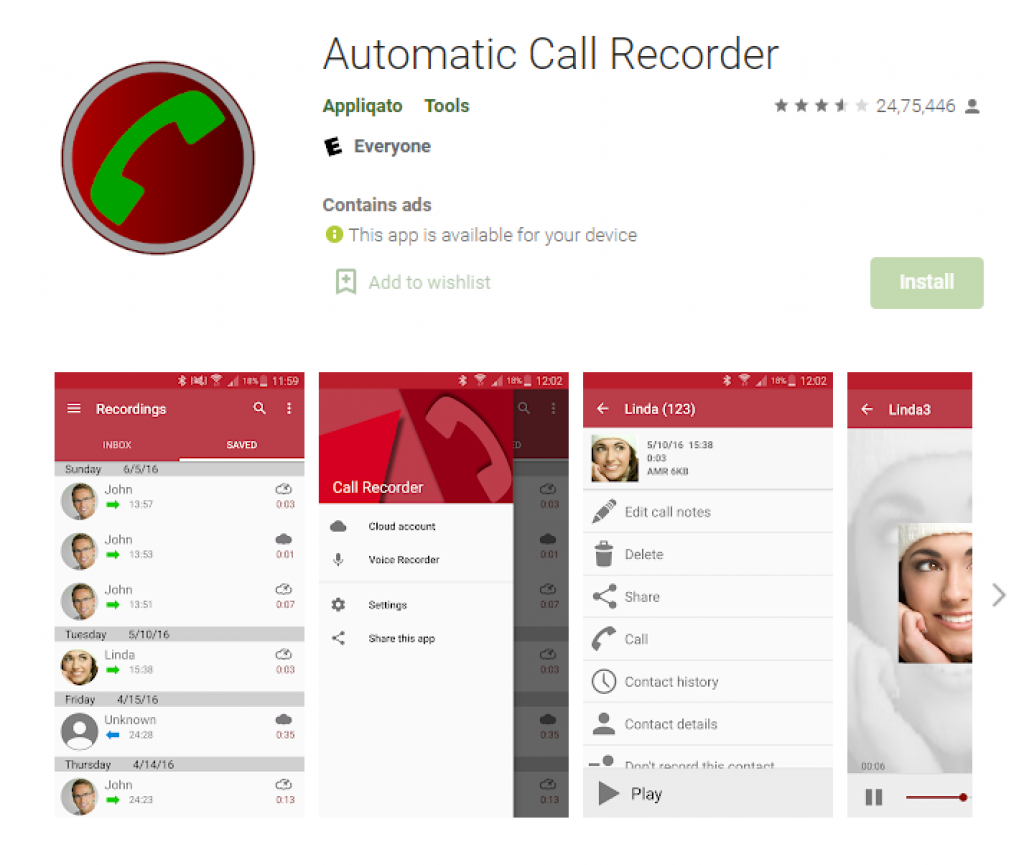 Automatic Call Recorder is another popular automatic call recording app that you can use to record high-definition audio. 
It records all the calls (incoming and outgoing) automatically, and all recorded files are automatically kept on your mobile device. 
Essentially, there is no cap on the number of calls you can record, which is why this app is even more demanding. If you have sufficient storage on your mobile phone, you can create as many files as you want. 
However, this app allows users to save the recording on cloud storage platforms like Google Drive and Dropbox. 
Although it is free to download with ads, you can switch to a pro version anytime you want to remove annoying ads. In addition, the pro version also can save recordings from select contacts, which then directly go to the cloud storage. 
Ultimately, it helps delete or share the call recording easily with some add-ons of settings like excluding a couple of numbers from the call recorder app. You can also use a pin for the app, choose the app icon to show while recording, and more.  
The pricing structure of Automatic Call Recorder
There are two versions of Automatic Call Recorder. The free version is available with ads, whereas the pro version has a fee. 
Features of Automatic Call Recorder:
It offers an automatic call recording feature.
You can save recordings to external storage devices.
Records incoming and outgoing calls.
Mark recording is a priority.
It gives you options to set which calls should be recorded.
User ratings:
Play Store: 3.5 Stars (24,00,000+ Ratings)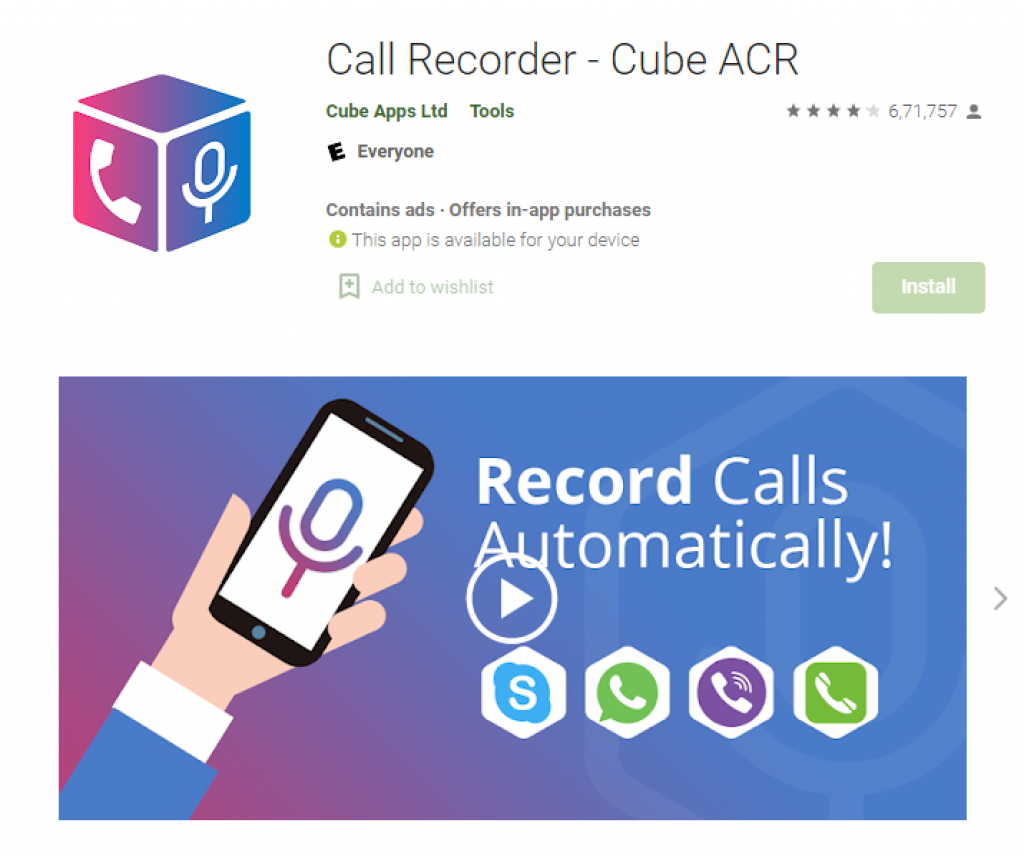 Many call recording apps only work if you call through your built-in dialing app, not if you use a voice-over IP (VoIP) app. With Cube ACR, it is even possible to record calls through Skype, Facebook, WhatsApp, Slack, and more on Android devices. 
The free Cube ACR version comes with ads, but it is more than enough if you only want to have a robust call recording app. 
Interestingly, you can choose to record every call or list specific contacts for recording your conversations during the call.
In addition, you can even start recording in-between an ongoing call, which is also free. 
The premium version adds automatic backup, automatic deletion, and file security. Not to mention, if you want to take a backup, attack the Google Drive to the app as soon as your call ends.  
The pricing structure of Cube ACR
It's free to download and has in-app purchases ranging from $1.99 to $9.99. 
Features of Call Recorder – Cube ACR:
You can shake your phone to mark essential parts during the call.
Geotagging to see the call mapping.
It automatically removes old recordings to clear new space.
Cube ACR consists of features like VoIP recording, silent mode, etc.
Easy to use user interface.
Users ratings:
Play store: 4.1 Stars (600,000+ Ratings)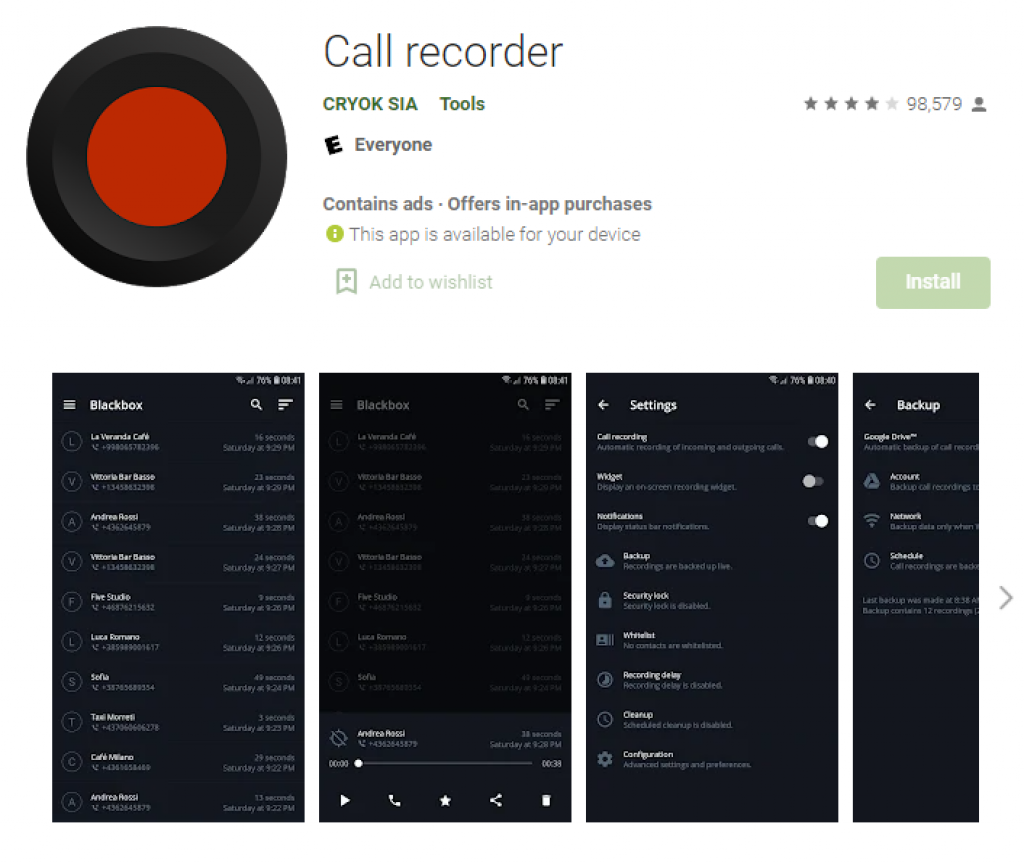 Blackbox Call Recorder is one of the top-class Android phone call recorder apps. 
It has various features, including call recording, cloud backup support, automatic cleanup of old recordings, Bluetooth earphone support, Dual SIM recording support, and a lot more. 
Surprisingly, it automatically records calls. Moreover, all the call recordings are securely backed-up on cloud storage like Google Drive. 
In addition, this app comes with a security lock feature that can keep your call recording safe.
For instance, you can lock Blackbox to prevent unauthorized access with a passcode. You can also manually set up your call directory to better organize your files and sort recordings by date, time, or duration.  
Ultimately, the app provides an on-screen widget that you can use to start or stop the recording function manually. Overall, this is one of the best, if not the best Android, call recorder apps.
The pricing structure of Blackbox Call Recorder
The app is free to download and has in-app purchases of around $0.99 – $23.99 per item. 
Features of Blackbox Call Recorder:
The in-app lock enhances the security of the software.
It allows you to customize call recordings.
Blackbox Call Recorder has an on-screen widget for manual recording.
Robust UI for easy operation.
Cloud backup is available.
User ratings:
Play Store: 4.0 Stars (90,000+ Ratings)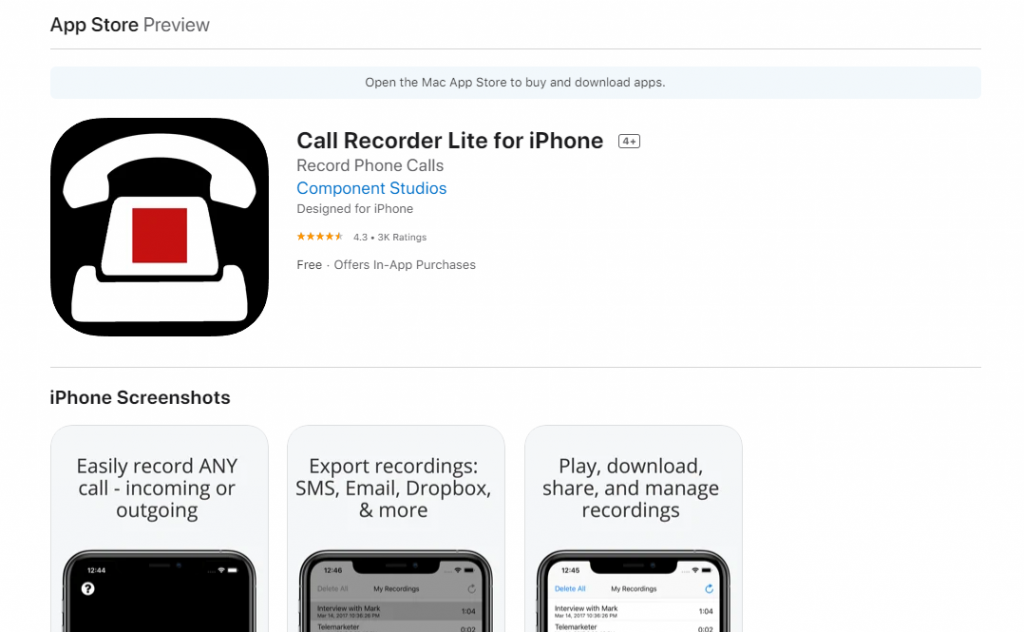 Call recorder Lite is a free call recorder app for iPhone that helps you record both incoming and outgoing calls. It works on the same three-way call merge system to record calls as in previous apps.
You can record a call whenever you want [during or automatic call function] with just one tap on the record call button. 
If you want to record a call using Call Recorder lite, dial the recording number from the app, then once it is connected, dial the number you want to make a call. As soon as you merge both the calls, the app will start recording the call. 
If you want to make your iPhone a live on-call note-taking device, this app can help you with that without any hidden charges. 
The pricing structure of Call Recorder Lite
The app is free to download and has in-app purchases of around $9.99. 
Features of Call Recorder Lite:
It allows you to save your call recording on cloud storage like Google Drive or Dropbox.
The free version allows you to record as many calls as you want without any additional charges.
It works on three merge call functions.
It helps users to record both incoming and outgoing calls on their mobile phones.
User ratings:
App Store: 4.3 Stars (3,000 Ratings)
Conclusion
All these above-listed apps are apt for recording incoming and outgoing calls on Android and iPhone devices. 
There are different features for both basic and advanced users. Although these apps have both – free and premium versions, we suggest starting with the basic plan first. 
Once you understand your requirements and the app's features, you can even go for the premium versions, ranging from $9 to $60. Though always keep your priorities on top before choosing any phone call recording apps. 
We would also suggest you choose authorized phone call recorder apps either from the play store or the app store. This practice will not just save you from harmful malware but will also keep your data secure.
Finally, recording calls without others' acknowledgment could be illegal in some countries. So, please keep your country's law in your mind while using any of the above apps. 
However, we have listed only those apps which adhere to these laws.