Stocks are a small portion of the ownership of a company. When you buy a stock in a company, you become a fractional owner of the company. As the company grows, your ownership valuation increases. And that's how you make money. 
It's tempting. Right? 
First, you can get a part of ownership in a company. Then, you will get a portion of the profit of the company. 
Lastly, you can trade your stocks to book profit. It's indeed an attractive way to make money online.
Earlier, we needed to stand in lines to trade a company's stocks. But not anymore, all thanks to the emerging technologies that made stock trading as simple as scrolling social media. 
Hence, if you are a beginner who wants to enter the world of stock trading, in this post, we're going to share a list of the best stock trading apps that you can use to trade stocks from your mobile devices.
In addition, we have also answered some of the most frequently asked questions regarding stock trading at the end of this blog. So, let's start. 
9 Best Stock Apps For Trading And Investing
Presently, the online market has different stock trading apps claiming to be the best. 
So, it could be hard for you to find the best out of the rest.
Also, these kinds of apps have financial risks involved. So, that makes it even more challenging to pick the one with robust financial security stability. 
Therefore, we have curated a list of the top 9 best stock apps for trading and investing. 
You can go through each of the listed stock market apps to find the best-suited one for yourself. 
SoFi, an acronym for Social Finance, is a US-based fintech startup founded in 2011. It started with a loan refinancing model for students but extended into the stockbroker space in 2018. 
US Securities and Exchange Commission (SEC) and FINRA regulate SoFi. It also has a brand called SoFi Invest, providing zero-fee or discount brokerage services. 
This stock app ranks among the best mobile-first trading platforms. It aims specifically at traders operating from their smartphones. This US stock app provides a simple trading platform to users, including low fees, a great selection of assets, and some other useful features. 
SoFi asserts a decent selection of US stocks to trade and invest in, although you can't invest in companies from other countries. You can trade on established stock exchanges like the NYSE, NASDAQ, and AMEX exchanges. In addition, SoFi also allows users to trade or invest in ETFs and cryptocurrency.
SoFi has several traits that make it an appealing choice to novice trades and those operating on an appropriation. 
Furthermore, it has a useful self-regulating investing feature, which you can choose for the app to build and manage a portfolio without worrying about the management fees. 
Ultimately, it is ideal for investors looking to learn about stock trading. This brokerage allows commission-free trades and fractional shares in an account without capping any minimum balance. 
You can also learn more about stocks through the articles available in the learning section of the SoFi mobile app. 
Pros
Allows fractional shares
Commission-free trades
No minimum capping to start trading
Cons
It doesn't allow you to invest in other countries
Fees
It doesn't charge you a trading account commission.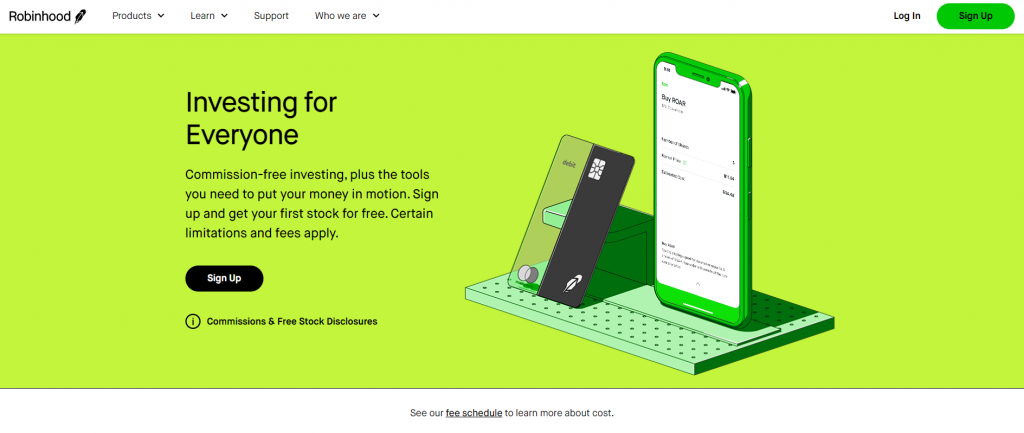 Make no mistake about it – if you are a US-based user looking to trade or invest in stocks via a dedicated stock trading app – Robinhood is now the out-and-out market leader. 
Since the mid-2020, the application has been home to over 10 million Americans. 
With more than 13 million users with an average age of 31, it is clear that Robinhood has established itself to be ideal for younger investors who want to get skin in the game – allowing them to put money in fractional stocks of companies. 
In terms of diversification of asset classes, Robinhood offers over 5,000 equities. The vast bulk of this is built-up with US companies listed on the NASDAQ and NYSE, making it one of the best stock apps. 
Robinhood has every essential feature needed to start trading or investing in stocks. For beginners, it has a library, including articles, blogs, and other learning resources, which is super helpful for newbie investors. 
In addition, Robinhood's cash management feature helps users earn 0.30% APY on their uninvested cash. It also doesn't charge a high amount in commission. Moreover, the Robinhood stock app does not charge monthly or annual account maintenance fees.
In conclusion, if you are a beginner and want to invest a small amount, Robinhood would give you a playground to play, make mistakes, learn, and try again. However, if you are an active investor or trader, there are different options on the market as Robinhood does not support robust charts, screeners, and so on.
Pros
Better cash management feature
Allows novice investors opportunities to trade
Knowledgeable library
Cons
It's not for active traders
Fees
$22.10 per $1,000,000 of principal (sells only).
Public.com is a stock and ETF trading platform established in 2017. Earlier, it used to be named Matador. Currently, it is a wholly-owned subsidiary of a broker-dealer called T3 Securities Inc. 
It operates Apex Clearing, a third party, to manage the background administrative stuff of running Public user accounts. 
Similar to other online brokers, Public is commission-free and does not require a minimum deposit to start investing in stocks. It also does not need the payment for order flow, which is when brokers get compensation to route orders to third-party for trade undertakings. 
Instead, Public.com has a tipping component for trades. Here, you can decide to offer a small tip to the broker for executing the trade order. This act would help eliminate conflicts of interest between brokers and customers.
In addition, Public.com was one of the earliest apps to make fractional shares easy to trade online, which means one can invest fractional shares of big companies like Microsoft, Apple, Meta, etc. 
Ultimately, the Public app is made to make buying and selling stocks unrestricted, enhance your financial understanding, and connect investors to share, learn and build a community. 
With that said, Public.com's motto is – Everyone is an Investor. 
Hence, if you are looking for an easy-to-use stock trading or investing app that lets you purchase or sell on the stock market, this platform does an excellent job of meeting those requirements. 
Pros
Encourages small investors
Easy-to-use app interface
Fees
No fee for trading stocks.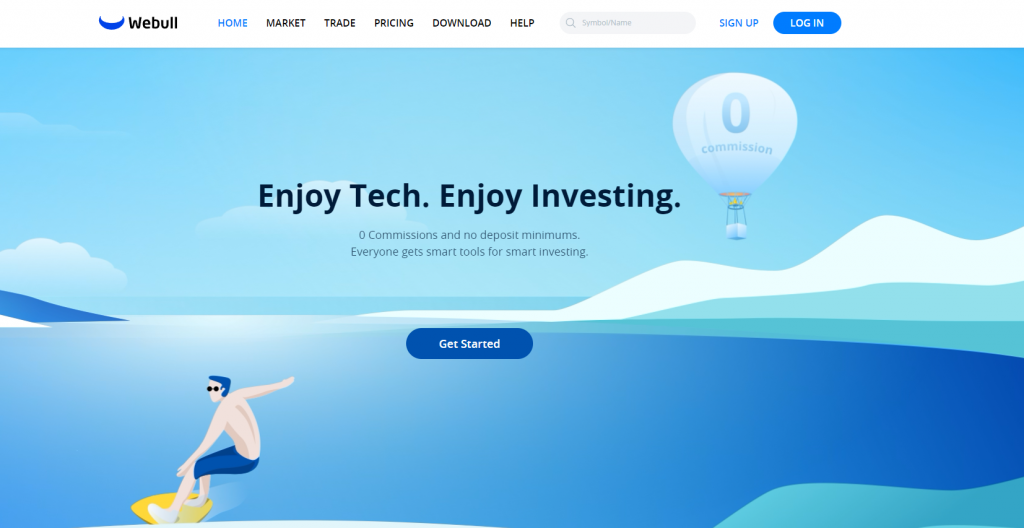 Webull is a mobile brokerage app (Which also has a desktop version) that provides zero-commission trading of individual stocks, exchange stocks, exchange-traded funds (ETFs), options, and cryptocurrencies.
Although the company was established in 2016, the Webull app launched in 2018. A Chinese firm named Hunan Fumi Information Technology Co. is the parent company. In addition, Webull is a registered broker-dealer with the SEC and a member of FINRA and SIPC. 
Webull provides news, real-time market data, analysis tools, trading commission, everything for free. However, some advanced features come with a fee. 
Apart from this, it's a good app for beginners who want to see how the platform works. Starting with Webull is quite simple. All you need to do is – Open up a paper trading account, which is a gamified way to learn practical things, and start simulating trading without real money.
This app also offers sign-in bonuses to its new users. You could get a free stock worth from $3 to $300 if you open the Webull brokerage account. Moreover, you could receive another free stock worth $8 to $2000 if you direct deposit at least $5 in your trading account.  
Furthermore, you are not restricted to merely purchasing stocks, either. Webull also allows you to short stocks on margin with no fees other than interest on the money you borrow. Trading options is another add-on. However, these features are limited to US stocks only. 
Ultimately, Webull does not offer to trade on over-the-counter markets in the US. So, you will not find very much diversification of loosely regulated penny stocks on this app.  
Pros
Attractive sign-in bonuses
Commission-free trading
Better diversification of assets
Cons
Loosely regulated penny stocks are not available
Fees
It has no commission but interest on the loan is there.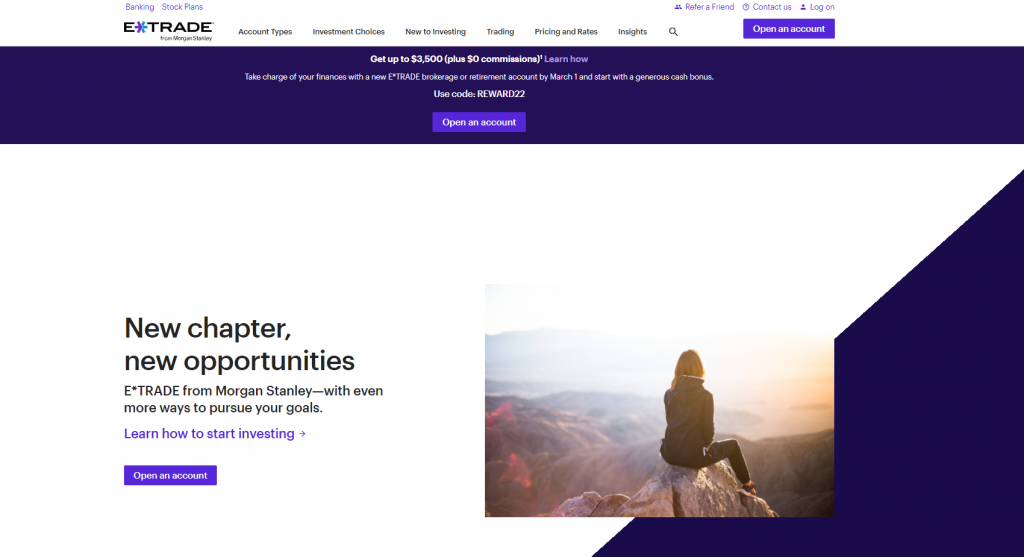 Etrade was among the first online stock brokers and stock apps in the United States. 
It started with its commission-free trading services on stocks, ETFs, and options trades in October 2019. It has a wide array of offerings, including three web-based/downloadable platforms and two mobile applications. 
Even being one of the best apps that includes news, research, and screeners, Etrade remains simple and easy to use. 
Beginner investors will find Etrade one of their best options because of its robust collection of educational resources. 
Etrade's app has multiple features like chart analysis, market news, and the ability to set up alerts, which are essential for any other trading app. However, other key features like voice recognition support and barcode scanners are helpful. 
If you are an active trader, turning to the Power Etrade app will be more helpful. It will provide technical studies, drawing tools, customizable options chain views, trading ladders, and more features for complex strategies. 
The academic resources and support opportunities on offers from Etrade stand among the best. Users can join webinars on diversification and technical analysis or understand more-complex topics like options trading. Moreover, users can enroll in online investment courses from Morningstar that cover different topics. 
Lastly, Etrade is a safe platform to invest or trade stocks listed on the stock exchanges. This assurance comes from its long track record and banking background followed by top-tier US regulations. 
Pros
It is safe and secure
Provides learning resources
Better tools for technical analysis
Cons
It is not good for beginners
Fees
It charges a $0.65 fee for options trading (executing less than 30 trades in a quarter).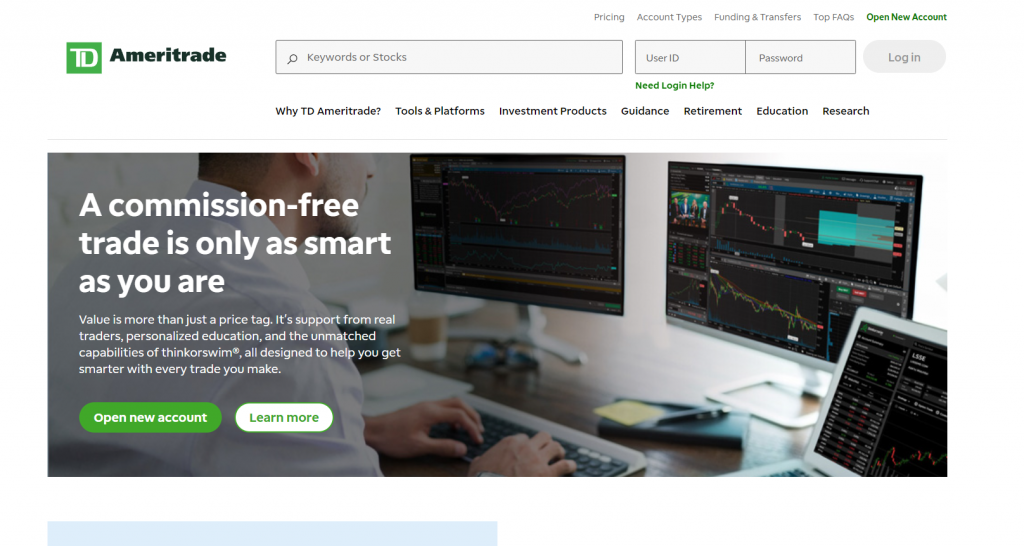 TD Ameritrade is a publicly-traded online broker app, proclaiming over 7 million users and processing approximately 650K+ trades each day. The platform allows you to trade in stocks, forex, futures, options, ETFs, and other securities.  
The firm offers a range of trading platforms, and it also ranks first in the market with innovative trading tools. The app has been a hub for traders for a long time now. 
TD Ameritrade provides a wide range of third-party research from highly reputable sources, including the Federal Reserve Economic Database, Center for Financial Research and Analysis, and Morningstar, without charging any amount from users. 
In addition, the mobile trading app provides a high-level stock trading experience to both; beginner and professional users.  
Although the account opening procedure may look complex, it is straightforward. All you need to do is fill out the application form with the necessary details. Once filled, you are good to trade. 
One of its drawbacks is that it does not have fractional shares. So, investors with a limited budget will not invest in big companies like Microsoft, Apple, Meta, Netflix, etc. 
Overall, it is a one-stop platform for stock traders, offering valuable trading tools like RSI, Bollinger Bands, and lesser-known ones such as Evening Star and Falling Three Methods. 
Users can also adjust the color of the technical indicators. On the downside, it does not allow users to draw on the chart or use the Fa Bocconi tool. 
Pros
Allows fractional shares
Better analytical tools
In-depth learning resources
Cons
A minimum deposit of $50 is compulsory
Fees
Commission-free trade.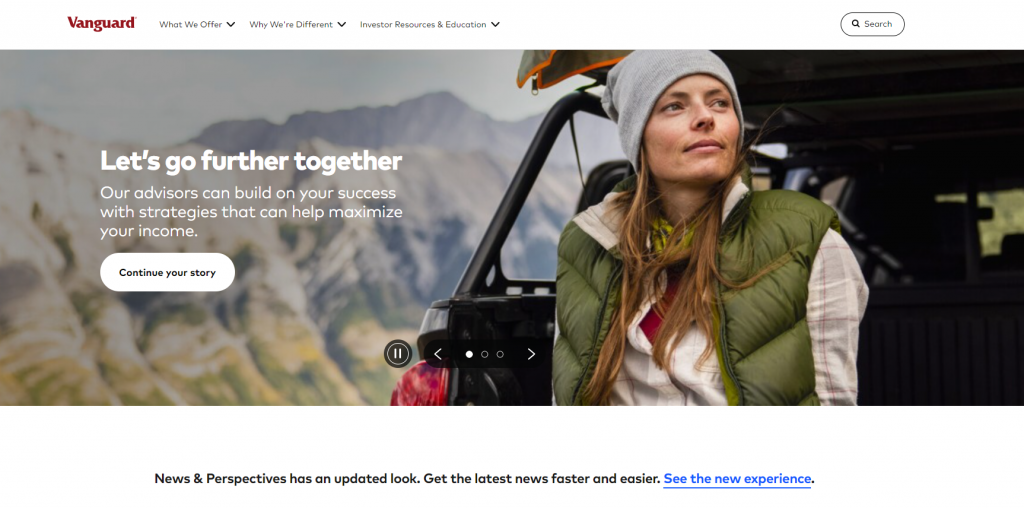 Founded almost 50+ years ago, Vanguard is a pioneer of the passive investing revolution. Today, its online brokerage remains a reasonable option for slow-and-steady, buy-and-hold investing. 
But even for buy-and-hold investors, there are some characteristics of Vanguard that may feel a bit behind the times. Its account opening process takes a lot of time, whereas the online application process takes a few minutes, the reviewing process adds 4-5 days.   
That said, the Vanguard platform has peculiarities that set it apart from many contenders – and if you intend to follow an active trading technique, you might consider other alternatives. 
Along with stocks, Vanguard also has more than 3,300 no-transaction-fee mutual funds and an expanded lineup of proprietary, low-cost, socially responsible mutual funds and exchange-traded funds (ETFs). 
Meanwhile, the platform is not optimized to promote quick, fluid trading – given its attitude, that is no accident. The platform does not have sufficient tools needed for frequent stock trading. So, it's not very good for active traders, as stated above.  
Vanguard App may be a firm venue to dip your toes in the water and gain primary info about how to prepare for your retirement at every stage of your life. It is an experienced company with more than 40 years of experience under its belt. 
Eventually, it's a safe bet for long-term investors. Though, if you are a short-term investor or active trader, you can check other options on the list. 
Pros
Experienced online broker
Provides different stocks worldwide
Other assets are also tradable
Cons
The account opening process is too lengthy
Fees
It charges from 0.25% to 1.00% of the amount of the transaction.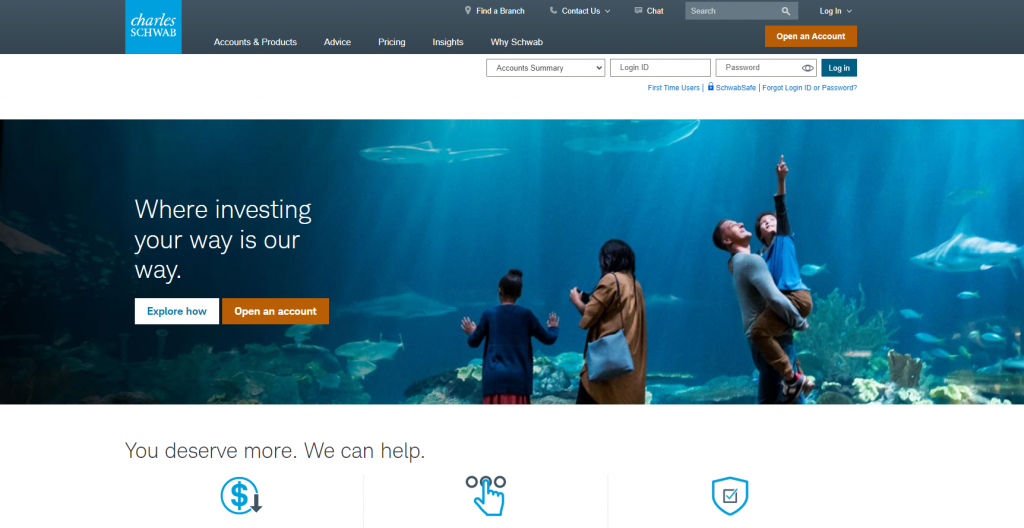 Since its establishment in 1971, Charles Schwab has had a robust reputation as one of the top stock apps. 
It has a good selection of securities, attractive and competitive fees, extensive research, managed educational resources, a powerful platform, above-average mobile trading, and responsive customer support.  
Schwab ranks among the safest online trading platforms. The platform is backed by the Financial Industry Regulatory Authority (FINRA) and the Securities and Exchange Commission (SEC). In addition, Charles Schwab is a member of the Nasdaq and the Chicago Board Options Exchange (CBOE).  
However, this online brokerage is not without drawbacks. Charles Schwab does not offer any asset class other than stocks. So, you can easily buy and sell stocks hassle-free.  
A user needs to pay $25 for transferring assets out of the account. Though, it is only $15 if you complete everything online.
Yet, Charles Schwab is a good choice for most investors as it provides trust and authoritativeness. Nevertheless, serious day traders also find it helpful because of the inbuilt tools and features. 
If you are a newbie and want to start with little funds, no worries as Schwab offers fractional shares, which allow investors with little capital to trade higher-priced stocks. So, small investors can also invest in large companies' stocks.  
Hence, Charles Schwab is an outstanding trading app to trade stocks on your smartphone, providing 24/7 customer support, in-person support at local branches, and a customizable trading platform (for the web).
Pros
Good for newbie investors or traders
Regulated by central finance authorities
Cons
Active traders may not feel comfortable
Fees
It doesn't charge any monthly fees.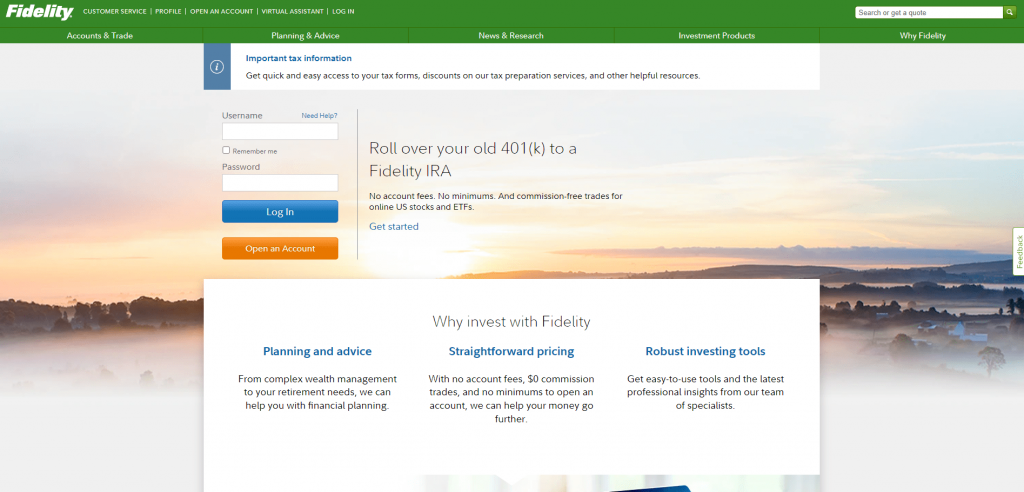 Fidelity is a privately held company having more than 36 million investors. As per stats, the platform initiates almost 3.5 million daily trades. 
Moreover, Fidelity's global presence is in nine countries, including the US, North America, Europe, Australia, and Australia. 
It offers US ETFs and stock trading without paying any commission. Further, it furnishes a wide range of cutting-edge research tools, like Active Trader Pro, technical analysis, charting, trading ideas, and technical indicators. 
Fidelity's IOS and Android apps both receive high marks from users, mainly for the versatility that permits investors to handle an array of account requirements on the go. 
The trading account opening process is precise. If you are 18 or above, you can apply for a trading account on Fidelity. 
Then, submit the required documents and information. It applies to all sorts of accounts, including retirement accounts like the Fidelity Roth IRA. 
Fidelity Investment is an app for Android, IOS, and Amazon devices. It consists of anything you need to manage your Fidelity investment accounts and execute trades. 
So, what exactly can you do with the mobile app?
The Fidelity stock app contains tons of other features. You have a personalized feed on the app, including portfolio details, research, and market information. Along with stock trading, users can also do options, ETFs, and mutual funds. 
Ultimately, it's a trustable app platform for trading or investing in stocks. However, the few strikes against Fidelity include a portfolio analysis feature that cuts the in-depth view needed for a truly accurate analysis.
Pros
Easy account opening process
Multinationational brokering app
Better functionalities and asset classes
Cons
It doesn't contain better advanced charts
Fees
No brokering fees are levied. 
FAQ On Stock Trading Apps
Which is the best trading app for beginners?
Robinhood is the best trading app for beginners or novice traders who want to upskill themselves. It doesn't just provide them a platform to trade stocks but also helps them enhance their knowledge.
Can you start trading for free?
Yes, you can start trading stocks even without paying any commission charges. All these apps charge either negligible or zero commission fees to trade stocks. 
Which is the best stock app for practice?
If you want to practice, you can join Webull. It has a paper trading account, enabling users to trade even without real cash. So, users can get practical exposure using this feature. 
Are Stock Apps Safe?
Conclusion
So these are the best stock apps that you can use to start your investing journey.
And as we have already answered most of your frequently asked questions, it's time to give you one quick tip. 
If you are a beginner and want to enhance your practical knowledge about the stock market, you should start with a demo or paper trading account. 
Meanwhile, you can keep learning theoretical concepts using the free resources on apps like Robinhood, Charles Schwabs, etc.
This way, you will learn both; the theory and its practical implications with the help of the demo trading account. Once you hold some expertise, you can start putting in some money on the actual trading account. 
Lastly, trading or investing in stocks is a skill that needs time. 
Hence, don't rush. Otherwise, you may also lose your money. With that said, it's time to close this blog. Thank you for reading.