Cryptocurrencies are quickly gaining popularity on a global scale. The reasons are its security, easy convertibility, and high growth opportunities. As it is a booming technology, every company wants to expand its arms to cover it. 
Although it's good to have options when everyone is doing the same work, finding the best options becomes difficult. Moreover, too many options can be confusing. 
While looking for the best apps to buy cryptocurrencies online, you can find different platforms. Though picking up the best ones is not a cakewalk. 
We already know that the best apps to trade cryptos have low fees, simple UI, and efficient features like staking rewards and interest accounts for everyone. 
From high sign-up bonuses to great trading rewards, the best mobile exchanges and platforms for crypto trading vary from one to another. Ultimately, the best crypto app for buying bitcoin and ether will be different in earning interest and automated crypto trading. 
After considering all these requirements, we have curated a list of the best apps to buy cryptocurrencies.
So, if you are also looking to start your crypto trading journey, these apps can help you trade, track, and transfer cryptocurrencies without any hassle. 
So without any further due, let's get straight to the list. 
7 Best Apps to Buy Cryptocurrencies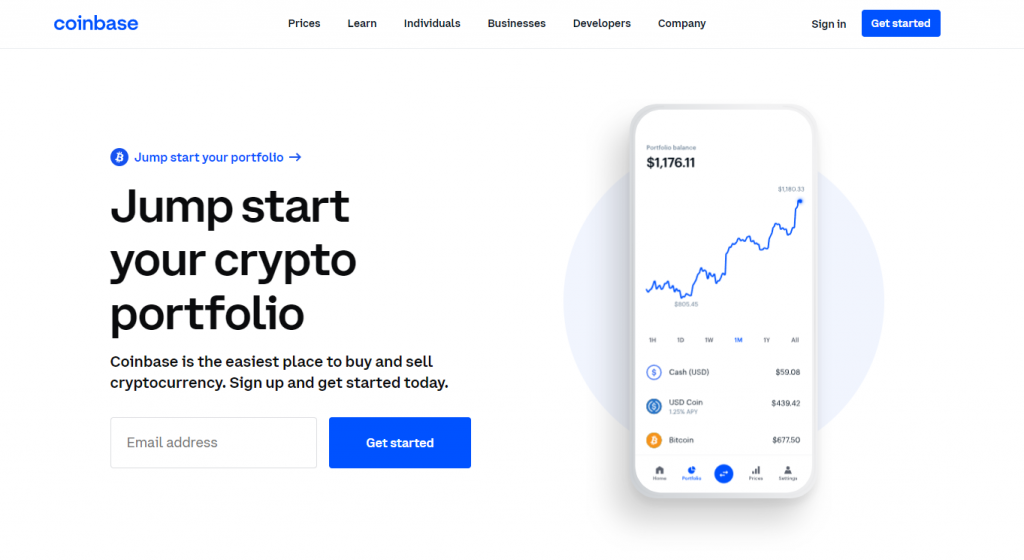 Coinbase is one of the best cryptocurrency apps available in the world. Recently, it has crossed the milestone of having 40 million users in over 100 countries. It takes a minimal 0.5% fee for trading cryptos.  
Coinbase is also an altcoin app as it offers trading on more than 3,000 coins, including a wide range of altcoins that you couldn't find anywhere else. You can easily find cryptocurrencies like Bitcoin, Ripple, Bitcoin Cash, Litecoin, Dogecoin, and many more on this platform.
This app is best for both; beginners and advanced users, as it has a friendly user interface where you can trade right from the dashboard and earn exciting rewards for digital coins. You can also earn interest from staking. 
Coinbase enables users to buy, send, receive, and manage cryptocurrencies easily on the go. Although you can start with its free version, moving to the premium version would provide you with better opportunities and offers like lower fees.
Coinbase, due to its availability in multiple countries, supports different fiat currencies. In addition, it allows individuals to enter the cryptocurrency market using their local currency via a bank transfer, SEPA payments, wire transfer, and credit/debit cards. Though, some countries may see differences in deposit options on Coinbase. 
Overall it's an intact crypto trading application to start your trading journey. Coinbase's popularity and safe operations make it the world's leading crypto exchange. 
But wait! Do you want to know its pros and cons? Let's read them below:
Pros
Easy to use for beginner crypto traders.
Allows you to trade in different cryptocurrencies. 
It is one of the most trusted cryptocurrency exchanges worldwide.
Unbroken security history. 
Enables traders to earn interest through staking. 
Cons
Slow customer support. 
The fee structure is quite complicated to understand.
Fund deposit methods are limited in certain countries. 
Advanced users can find it a bit basic. 
Fees of Coinbase
Coinbase charges a 0.5% commission fee on trading in any cryptos.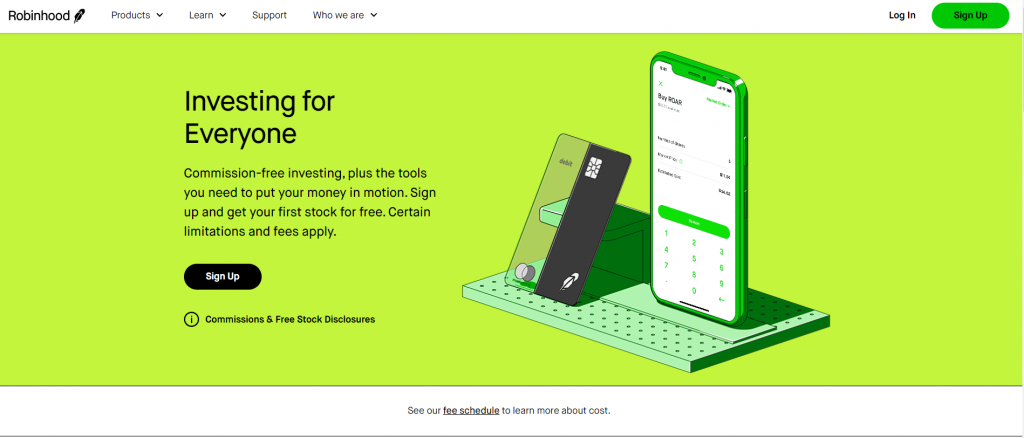 Robinhood is one of the most installed crypto trading apps worldwide, having over 10 million users since its launch in 2013. You won't believe it! 
But Robinhood does not charge even a single penny to trade cryptos, along with it, stocks and ETFs. It is one of the reasons why are people appreciating Robinhood. Maybe that's why they named it "Robinhood."
Robinhood has made a real impact in the industry by decreasing brokerage prices, making investment more accessible to a younger audience. 
It is on a path to providing a free way to invest or trade in crypto, stock, and commodity markets. Because of its zero-commission brokerage, it has become customers' favorite trading app. 
The app offers a clean UI that highlights the basics, providing room for customers to explore and analyze using its various free analytical tools. If you are a complete beginner, who wants to explore the world of cryptos, Robinhood is the right place to start your way to trade. 
Unlike other apps, Robinhood focuses on simplicity that sometimes has notable drawbacks. Apart from the automatically syncing across devices, the watch list functionality is minimal, with just a handful of optional columns beyond the last price. 
So, as an advanced crypto trader, you would also need to have some advanced tools. Robinhood offers various premium research reports concerning cryptocurrencies and other asset classes. 
However, you need to get a membership of Robinhood Gold to access all those tools.
Pros
Easy to use the app for beginner traders. 
Offers zero-cost commission to trade cryptos on mobile.
It has a simple user interface without heavy technical terminologies. 
Allows you to trade in popular cryptocurrencies easily.
Cons
The design could be too simple for advanced traders. 
It does not contain many educational resources. 
Diversification in terms of asset classes is low.
Fees of Robinhood
Robinhood does not charge any commission fee for trading in cryptos.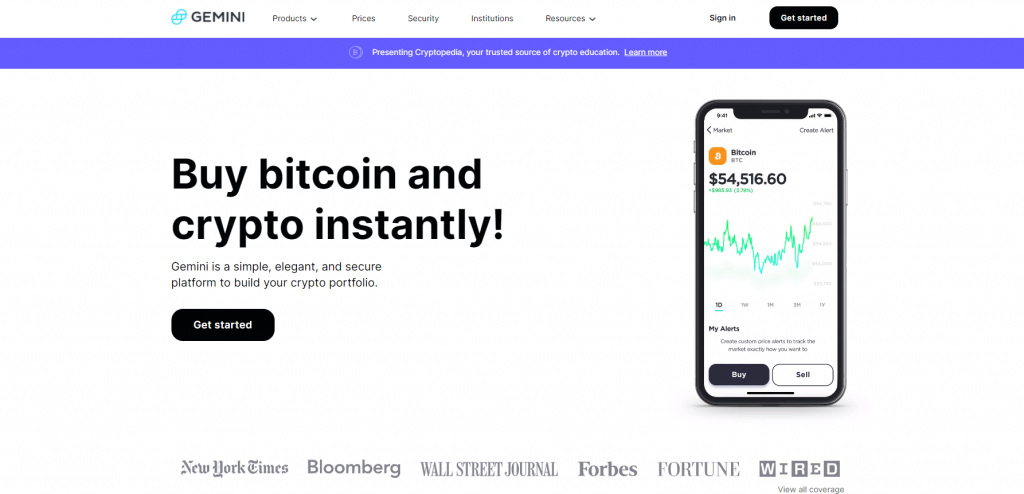 Although every crypto app is secure and has security measures, Gemini stands on top of the list because of its best security features. High security is its unique selling point. 
It is a globally known crypto trading app having its regulatory bodies in the United States. Apart from Gemini, no other crypto exchange has its entire regulation from the US. 
Gemini does not have any evidence that tells of any security breach. If you are a long-term investor, Gemini is the right app for you to trade cryptos online with digital tokens. 
Here, you can trade on more than 25 cryptocurrencies, including Bitcoin, Ethereum, Litecoin, and more. 
This app does not provide any technical charts to track cryptocurrencies, which is a drawback (for some people). However, you could find line charts to monitor price changes over time. Moreover, you can use features like price alerts to know when your favorite cryptocurrency is hitting new milestones. 
Almost every cryptocurrency is preserved in cold storage offline rather than hot wallets. There are various benefits of putting coins in cold storage than in hot wallets. 
Gemini works on multi-signature technology to eliminate single points of failure. If you want to know more about the app's entire security policies, read here.
Overall, Gemini is a good app for crypto traders with comparatively low-fee. 
It has a brand value that attracts advanced traders to choose Gemini over other crypto exchanges. 
Although it is new in the crypto exchange domain, its popularity has increased drastically over the last few years.
Pros
It's under the regulation of the United States.
Have a simple commission structure. 
Allows traders to loan out coins for interest payments. 
More convenient to track the price movements of your favorite cryptocurrencies. 
It provides a robust security infrastructure. 
Cons
It trades a limited number of coins. 
No technical chart is available on the app.
Fees of Gemini
The trading commission is 0.25%, comparatively less than other crypto exchanges.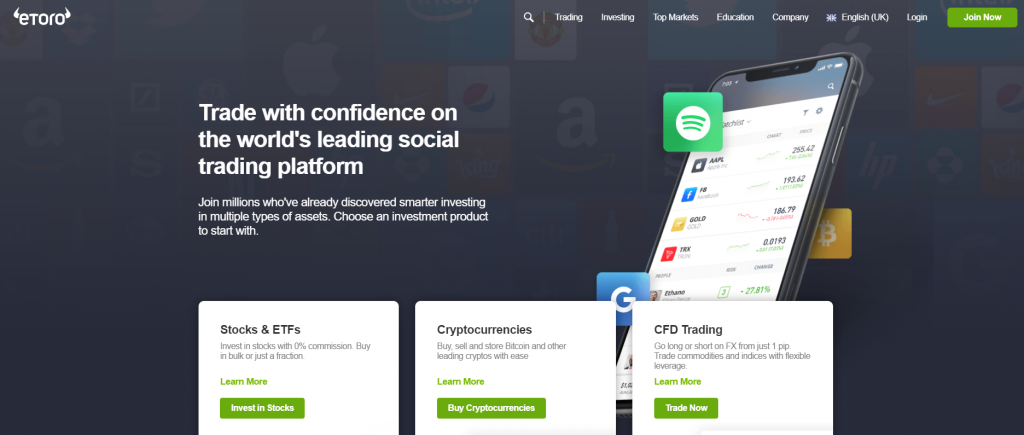 eToro is one of the most-liked apps to buy cryptocurrencies. There is a list of facts that can make you like eToro. First, it does not charge any commission on trading cryptos. 
However, it may take a spread charge of around 0.75% for Bitcoin and 1.90% for Ethereum.
It has a user base of more than 15 million registered users, making it one of the largest financial brokerages in the world. 
eToro is for those people who think that crypto trading is complicated. The app itself offers a simple user interface to navigate a newbie in the world of crypto. 
Infrastructure wise, it is best with its quick sign-up process and simple order placement system. 
If you are a short-term trader, eToro is the app for you. Here, you can find insightful data and records to make the right trading decisions. 
Along with that, eToro mobile app provides optimum security infrastructure as well.
eToro has a list of selected cryptocurrencies, and it offers a dedicated Bitcoin wallet that supports more than 120 digital currencies. 
It is simple, easy, and convenient to transfer assets between the eToro trading app and the eToro wallet app. You can also use the same credentials to use both the eToro mobile app and the digital crypto wallet. 
Users can get 24/7 customer support, and you can also reach out by live chat from within the mobile app. 
You need a $50 deposit to start with the eToro trading app. If you are looking for options that offer zero-commission trading, eToro is there for you with access to 17 exchanges worldwide.
Pros
It has a social trading network with copy trading.
Allows full-screen chat on mobile. 
It provides 24/7 customer support. 
It offers a built-in digital crypto wallet. 
The graphic interface looks easy for beginners.
Cons
It does not have access to order book data.
Fees of eToro
It doesn't charge commission. Though, it has a spread charge ranging from 0.75% to 1.50%, depending upon the coin.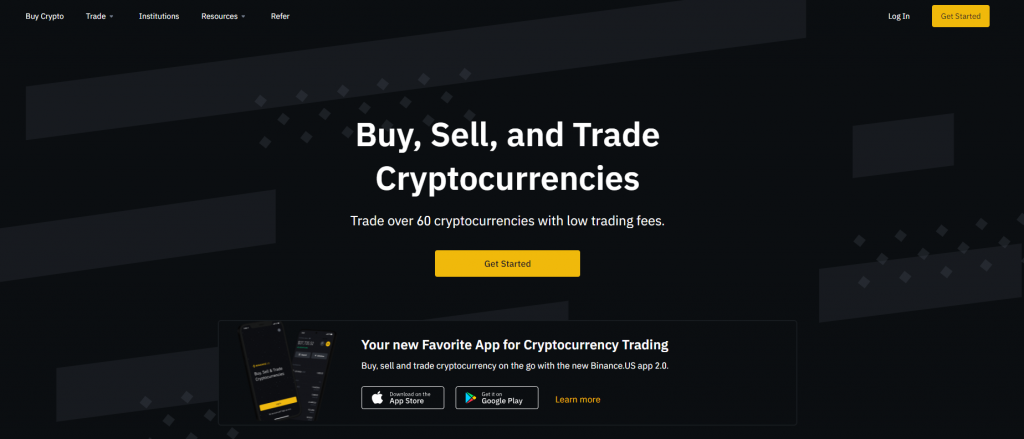 Binance.US is one of the best apps to buy cryptocurrencies. It was started in 2019. As its name suggests, Binance.US has established itself to facilitate the traders who belong to the United States. 
If you are thinking, why Binance has launched a separate application despite having one already? 
So, the reason is the prohibition of Binance from providing services in the United States.
Binance is not providing its services in the United States, and it is diverting its American traders towards Binance.US.
Due to abnormal policies implemented by the US government, traders from New York and Texas cannot trade on Binance.US. Apart from this, Binance.US has everything that one needs to start with crypto trading. 
Users can easily access the Binance.US platform via a mobile application available for iOS and Android. 
Users are also attracted to its low trading fees. When competitors like Coinbase, etc., charge a starting amount of 0.50%, Binance.US charges comparatively less.
In addition, Binance.US also offers industry-standard security features to its users. Users need to identify their accounts before initiating a buy, sell, or trade order, which shows its security infrastructure. It helps protect the fund and personal details of the users. 
Ultimately, Binance.US is a blend of user-friendly features and trading tools. The low fee structure fees and security infrastructure attract a lot of users.
We suggest you go with Binance.US if you belong to the United States.
Pros
Users can trade in over 50 cryptocurrencies. 
Easy account opening process. 
It has good brand value and security measures. 
Binance.US provides better customer support.
It provides a holding discount on the trading account.
Cons
It is not available in seven states of the United States.
Binance.US offers fewer crypto-to-crypto plans than Binance. 
Fees of Binance.US
The commission or maker/taker fees of Binance.US ranges from 0% to 0.1%, which is comparatively lower than other crypto trading apps.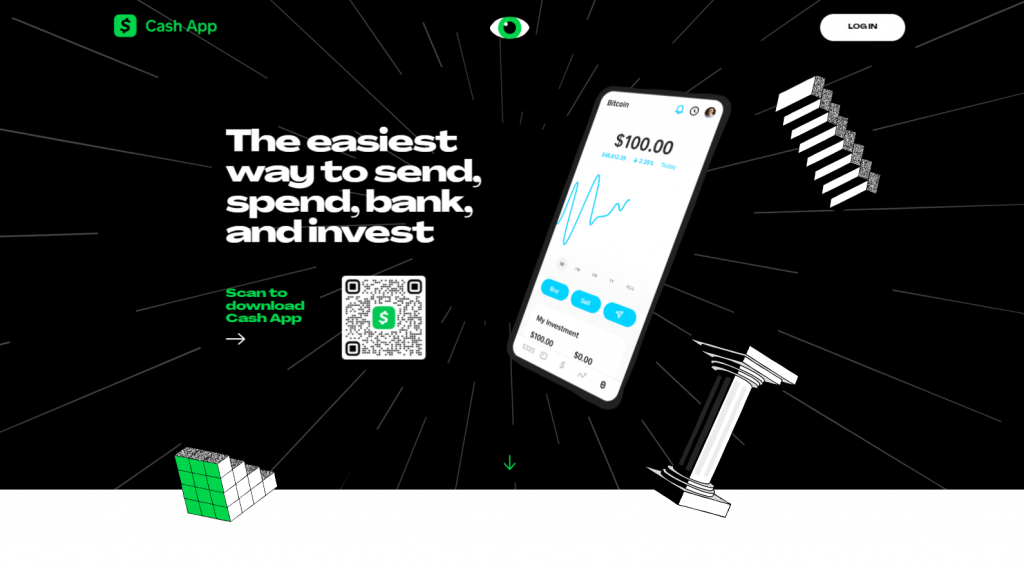 Cash App started as nothing more of a way for users to transfer payments between each other, but it has grown into much more than that over time. Presently, Cash App has started its full-service banking options. 
Users can get a debit card linked to their Cash App account. Along with this, they can also trade in cryptocurrencies. 
Furthermore, the app is a leader in the fintech world, and it is also clear they have serious ambitions with cryptocurrencies as well. 
Square, the parent company of Cash App, has been supporting the underlying Bitcoin protocol in every possible dimension. 
On the Cash App, users can easily buy and sell bitcoin at the click of a button. 
Moreover, users can purchase some bitcoin via the Cash App and then take full custody over their crypto assets by withdrawing that bitcoin to their wallet software. 
In addition, users can also deposit those coins back onto Cash App whenever they want to sell. Cash App has safety measures that decrease the risk of hacking and theft of data or funds. 
On the downside, Cash App only trades in bitcoin when it comes to cryptocurrencies. And since it is only authorized in the United Kingdom and the United States right now, the British pound and the U.S. dollar are the only fiat currencies it supports. 
But this app supports withdrawals to any bitcoin wallet.
Pros
Full custody of over crypto assets. 
Allows asset transfer to any other third-party crypto wallet. 
It has high-security measures to protect funds and personal data.
Cons
It is only available in the U.S. and the U.K. 
Bitcoin is the only cryptocurrency to trade. 
Cash App supports only the U.S. dollar and British pound.
Fees of Cash App
The fees range from 1.50% to 2% on purchasing cryptocurrency.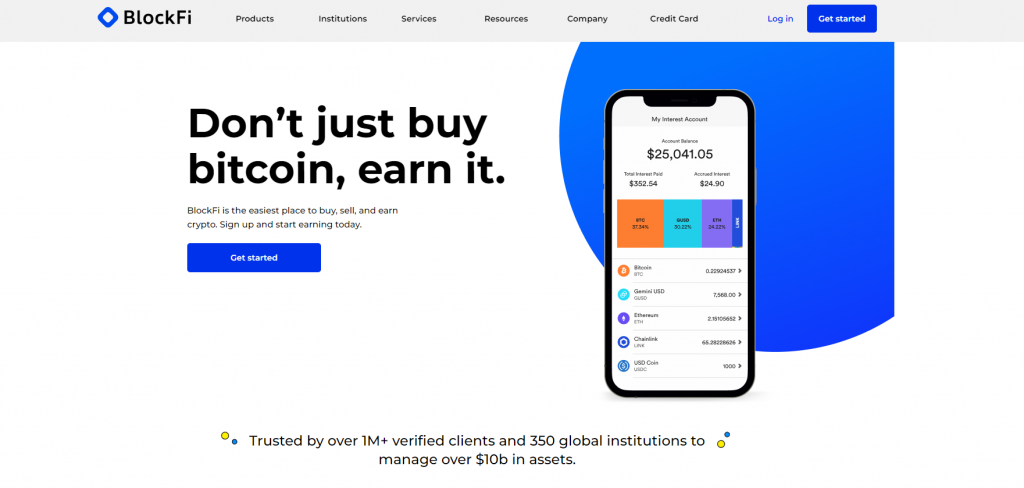 BlockFi is one of the best apps for crypto. On this app, not only can you invest or trade in crypto but also earn a little bonus on your cryptos. Therefore, it is the most popular crypto lending platform among new crypto geeks.
Along with trading cryptos, it allows you to make 3% to 7.5% interest on your crypto holdings. If you have an existing portfolio, you can utilize the same instead of creating a new one. 
You can get compound interest on coins like Bitcoin, Ether, Stablecoin, and other digital assets with monthly payout in your crypto wallet. 
In addition, using BlockFi has a lot of benefits for both beginner and advanced crypto traders. If you are already an advanced crypto trader and have done a fair share of crypto trades in a year, we urge you to remember yourself when you made your first trading. 
Now, if you can recall the difficulties you had faced during your first trade in crypto, BlockFi has managed to help beginners to the fullest by providing them with an easy-to-use trading app for cryptos.
So, we have already covered most of the benefits offered by BlockFi. You can go with this crypto trading app considering the features like interest, loan, and trading opportunities.
Pros
It's a commission-free exchange.
BlockFi offers a compound interest of 8.6% per annum on your holding. 
Allows you to avail a loan.
Easy to use interface.
Regulated and located within the United States. 
Cons
BlockFi is not available in some countries. 
It does not have FDIC asset insurance.
Fees of BlockFi
BlockFi is a zero-commission crypto trading app. It does not charge any hidden fee or maker/taker charges. So, you need not worry about payment with the BlockFi crypto trading app. 
Conclusion
Beginners looking for the best apps to buy cryptocurrencies to start their journey should go through this list to understand the available offers. 
Unlike other reviews, we have curated this list of apps to buy cryptocurrencies after analyzing every app individually to ensure their quality and overall experience. 
So, if you fall in this category, start by choosing any one of the applications mentioned above.
We have not left the advanced traders. 
Crypto apps like Binance.US, eToro, CoinBase, etc., offer great exposure and opportunity to advanced crypto traders. You can get various in-built research tools; historical charts, line charts, and technical charts on these platforms.  
We have also covered some applications having complete bank functionalities such as yearly compound interest on crypto holdings, full custody of digital assets, loans, and a lot more. 
Therefore, if you are ready to take the crypto trading experience on an app on the go, keep your belts tight and have your phones right.