"Can Bitcoin make me rich!?"
We know that this question often pops up in your mind. After all, In the last few years, the popularity of Bitcoin has grown massively. 
Many investors have jumped into Bitcoins and made millions in the past. So, is it possible for you to be a millionaire by simply investing in Bitcoin? 
Well, yes, it's possible for you to get rich with Bitcoins. But, if you want a get-rich-quick scheme, this is probably not a good option for you.
Bitcoin is profitable if you have the guts to take the risk and invest for the long run. 
So, if you're a beginner and looking to take that risk, you've come to the right place. 
In this article, we've shared a step-by-step how to buy bitcoin and how you can invest your money in bitcoin.
Along with that, we've also tried to answer a few common questions related to bitcoin on this post.
So, without further ado, let's jump in.
Can You Buy Bitcoin Legally?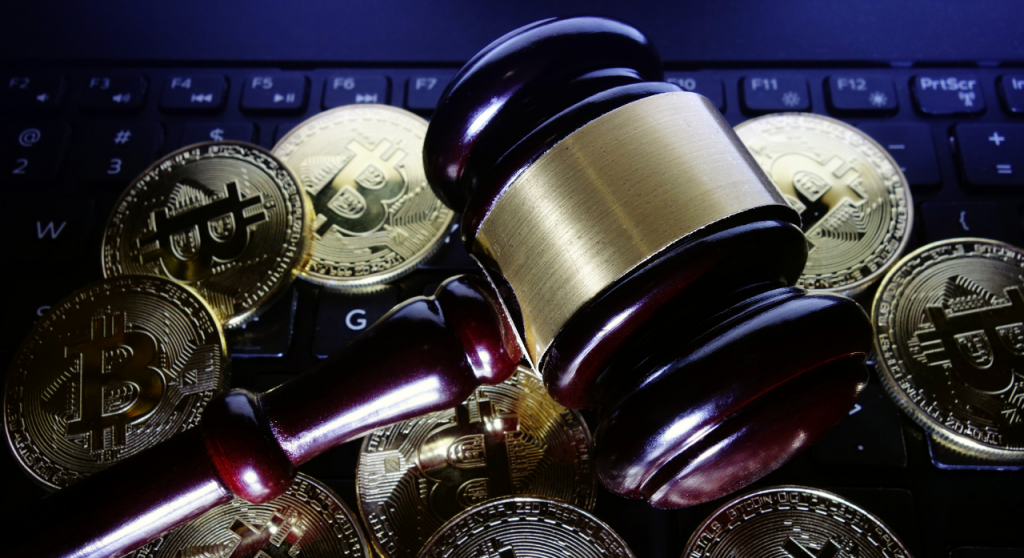 As of 2021, Bitcoin is legal in the U.S., U.K., Japan, and other developed countries. However, the legality of Bitcoin varies widely in different countries. 
For example, in India, no legislature covers cryptocurrencies, and the legal status of Bitcoin is still unclear. China also restricted Bitcoin without imposing heavy restrictions on holding it. 
Although there are no federal regulations for cryptos, and most states have their own decision regarding their legality, purchasing and trading Bitcoin is legal across the country.
How to Buy Bitcoin in 2023 (Step-by-Step Guide)
If you're a newbie in the crypto world, buying Bitcoin may seem complicated to you. But we got your back! 
Here we've made the investment process much simpler by breaking it down into steps and showing how to buy bitcoin in the easiest way.
Remember, this article is for information purposes only. And you shouldn't take it as financial advice. Before investing, you must perform your own research based on your financial circumstances. 
Step 1: Choose An Crypto Exchange
With multiple options to choose from, buying cryptocurrencies has become relatively easy now. But, before buying Bitcoin, your first step should be choosing a crypto trading service. 
Now, there are many popular crypto trading services available in the market, such as brokerages, cryptocurrency exchanges, and payment services. Among these, crypto exchanges are the most efficient and popular option for buying Bitcoin. 
If the crypto exchange is a new word to you, consider it a marketplace where you can buy, sell, or hold Bitcoin and other cryptocurrencies like USD Tether, Litecoin, and Ethereum.  
So, before you invest in Bitcoin, you need to configure which exchange is right for you. You can make this decision based on different factors, such as:
Availability in your region: As we mentioned earlier in this article, crypto exchanges are not available everywhere. There are lots of rules and regulations behind this. 
Trading fees: Every time you buy or sell a Bitcoin, your bank or exchange platform deducts a certain percentage of your transaction. So, you must keep a check on the trading fees before investing in Bitcoin. 
Security: You should know about all the security measures taken by the exchange platforms before investing in them. 
This leads to the most crucial factor that you must consider before buying Bitcoin – the type of exchange. 
Right now, you'll find various types of crypto exchanges. 
For starters, there are centralized exchanges, which means a central authority controls them. Also, there are decentralized and peer-to-peer exchanges. Decentralized exchanges mean any central power of control does not manage them. And they don't ask you to submit any sensitive information. 
Although Bitcoin holds the ethics of individual sovereignty or decentralization, only a few exchanges let you operate anonymously and do not ask for personal information. 
However, the most popular ones are centralized. They're managed by laws that need proper KYC or identification documents from users. The reason could be growing unethical activities around decentralized exchanges. 
There are lots of centralized Bitcoin trading exchanges available today. To help you get started, we're sharing the top 3 cryptocurrency exchanges worldwide.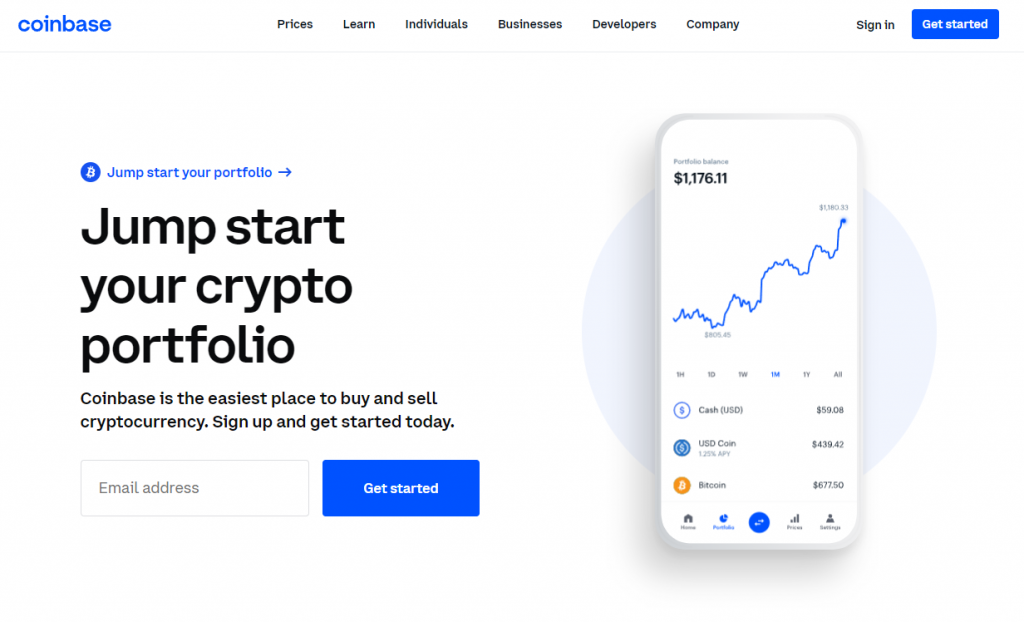 Coinbase is one of the most beginner-friendly crypto exchange platforms that allows you to buy and sell Bitcoin hassle-free. Right now, the platform has over 56 million users, making it one of the largest crypto exchanges worldwide. 
Coinbase is popular among users for its easy-to-process interface and high-quality security measures. The platform provides special software and services that can never be hacked. 
Not just in the U.S., Coinbase is legal in over 100 countries all over the world. According to Coinbase, Bitcoin is the most traded currency on their platform. In 2020, Bitcoin traded around 41% of the total trading volume.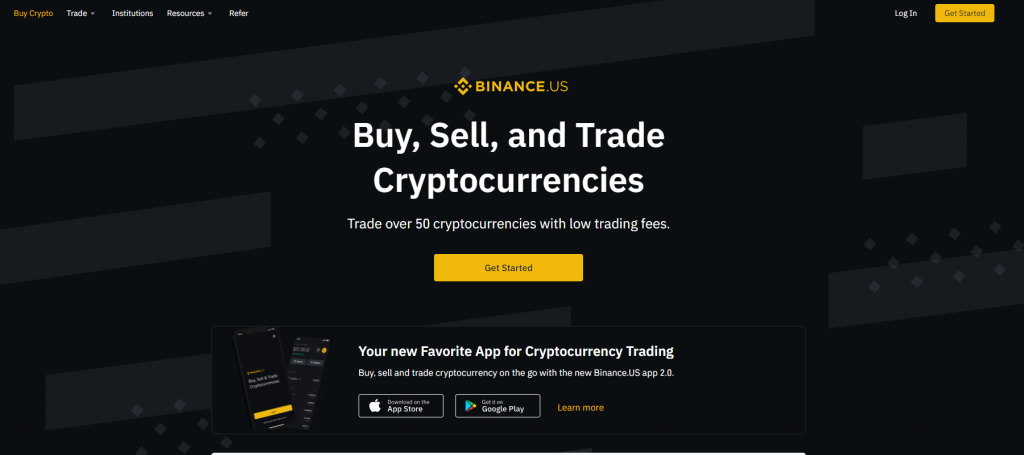 According to Forbes, for crypto enthusiasts, Binance.US is one of the best crypto exchanges of 2021. This platform will help you buy, trade, and sell Bitcoin at ease in industry-low fees. 
Run by global crypto company Binance, this exchange provides a form-based platform with a high cybersecurity ranking. 
The only drawback is that the platform is not available in all states of the U.S., including Texas and New York.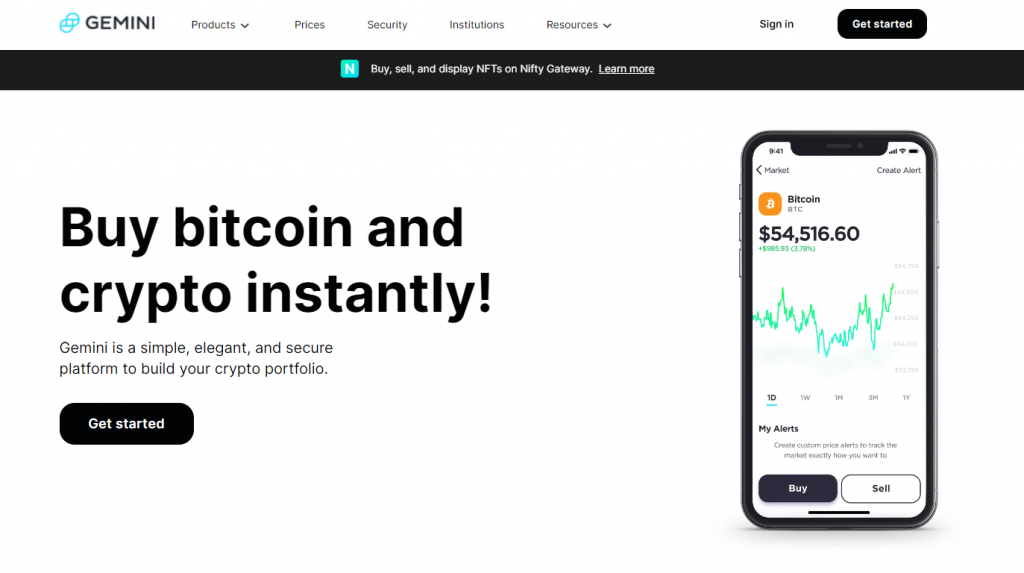 With 50+ cryptocurrencies, including Bitcoin, Ethereum, and dogecoin, Gemini provides a wide range of trading services for beginners, institutions, and experts. You can use multiple services like Gemini Wallet, Gemini Pay, Gemini Dollar, and Gemini Earn.
Just like Coinbase, this platform is the best pick for beginners. It has a simple and user-friendly interface. However, Gemini's fee structure is a bit higher and confusing than other Bitcoin exchanges. 
Step 2: Add Funds to Your Exchange Account
Once you've chosen the best exchange to buy Bitcoin, you'll need to add funds to your account. 
You have to create an account on crypto exchanges via their online website or downloadable app. Now, different crypto exchanges have their unique registration process. 
The U.S. government has different laws to prevent fraud or money laundering cases. For example, to open an exchange account, you may require information such as: 
Name
Date of Birth
Government-issued ID
Social Security Number
Mailing address
After verifying your account, you can add a payment option. Most exchanges give you two options to add your bank account. You can add it directly or use a debit or credit card. 
Every crypto exchange's pricing model varies based on the payment type. You can take Coinbase's example here. The exchange platform has a 1.49% fee for bank accounts or Coinbase wallets. And, 3.99% fee for debit cards. 
Before placing an order and buying Bitcoin, do a little research on the fees associated with different payment types to see what works best for you. 
Step 3: Place Your Order And Buy Bitcoin
After choosing an exchange and adding the fund, it's time to place your order. 
Each crypto exchange has its own process to buy Bitcoin. But, thanks to technology, in most cases, the process of placing an order and purchasing Bitcoin is simple. All you have to do is determine how much money you want to invest. 
Step 4: Store Your Bitcoin
After deciding to buy Bitcoin, your next step would be to choose a place to store it. In crypto language, that place is known as "wallet," and they have different types and features.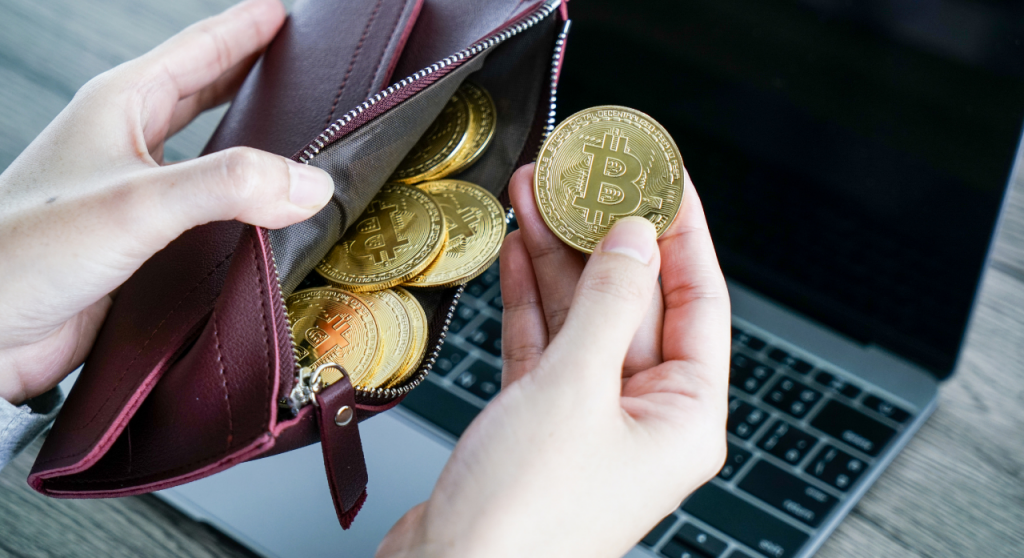 Here's a heads up, your wallet doesn't store your Bitcoin. It stores private keys. Now private keys are essential for spending your funds, signing transactions, and overall accessing a Bitcoin address. 
You must keep your private keys safe; once you lose them, you'll lose your access to Bitcoin. 
Storing your Bitcoin in a wallet instead of your crypto exchange gives you control over your Bitcoin funds. Having control over your private keys ensures that you don't lose your funds or your exchange doesn't get hacked.
Every exchange provides wallets with different security, access, and storage options. So, when you're choosing a wallet for your Bitcoin, you'll get multiple options. For instance, there are two kinds of wallets: Hot Wallets and Cold Wallets. 
Hot Wallets (Online)
When you store your Bitcoin online, you store them in hot wallets. Such wallets can work with cloud storage, and you can access them from devices like computers and mobiles. 
If you're using an online wallet, your private keys will be stored on a server that is controlled by someone else. Although online wallets allow you to access your funds conveniently from anywhere, they don't offer the most security. And they're more prone to get hacked. 
In today's digital world, your hot wallets can get hacked in many ways. If you share private information related to crypto online, for example, how much Bitcoin you have, your funds can get stolen. 
That's why you must maintain caution while using these wallets. You can avoid the risk of hacking by using strong security measures. You can consider using strong passwords, safe internet browsing, and two-factor authentication to keep your wallet safe. 
If you're planning to invest in a small amount of Bitcoin, go with hot wallets. However, if you're planning to purchase a large amount of Bitcoin, hot wallets (mobile, web, desktop, exchange account) aren't the best choice. 
There's a popular phrase in the crypto world- "not your key, not your coin." As you're not the private key holder in hot wallets, your account can get compromised easily. So, make sure to take preventive measures before storing your Bitcoin in hot wallets.
Cold Wallets (Paper or Hardware)
One of the safest and most secure wallets is known as a cold wallet. As cold wallets aren't connected to the internet, they hold a lesser risk of being hacked. 
Hardware and paper wallets fall into the category of cold wallets. In these types of wallets, you can store your private keys on physical devices such as flash drives or paper. As cold wallets work offline, you can view your portfolio without putting your private key at risk. 
The most common cold wallet is a hardware or USB drive. It helps you store your private key information offline and carry it in your pocket. 
Another reason hardware wallets are the best choice is that they can't be affected by computer viruses. In fact, while using cold wallets, your private keys will never come into contact with any vulnerable software or internet-connected device. 
Lastly, paper wallets can also help you store Bitcoin securely. However, as paper wallets are mostly public and the private keys are printed on paper, they're not popular among users. 
A paper wallet is simply a piece of paper with a QR code. This code includes an encrypted address for storing your funds. All you need to do is scan the code to access your Bitcoin. 
Both hot and cold wallets are provided safety in their own way. It's you who have to decide what wallet is best for storing your fund.
For everyday use, hot wallets are a great option. But for higher security and investment, there's no alternative to cold wallets. 
Can you Buy Bitcoin With PayPal?
Yes, you can buy Bitcoin with PayPal, depending on which part of the world you live in. The good news is PayPal now allows U.S. residents to buy, sell, or trade Bitcoin. 
There are two ways you can buy Bitcoin through PayPal- 
You can buy Bitcoin using PayPal that is added to a payment method, like a debit card or your bank account. 
You can use the balance of your account to buy Bitcoin from a third-party provider. 
The first way is more convenient than the second one, as not all third-party providers allow you to buy Bitcoin with PayPal. 
You can purchase Bitcoin directly via PayPal's "Checkout with crypto" feature. To open a crypto account, PayPal will ask you for some personal information like name, address, date of birth, tax identification number, etc. 
PayPal also charges a fee for Bitcoin transactions. You'll pay a fee of $0.50 for purchase between $100-200. 
However, there are some disadvantages to purchasing Bitcoin through PayPal. For instance, after purchasing, you can't transfer the bitcoin outside the platform. That means you can transfer your bitcoin from PayPal's wallet to another personal or crypto wallet. 
What's The Minimum Amount You Have to Invest to Buy Bitcoin?
When it comes to purchasing Bitcoin, there's no minimum investment amount. The only minimum amount you have to pay to get started is already pre-determined by the platform on which you'll invest. For example, on Coinbase, you can get started with as little as $2. 
And remember, you should invest as much as you are comfortable with losing money. After all, there's no gain without taking a little risk. 
Is It Worth Buying Bitcoin?
Even if you're new to the crypto world, there's a good chance you've already heard about Bitcoin. The reason? Well, it is the most famous cryptocurrency out there. 
As more and more people own Bitcoin, many crypto investors are comparing it with digital gold.  According to Binance Research, 65% of cryptocurrency users are Bitcoin users. Bitcoin alone is responsible for $6 billion of daily online transactions. 
The number suggests that Bitcoin is no doubt a good investment. However, if you're still wondering whether is it worth buying bitcoin, here are some reasons to convince you: 
In terms of liquidity, Bitcoin ranks at the top of the list. You can trade Bitcoin for cash or gold without a hassle and at a low fee. Because of its high liquidity, you can get good profits in short-term investments. 
Bitcoin trading is relatively young in the market. That's why it brings unpredictable swings in volatility and price. As a result, Bitcoin trading may bring new opportunities for huge gains.
You don't have to fear losing the value of Bitcoin, as it has a lower inflation risk. 
Bitcoin investments are hassle-free. Unlike other currencies, they don't require you to have a license for trading. You can easily sell, hold, or buy Bitcoin from exchanges and store them in your wallet. Also, Bitcoin trading is instant. They don't take days or weeks to buy or trade. 
Bitcoin investments have been growing through platforms like PayPal and Cas App, according to studies. In fact, according to CEO Dan Schulman, PayPal's earnings were boosted by their "crypto efforts." 
In 2021, their net revenue reached $6.03 billion, an increase of 29% year on year.
The Bottom Line
To sum up, Bitcoin is a famous digital currency that is becoming more popular each day. It comes with a lot of advantages, has a lower risk of inflation and also offers high returns and finite supply.
Also, you should know that investing in Bitcoin has its own downsides too. For starters, it's risky, volatile, and doesn't hold a proven track record. 
So, despite all the risks, if you're thinking about the long-term, go ahead and invest in Bitcoin. And, before investing, make sure to do further research to understand the crypto world and invest based on your risk appetite. 
I hope now you have a clear idea of how to buy bitcoin and how you can invest your money on this.