Do you know that reading has now become as good as listening through audiobooks? 
Audiobooks, the fastest-growing segment in digital publishing, has completely changed the book lovers' vision to see books. 
Although it's not a new concept to listen to recorded books, its popularity has increased in the last two decades. 
However, you might be searching for good audiobooks platforms. Or you may be confused between a lot of choices available in the market. 
Therefore, in this blog, we will provide you with a list of the best audiobook apps that you can use to listen to your favorite audiobooks.    
So, if you are just a bookworm, this piece of information will help you evolve into an audio-book-worm.  
10 Best Audiobook Apps in 2022
Audiobooks are here to dominate the 21st century of busy schedules and receding reading times. 
While it's easy to jump over a good book to read, how would it be to have someone narrate a story to your ears while you can relax, get swayed into sleep, or even indulge in your work?  
It's possible with these apps.
Audiobook apps let users listen to their favorite literature in Audio format. It helps book lovers gain information from literature without having physical copies. 
We have articulated a list of the best audiobook apps for both Android and iPhone devices. So, without further delays, let's start the list of the top 10 audiobook apps. 
1. Audible (Android & iPhone)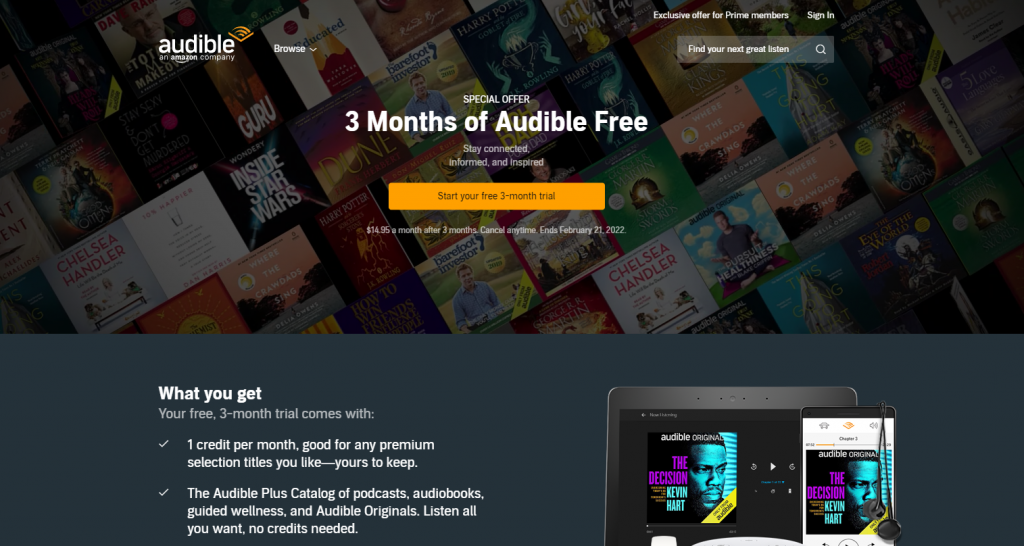 Audible is an Amazon company offering exclusive audiobooks and podcasts. 
It started back in 1995. Since then, it has grown across North America, Europe, Asia, and Australia, including global organizations operating in 10 countries. 
Audible delivers better customer support compared to all other audiobook sites reviewed. 
It stands amongst the best options for anyone who listens to one audiobook or more per month. Also, it offers an online library containing a large number of audiobooks.  
Moreover, it consists of various helpful titles on motivation, breakup, leadership, happiness, etc. It is also not less than a boon for language learners as it offers language learning materials from native speakers of Spanish, French, Chinese, and Portuguese. 
Audible provides you a 30-day free trial along with a free novel as a signing bonus. In addition, it also allows customers to exchange an audiobook if it doesn't fulfill the customer's requirement. You can easily find the Audible app on the play store or the app store. 
Lastly, if you become an Audible member, you can get up to 30 percent savings per credit card. 
Claim more on additional monthly purchases on fiction and non-fiction books, including mysteries & thrillers, self-help books, business, bios & memoirs, sci-fi & fantasy, romance audiobooks, Audible originals, and more. 
The pricing structure of Audible
Audible offers two plans: Audible Plus at $7.95 per month and Audible Premium Plus at $14.95 per month. Both have their benefits that you can find here.
User Ratings
App Store: 4.8 stars (19,100 Ratings)
Play Store: 4.3 Stars (1 million+ Ratings)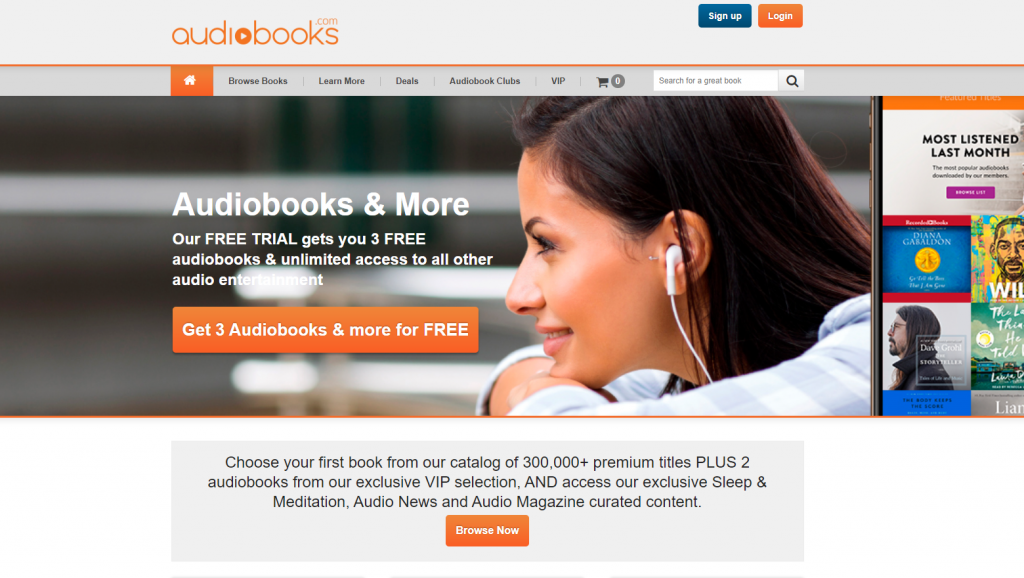 Audiobooks.com can prove to be a great option if you are searching for an audiobook subscription pack. The audiobook app has a vast library, including an exclusive list of audiobooks and a sign-up offer.  
If you are a listener, who listens to more than one book in a month, Audiobooks.com helps you purchase additional credits, through which you can hear more variety of books. 
However, the audio service is ideal for people who love reading but cannot get enough time to read. In addition, Audiobooks.com has 10,000 free books, so starting with it would be easier. 
They have just merged two things; reading books and love for technology to provide a better outcome.
Before you start, you need to sign up with your Facebook, Google, or Amazon account or create an Audiobooks.com account. There, you will uncover titles from 24 diversified genres. 
Although it is possible to sort them out based on the price, duration, publication, date, rating, genres, and subgenres, you can also put a specific title, if you have, in the search bar.
The app itself is sleek and easy to operate. You can shop and scan through the app and peek at the library of books you have already downloaded. Most importantly, it is free to install on both the Play Store and the App Store. So, everyone can enjoy listening to audiobooks on the go. 
The pricing structure of Audiobooks.com
Audiobooks.com charges $14.95 per month for their premium audiobooks, stories, sleep meditation audios, and more. 
User Ratings
App Store: 4.7 stars (49.7 Ratings)
Play Store: 3.9 Stars (46,000 Ratings)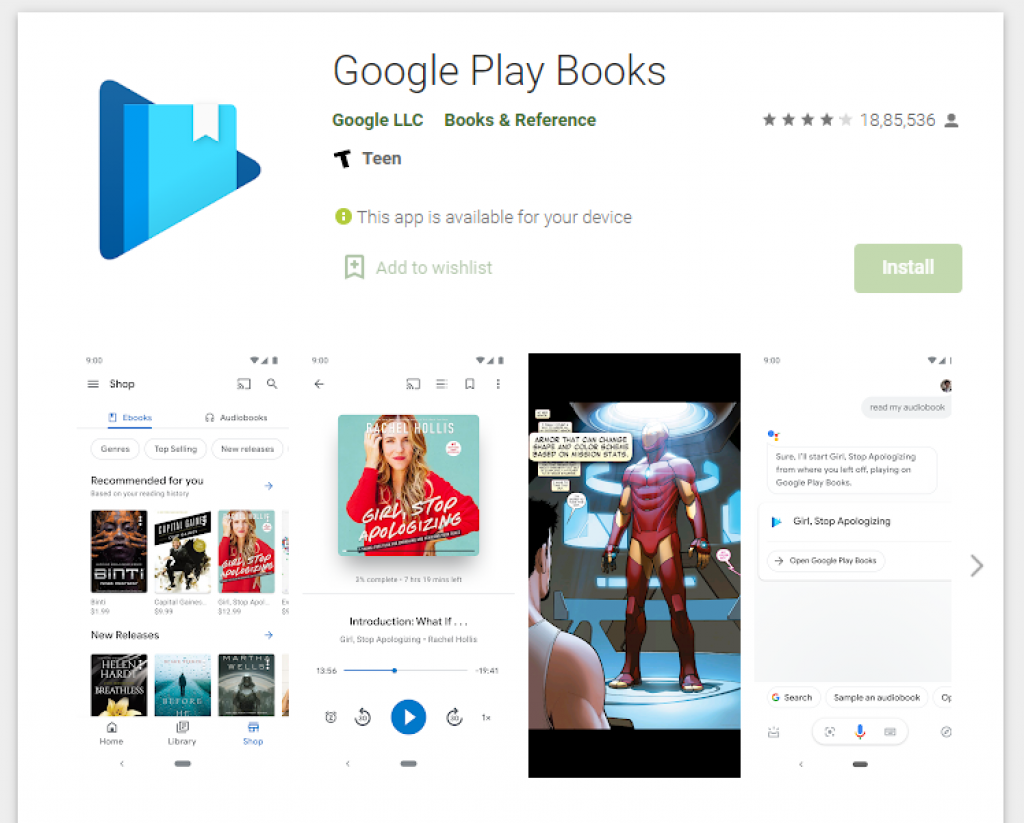 Google Play Books is an electronic platform providing an infinite range of books and articles to read. 
It offers audiobook features, allowing you to listen to your purchased audiobooks across platforms and devices. It allows listeners to pick up where they left off on their Android, iPhone, or desktop PC. 
While Google Play Books' interface is undoubtedly uncluttered and uncomplicated to navigate, it could be a bit more visual style, though. 
As it is now, the app feels tidied, with the book carousel sitting on top of a flat, dark gray backdrop. Alternatively, you can portray your books in a list, but that's even less attractive. 
In addition, Uploading Audiobooks to Google Play is also easy. However, this feature works for e-books only because printing books can take time to convert into audiobooks. 
Google Play Books also enables users to pre-order e-books and audiobooks. 
Still, some features are country-specific; i.e., only US-based users can subscribe to a book series.  
Then, you can send Google Play gifts by email exclusively to a person enlisted for Google Play in the same country as you. 
Ultimately, Google Play Books is a good audiobook app, allowing users to search, find, and listen to their favorite audiobooks. Moreover, it also has a trial period. 
So, users can experience its features before making the actual purchase. 
The pricing structure of Google Play Books
Google Play Books offers users to purchase audiobooks from their app. These audiobooks will remain permanently in their accounts once purchased. 
User Ratings
App Store: 4.4 stars (979 Ratings)
Play Store: 4.1 stars (1 million+ Ratings)
4. LibriVox (Android & iPhone)
Librivox stands out perfectly as it runs by non-profit-led means. Therefore, it is entirely voluntary for people to contribute and stretch the app's library. 
This approach enhances the quality of content over the platform. 
As it has a voluntary status, people worldwide have pitched in and evaded any possibility of not finding content in regional languages. 
Librivox features a comprehensive record of audiobooks, also translated in regional languages. A user can find almost every piece of literature, ranging from classical to fictional and non-fictional. 
Since 2005 – its inception, the primary features, and the way the LibriVox Audiobooks app works have not transformed much. 
No doubt, the app's technology has improved over the years due to the efforts of volunteers and their web-development skills. 
Currently, the program offers over 24,000 free classic audiobooks. If you live in the United States, you will also receive access to over 75,000 compensated audiobooks, such as new releases and bestsellers. 
The program gives simple access to Bluetooth controls so users can quickly join their Bluetooth-enabled speaker or headphones. 
LibriVox offers multiple genres in which audiobooks are available. You can pick any audiobook from sci-fi fantasy to biographies. There is everything that you need. 
It uses title, author, or genre to look at new recordings, or you can also search a specific title by keyword. 
The pricing structure of LibriVox App
LibriVox audiobooks are free for every listener, either using it on Android, IOS, or Desktop.  
User Ratings
App Store: 4.8 stars (23,200 Ratings)
Play Store: 4.7 Stars (49,000 Ratings)
5. Kobo Books (Android & iPhone)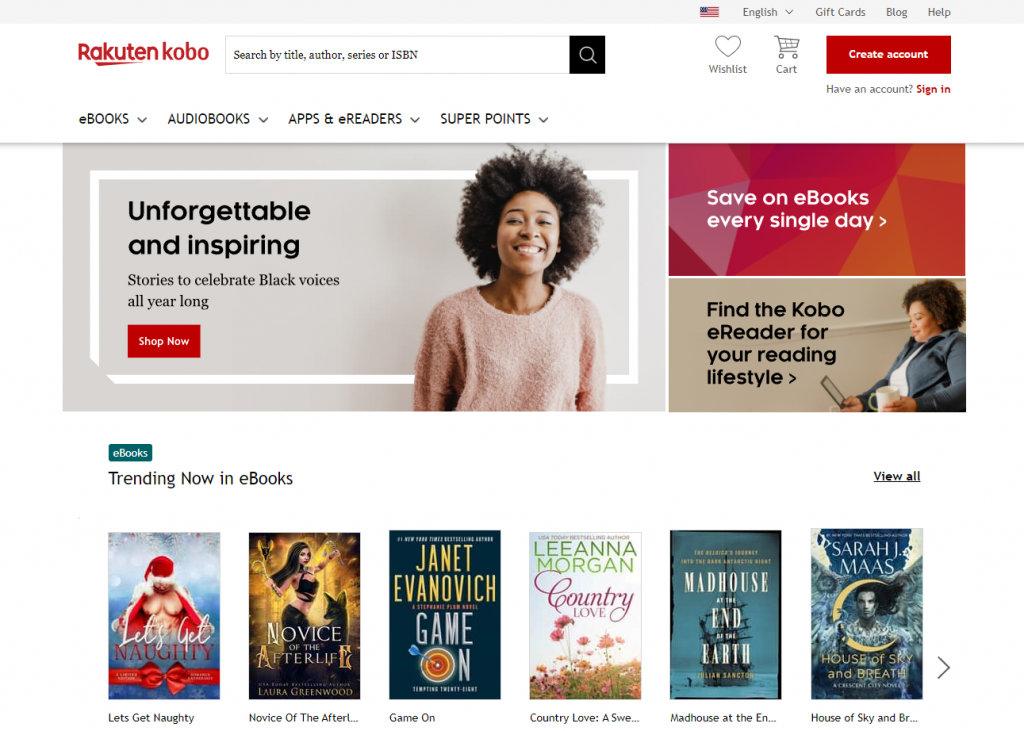 Kobo Books ranks as one of the best audiobook apps for IOS and Android. It enables users to listen to audiobooks seamlessly. 
Since its inception, Kobo has been offering a library full of rich ebooks and audiobooks tailored to satisfy the requirements of the bibliomaniacs. It has a total occupancy of 5 million titles. 
The app has an inbuilt book store that lets users discover books readily. In addition, it possesses a timeline scrubber, time skip buttons, chapter navigations, playback speed configuration, snooze timer, and many more. 
Kobo Books comes in both; free and paid versions. Moreover, it is similar to Google Play Books and allows for in-app purchases for ebooks, while its audiobook subscription service is similar to Audible. 
The good part is that if you join the Kobo Books App, you will get a 30-day free trial, along with store credit in the extensive audiobook store, where listeners can have access to a wide array of audiobooks – including bestsellers and new releases. 
Overall, it is a good app for those who want to develop their listening habits. Initially, you can start with its free version. And if you like the collection, shift to the paid version.
The pricing structure of Kobo Books
Kobo Books enables users to enjoy a rich collection of audiobooks and eBooks at just $12.99/month after 30 days. 
User Ratings
App Store: 4.5 (16,400 Ratings)
Play Store: 4.0 Stars (274,000 Ratings)
6. Libby (Android & iPhone)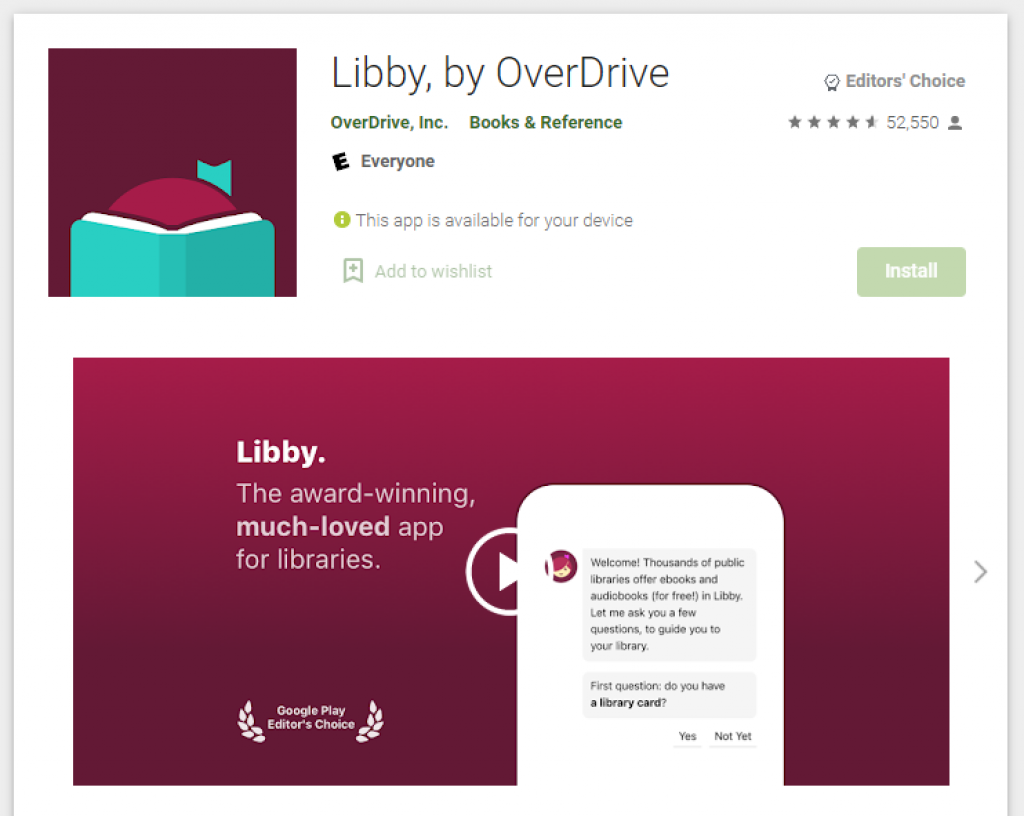 Libby falls under one of the most popular free audiobook apps impacting the lives of children worldwide by allowing them to browse and borrow ebooks and audiobooks from public libraries for free of cost.  
It is available on mobile and tablet devices from Apple App Store, Google Play, or the Microsoft Store. Earlier, Libby was not available for desktops, but now you can download the app via libbyapp.com using Chrome, Firefox, or Edge. 
Along with audiobooks, Libby also provides high-quality eBooks to your Kindle device. However, it is only available for US-based users. 
Moreover, Libby's audiobooks can easily be streamed on Google Home, Amazon Echo, and even Android Auto and Apple CarPlay, adding a cherry on top of the cake. 
We also found one downside of Libby through practical experiments. While listening to one of the audiobooks, we found that it was too slow. So, we increased the speed.  
Regardless, when we did that, the voice started garbling with speed which meant we either had to listen slowly or with a distorted voice. Anyhow, we don't know whether the problem was because of the audiobook we were using or anything else. 
Lastly, it's good to go with this audiobook app. If you have school-going children, this app could help them develop a love for listening. Also, listening improves cognitive ability. Therefore, this app would provide a double benefit.
The pricing structure of Libby
Libby audiobook app is entirely free and has no subscription or in-app purchases cost. 
User Ratings
App Store: 4.8 stars (1.7 million Ratings)
Play Store: 3.7 stars (52,000 Ratings)
7. Scribd (Android & IOS)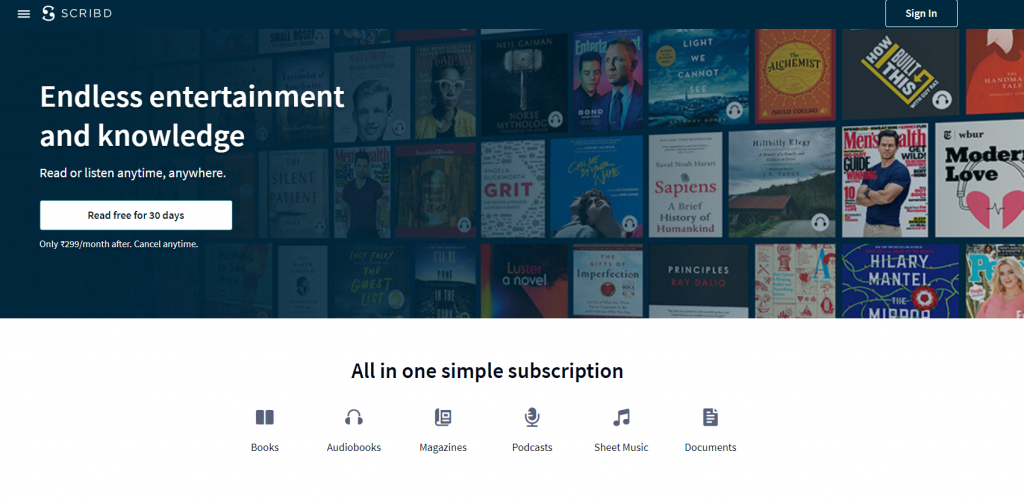 Scribd is an American eBook and Audiobook subscription platform that offers easy navigation to over one million titles. Users can download this app on both; Android and IOS platforms. 
It is known for its high-quality library, wherein subscribers can listen to unlimited audiobooks any time, anywhere. 
However, the audiobook collection is too small -(30,000) compared to other audiobook apps mentioned in this list.   
Other than this, the Scribd app offers adjustment in the narration speed, sleep timers, offline listening to the audiobooks, and eBooks, too. 
Moreover, users can also make annotations, add bookmarks, and customize the text to suit their preferences. 
Unlike the subscription provided by Amazon, Scribd is not entirely unlimited. Yet, it includes access to many of the newest bestsellers and TikTok favorites. 
Members can download a certain number of popular audiobooks of their choice, which remain active till the entire month. 
Ultimately, Scribd is a popular and feature-rich audiobook app that enables users to skim through a large plethora of unique content that you will not get on any other app on our list. 
Although it's a good app, we suggest examining other apps before making the final call. 
The pricing structure of Scribd
For $9.99 per month, Scribd users earn a ticket to an expansive digital library of bestselling and trending audiobooks containing audiobooks of different genres. 
User Ratings
App Store: 4.6 stars (26,800 Ratings)
Play Store: 4.1 stars (556,000 Ratings)
8. Hoopla (Android & iPhone)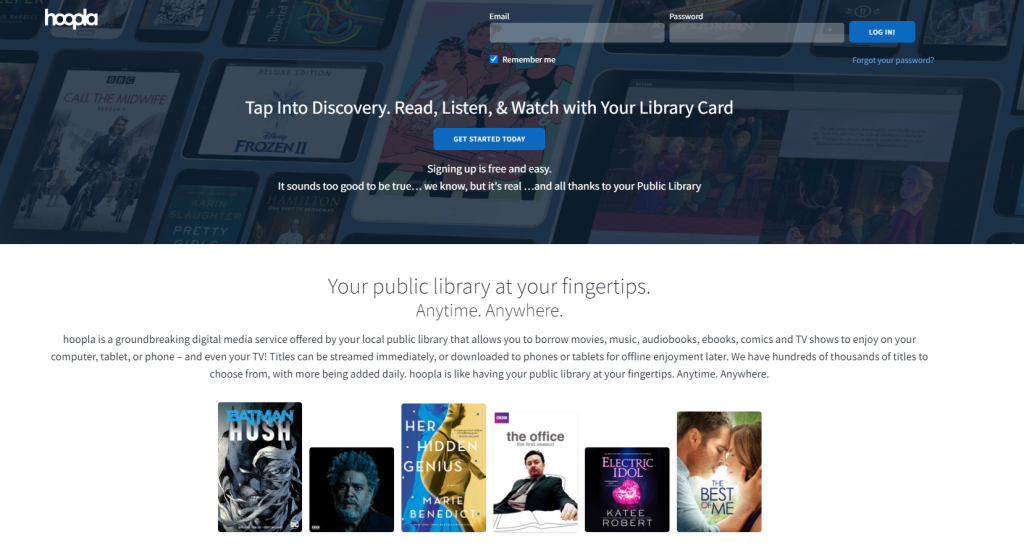 Another one of the popular audiobooks apps is Hoopla Digital, in which users can borrow ebooks, audiobooks, music, and even movies from the app's digital media collection.  
Unlike most audiobook players that act as digital bookstores, Hoopla Digital connects you with your public library so that you can instantly borrow free digital books, audiobooks, movies, music, comics, and TV shows. 
It has over 800,000 titles that users can borrow without worrying about late fees, and you can even choose to either stream these titles online or download them in your internal storage for offline listening.
The entire platform of Hoopla Digital provides an easy-to-use user interface without any hassle. Furthermore, it stands as a strong contender among the best audiobook apps if your library supports lending out media through Hoopla. 
In addition, the borrowed content syncs across devices, so you can pick up where you left off on any device. If you have a library card, you can utilize the digital content available on Hoopla. However, you should also confirm whether your existing library accepts borrowing content from Hoopla or not.  
Finally, The new Hoopla BingePass enables users to stream a large quantity of popular content for up to seven days, in just one borrow. 
The pricing structure of Hoopla Digital
Hoopla is a free public library. It comes at a cost to the libraries which embrace it. Users can get a title between $0.99 to $2.99. However, the library system limits how many members can borrow every month. 
User Ratings
App Store: 4.8 stars (572,000 Ratings)
Play Store: 3+ Stars (Unknown)
9. OverDrive (Android & iPhone)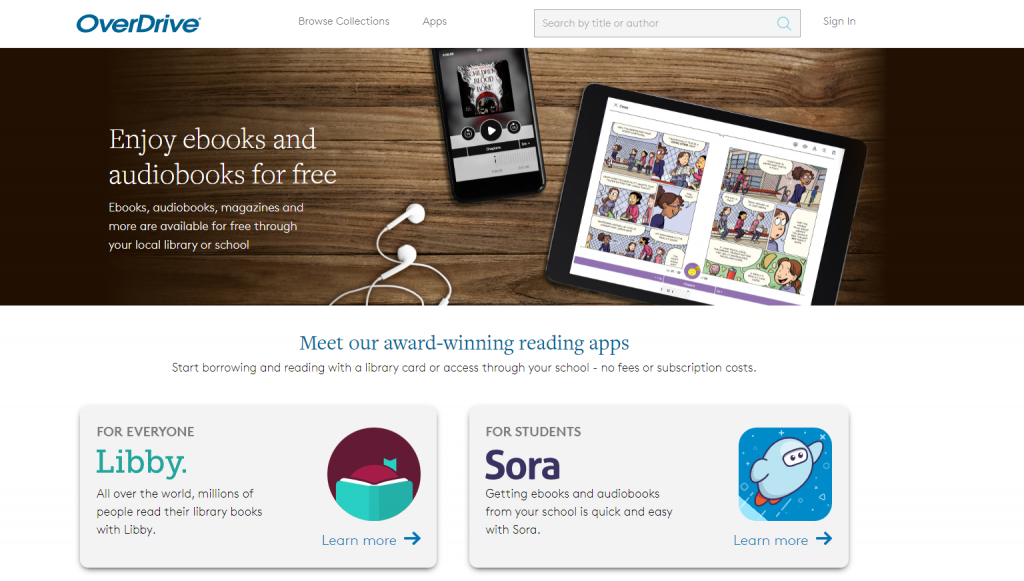 OverDrive is an American company distributing ebooks and audiobooks. It has an advanced digital rights management system, making it secure for publishers, libraries, schools, and retails to upload their audiobook compilations online. 
Since its formation, it has cooperated with over 5000 publishers, including 2700 libraries and schools worldwide. Overdrive comes in handy when other audiobook players charge high subscription fees. 
In addition, it is likable to users due to its easy-to-use interface. You can borrow any audiobook you want from any library for free as you have a related student ID or library card. 
If you are a US-based user, you can even borrow kindle books to read on kindle devices or kindle apps. 
The best part about OverDrive is that it does not charge any money. You only need to use your student ID or library card to borrow the audiobook you want. 
Furthermore, it allows users to borrow titles from the library's collection 24/7, and users can create holds, wish lists, and hassle-free return ebooks and audiobooks. Users can also sync other devices to share the title with other devices with flexibility. 
Finally, it is among the best audiobook apps due to its easy operation and quality services without charges. So, students or working professionals can take optimum benefits of services offered by OverDrive. 
The pricing structure of OverDrive
Overdrive does not charge any fee for up to 2 users. However, you can purchase licenses from as little as $5 per editor or only $1 per viewer. 
User Ratings 
App Store: 4.7 stars (50,300 Ratings)
Play Store: 3.8 stars (207,000 Ratings)
10. Realm (Android & iPhone)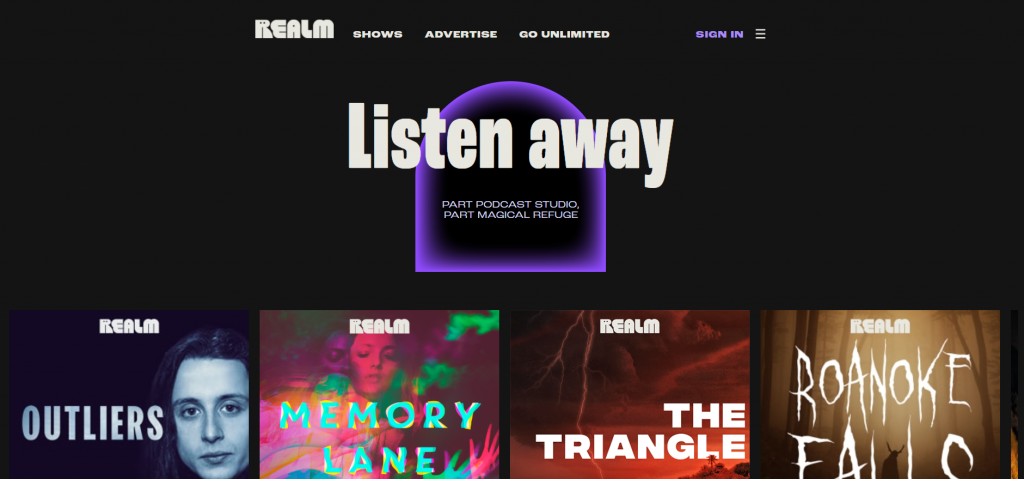 One of the best free audiobook apps, formerly known as Serial Box, has a new name – Realm. However, it keeps its former appeal to anyone who loves listening to a good story. 
The app is intact in providing quality audiobooks to its users. Listeners can enjoy shorter, episodic content through Realm, which delivers bite-sized chunks of novels that are perfect for your commute or free time. 
Realm offers multiple genres ranging from drama and fantasy to sci-fi. You can listen to as many shows as you want, along with audiobooks, for free. 
Yet, if you do not want to live with the annoying ads, moving to a premium account is recommended.  
With a robust collection of audiobooks, you can listen to your favorite fiction stories while going to bed. Or, jump on a motivational audiobook to kick start your day with positivity. 
Earlier, Realm was only available in IOS, though it has launched its Android mobile app. 
The pricing structure of Realm
As stated, the app is free with ads. However, if you do not want ads, you can purchase a premium account at $2.49 per month. 
User Ratings
Play Store: 3.7 stars (907,000 Ratings)
Conclusion
After giving you a complete list of the best audiobook apps for Android and iPhone, it is time for the final suggestion on picking up the perfect audiobook app option for you. 
Now, you have a described list of apps to get started on your book listening journey. However, if you don't want to put your money into purchasing any paid versions, the perfect way is to start with apps that either have free audiobooks or offer a trial period. 
But Why? You may ask. If you do the above practice, you can make yourself habitual to these audiobooks. Once you create a habit, you will feel more comfortable listening to the complicated versions of audiobooks.  
We would suggest you choose either Audibles from Amazon or Audiobook.com due to their competency in this field and quality of content. However, you need to go with your thought process.