Whether it is new or used, buying a new car was never an easy decision – both financially and in terms of the amount of time you spend on a vehicle.  
The ongoing shortage of semiconductor chips has made finding a new car surprisingly challenging. 
Due to this, some of the market's most sought-after models are in short supply, and the popular models are temporarily elusive. 
However, buying a used car is another option to long waiting lists and inflated prices, especially since the number of resources available to purchasers grows regularly.
But the question is: where you can find a good used car in this huge car market where most of the time people get scammed?
Don't worry!
In this post, we've listed down some of the best used car websites from where you can buy any car without stressing too much about its quality check.
They do all the work for you and you get your car without any hassle.
So ready to dive into the post? Let's jump right in.
7 Best Used Car Websites
No matter what car you want to buy – the first step should start with research. You should determine what exactly fits your needs (or your wants)?
Is it an affordable sports car, a reliable minivan, or a big luxury SUV? 
Do you have a specific model in mind? 
Are you skeptical about your choice? All these questions will be there for you.  
But the good thing is, to get the answers to each question, you do not even need to leave your bed. How? 
Fortunately, you will find a list of websites offering used cars online – making your dream a reality. 
To make your work a bit easier – we have listed down the best used car websites. So, you can go through them and purchase your first car. Now, without any delays, let's start the list.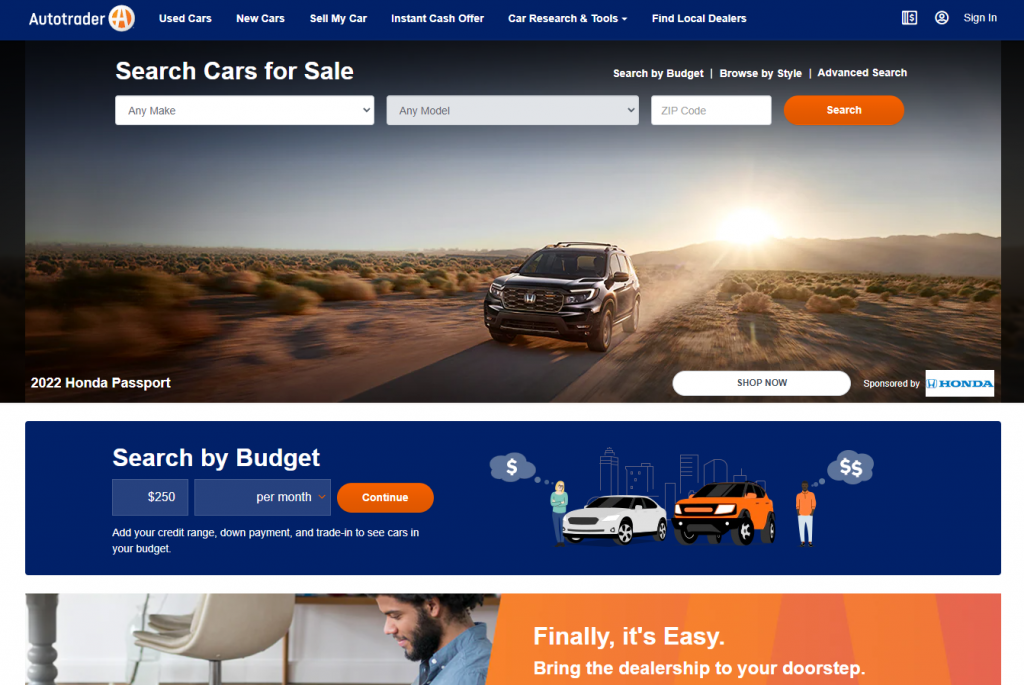 Founded in 1997, this company, a subsidiary of Cox Automotive, is based out in Atlanta, Georgia, and also operates in Australia.
AutoTrader is one of the most famous online used car buying websites that links car sellers and buyers. It incorporates licensed used and new cars from private sellers and dealers. 
The best thing is that AutoTrader strives to supply the best online solution for selling or buying cars. They intend to furnish the largest selection of certified second-hand and used cars. 
If you are searching to buy a used car within the budget, AutoTrader also helps you with shopping advice, auto reviews, insurance details, and comparison tools for car financing. 
Surprisingly, the platform currently has more than 2 million listings, including 1.5 million+ listings for used cars. 
AutoTrader does an excellent job of getting you all the details needed to proceed further with your first car purchase. 
You can scroll through the result list to find seller details like the name/phone number/distance of the seller, links to the CARFAX report, mileage, and a lot more. 
Buying things online could be an open club for scammers. Because of that, AutoTrader is awarded and has an "A+" rating from the Better Business Bureau (BBB), with very few customer complaints registered there. 
Overall, we like using AutoTrader because it provides us one-search access to a wide range of used car sellers – not just private listings or just big dealerships, but some lesser-known options too. 
However, we would advise you to pay close attention while considering private sales because of the fraud concerns, but other than that, AutoTrade is the best place to search and buy used cars out of your comfort.
Pros
A+ accredited by BBB
Listings reach over 3 million
Better search and research tools to find the right dealer or seller
Cons
It does not have any privacy protection
Prone to scams
Fees of AutoTrader
AutoTrader levies a flat $49 fee per listing.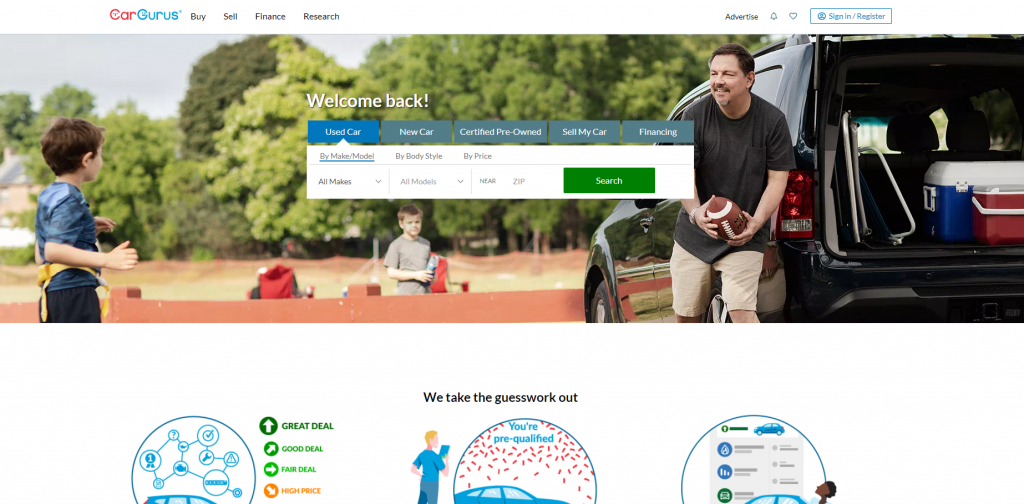 The website we have on this list of used car websites is – CarGurus.
CarGurus was launched in 2006 by Langley Steinert, who is co-founder of TripAdvisor. 
The company looks at car shopping through a big-data lens, using data analytics and proprietary algorithms to answer the questions shoppers have: What is a fair price? Is this the best deal? Is this dealer trustable? 
CarGurus is popularly known for its Instant Market Value, which is the site's calculation of the fair retail price for a vehicle based on comparable listings. It is entirely free for dealerships to post their cars, so CarGurus has a large 5 million vehicles listed, on average. 
Whenever a dealer uploads the data related to a car on CarGurus, the platform calculates its estimated price by comparing it with other vehicle listings.
Other than that, CarGurus allows you to shop by body style, model, price range, and zip code through the search feature. If you want more in-depth analysis concerning the body style, you can choose body styles like basic sedan, SUV, and truck – (with pictures to see the difference). 
The best thing about looking for used cars via the CarGurus is the complete disclosure of every vehicle's location. Moreover, each dealer has listed reviews that you can read on the CarGurus site too, and you can even visit the price history on each vehicle you are viewing. 
Ultimately, this platform has a lot of details you will need to have a good experience buying a used car. As long as you keep in mind that the rest of your transaction will depend on the reputability of the dealer/seller and not on CarGurus, you can take good advantage of this site. 
Pros
All cars have ratings concerning value as u0022overpricedu0022 to u0022great dealu0022
A+ accredited by BBB
Perfect used car website to research, find trends, measure best prices, etc
Cons
One needs to wait for interest
Fees of CarGurus
It charges more than $100+, which is too costly.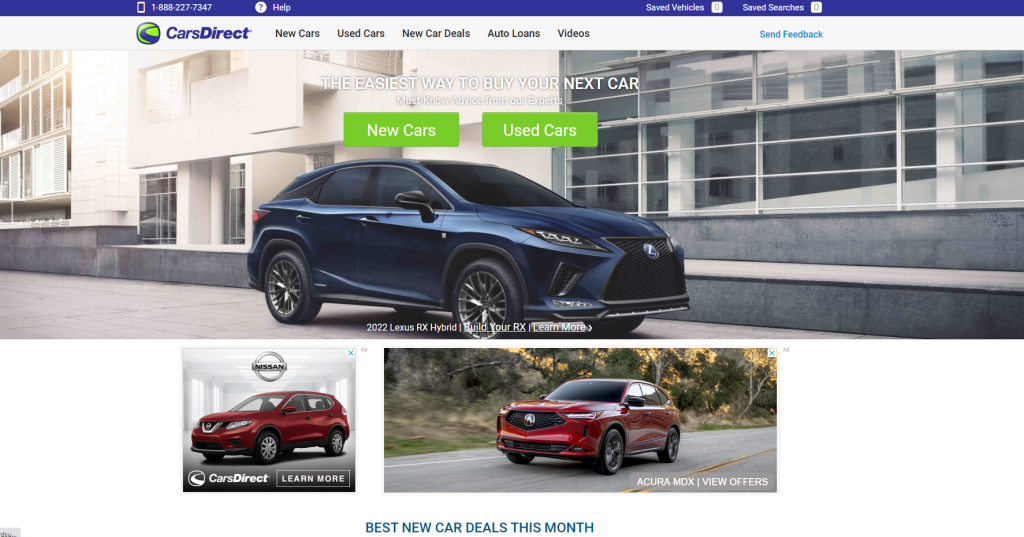 CarsDirect is one of the best online used car buying websites where you can readily shop for a used car. However, CarsDirect is not a lender or dealer. It is a hub that connects you with lenders or dealerships that meet your requirements. 
When you visit the website of CarsDirect, you can find listings for used vehicles, build and price a new one, or even submit a loan request. In addition, you can do all this without even paying any charges (It's completely free). 
On the website, you can easily find tools and resources to help you find the right car, including deals on new and used vehicles. 
CarDirects does more than just showing listings from local dealers. It also portrays the best deals as per your geographical location. The deals include upcoming seasonal offers and pricing on upcoming models to help car shoppers focus on their search.
Although the search feature of CarsDirect is not as detailed as AutoTrader, the result page on the CarsDirect website shows everything that a buyer needs to know. 
You can find necessary information, including the CARFAX report and a Check Availability button that takes shoppers directly to the listing on the dealer website. Unlike AutoTrader, this platform provides you with financing options too. 
Each car listing has a hyperlink to the simple four-step loan application that takes less than a minute to complete. CarsDirect sends the application to its network of lenders and returns a list of financing options with estimated monthly installments. 
However, buyers can directly go to the dealer website to find the available financing options. CarsDirect also offers several resources for car buyers, including reviews, car news, videos, reports, and a trade-in valuation tool powered by BlackBook.
Pros
Deals are available from local dealers
Multiple finance options are available
Fast and flexible service
Cons
Listed prices are not always accurate
Dealers listings only (no private listings)
Fees of CarsDirect
CarsDirect does not charge any fee as commission or processing.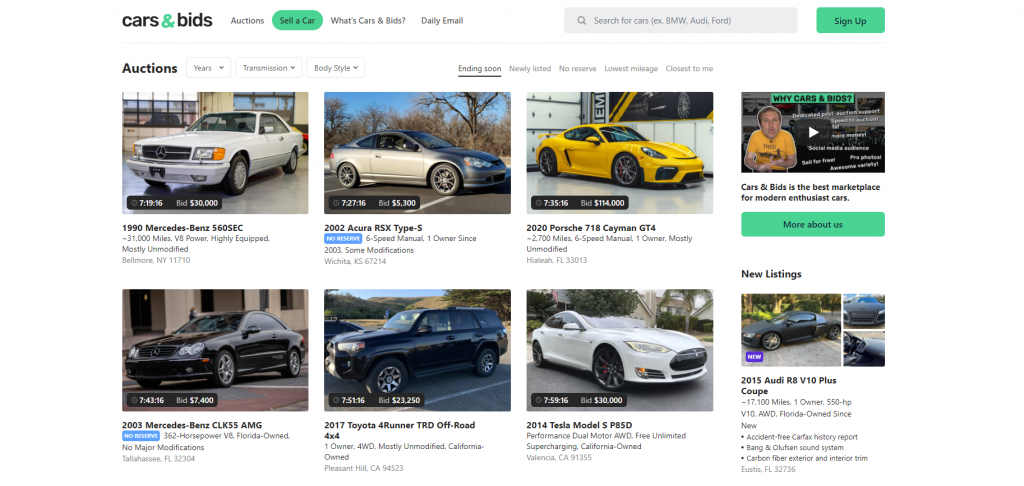 Cars & Bids is a comparatively new player in this domain. It was started in 2020 by the automotive reviewer and YouTube celebrity Doug DeMuro to help modern car enthusiasts buy and sell cars quickly and safely. 
The site is our choice for the best used car auction site due to the ease of use of this platform.
Unlike other auction sites, which can take weeks to get the seller's auction live, this platform gets cars listed as early as it gets the best schedule for auction by the seller. 
The site also provides an easy submission process that lets sellers know how quickly their car will get acknowledgment or start getting biddings on the site. 
The best part about this platform is that it protects car buyers by providing a report for every vehicle it auctions without charging any extra fees or charges. 
Interestingly, Doug DeMuro also picks up listings to review every few days, bringing more audience and buyers to specific auctions. 
Cars & Bids offers lower fees than other car auction websites – the charges vary between $49 to $89 per listing and take a 4.5% fee with a minimum of $225 and a maximum of $4,500. 
For informational purposes, this site also offers a detailed description of the process of buying and selling cars through FAQs listed on the website to guide the users.
Lastly, Cars & Bids is another option for vintage or historical cars lovers. Here, you can find a wide range of vintage cars and trucks from different parts of the country. 
Furthermore, it also charges less fees. And the popularity of Doug DeMuro provides high exposure to the auctions that take place within the organization. 
Pros
Low listing and commission charges
Every vehicle includes a history report for free
Some listings also get features on YouTube – More exposure
Cons
Cars made before 1980 will not get listing options
No financing option is available
It does not have any resources that help to choose a car for newbies
Fees of Cars & Bids
Cars & Bids commission/listing charges vary between $49 to $89 per listing and take a 4.5% fee with a minimum of $225 and a maximum of $4,500.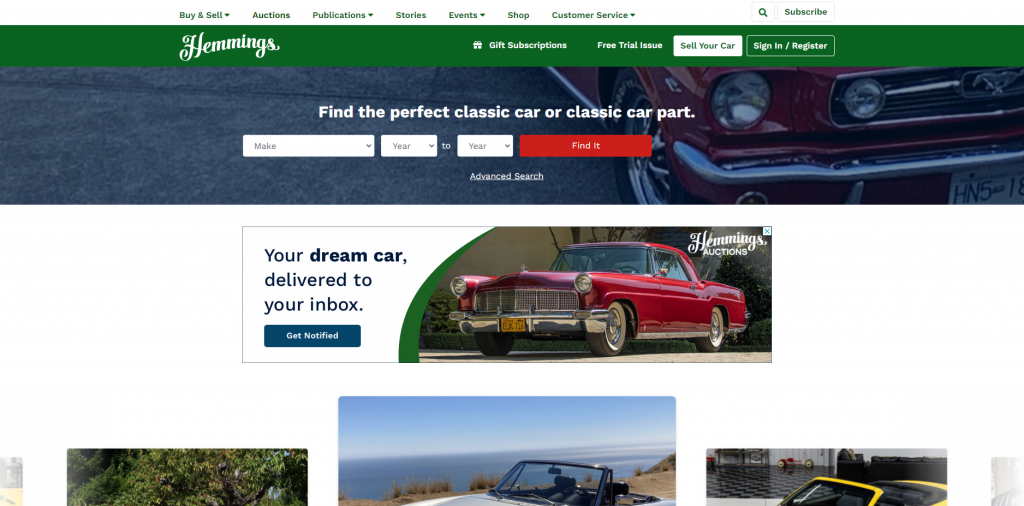 Hemmings is one of the popular online used car websites for classic cars and car components ranging from the 1930s to the 1980s. 
Its car enthusiasts' blog, newsletter, and info about local auctions and car clubs make the website vintage car fests for car lovers. 
For classic car, truck, or motorcycle collectors, this website is a "one-stop-destination". Moreover, Hemmings helps locate hard-to-find parts for project cars pretty easily.
It is more like a resource for researching, buying, and selling high-end and collectible vehicles. Sellers can list vehicles at Hemmings' auctions or in its classified ads. These ads are free, and users can find thousands of cars listed for sale on these classified ads. 
Customers interested in this website can sign up for a free trial or subscribe to its website. Hemmings offers road-ready vehicles at affordable prices – (vice-versa). 
Although Hemmings primary opponent, ClassicCars.com, has close to 40,000 listings, Hemmings boasts a searchable database of classic car parts for a deal. Hemmings offers multiple promotion packages depending on the requirements of each seller. 
Users can post a two-week-long auction listing for $99.95, including a professionally written ad, unlimited pictures, visual content, a dedicated listing portal, and six months of premium classified advertisement. 
In conclusion, Hemmings offers two pricing packages: Silver for $129.95, including a small 35-word ad with up to 35 photos. Gold for $189.95, which includes a 75-word ad with up to 50 photos. All ads run in the Hemmings Motor News magazine for six months online. 
Pros
It provides resources for classic car lovers
Buy and sell classic car parts, including cars
It is an affordable option compared to other auction sites
Cons
It requires an account
A listing lasts only for three to six months
Fees of Hemmings
Hemmings offers two pricing packages: Silver for $129.95 and Gold for $189.95, including a 75-word ad with up to 50 photos.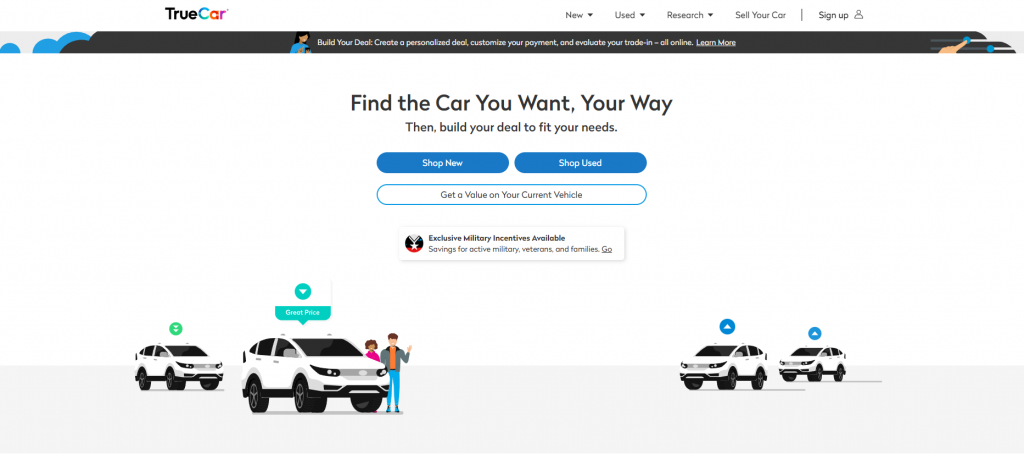 TrueCar an another great used car website that deals in buying, selling, and trading automobiles. It connects with certified dealerships that provide current vehicle pricing. 
How? Let us understand next. 
TrueCar aims to link dealerships with car shoppers at the right moment. For instance, if a car buyer looks for pricing information in TrueCar's database.
The company, then, will direct said buyer to a dealership that offers the best price as per the buyer's requirements. This way, the buyer gets an instant connection with the seller. 
However, one of the main components of any online retailer is the functionality of their website. TrueCars works wonderfully in providing the expected navigability and ease of use. 
Another notable characteristic of TrueCar is that the platform promotes cars to customers through branded emails. These emails contain personalized proposals based on the seller's posted pricing on the website. 
TrueCar obtained an A+ rating on the Better Business Bureau (BBB). However, some customers raised delivery and sales issues, which have been resolved instantly by the TrueCar team. 
Finally, whether you are looking to sell or trade or buy a vehicle, TrueCar is an excellent company to consider. 
TrueCar connects you with local dealerships that give you an instant cash offer. All you require to do is fill out an online application, drop off your vehicle at the dealership for an assessment, and get settled. 
Regardless, you can also trade in your car if you don't want to deal in cash and leave the dealership with a brand new car. 
Pros
Selling and receiving an offer is easy
Clear visibility of different factors affecting the price of the vehicle
TrueCar thoroughly checks right after you close the deal with the local dealer. 
Cons
It only links you to three local dealerships
You might find better deals if you go to trade in your car
Fees of TrueCar
TrueCar charges directly from dealerships, so there are no fees for customers.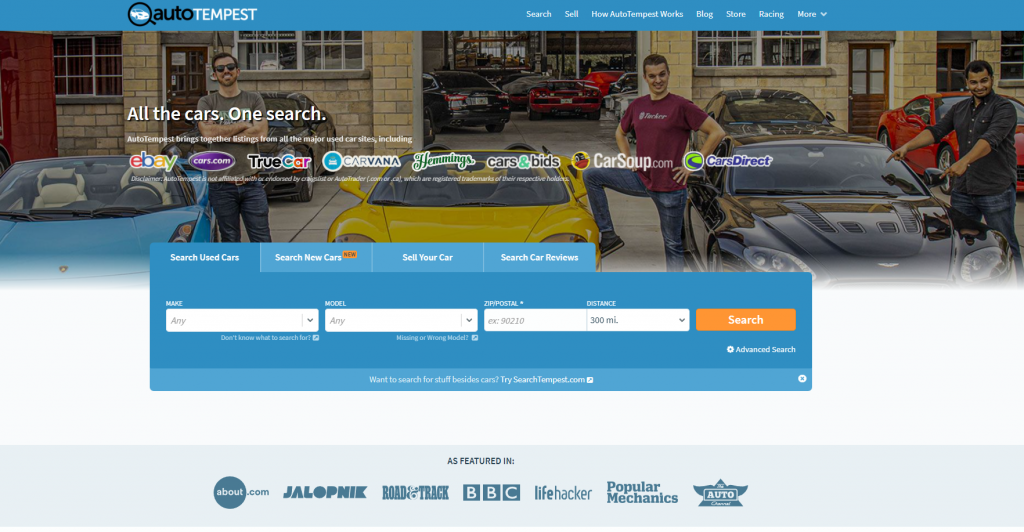 AutoTempest is an online used car buying and selling website, introduced to the world in 2008. Since then, it has been a reliable and best used car search engine that consolidates listings from all around the web, including car dealerships and individual listings from private dealers. 
Although it accesses a large number of sites, one of the advantages of AutoTempest is that it can automatically filter listings in your area when possible. 
For example, if a buyer is in Chicago, the site will only assemble postings in the Chicago area. 
Users can also select the sites they want to get results from to fine-tune their search. For instance, you can limit searches to just AutoTrader and CarsDirect if you need. 
If you have used a search engine before (which you must have – Google), you will not find any difficulty using AutoTempest. It has an easy-to-understand user interface, and the result page also comes with great functionalities and compares different car listings. 
This website permits you to sell your car online. Renowned names like Carvana and Cars.com serve AutoTempest as partners. This platform helps you sell your car online, avoiding the annoying offline dealerships.
AutoTempest does not charge any fees or commissions to car sellers or hit with hidden charges. However, it enables a convenient way to sell your car or get a free quote to evaluate your used vehicle's worth. 
While AutoTempest may not offer as high search options as AutoTrader, it lets buyers search by basic search options like mileage, price, Kelley Blue Book value, whether a CARFAX report is available, and a lot more.
Overall, AutoTempest is a productive way to start while buying and selling cars. It is a reliable platform to research the automotive market with ease.
Pros
It combines listings from multiple sites
The website's search algorithm shows the best-suited searches
The car pricing tool provides buyers best offers for their vehicles
Cons
It does not provide any option to purchase cars online
Fees of AutoTempest
Doesn't charge any fee or commission.
Conclusion
You could find multiple used car websites offering to buy and sell different used cars. However, AutoTrader is the clear winner because of its functionalities, features, and customer satisfaction. 
It is a great website for anyone looking to sell used cars online. And its advanced search tools make it easier to operate. 
For those who want to simplify their shopping experience, CarsDirect lets shoppers compare listings from local dealers without getting stuck. 
And when it comes to budget, no other used car websites can compete with CarGurus's exciting deals, which help buyers get the best value for money.  
Lastly, Hemmings is a great option for classic car lovers, as it offers a large list of car parts, car shows, and car talks to satisfy the most diehard vintage car lovers.
I hope you found this post useful.
But before you leave, we have a question for you:
Have you ever tried a used car before? If yes, what is your experience with that?
Let us know in the comments below.