Project management is still a very time-consuming and cumbersome process due to the difficulties in managing the different aspects of a project. 
There could be a waste of time during updations.
And constant meetings can be difficult to conduct.
These aspects of project management can be improved with the help of the right project management software.
Project handling software assists program managers and functional departments in meeting customer needs while staying within expense, schedule, and complexity limitations. 
Project management software, mainly used as a commercial application, improves project performance and quality.
One of the best things about such software is that they give managers an overview of all the aspects of a project at a glance. 
Besides that, it also helps in projects where you have to collaborate with team members efficiently (especially in this remote work age)
There are tools available that can enable collaboration and messages between members, and depending on the project and the client requirements, the right software should be chosen.
You should normally consider several functionalities while choosing the best project management software. They include aspects like including lists for tasks, calendars, file sharing options, and reporting options.
9 Best Project Management Software
Project management tools can make a project manager's life a lot easier, making the workflow of a project much smoother. 
These are some of the best project management software that you can find today: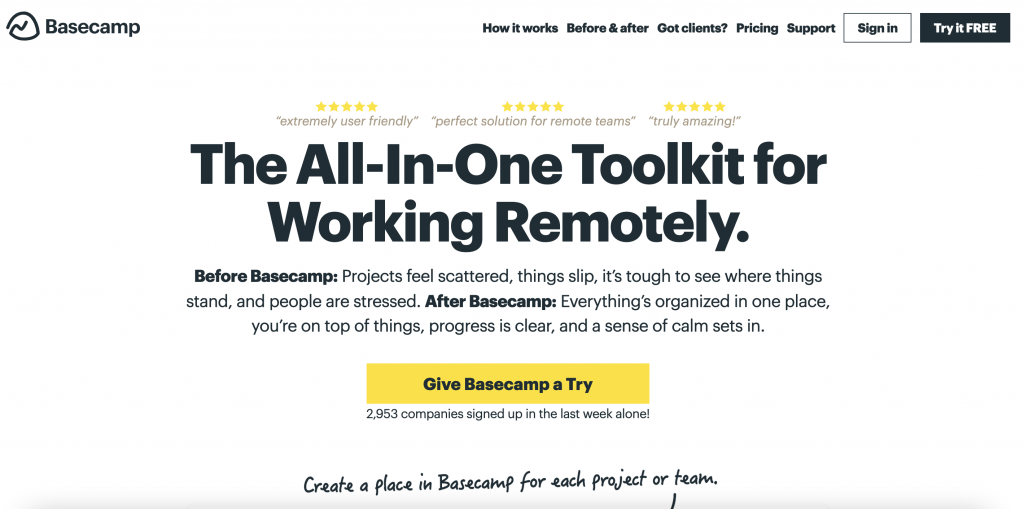 Some project management teams utilize Basecamp, a popular and useful platform. This application has a distinct conversation space wherein people can submit comments and other collaborative capabilities. 
A regular summary of the tasks on which your group is focused, along with statuses and changes, is also delivered to your inbox. Schedules and calendars are provided, real-time chatting, personal messages, disk space, and more.
People can also participate in conversations by email. If you can't locate something, you may utilize the advanced search engine in this program to discover documents or discussions.
Pros
Easy to work with clients

Simple Interface

Easy to customize notifications
Email Integration
Good for large organizations
Cons
Absence of deadlines 
Not possible to customize choices
Cannot provide an anticipated time for work
Can only allocate work to a single person
No free plan is available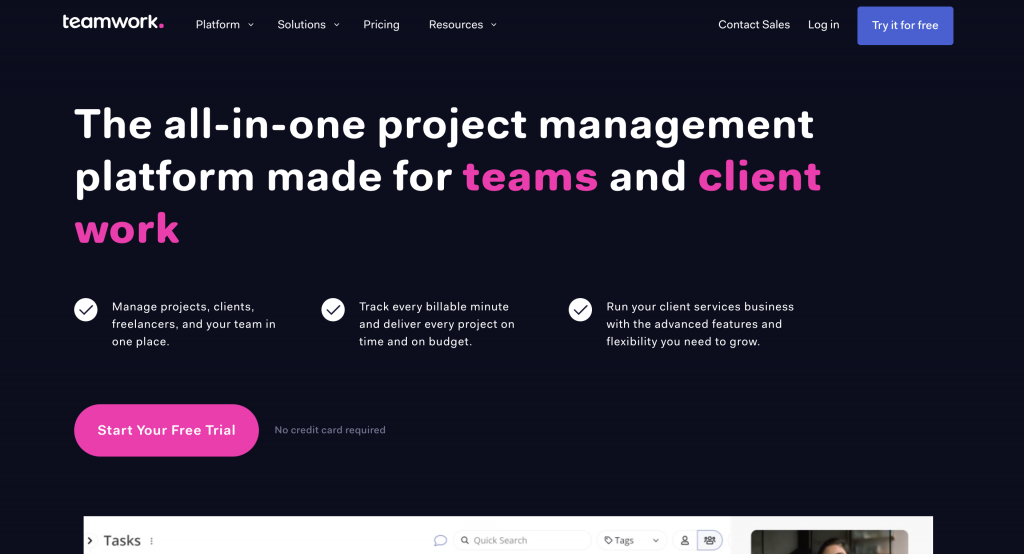 Teamwork Projects is an excellent project management tool for the seasoned program manager.
It comes with all of the techniques you'll require to keep a record of project status. Task management, benchmarks, in which you can connect a list of activities to milestones, communications, disk space, timekeeping instruments, and much more, are among the application's many amazing tools.
Teamwork also aids working groups in conceptualizing the project using a highlighted calendar, Gantt chart, and monitoring plan.
Document management functionality is available with Dropbox, Google Drive, and Box.com. 
Activities are visible as kanban boards or regular checklists, and the smart navigation choices help prevent any need to wade across numerous pages to obtain the information you seek.
Like many other comparable programs, teamwork projects help automate numerous operations both inside the app and through third-party apps and resources.
Pros
The interface is simple for use
Paid tiers offer free trials
Helps save time with the help of integrations
Good for workflow management
Cons
Initial setup takes time
No chat option within teams
It may be expensive for small organizations
Does not function in offline mode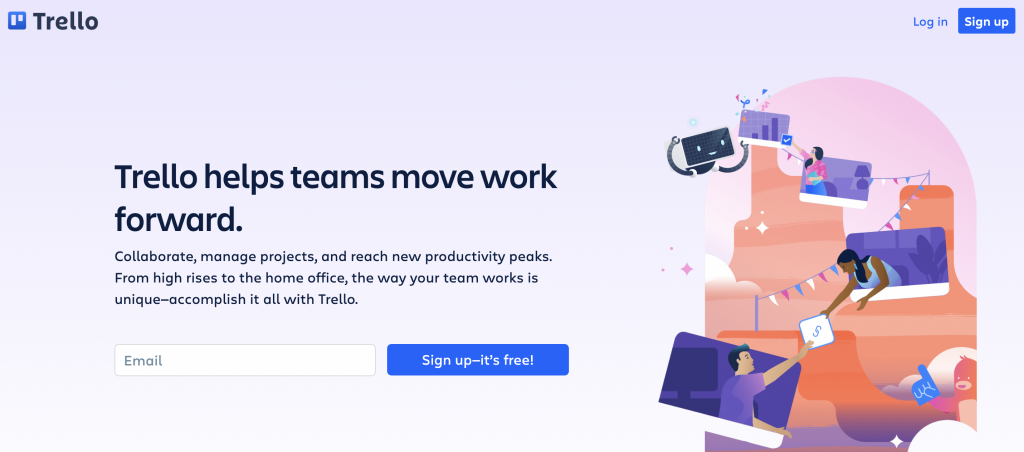 Trello is a digital kanban application, which sets it apart from the other project planning software applications.
This ensures that it can see the complete project from a particular perspective. Trello allows you to create cards and relocate them around the 'board.' 
Such cards can exhibit a range of information, such as chats or to-do tasks, that can be posted on a bulletin board and accessed by any specified tool users.
Side projects and continuous processes are as efficiently managed, and the board and card analogies are simple to grasp. 
Underneath the surface, cards can feature photos and attachments, links, customized dropdowns, deadlines, and much more. When you're through with a card or a board, you may back it up to conceal it from regular notice while keeping it available in case you need it again.
Pros
Simple Interface
Free tier available
It is free-form and flexible
Available on mobile, desktops, and the web
Good for individuals and small teams
Cons
Limited reporting
Fewer integrations
Does not show task dependencies
Communication is not well defined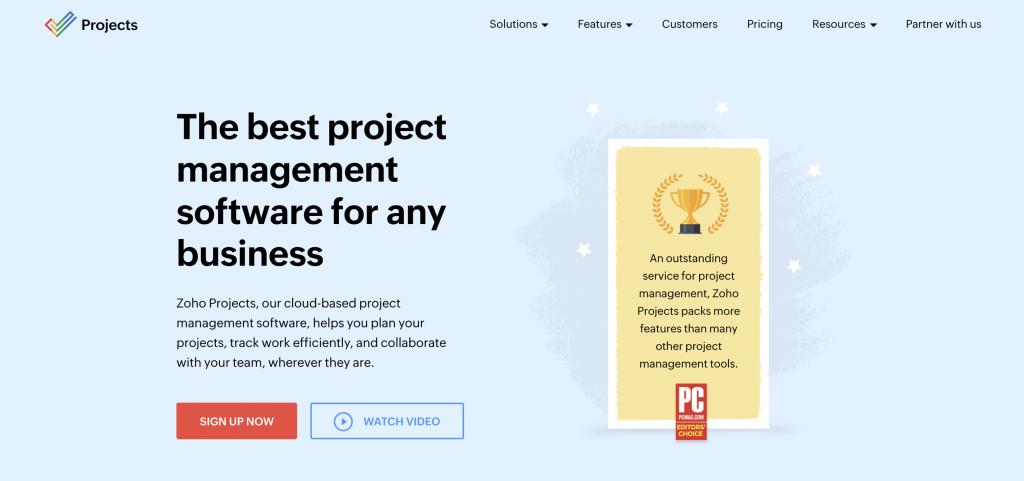 Including over 200,000 users worldwide, Zoho Projects is a cloud-integrated project management tool. It aids in the planning and execution of projects. 
With Zoho, you can delegate duties conveniently, communicate properly, including your workers and customers, be educated across all project statuses, receive detailed information on ongoing projects and produce products on schedule.
It is a comprehensive project management tool with smooth and simple functionality. 
Project planning involves collapsing projects into smaller components and using Gantt Charts to visualize project timelines, reports, collaboration tools used to make it easier for advisors, distributors, workers, and customers to communicate and file planning all covered by this software.
It may also be used in conjunction with Google Apps and Dropbox.
Pros
Affordable
Allows good integration
In-app chat options are available
Workflow management and reporting is possible
It has basic time tracking
Cons
Steep learning curve
Dashboard functionality can be improved
Free plan not enough for large projects
Does not have good bug reporting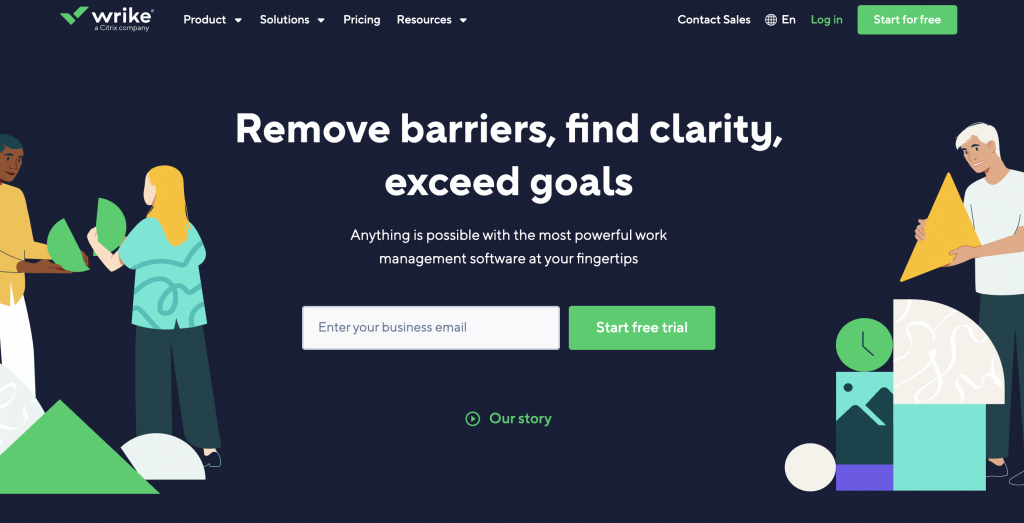 Wrike is a project communication and implementation application hosted in the cloud. This application assists clients in keeping a record of day-to-day activities and ensuring that the project is completed within a specified budget and timeline. 
Wrike may be coupled with other corporate applications such as Google Apps, Microsoft Excel, Dropbox, and many others for creating assignments.
Emails may also be converted into activities using the Wrike app. Customers may quickly generate, publish, and modify files directly from their email account using this email connection.
It allows groups to organize and monitor projects, communicate in live time, and generate reports automatically.
Gantt charts, Kanban panels, customizable monitors, and customizable demand types are among Wrike's 100 percent expandable capabilities.
With timesheets, financial planning, and project portfolio management, you can gain 360-degree insight while keeping data safe with corporate security capabilities.
Pros
Simple to use
Good for small and medium-sized projects
Has a basic time tracking tool
The free plan is functional
Cons
More expensive
The interface could be more visually appealing
It might be difficult to use for amateurs
No chat and polling options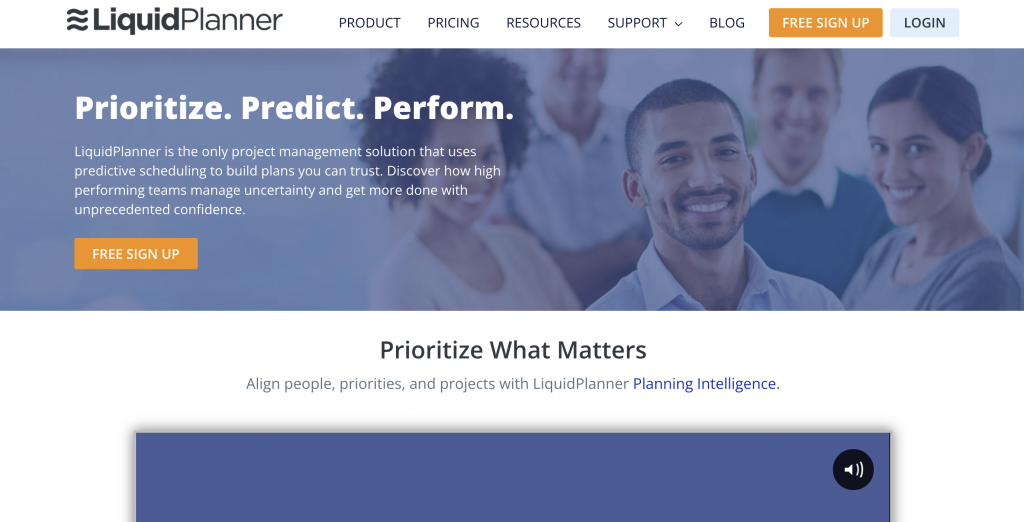 LiquidPlanner is a project management tool that automatically adjusts your organization. Whenever a customer's preferences and assets alter, the system essentially upgrades them.
This program also provides cross-project transparency, displaying information about project performance, hazards, and expenditures together at once. 
Its comprehensive statistics allow customers to oversee the project's performance, examine income and expenses, and track resource usage, customer profiles, and benchmark patterns.
LiquidPlanner works as well as a helpdesk-style problem tracking and effective resource management solution, in addition to being a strong means of conducting conventional tasks with all the capabilities you'd anticipate. 
Comprehensive monitoring and interface with various cloud servers are included. Zapier integration is also available, allowing you to create your automatic links with other tools as required.
Pros
Has many features
Good for large teams and projects
Email integration provided
Transparency
Cons
More complex to use
Not suitable for small teams
No free plan
Not very user friendly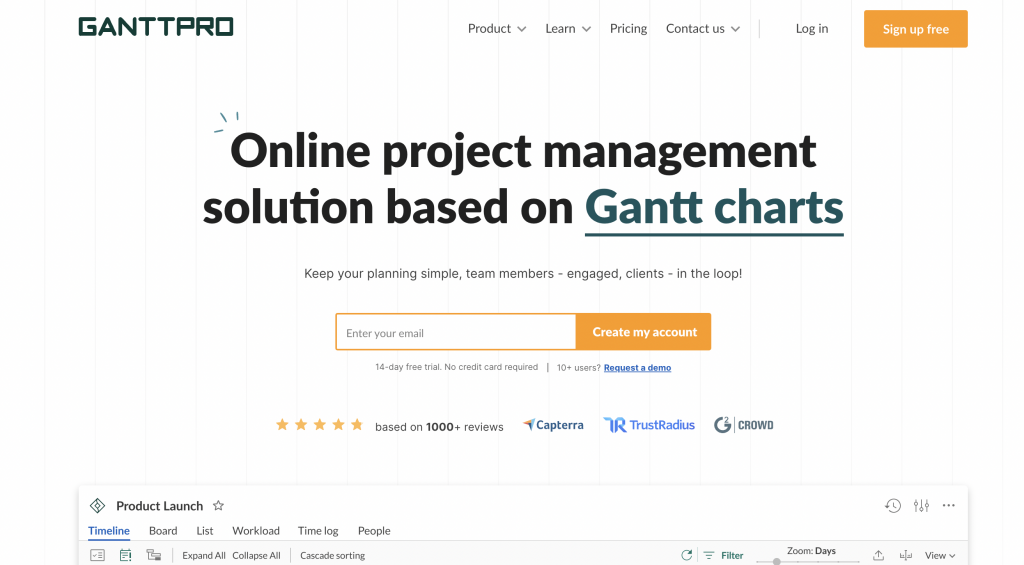 GanttPro is used to manage Gantt chart projects available digitally. It can also be used to record the progress of a project, teamwork, time limit, asset, budget control, and timekeeping. 
It provides a far greater organization than a standard Gantt chart application. All of this is made much easier by the drag-and-drop functionality.
Project manager with interconnections and progress monitoring, automatic planning and critical path, teamwork, strategic planning, asset workload, export/import and collaboration, board viewing, and Gantt chart templates are just a few of the capabilities.
Pros
Friendly UI
Version Control
Advanced Reporting
Resource management
Cons
The mobile version is not up to date
Large projects may be difficult to manage
Color code for tasks could be better
Undo process is slow
ProofHub is a project planning program for the web that focuses on accessibility. Developing and emerging enterprises will benefit the most from this project management tool.
Teams and customers are allocated to initiatives to discuss, publish, and update. 
Proofhub stands out because it allows users to build separate roles for Gantt charts.
Its constituent parts include personalized positions, job scheduling, process flows and panels, Gantt charts, reports, timesheets, conversations, chat, schedule, file systems, notes, and in-app alerts are just some of the features available in the app.
Pros
Good trial period
Organizes projects well
A clear idea for all team members
Good documentation
Cons
UI is not very user friendly
Resource management requires work
More customization might be of use
Notifications are sometimes not seen properly or come too much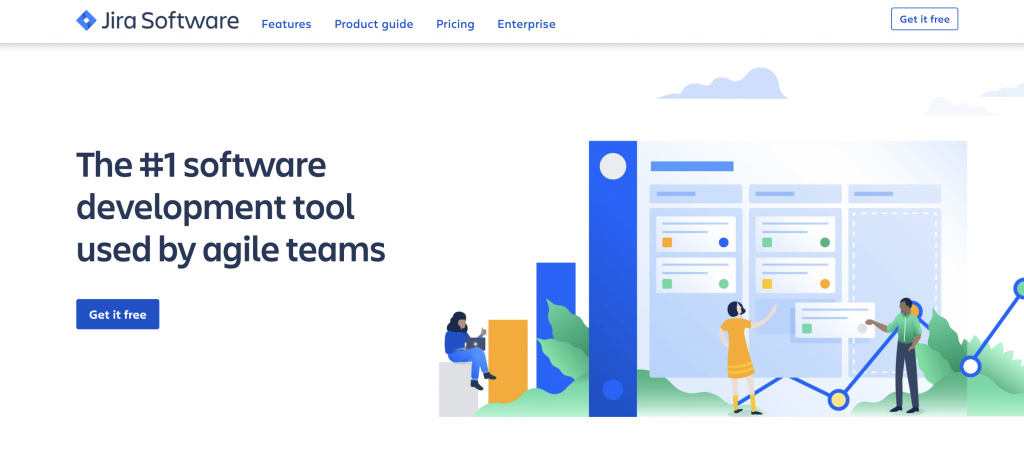 Jira is a project management tool for continuous delivery groups that helps them organize, monitor, and deploy software. It's a handy instrument for agile teams created exclusively for them. 
Customers may also produce a report that assists in enhancing groups and establishing their processes and writing tales, organizing iterations, monitoring bugs, and delivering up-to-date technology.
It connects with various tools as components of Atlassian, allowing staff to collaborate their initiatives and solutions from start to finish. 
Teams may use the program to construct customized scrum panels, kanban boards, and rapid real-time analytics.
Consumers can also keep records of glitches, see any open problems, and track how much time they spend on each task.
JIRA includes a sophisticated set of APIs that allow users to integrate it with various third-party applications.
Pros
Can be personalized
Provides an agile view for all projects
Good for many types of users
Enables roadmap requirements
Cons
The mobile app could be better
Complex integrations
UI is not user friendly
Reports cannot be downloaded
Conclusion
An organization will have to choose the perfect tool from the available ones based on its requirements and needs.
There are several such software in the market today, and investing in the wrong ones could be a bad decision for a company and a project.
This is why understanding each of these tools and choosing the right ones for your needs is important. 
Many of the tools mentioned above come with free trials or free plans, so it might always be a good idea to try out the free plan before putting your money into them if you are in a big team or organization and have to manage a large number of people. 
The priced plans may be worth the cost that you will be spending. Smaller teams and individual projects will probably benefit from free software and more basic plans, as they might need fewer complex features.
Standard project management software packages to much more complicated ones featuring constructed connection and searching capabilities are available for different projects.
They are incredibly beneficial in a group or virtual work environment, and they allow numerous individuals to communicate, take notes, and fulfill objectives in one location. 
The various advantages that they provide can help make a project flow much smoother and reduce the stress and pressure on the project managers.
When selecting project management software, consider aspects including the scale of your company and team, the number of attributes you need, and which of those functions you need more than any other.
The options we have given above are all good to consider based on your needs and team requirements.