In the last two years, we all have experienced various changes in our lives. The technology sector has gone through different alterations. 
As the physical workplaces moved to remote working, the work-from-home pattern has given birth to newer technologies which eventually made our lives easier. 
A study shows that the raised usage of information technologies in the Accessibility Sector was driven by the need to rely on working from home, distance learning, remote medical consultation, and others.
And the optimized responsiveness and enhanced IT support are two of the many benefits that these software's have provided to carry on businesses and other activities online effectively without any issue.
But choosing the best remote desktop software as per your requirement can be a hefty task.
That's why, in this article, we have consolidated the list of the 9 best remote access software in 2021 that will make your online experience even smoother. 
These remote software's are cost-effective and provide optimum performance. Go through them one by one and find the best-suited remote desktop software as per your requirements. 
9 Best Remote Desktop Software in 2021 (Expert Pick)

The first remote desktop software on the list is TeamViewer. It is a highly comprehensive remote connectivity 'cloud platform' which enables secure remote access to every device (i.e., mobile, desktop, etc.) over every platform from anywhere at any time. 
These utilities make TeamViewer one of the most trusted remote access software in 2021. It can connect remotely to servers, commercial-grade machines, and a lot of devices seamlessly through its secure global remote access network.
It just does not stop here. The integration of various office tools, such as SalesForce, with TeamViewer, has boosted its productivity.
It is available in both paid and unpaid variants. The unpaid TeamViewer is suitable for personal use, while the paid TeamViewer is more inclined towards better business-oriented features such as IOS screen sharing, mass deployment capabilities, and reporting on device access.
Although it may seem highly complicated, it is quite easy to use. 
Pros of TeamViewer:
It provides secured end-to-end 256-bit AES encryption, two-step authentication, and other industry-grade security specialties. With TeamViewer, you can expect a high-quality security setup with tried and tested security parameters. 
It gives better access to cross-platforms. TeamViewer contains the highest cumulative combined coverage of 127 productions for mobile devices, operating systems, and IoT gadgets on the market today. 
It offers best-in-class usability, Image quality, and enhanced file transferring speed, which assures that you stay ahead of the competition. 
Cons of TeamViewer:
It lands a bit on the expensive side when it comes to utilizing its paid version. Small businesses can find it difficult to employ this on board. 
You can face some lagging issues with the software.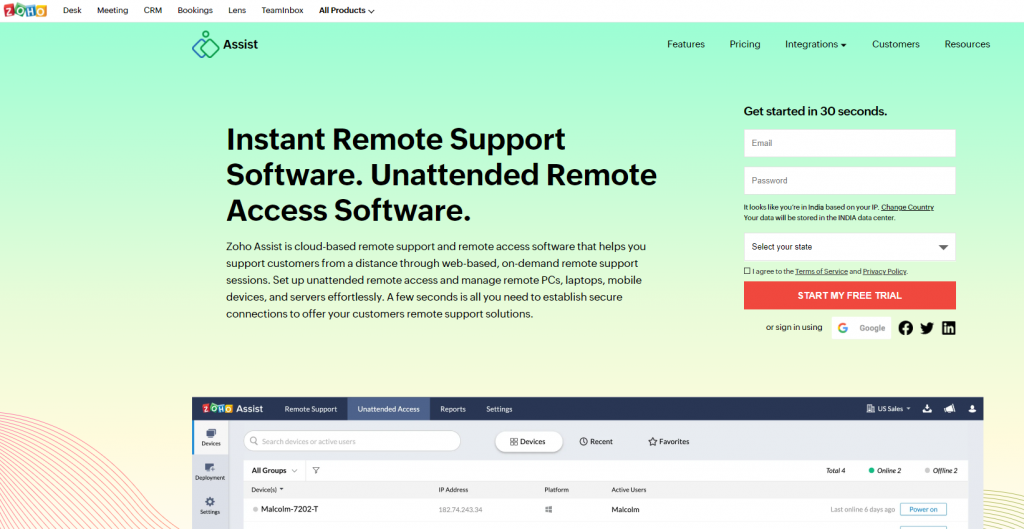 Zoho Assist empowers your Information Technology-related issues. It is an outstanding cloud-based remote support application, which is widely accepted by IT tech support teams around the globe.
This highly responsive software works fine with both Windows and Mac operating systems with several deployment options. It is powered with a Wake On LAN feature that helps switch on sleeping devices remotely. 
Zoho Assist is convenient to use software connecting every remote device from anywhere at any time, which leads to efficient and effective operations. It runs smoothly, and its speed-up resolution time and outstanding services make it stand out from its competitors.
Besides that, you can easily connect to remote customers through on-demand, web-based remote support sessions.
Ultimately, Zoho Assist is a detailed series of business software and services. With Zoho Assist, optimization of small and midsize businesses is easy. 
This software offers various features open for both internal and external users. It prioritizes security, safety, and complete secrecy of information provided by customers. 
Pros of Zoho Assist:
You can collaborate in real-time online with your customers for a demo, training, or meetings. It permits screen sharing across different devices and operating systems for better mobility and efficacy. 
Fasten with a customizable customer widget, Zoho Assist supplements your customers to join sessions right from your webpage. 
Zoho Assist helps integrate with leading Help Desk software like Zoho Desk, G Suite, and Zendesk. 
Zoho Assist can connect to any computer, inside or outside your local network. It is shielded with security as per the industry standard.
Cons of TeamViewer:
You need to pay high license fees to utilize various features. 
Screen Sharing can only be done on Chromebooks.
Free-tier does have limited features.
Only Windows computers can access remote print. 
RemotePC is also one of the most prominent remote desktop software available in 2021. It is suitable to work for both home and business users.
And it also runs on cloud technology, which delivers class-leading remote access solutions with the help of its intuitive web application, native desktop, and mobile apps.
It also enables users to indulge in instant messaging and whiteboard features to carry on meetings, demos, and other interactive one-to-one, real-time sessions. 
RemotePC exhibits great utility features such as speeding up file transfer, HIPAA and GDPR compliances, remote printing, etc. 
Besides that, RemotePC is affordable remote desktop software and Its easy-to-use UI helps customers to understand it easily. It comes with cloud-hosting and optimum security support suitable for large enterprises.
Pros of RemotePC:
It has highly secured remote access due to TLS v 1.2 / AES-256 encryption.
You can use it on every platform (PC, Mac, or Linux). It even supports access from iPhone/iPad or Android devices.  
It provides features such as on-site chat, remote reboot, remote printing, drag & drop function, etc. 
Remote PCs provide great value for money. 
Cons of RemotePC:
It takes a lot of time to complete the entire setup.
Its web app does not include all features. 
It can have slow response times. 
You may face lagging/speed issues.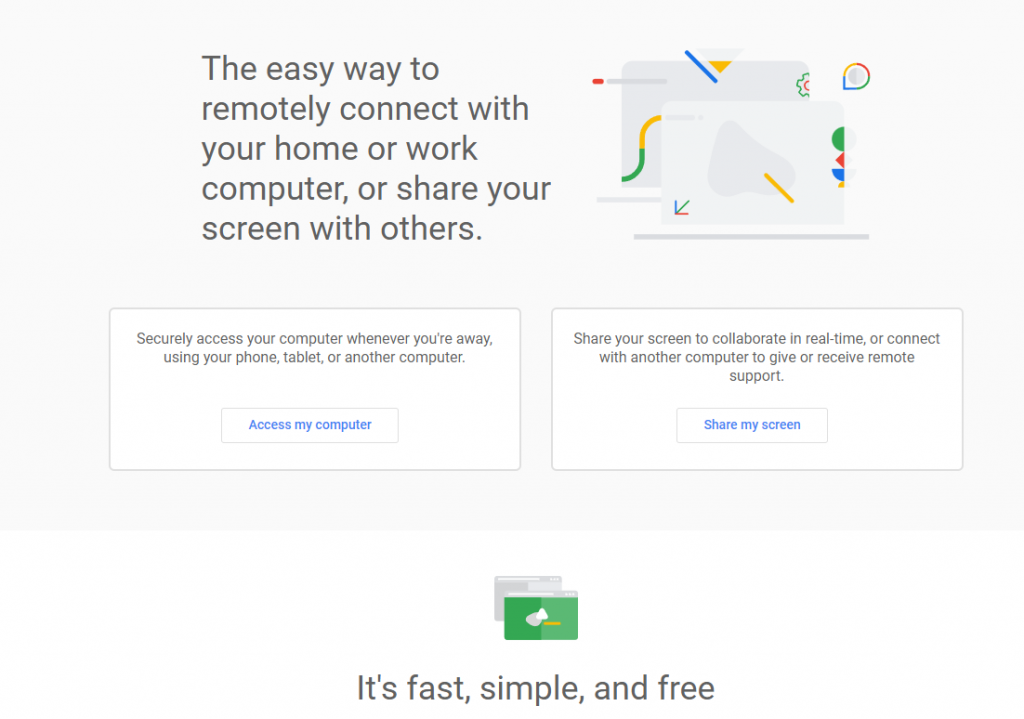 Chrome Remote Desktop is yet another cost-effective remote access software. It is available on every platform (Windows, Mac, Linux, IOS, and Android devices). The best part about this software is its extension variant. 
You can set up a web extension on Chrome Browser on your desired device. Although there are limited features in its unpaid version, it is comparatively one of the best remote desktop software in 2021.
Whether you are looking for something to access your work computer from home, view a document from your home computer while traveling, or share your screen with colleagues, Chrome Remote Desktop connects your devices with the world using the latest web-based technologies. 
Pros of Chrome Remote Desktop:
It is completely free, an option for small-sized businesses with a low budget. 
It is highly compatible with cross-platform online. 
An easy user interface helps customers to have a friendly setup. 
Its highly sensitive pin security feature ensures a secure performance. 
Cons of Chrome Remote Desktop:
Features are limited only up to the basic level. 
Compatible only with Google Chrome Browser – restricted access to other browsers. 
You may face speed issues.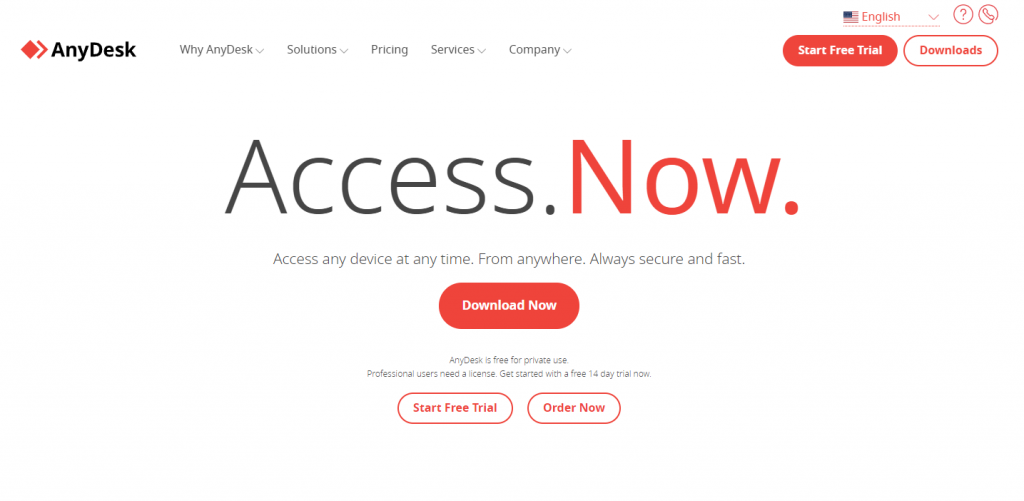 'Any Desk' is an innovative remote access software providing secure and reliable remote desktop connections for Information Technology professionals and on-the-go individuals similarly.
It is highly optimized remote desktop software packed with high-speed performance with high screen resolutions. 
It stays up to mark with the security of military-grade TLS technology to ensure that the device remains completely protected from unapproved access. AnyDesk can work on all common operating systems and devices without any additional cost. 
AnyDesk is suitable for large companies and as well as startups dealing in various customer services.
With its supremely high security and compact design, AnyDesk is one of the most reliable remote access software available in the market right now. 
Pros of AnyDesk:
It uses RSA 2048 asymmetric key exchange encryption to ensure high-end security. 
Lightweight having a size less than 3MB. 
It offers a 14 days demo period in which you can use the software freely. 
It exhibits various applications without any extra charges. 
Cons of AnyDesk:
You need to purchase the software to access its features. 
It provides annual subscription options only. 
It might lag sometimes. 

Another best remote connectiondesktop software you can consider is ISL Online. It lies under the list of most reliable remote softwares in 2021 online. It works fine on platforms such as Linux, Mac, or Windows.
ISL Online can even be used through any android device while using ISL Light Remote Desktop. 
It becomes easier to access the keyboard and mouse of another remote device connected behind some firewall with the help of ISL Online remote desktop software.  One additional point is that you can see the screen of any android/IOS device through your computer at your fingertips. 
With ISL Online, you can access various computers at a time which is a productive way to do things efficiently. It has an advanced yet simple user interface allowing users to configure office computers for telework in less than a minute. 
Pros of ISL Online:
It provides amazing speed while sharing screens on cross-platform. 
Has an easy-to-use user interface. 
It is comparatively faster than its competitors.
Cons of ISL Online:
You may face issues with the less active in-built support team. 
It does not come in full screen. 
It might be costlier for small businesses.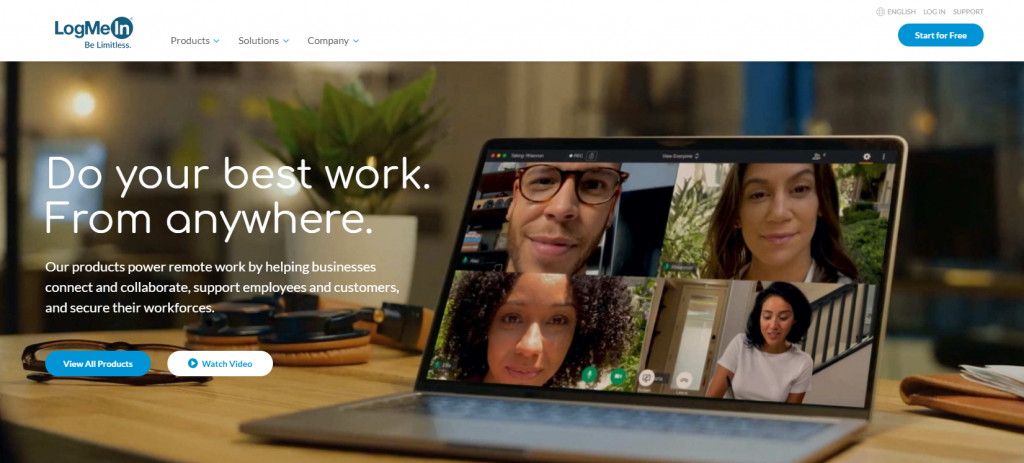 LogMeIn is the all-in-one remote desktop software for all your requirements like enhanced productivity, unlimited accessible users, etc. 
You can customize LogMeIn as per your business brandings. It is one of the most reliable remote access software available online. Due to its TLS 1.2 transport security and AES-256-bit encryption, LogMeIn helps you maintain the best-in-class security within your online workplace. 
It supports faster file transfer and contains file storage of up to 1 TB. You will also get features such as remote printing, a multi-monitor display, and a 14-day free demo trial. 
It has a live remote feature that supports all common platforms and devices like IOS/Android/Windows.  You can also access third-party services of this software such as AutoTask, ServiceNow, and Zendesk using open APIs. 
Pros of LogMeIn:
It provides high-end security protection.
You can use the live lens remote video support feature through the LogMeIn support desk. 
Highly customizable UI to match your personalized business branding. 
You can also use third-party applications through open APIs. 
Cons of LogMeIn:
It is very costly. Small businesses may find it difficult to use its premium package. 
You need to enroll with the service based on a yearly license premium.

This one is the most trusted remote desktop software that has been in the industry for more than 20 years. GoToMyPC is a proven solution for all your productivity and efficiency-related issues. It gives you access to work on different files, applications, projects, and programs remotely from anywhere, at any time. 
The software has an optimal user-friendly Interface that helps to navigate seamlessly throughout the dashboard without any issue. GoToMyPC also offers great speed and a highly adaptive responsive behavior on every platform and device (Windows/Mac/Linux/Android).  It has an easy-to-use installation process with remote deployment that configures instantly from anywhere, any time. 
To gear up the overall safety and secrecy, a real-time diagnostic feature is also aligned with this remote software, which allows you to resolve common connectivity issues on your own. 
With an amazing support team and outstanding performance, GoToMyPC can be the one-stop solution for needs related to the online workplace.
Pros of GoToMyPC:
It has an easy-to-use interface. 
It is protected with banking-grade 256-bit AES encryption, multi-factor authentication, dual passwords, and host-level access code.
You can access it from anywhere, at any time, on any device. 
It supports a simple billing process. (Also provides 7-day trial period)
Cons of GoToMyPC:
You can face lagging issues at times. 
Its advanced package is a bit costlier for small businesses/startups.
You need to purchase the premium package to utilize advanced features.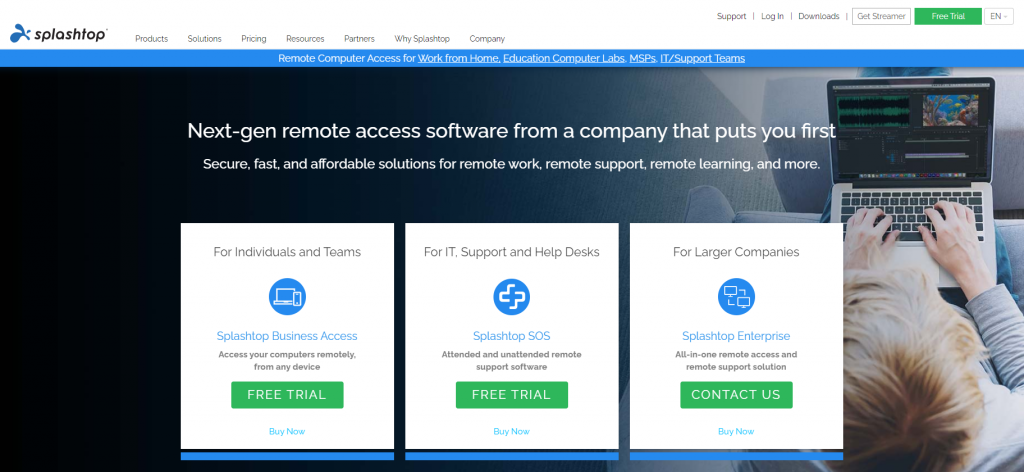 The last software we have on this list is Splashtop.
Splashtop is a versatile remote desktop software that allows you to access documents, applications, files, and programs on devices from anywhere around the world. 
As per the company claims, this software has next-gen features supplementing your business to work efficiently online. It supports almost every platform/device connected with its server. 
Splashtop offers a wide range of specifications such as amazing compatibility, user-friendly interface, remote computer access, file transfer, high performance, and other generic features to carry on day-to-day business activities online. 
Splashtop enables you to access an impressive number of remote computers safely with its TLS and 256-bit AES encryption technology. 
Besides that, it provides an amazing online ticket submission mechanism to resolve issues raised by users. 
It is completely reliable, and can perform mass deployment via command or custom link easily.  
You can also easily set it up in just two steps and you can have access to multi-to-multi monitors with a robust user management structure. 
Some miscellaneous features consist of remote printing, an in-built chat function, and a wider group view. 
Pros of Splashtop:
It has various plans to choose from as per your budget and requirements. 
This software can be accessed from any device on any platform. 
Provides a bunch of utility features.
It supports a trial period before purchasing the actual package. 
Cons of Splashtop:
Users might get different features on different devices. 
Plans are expensive, although you can have different options.
Users can face slow speed or lagging problems sometimes.
Conclusion
We have discussed the top 9 best remote desktop software in 2021 online through this article. All the mentioned remote software's have some pros and cons (we have tried to list as many details as possible in this piece). 
It is always better to choose software as per your business's needs. Employing advanced software for generic functions will not help your financial goals and will lead to a wastage of financial resources. 
So, it is advisable to choose software after analyzing the needs of your organization. 
Remote access software has a great demand in the market, as they exhibit amazing specifications to increase the overall productivity and efficiency of your business online. All the above software's comes with a reasonable trial period enabling users to test their features accordingly. 
Their support systems also aid top-notch connectivity in this fast-paced virtual world. You can create online request tokens according to your issues and get them resolved at a lighting fast speed. 
Whether it's security or speed, remote printing or remote power button, end-to-end encryption, or group activities, these remote software can do anything from anywhere at any time. 
Now, it's your turn to choose one of the best-suited remote software for your enterprise and conquer the race of work-from-home with an increased productivity level even during the time of pandemic (when people are forced to work from home).