Do you want to close your Robinhood account?
If yes, this post is for you.
Many investors start their investment journey with Robinhood because of its simple and easy-to-use interface. 
But at some point, you might want to move to a different platform with more advanced investment options.
And, of course, you can't handle accounts on both platforms because it will further confuse you in your investment journey.
In that case, you have to delete your Robinhood account because there's no point in holding into an account if you don't use it.
But the main question is: how to delete a Robinhood account?
If you're also confused about this, don't worry. We've got you covered.
In this post, we'll show you how you can delete your Robinhood account following some easy steps.
Can You Delete Your Robinhood Account Permanently?
Yes, you can definitely delete your Robinhood account permanently.
If you delete the account once, there's no way to get it back again. If you again made up your mind to start investing using Robinhood, you have to start a new fresh account.
However, you can always access your investment document using the Robinhood app but you can't trade or buy stocks.
What Happens When You Delete Your Robinhood Account?
Once you close your Robinhood account for good, you will not be able to trade or invest in the Robinhood platform. However, details including your account statements, tax documents, and trade confirmations can still be retrieved even after closing the account. This is because Robinhood is legally obligated to keep and store track records of every account.
Before closing your Robinhood account, it is incredibly vital that you transfer all of your funds to either a different account/platform or simply sell all of your holdings. 
The bottom line is that your account balance before closing your Robinhood account permanently should be $0.  
Usually, the more sensible thing to do is transfer all of your holdings to a different platform or brokerage. Because if you decide to sell all of your holdings in one go, you might have to sell them at a loss. 
How to Delete Your Robinhood Account
Once the outstanding balance of your Account is ZERO, you can begin the process of deleting your Robinhood account. The process is relatively simple and the same for iOS and Android. 
Here is how to do it:
Step 1. Log in to the Robinhood app and then tap on your Account icon. 
Step 2. From here, click on Settings.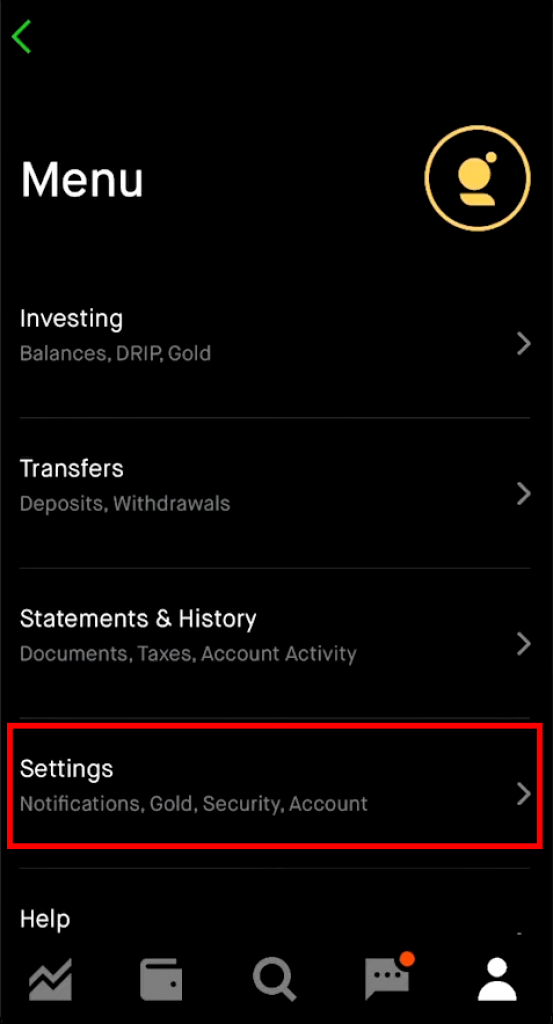 Step 3. And then tap on Account Information.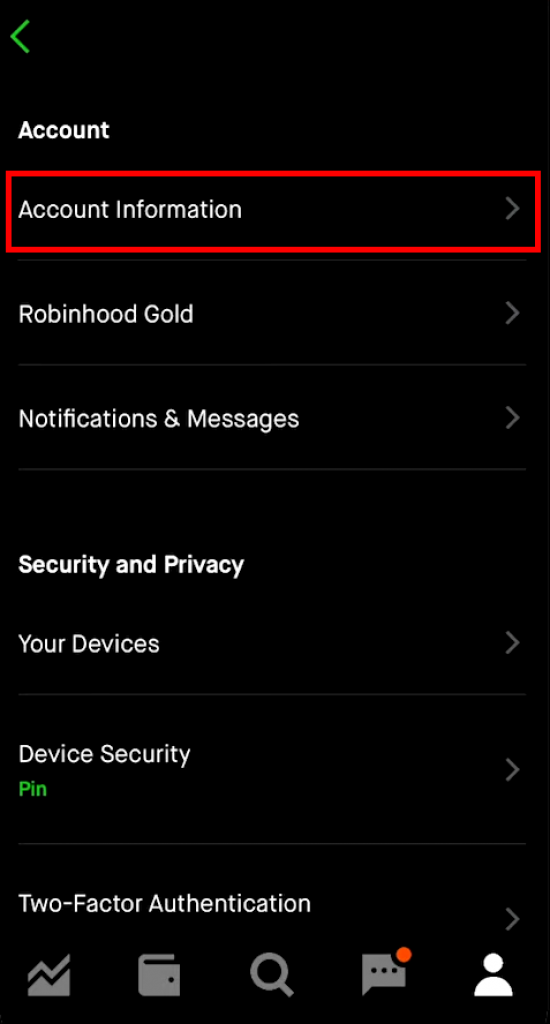 Step 4. Scroll down, and you will see an option to Deactivate the account. Tap on it.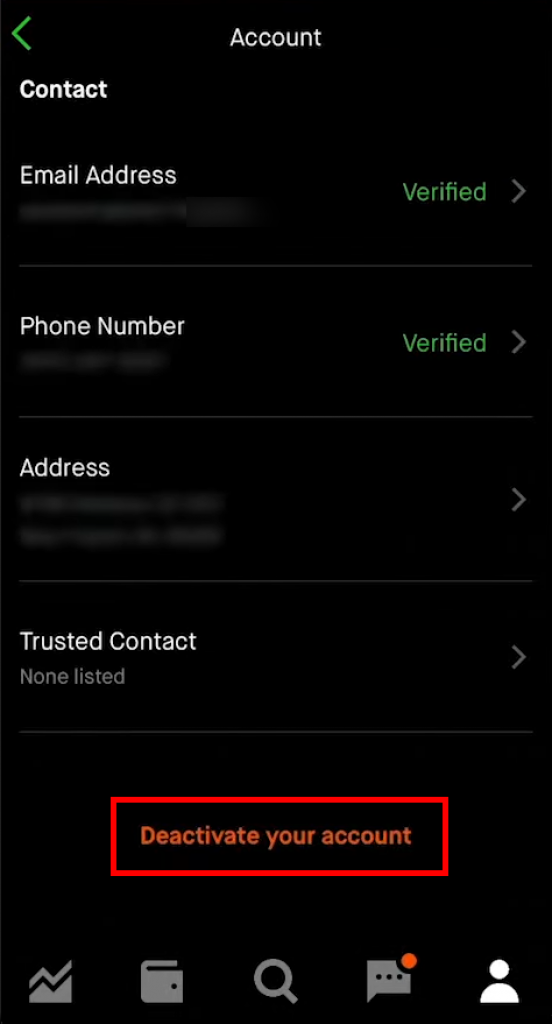 Step 5. Now, you will see a popup asking you to close all your positions and withdraw your outstanding balance.
Follow all the on-screen instructions to do that, and once the outstanding balance is $0 and all of your propositions are closed, you will be able to confirm the deactivation request.
Step 6. Once all the checkmarks are green, simply tap on Close Account.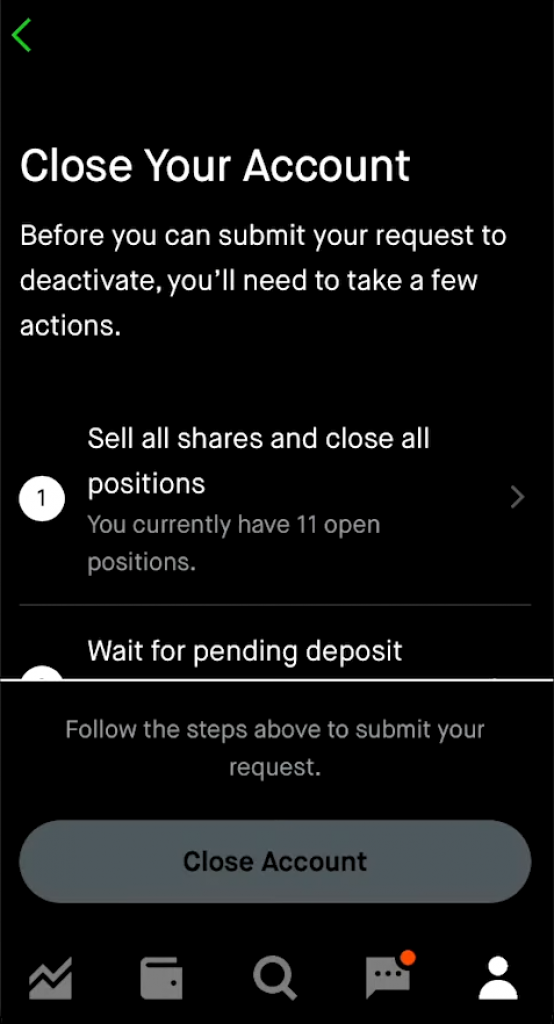 That is it! You can now uninstall the app from your phone. 
If you think this process is a bit hectic and do not want to go through it, there is an alternate way to close your Robinhood account. 
You can simply send a written request at [email protected], and the platform will close the account on your behalf. 
Is There a Fee to Close Robinhood Account?
Robinhood does not charge any fees to close your Robinhood account. However, if you wish to transfer your holdings to another platform or broker via Automated Customer Account Transfer Service (ACATS), then you have to pay a one-time fee of $100.
Can You Transfer Your Holdings From Robinhood to Some Other Platform?
Yes, you can transfer your current holdings from Robinhood to another broker or platform before you close your account.
To do that, you will have to do an Automated Customer Account Transfer Service (ACATS) to your new platform. 
Once that is done, the new platform will require your Robinhood Securities (RHS) account number, and getting it is pretty simple. 
Simply tap on the Account icon in the bottom right corner

Then tap on

Investing

.

Your account number will be visible on top of the screen. 
Along with the account number, you might also be asked to give the DTC number for the transfer. And the DTC number for Robinhood is 6769. 
Another critical point to note is that Robinhood doesn't allow you to transfer your crypto to some other platform as of now.
You can either transfer it to your hardware wallet or liquidate the positions before closing your account with Robinhood.
Last but not least, as mentioned earlier, you would have to pay a $100 fee to Robinhood to transfer your stocks to any new platform.
Conclusion
The process of deleting a Robinhood account is quite simple. After completing the last step, it usually takes three to five business days for the account to be closed permanently. 
You just have to ensure that your account's outstanding balance before closing is $0. The assets can either be sold or transferred to a different brokerage. We hope this guide helped to understand how to delete a Robinhood account. In case of any assistance, feel free to reach out to us.