If you are an investor, you must have heard about Robinhood. It s a popular app for commission-free stock trading. The platform also offers a premium subscription called Robinhood Gold.
If you've already taken Robinhood gold membership and don't need it anymore, you can cancel it anytime.
In this guide, we'll show how to cancel Robinhood gold quickly following some simple steps.
What is Robinhood Gold?
Robinhood Gold is a premium subscription offering from the Robinhood platform. The Gold subscription gives users access to a suite of powerful tools, data, and features that can extensively help users to get better investment insights and take their investment game to the next level. 
Some of the crucial features of the Robinhood Gold subscription include:
Advanced level research reports from Morningstar.
Level II market quotes from Nasdaq.
Increased Instant Deposit Limits.
Allows margin investing with an additional USD 1,000 margin. 
Allows trading for extended hours.
The advanced levels research reports from Morningstar and Level II market quotes help you get a better understanding of the company and the stocks. 
Then the extended hours of trading allow you to invest and trade volatile stocks even when the market is closed. 
Can You Cancel Robinhood Gold at Any Time?
Many people wonder if they can cancel their Robinhood Gold subscription at any time. Well, the good news is that YES! You can cancel your Robinhood subscription at any time. 
All you need to do is go to the Account Settings on your Robinhood account, navigate to the Gold section and simply click on Cancel Gold. 
That is it! We'll show how you can do that step-by-step later in this post.
Is It Worth Getting Robinhood Gold?
It's definitely worth getting Robinhood gold, especially if you've been doing investment for a long time now and want detailed insights about a company at your fingertips before you invest your money.
People who make a lot of ETFs or stock trades worry about paying commission fees for every trade. By getting the Robinhood Gold subscription, traders do not have to pay commissions on every trade, as Robinhood Gold has a flat subscription fee. 
Also, users who are planning to open a margin account can really benefit from Robinhood Gold.
However, if you're just a beginner and starting off your investment or trading journey, you don't necessarily need Robinhood gold.
How to Cancel Robinhood Gold
If you want to cancel Robinhood Gold, you can do it easily by simply downgrading your account from Gold. Just make sure that you cancel it before your next billing date. Here is how to do it:
Step 1: Open the Robinhood app on your phone. 
Step 2: Tap on the account icon in the bottom-right corner. 
Step 3: Then from the menu, click on Robinhood Gold.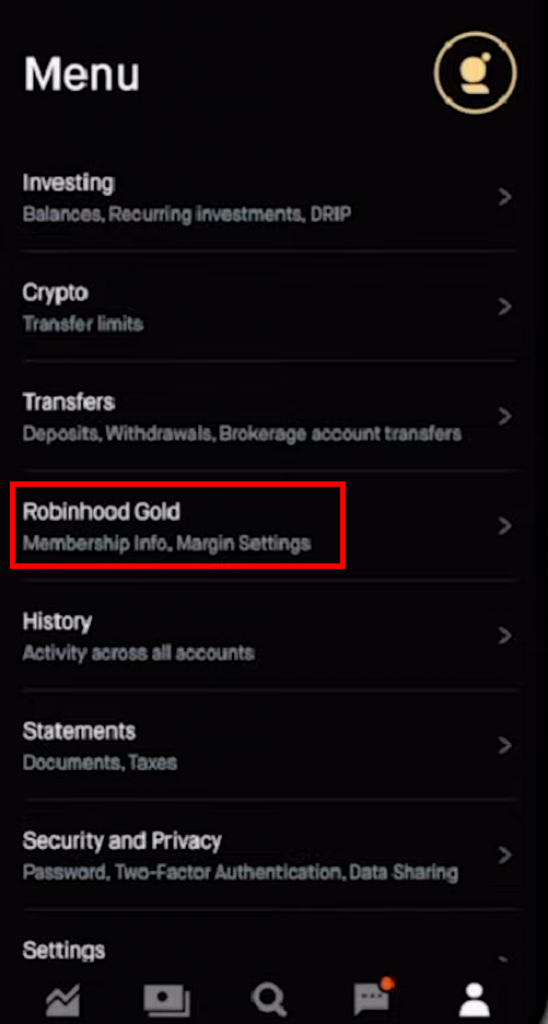 Step 4: Finally, tap on Downgrade from Gold.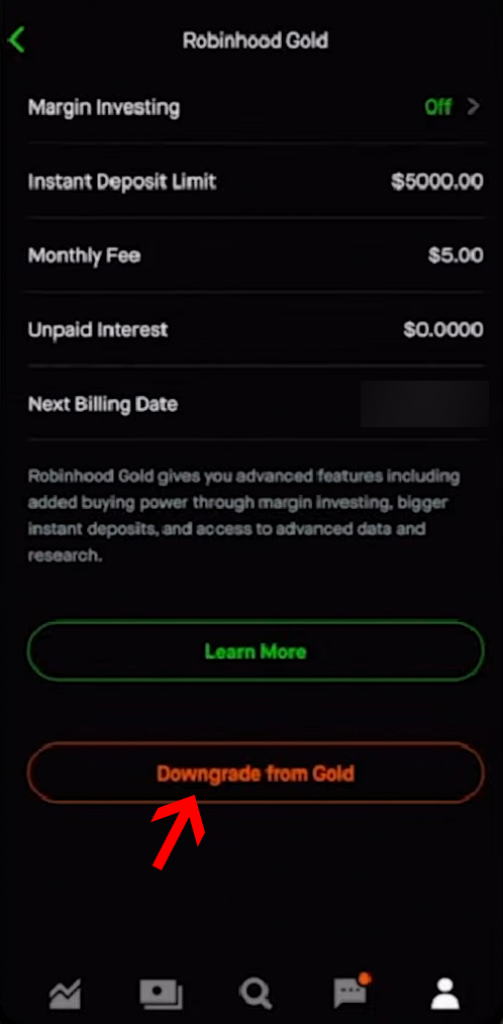 That's how easily you can cancel Robinhood gold.
Note: In case you are using margin trading using Robinhood Gold, then you won't be able to downgrade from Robinhood Gold. So make sure that you do not have any outstanding margin balance left before you follow this process.   
How Much Does Robinhood Gold Cost?
For people who want Robinhood Gold and want to get access to premium features, the cost is $5 per month and this will also include $1000 margin.
If you use Robinhood Gold Margin, there is a 3.5% annual charge if you exceed the amount usage amount over of $1000. 
The official site of Robinhood says that it will notify Gold users 30 days prior to any changes in the fee so that they can cancel the subscription if they want to.
What is Robinhood Gold Margin?
When you opt for Robinhood Gold, you get the option to choose for margin on your account. The subscription gives you $1,000 of margin with the $5 subscription fee. 
Robinhood Gold is a great option for those who do margin trading and it's worth the price.
Does Robinhood Gold Affect Credit Score?
Robinhood Gold does not affect your credit score in any direct way but since it is a financial service, there is definitely a chance that it will affect your credit score in some indirect ways. 
If you fail to settle the margin balance, it might affect your credit score but there's no such incident reported till now.
Does Robinhood Gold Allow Day Trading?
Yes, Robinhood Gold allows day trading and margin trading as well. But to protect their investors from any harm there is the PDT(pattern day trading) rule on Robinhood Gold. So this rule basically stops users to place over three-day trades within a five-day period. 
To bypass this rule, the user needs to have at least $25,000 in their account. 
Conclusion
So that's how you can cancel Robinhood gold easily by following these simple steps.
The process is really simple, and you just need to make sure that you do not have any margin balance left. 
If you have any outstanding margin balance left, you won't be able to downgrade your account from Robinhood gold to cash account, until you settle it down.
We hope you found this post useful.