As the world is inclining towards a digitalized hemisphere, finding or meeting new people has also shifted online. 
Statistically speaking, the online users are constantly increasing in the eServices segment 'Dating Services' market worldwide. 
The data predicted by the Digital Media Outlook says that the online casual dating segment will attain 70.0 million users by 2024. 
Seriously, you can find love, romance, intimacy, and more online using these trusted online dating applications. 
At this time, people are quite open and accepting their sexuality and interests. Because of this, these top dating apps are helping people from the LGBTQ+ community. Although these applications have a specific age limit, any individual qualifying its lowest age criteria can use them to find their romantic, casual, or even long-term partners. 
Doesn't that sound simple? 
These platforms provide varieties because we know that 'one size does not fit all.'  You might have heard about Tinder as one of the best dating apps online. But there are a lot more applications that might work better than tinder for you.
In this article, we are going to list down the best dating apps for you. So that you could find the right match for yourself. 
9 Best Dating Apps in 2023
So, whether you are looking for a long-term relationship or want to explore different individual personalities to find the best for yourself, these online dating apps are highly recommended for you. 
Ultimately, it is a bit of a necessary evil, for those of you who find it difficult to mingle with people offline. Let's get started with the suggestions.

The popularity of Tinder is constantly increasing worldwide. As per the data, Tinder has observed 6.5 million monthly downloads in May 2021. It was first launched in April 2012 with a unique swiping feature, this swiping feature enabled people to secretly hint who they are interested in. 
Once two individuals are a "match", the app allows them to chat and schedule a date online.
Tinder is one of the most popular and downloaded online dating applications worldwide. 
On Tinder, you can create a short profile. Once you have created your profile on Tinder, you can start looking for people who have similar interests as you. It enables users to see pictures, and one can either swipe left (not interested) or swipe right (interested) on the profile screen of another person. 
Afterward, that person will receive a notification, which he/she can swipe left or right. If it is a right swipe, you both are good to go further.
Tinder is highly popular among teenagers. For them, meeting new people has been one of the greatest pleasures of all time. Tinder has proved to be more helpful for those teenagers who found it difficult to make friends in real life. It allows them to make new friends outside their social circle.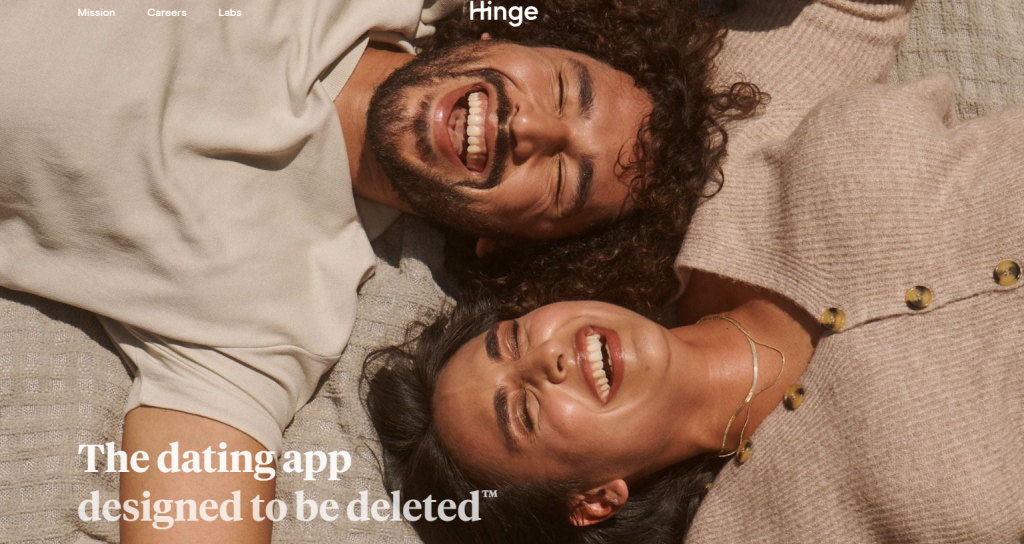 We all think that the best way to meet and greet new people is through friends of friends. But in this 21st century, a lot of conventional things including this one have been changed. Now, you can meet new people through online dating apps. Yes, you read it correctly. Online dating applications like Hinge allow you to meet new people online. 
The thing which we liked about Hinge is its design. When you visit the application, you will see a compact and pretty user interface. This easy-to-navigate application is more helpful than apps like Tinder (seriously). 
It has its tagline "designed to be deleted", which is quite prominent in terms of making users trust that after using Hinge, they can find a serious relation with the right individual permanently. 
On Hinge, besides showing pictures, you can display other useful information such as political leanings, your religion, your alcohol consumption frequency, or even your interest in having children someday. It also has a section that allows you to fill your preferences when it comes to drinking, smoking marijuana, and taking other drugs. This information is crucial as it can make or break further dating processes. 
Its registration process is also quite easy. All you need to do is link your Facebook account or mobile number, or register manually. 
At the time of signing up, you need to fill out an "About" section, in this section, you can share the information/things you want people to know about you. Also, you can enter details like your height, profession, age, and gender.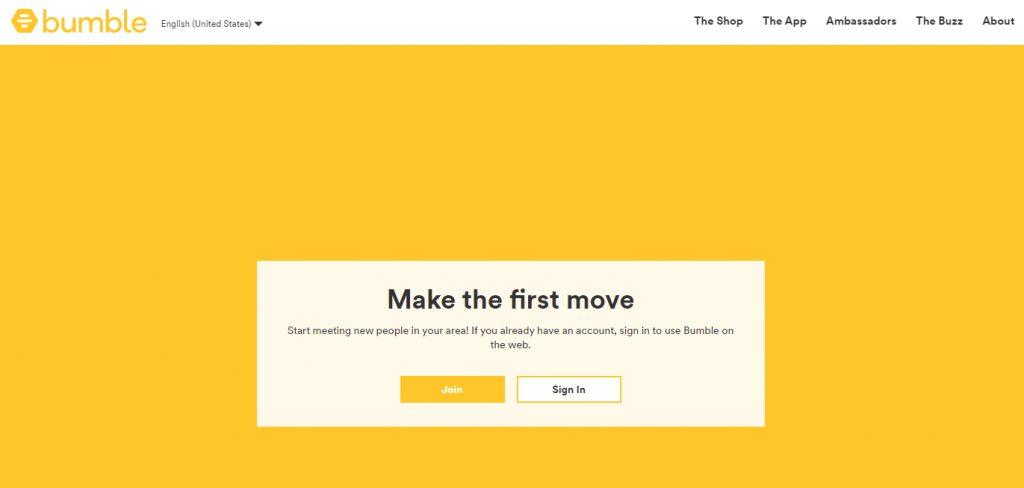 The Bumble App has observed a huge amount of traffic in the third quarter of 2021. Statistically speaking, Bumble Inc. users amounted to roughly 2.86 million paying users worldwide. This company owns a good market share in the e-service online dating segment through its two applications Bumble and Badoo. 
Bumble is more inclined towards empowering women. Yes, women have the power in their hands to choose their fellow travelers on their life journey. 
If you don't know about Bumble, it is a free online dating app that allows you to establish a profile online by signing up with your Facebook account. Once you have signed up for the application, you will need to choose whether you are interested in men or women. Wait, you can also choose the LGBTQ section. This way, you find the same that interests you the most. 
Bumble allows you to feature up to six pictures and a short bio to tell people more about yourself. These days, it becomes quite hard to believe whose personality is right on such online dating apps. To tackle this issue, Bumble runs a security inspection to find whether the pictures you have uploaded are authentic or not. 
Once you have uploaded your photos, you will need to click a live picture using its in-built camera to prove that it's you. It is a great feature that protects individuals from getting involved in foul plays.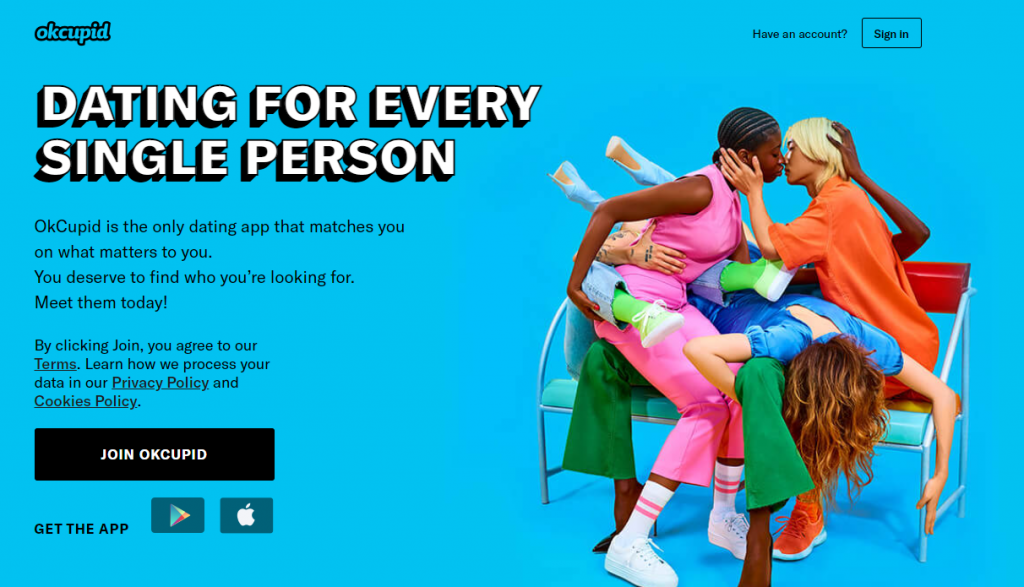 OkCupid is one of the best dating apps available online. You can quickly join this application by going through a quirky signing-up process. 
In this process, you will be asked to fill in the information that you want to share with co-users. 
The OkCupid app is owned by the Match Group Corporation. It is considered one of the oldest online dating applications online. 
Although OkCupid has gone through various modifications for both good and bad, it remains free and worth trying for those who are single and looking for the right match for themselves. With OkCupid, meeting new people around your area is easy. 
It allows users from the age of 18 to 29 years to come and make new friends as per their interests and sexuality. Yes, unlike other dating apps, OkCupid provides great exposure to people belonging to the LGBTQ+ community. 
The OkCupid app respects your privacy and keeps your identity safe while communicating with other users. 
So, you can communicate with people without telling critical information about you. This application inspects your conversation with other users to know you better. It gets the function to utilize filters as per your interest and requirements.
You can also block the user who is bullying you. Ultimately, it is a safe, secure, and innovative platform for people looking to meet new people.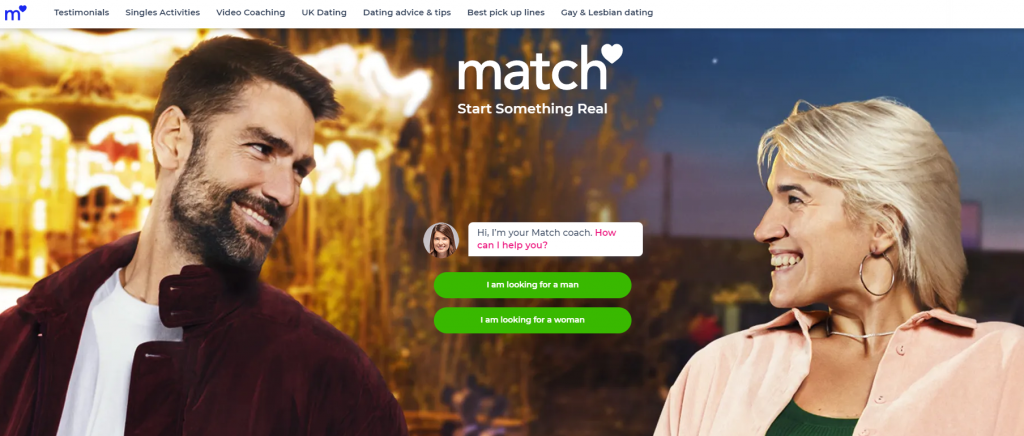 Match.com has been providing its online dating services for the past 25 years. This application was launched in 1995. Since the time of its inception, it has been a pioneer in the field of online dating. The sign-up process of this app is quite simple. It has a compact, modern, and user-friendly design. 
If you are worried about its safety measures, this application works on end-to-end encryption. Although it has a wide array of features, you need to purchase them, which is one of its drawbacks. Besides the subscription, you will require to purchase the add-on features.
It is a highly personalized application that allows you to experience exactly what you want to experience. If you are single, looking for new people to connect with, this application is for you. You can surely give it a try if you are new to online dating. 
It utilizes different factors to determine the compatibility of two users and once their compatibility matches with each other, it pairs them up. 
The algorithm of this application scans every attributes that has been submitted by the user. After scanning this information, whoever matches each other's attributes, this application sends them a match signal.
So, if you are looking for a more stable and reliable online dating app, this platform has everything for you. Create a profile, add interesting things about yourself, find the right kind of people. Boom!!! It is a Match. Enjoy!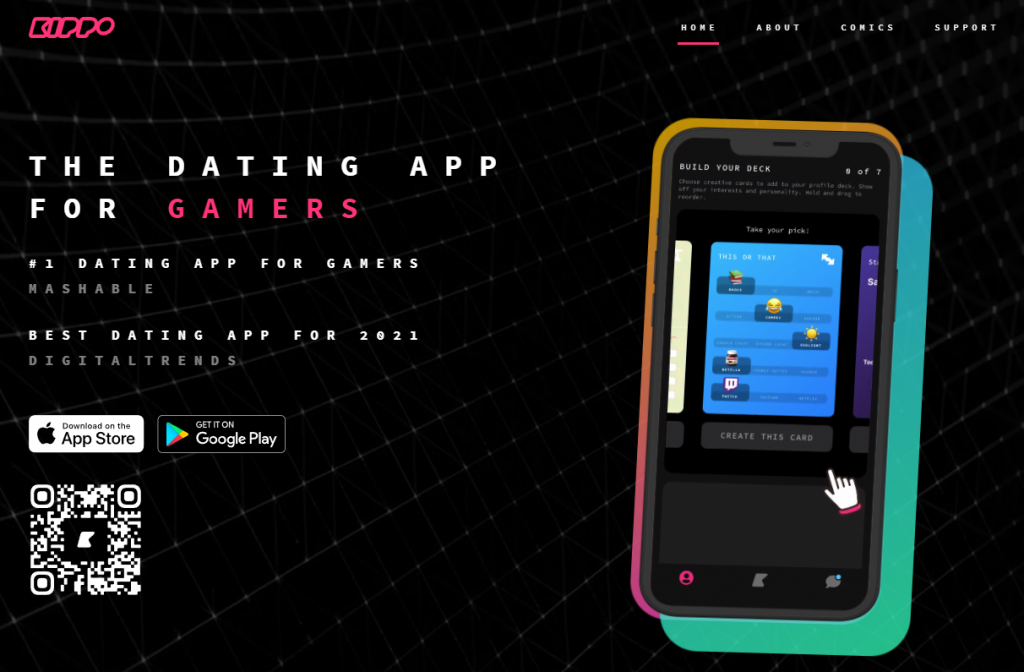 Unlike any other platform, Kippo offers a completely new place to meet new people especially gamers. Yes, if you are a gamer looking for another gamer to meet and greet, Kippo is the right place for you. Why? Let's find out. 
Kippo was started by gamers – the CEO and Co-founder David Park along with other founders, because of this, the entire app structure and matching algorithm revolve around the gaming culture. In this app, you need to fill in the details regarding your taste and preferences in gaming. With these details, Kippo will start finding the appropriate person for you as per your preferences. 
Once you have successfully matched with a person, you have 24 hours to either hit it off with a text or even more than that, form a party and hit up a few levels together as a duo (this can bring you both into momentum).  
This platform works on the philosophy which says "the couple who plays together, stays together." It is fascinating to see this platform has been growing since the time it got established. 
So, if you are a passionate gamer, Kippo is the right platform to find the right gaming partner for you (who will be more than just a partner to the game). Although it is more inclined towards people who like gaming, those people will also find it interesting who are looking to find someone with a diversified interest.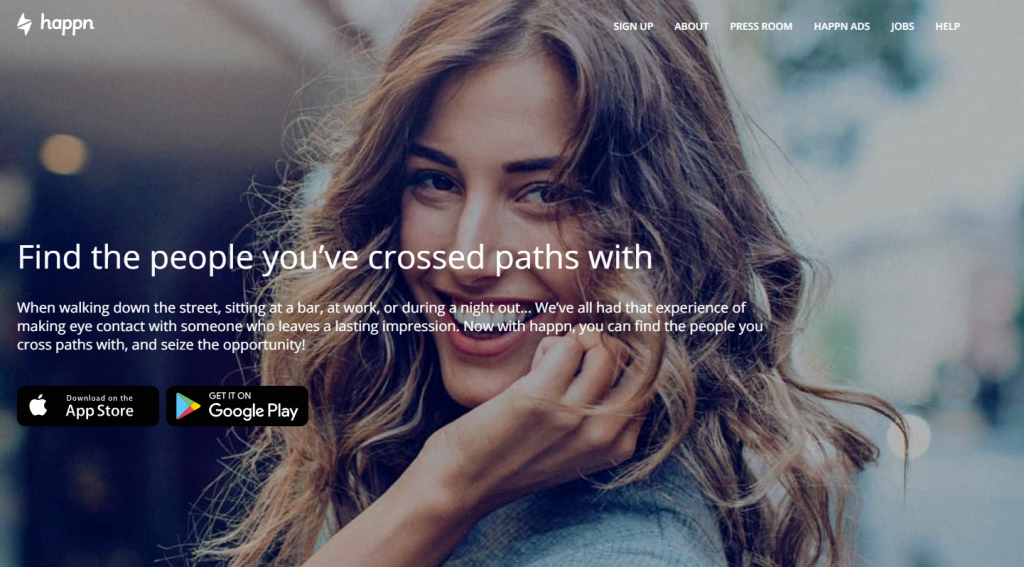 Happn is a location-based online dating app. It got its name from the old-age analogy that a good match accidentally happens and it's working on the same analogy. This app's model was designed by keeping the fact in mind that your soulmate might have crossed by you on the street without you even knowing. 
Presently, Happn has a user base of around 80 million people worldwide (constantly growing). It allows you to meet those relevant people who are nearby to your geographical location.
In September, Happn came up with its exclusive range of features focused on the voice. These new changes helped singles to engage in online dating more consciously. 
As stated earlier, it uses hyper-accurate, real-time geolocation features in a dating context, it also allows users to connect with relevant people while walking across different paths.
With Happn, you can find your soulmate on a street, on a train, on a bus station, or even in a restaurant. 
It sounds magical, isn't it?
This app provides you the power to seize every online dating opportunity that comes in front of your way. You can fill in various details like "your status", "send voice messages", and signal a crush on a fellow user, among other specifications. 
Happn is not available on the website, so if you want to use this amazing platform, you need to install the application. Once you have installed the app, you can see people who are nearby to your area. If you like their profile, hint at them and start texting. 
8. Eharmony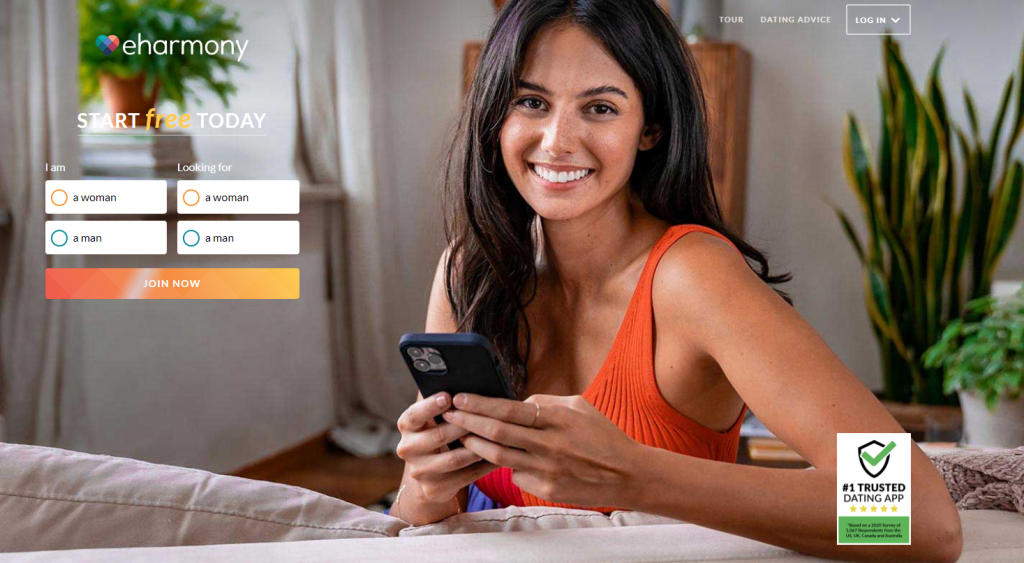 Meeting people online is a lot of fun. The fun even increases more when you use apps like Eharmony. 
It is been a long time since people used this platform to meet new love that lasts longer. Eharmony is one of the most prominent online dating applications that you can use. 
Every application in the e-service online dating segment has been modifying itself constantly. But Eharmony remains the same from the time it was launched. 
This platform is constantly growing with a rate of 4 million users monthly. This number has reached up to 35 million men and women from over 200 countries. This app is highly suitable for people looking for more Christian dating. 
It works on a simple yet effective matchmaking algorithm that is equipped with a unique 29 dimension Capability Matching System.
It is easy to set up your Eharmony profile. All you need to do is open the application on your IOS or Android device. 
Fill in general details like your name, email, and location questions. Once you have signed up, you need to fill in some essential facts about yourself such as your age, how many children do you have, and religious affiliation.  
Now, Eharmony has allowed same-sex dating on its application. You can select your preferred gender at the time of signing up. Overall, it is the right choice for all those who are looking to standout themselves online to find their most appropriate person.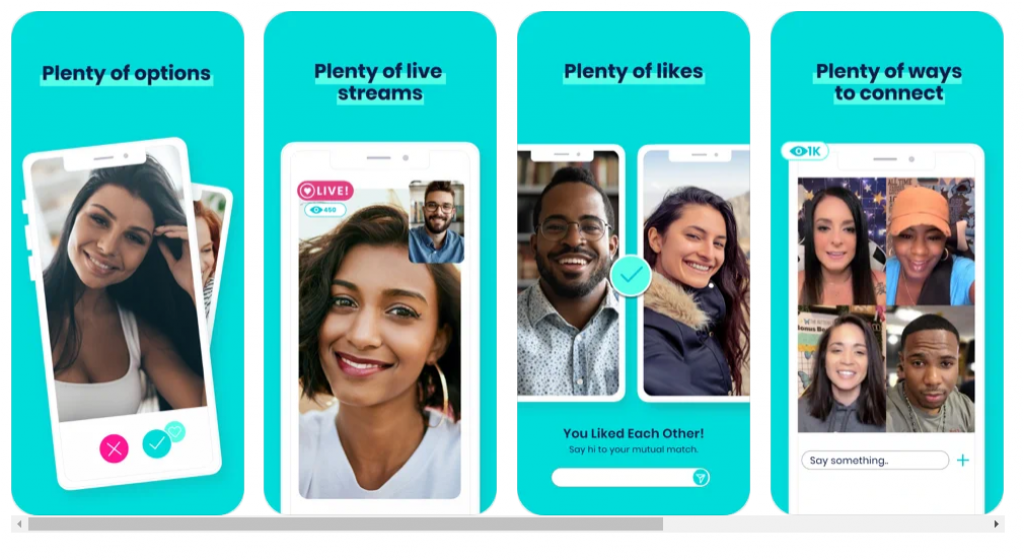 Plenty of Fish is an extremely popular online dating platform. It was established in 2003. Since the time of its inception, it has become the world's largest free online dating platform with over 170,000,000 users worldwide. 
Similar to other dating applications, you will need to fill in your details at the time of signing up. Once you have signed up, Plenty of Fish offers you an online chemistry test. In this test, you need to fill in some details about your character. These details will subsequently help you to find your ideal match. 
It also has a unique concept that tells you "tips and tricks" to excel in dating. You will get to know more about "where you screwed up in your past dating experiences, how to conduct a better dating." 
Once you have found a match, you can decide whether you want to move further with the person or not. Eventually, the app will give you a hint about the person that matches your interests, the final decision to date will always lie at your side. 
If you are single between the ages of 18 to 25, Plenty of Fish is the right choice for you. You don't have to pay any subscription fee as it is free to use. Now, if you have made up your mind to try Plenty of Fish, you should be ready to invest some time in searching for a high-value man/woman/both. Enjoy Dating! 
Conclusion
The recent pandemic has boosted the entire online dating segment. Online dating apps have added new features like video chats, remote dating rooms, etc. These new features helped users to cope up with the current pandemic scenario. 
With that said, some of these applications are free, while others require a subscription fee. So, whether you are a gamer, actor, lawyer, or any other professional or non-professional person, these applications will work fine for all.
These were the best dating apps that you'll find online. You can choose any one of them as per your interests and requirements. 
Before opting for online dating, you should be aware of your choices. Knowing why you want to have online dating will help you a lot in a long run.