Are you new to TikTok? Not sure when to post? Do you think posting at a specific time can help you get more views?
We know that you've faced a lot of confusion while figuring out the best time to post on TikTok. Because let's face it, TikTok's algorithm is as tricky as Instagram or Linkedin.
And as a content creator, you need to know the best time to schedule your content ahead and show up on the platform as much as possible.
So, don't worry because you've come to the right place.
Here in this post, we've shared what's the best time to post on TikTok. But, first, let's break down what you must consider before choosing when to post on TikTok.
So, without further ado, let's get started! 
3 Things to Consider Before Choosing The Right TikTok Posting Time
1. Demographics of Your Target Audience
Let's imagine you're constantly posting content on TikTok without knowing who your target audience is. 
Do you think you'll be able to get high engagement? Or do you think the right audience will resonate with your content? 
Well, the fact is, whenever or whatever you post in front of the audience, it should resonate with them. Your audience wants you to post content that fulfills their expectations and interests. They want you to understand them. 
And that's why it's important to know the demographics of your target audience before choosing the right TikTok posting time. 
Identifying your audience demographics will help you understand their expectations from you. You'll have an idea about when to post and what content they'll like. 
Knowing your audience demographics like their age, gender, religion, language, education, culture is the most crucial factor in creating social media content. 
For example, each age group has its own taste and senses of ideas, fashion, and interest. And with 1 billion monthly active users, it's essential to know the age group of your target audience on TikTok. Otherwise, no matter when you post, our content won't reach the right people. 
Age: Before posting on TikTok, you must know which age group your audience belongs to. After all, age impacts your audiences' cultural expectations, ideals, language, and even the paces your target audience can be reached. 
For instance, TikTok is most popular among generation Z. In America, 47.4% of TikTok's active users are aged between 10 and 29. However, according to a study, between 2018- 2020, the use of TikTok grew 5.5 times among American adults. 
Even though adults are using TikTok, only 31.3% of them belong to the age group of 40 and above. 
Here's a detailed breakdown of active TikTok users age in the U.S. to help you decide the right target audience:
25% of TikTok users in the U.S are people aged 10-19.
22.4% of TikTok users are in the age group of 20-29.
21.7% of TikTok users are aged between 30-39.
20.3% of TikTok users aged between 40-49.
11% of active TikTok users are people aged 50 and over.
Gender: In 2020, the demographics of TikTok users by gender shows that 60% of the active users are females, and 40% are male. However, in the U.S., the female to male gender ratio is 2:1. 
You can use TikTok's analytics to identify the gender of your audience. We'll discuss TikTok's analytics in detail later in this blog. So, keep reading. 
2. Difference of Time Zone
The difference in time zone is another vital thing to consider before posting on TikTok. And to understand the difference in time zone, first, you need to identify where most of your target audience is located. 
According to SensorTower estimates, since its launch, a total of 3 billion people have downloaded TikTok.
The app is used in nearly 141 countries and comes in 39 languages.
By 2020, the official number of U.S. TikTok users was 100 million.
In 2020 TikTok received 180 million downloads from China.
In 2021, TikTok received more than 2.4 million downloads from Russia.
In Brazil, the app received over 1 million downloads in 2021.
If you look at these stats mentioned above, you'll realize TikTok users are located all over the world. Not just U.S., U.K., or China, TikTok is widely used in several other countries like Russia, Spain, France, Germany, Saudi Arabia, Mexico, Turkey, etc. 
So, if you want to identify the best time to post on TikTok, you must understand in which time zone your target audience is located. Based on your audience location, you can pick the time zone that has the highest percent of your audience and try to post on that time. 
And the best thing is, TikTok offers in-built analytics to analyze where your audience is located. All you need to do is activate the TikTok Pro account. The Pro account allows you to see where your audience lives. This way, you can develop better content that directly speaks to your audience. 
You can follow these simple steps to turn your TikTok account into Pro:
Open the TikTok app and tap the Profile tab. 
Next, click on the three horizontal lines in the top right corner. 
Then, head to Manage account.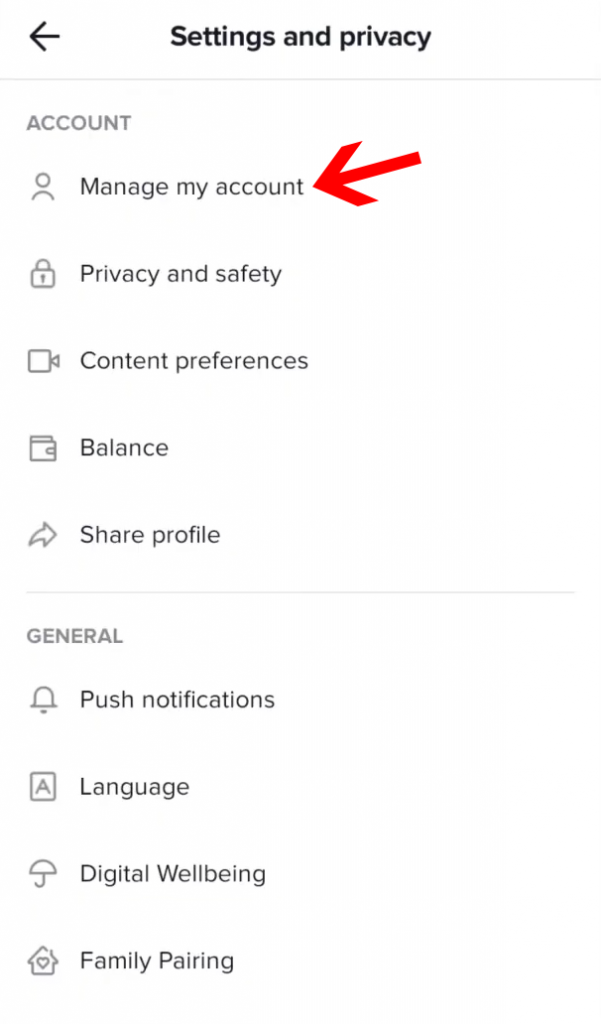 And click on "Switch to Pro Account".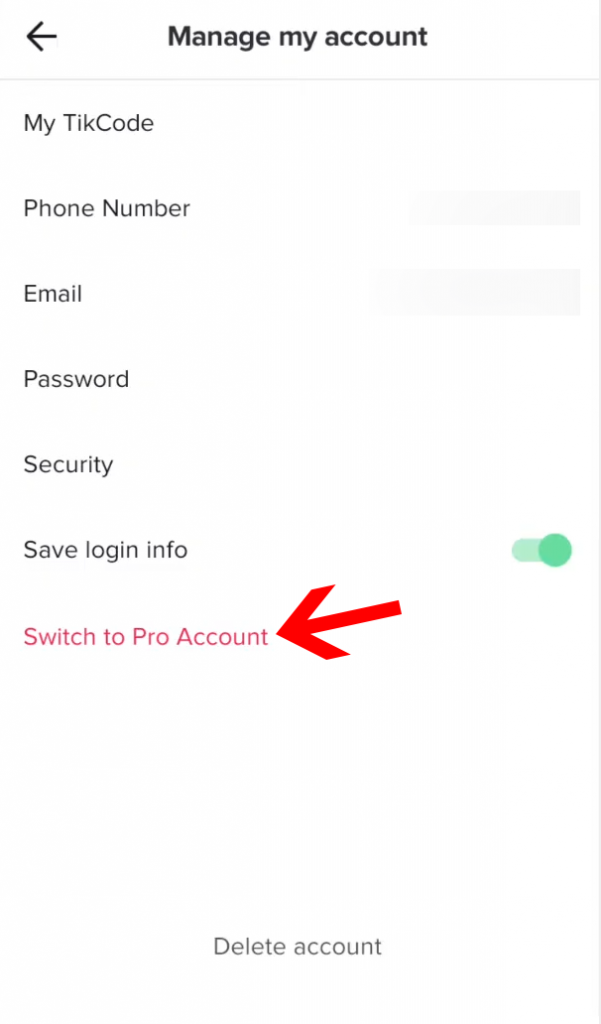 Now, tap on the Next button and follow the given prompts to start the Pro account. 
However, remember that, unlike Instagram, TikTok doesn't allow you to analyze your audience location by city. 
For example, if your target audience is US-based, you'll have to consider multiple time zones. So, you can post content on TikTok mid-day to touch most time zones in the U.S.
3. When Your Audience Stays Active
Once you've identified the best time zone to post on TikTok, it's time to analyze when your audience stays active the most. You can depend on TikTok's analytics to find out audience activity. 
But, here, we must mention that you can't access TikTok's analytics tools without a business account. So, first, let's break down how you can switch to a business account without a hassle. 
Simple Steps to Switch to a TikTok Business Account:
Head to your profile page.
Tap on the three lines in the top right corner and open the Settings and privacy tab.
Select Manage account.
Now under the Account control tab, select Switch to Business Account.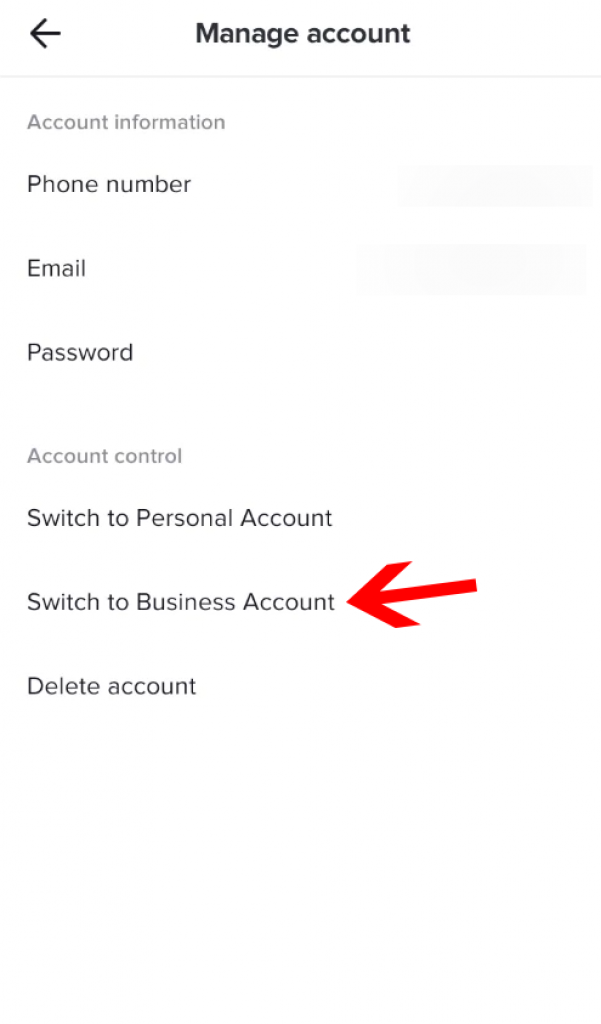 Next, select one of the categories that describe your business. For example, if you want to post content about fitness, you can choose the Fitness or personal blog category.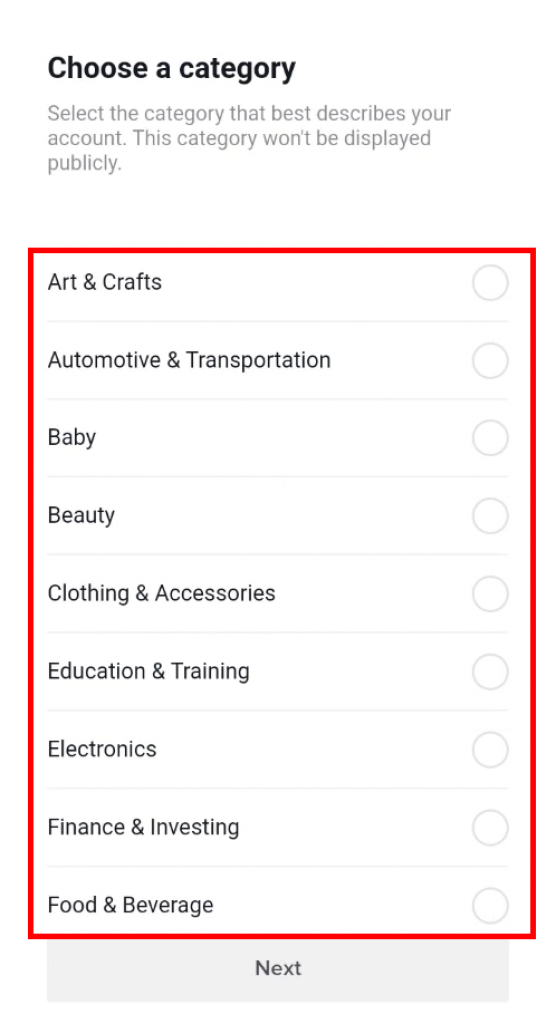 Next, you can add your business website and email address. And you're all set to use the creative analytics tools offered by TikTok. 
How to check TikTok's Analytics on Mobile:
Open your profile
Head to Settings and Privacy tab. It is located at the top right corner of your device.
Under the Account tab, select the Creator Tools option.
Next, select Analytics.
How to check TikTok's Analytics on Desktop:
Log in to your TikTok profile. 
Tap on your profile picture (located in the top right corner).
Click on the View Analytics.
Now that you know how to switch your account to business, it's time to learn the functions of TikTok analytics. With the help of this analytics data, you can decide exactly when to post your content to get the most likes, views, and follows. 
TikTok Analytics 
Overview Analytics
The overview analytics helps you gather data from the last month or the last week. You can even select a custom date range to know how your TikTok content performed after posting that at a certain time. 
The Overview tab Metrics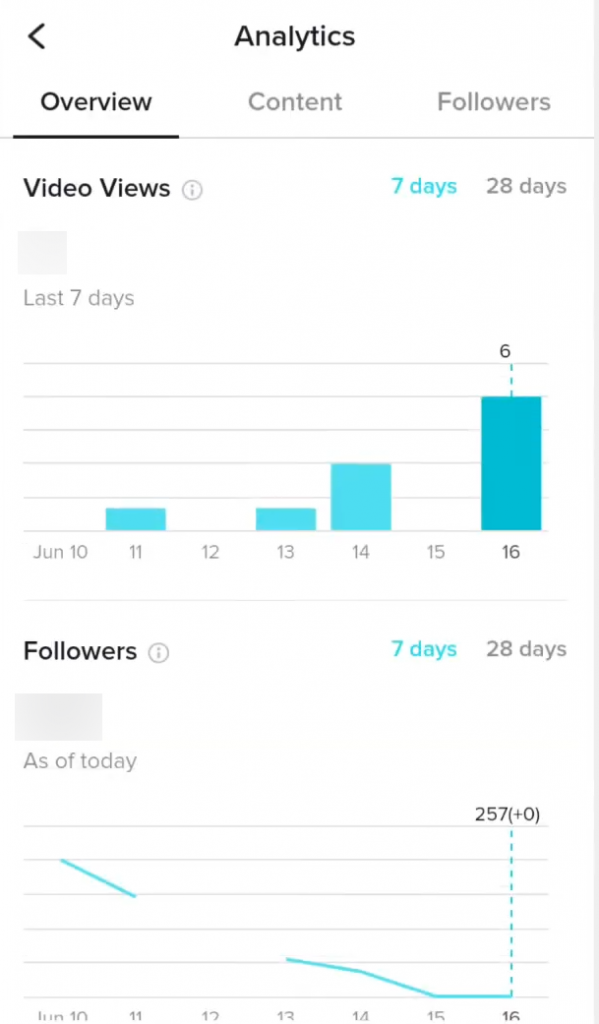 In the overview tab, you'll get a wide range of metrics, for instance:
Video Views: It shows the total number of times your TikTok's content was viewed over a time. 
Profile Views: This metric shows the total number of times your TikTok profile was viewed over a specific time. With this metric, you can understand how many people actually liked your video content and were curious to check your profile or see your brand on TikTok. If you want to measure your brand trust, profile views are the perfect metric for sure!
Likes: How many people liked your video at a specific time. 
Comments: The total number of comments your content received at a specific time. 
Shares: This metric shows the total number of shares your content received.
Followers: This metric shows how many TikTok users followed your profile within a select time range.
Content: The total number of video posts you've shared on TikTok within a selected time.
Live: This metric shows the total number of live videos you've hosted on TikTok in a selected time. 
The Followers tab Metrics
The followers' metrics on TikTok analytics show essential information about your followers. This metric is helpful to understand the demographics of your target audience because it breaks down the gender and location of your audience.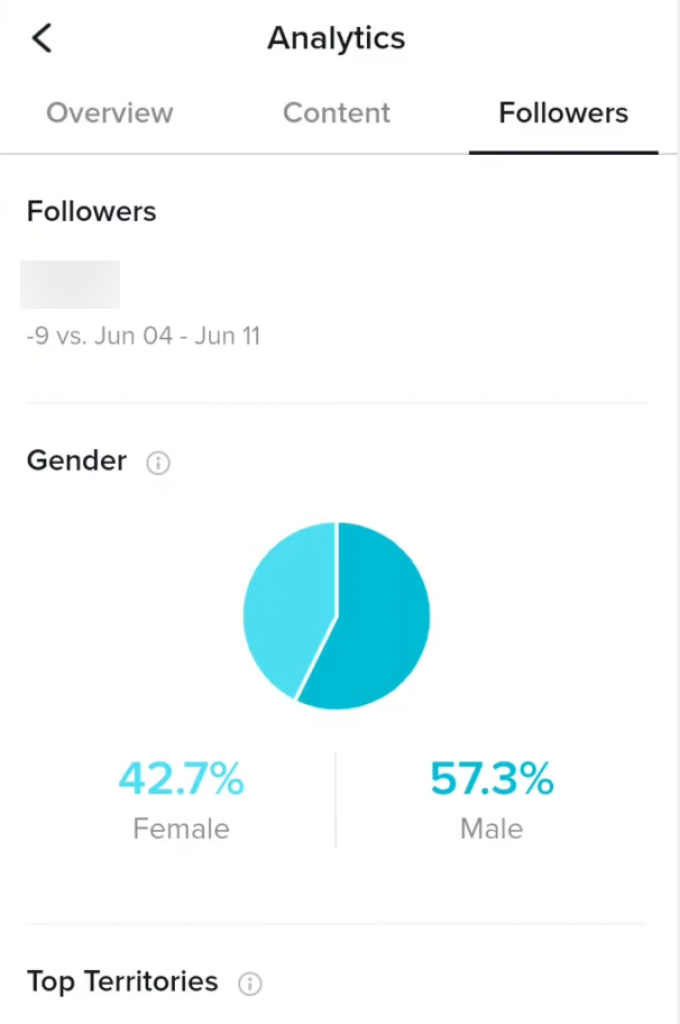 Also, the followers metrics can help you understand your audience's interests and activities. 
Here is the list of metrics from the followers analytics tab:
Gender: This metric will show you the content distribution data by gender. 
Top Territories: It shows where your audiences are located. The territories metrics show data by country; you can see a maximum of five countries in this section. So before posting content, make sure to keep these countries in mind. 
Followers Activity: With the help of followers activity, you can see the days and times your followers are most active. Analyze when the followers' activity is consistently high. And, that time is your right time to post regularly on Tiktok.
Videos Your Followers Watch: This metric is best to know your target audience's interest. You can see what videos are most popular among your followers. Based on this data, you can develop content that sparks audience interest. 
Sounds Your Followers Listen: The audio trends move fast on TikTok, so make sure to check what audio track your followers mostly listen to understand what's popular. 
Content tab Metrics
The content tab helps you analyze which content has been most viewed or liked within a selected time.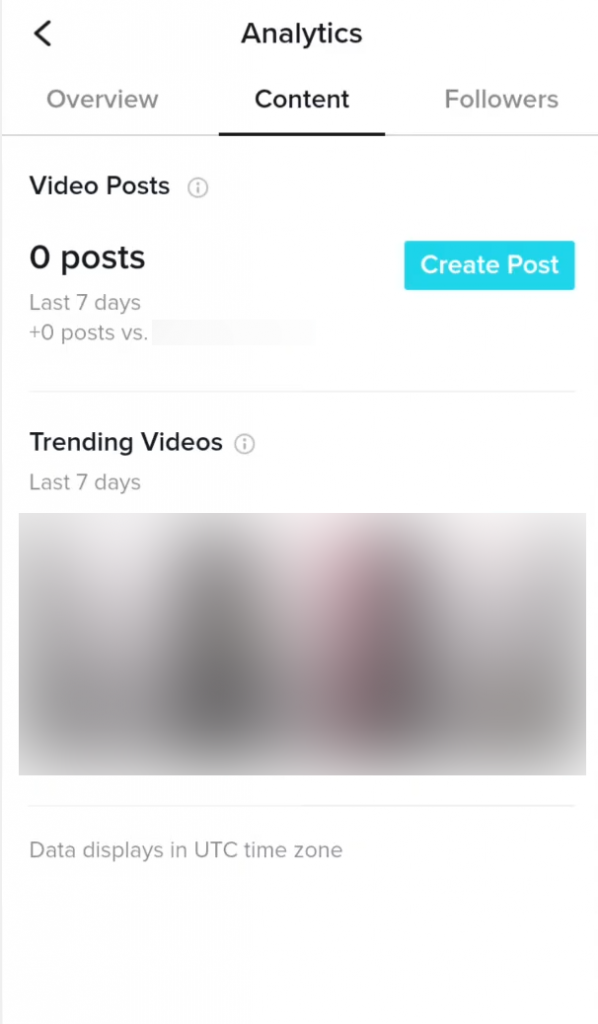 Trending Videos: You can see the top nine most popular video content over the last week. 
Video Views: You can see the total number of views your video received. 
Total Likes, Comments, and Share: The total number of likes, shares, and comments a video received. 
Reached Audience: the number of audiences who watched your video content.
Views By region: It shows your audience's top locations (total 6 locations). 
What Is The Best Time to Post on TikTok in 2023
If you want to get more views and likes on TikTok, your content needs to appear on the "For You" page's main feed. Now Tiktok pushes videos on the "For You page", which is no older than a few days. 
On the For You page, you can see the video from people who aren't your followers or you aren't following them. As per reports, people spend 75% of their time on the "For You section" of TikTok. 
So, you have to post your content when your audiences are actively scrolling their feed. And when they see your post in this section, they'll instantly react to it. That's why it's crucial to learn when your audiences are online. 
According to studies by Hootsuite and Later, overall, the best time to post on TikTok is between 6 am to 10 am and 7 pm to 11 pm. 
Now determining a single best time to post each day of the week can be tricky. That's why here we're going to break down the best time to upload on TikTok by different days. 
Monday: 6am, 10am, 10pm
Tuesday: 2am, 4am, 9am
Wednesday: 7am, 8am, 11pm
Thursday: 9am, 12pm, 7pm
Friday: 5am, 1pm, 3pm
Saturday: 11am, 7pm, 8pm
Sunday: 7am, 8am, 4pm
In all these times, content on TikTok gets the maximum engagement on:
9 am Tuesday
12 pm Thursday
5 am Friday
So, based on these times, you can decide which is the right time to post on your TikTok. 
But, remember these times are expressed in Eastern Standard Time (EST). And Tiktok distributes content to a global audience. 
That means 6 AM in New York is 11 AM in London. Earlier in this blog, we've mentioned how time zones and the location of your audience impact your content. 
So, before deciding what's the best time to post, make sure to experiment with your content to see what works the best for your target audience. 
Does it Matter When You Post on TikTok?
The short answer is, Yes, it matters!
The long answer is, if you want to get maximum engagement on your TikTok videos, it's crucial to understand when is the right time to post. But before knowing when to post, you must research on:
Where is your audience located?
What time are they active the most?
Based on these questions mentioned above, you can easily find out what time to post on TikTok and get better engagement. 
How Often Should You Post On TikTok?
Just like your posting time, how often you post can also significantly impact your post engagement on TikTok. 
According to TikTok, posting videos, 1-4 times per day is best to get a wider reach. 
However, it's a little difficult to post videos a couple of times a day. After all, you have to maintain the quality of your video content. That's why it's best to post a minimum of 1 video a day and maintain a consistent schedule to get better engagement. 
Is There a Bad Time to Post on TikTok?
When it comes to TikTok, it's been shown that weekends are not a great time for posting. The simple logic behind this is most people take days off on Saturdays and Sundays. And, mostly, people decide to stay away from their phones. 
So, it's better to post when the TikTok users are active the most. According to several researches, the best time to post on TikTok is 9 am Tuesday, 12 pm Thursday, and 5 am Friday. 
Wrapping Up 
TikTok is different from any other social media channel. The analytics and algorithms work differently here. So, it's essential to pay more attention and do some research before posting content on the platform. 
And, if you're thinking about giving Tiktok a shot, hope this blog will guide you.
Nevertheless, no matter what or when you post on TikTok, the rule of thumb is to experiment. Experiment with the time to understand your followers. 
Then adjust your content according to your audience preference to get the best out of the platform.